Making the Grade: Passes/Fails from UFC Fight Night Abu Dhabi
Roy Nelson might have sent Antonio Rodrigo Nogueira into his second career and Clay Guida outgrappled Tatsuya Kawajiri in a Fight of the Night performance.
UFC Fight Night Abu Dhabi was a lot of fun. But you already know who won and lost. Here at Haymaker, we prefer to read between the lines.
Here's what we took away from the event:
PASSES
Ramsey's role
By far the coolest story of UFC Fight Night Abu Dhabi was Ramsey Nijem's savage knockout of Beneil Dariush and how much it meant to him. Nijem grew up in California, but is the son of Palestinian parents. He admitted that embracing his Arab roots was difficult for him at times as an adolescent, because of many negative perceptions. But being in the Middle East this weekend absolutely inspired him and you could just tell it had an affect on the fight.
Nijem, who was a 3-1 underdog, could end up being a face for the UFC in the region. Flash Entertainment, a subsidiary of the Abu Dhabi government, owns 10 percent of the organization and the UFC will surely be holding fights there every year. I'm certain other cities in the United Arab Emirates will be getting events soon, too. It wouldn't be completely out of the question to see Nijem as a co-headliner for one of those. The UFC should give the Ultimate Fighter alum a huge push in the Middle East.
Keeping it real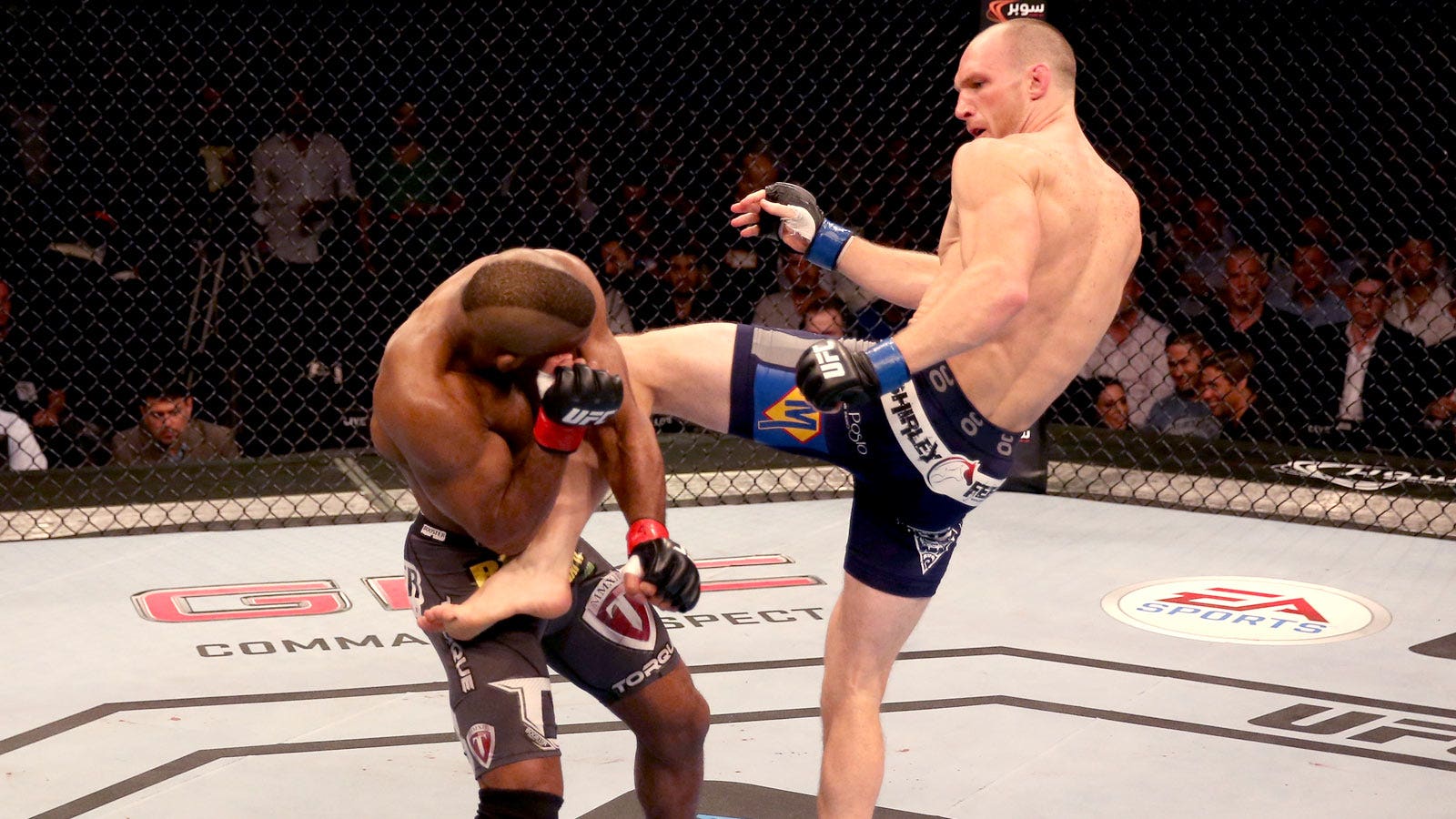 Good for Ryan LaFlare. The welterweight threw a vicious knee to the groin of John Howard on Friday, flooring Howard for basically every second of the five minutes he was allowed to recover. LaFlare ended up winning a decision and he admitted that the low blow dampened the victory a bit. How many guys would actually say that? And LaFlare was right — of course it had an affect. Howard could not have been the same fighter with his jewels somewhere north of his abdomen.
LaFlare was awesome overall at the press conference. Someone asked UFC exec Garry Cook and other fighters about Bruce Lee being in the EA Sports UFC video game. LaFlare wondered aloud why Lee, a martial arts legend and movie star who never fought in the UFC, was in the game and he wasn't. Funny stuff.
The new old Clay Guida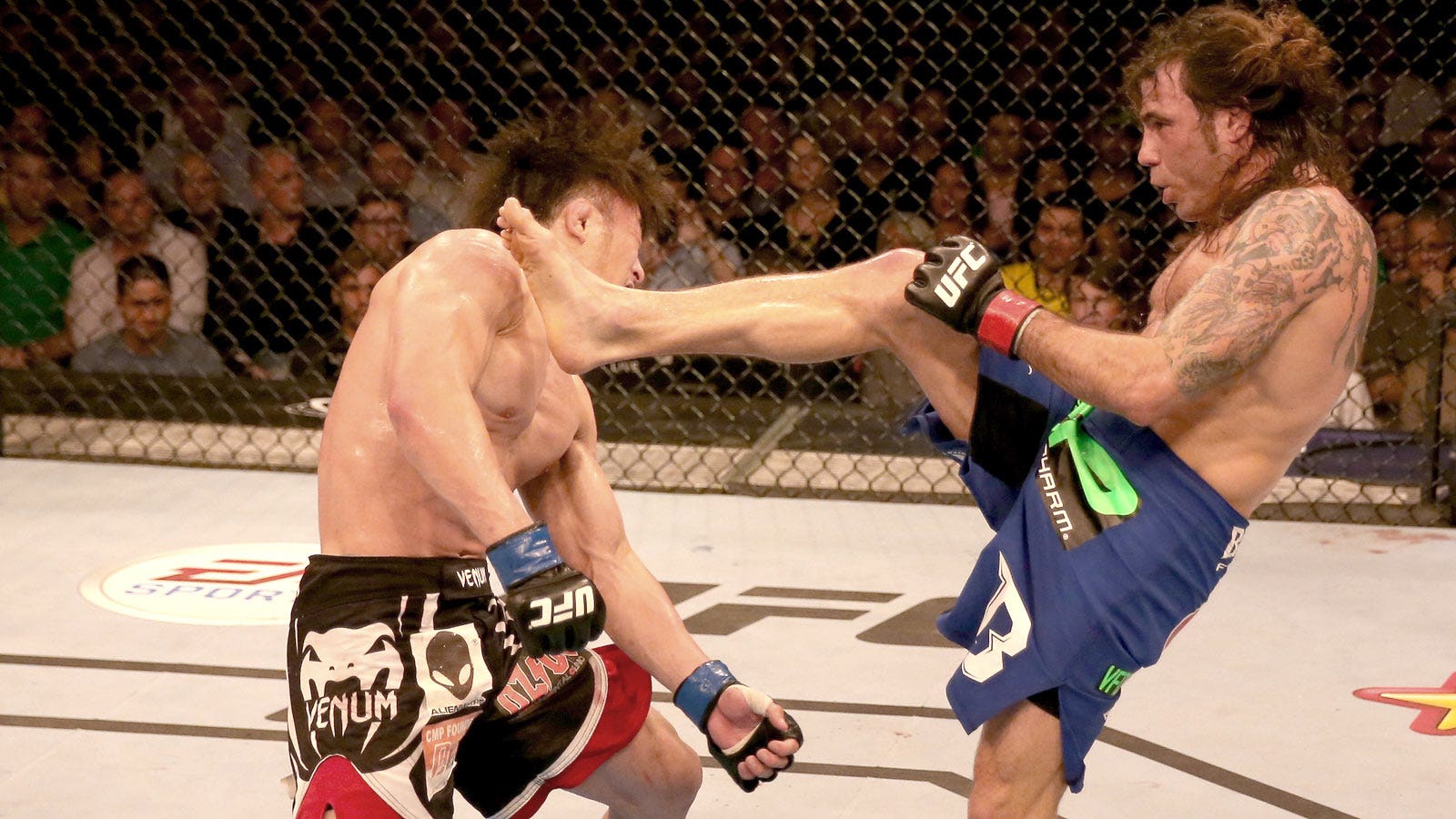 I don't even care about the fight. OK, I'm lying. Guida and Tatsuya Kawajiri put on a really fun grappling battle, which was clearly the best bout of the event. But that's not why Guida is on this list. "The Carpenter" has always been a blue-collar, no-BS type of dude. He never talked trash or anything of the sort. Friday, that all changed.
Guida called out not one, but two popular UFC fighters in two different weight classes. He challenged featherweight Conor McGregor to a fight and then he came after former lightweight No. 1 contender Josh Thomson. Here's a guy who's getting wise in his early 30s. Both of those would be fun fights. And to top it off, Guida said McGregor would "cry" if he went five rounds with him. I love. Keep it up, Clay.
FAILS
"Brutal" reaction
What do you think #ufc fans..rematch in San Antonio in June? @ufc @danawhite @seanshelby . Let's see what happens in my backyard #ko again.

— BrutalJohnnyBedford (@BrutalBedford) April 11, 2014
OK, we get it. Training for weeks and weeks and having a fight called a no contest when you thought you won must be pretty frustrating. But Johnny Bedford's behavior after the bout with Rani Yahya was like that of a petulant child. Bedford threw a temper tantrum and got into Yahya's face as if it was his fault that a headbutt knocked him out, causing the referee to end the fight and the judges to call it a no contest.
And it was absolutely the right call, of course. Bedford must know that he can't win via headbutt, right? This isn't 1997 and he's not Mark Coleman. Bedford will probably get his rematch with Yahya and have a chance to knock him out for real. But it wasn't going to come seconds after the fight like Bedford wanted. Crap happens in MMA. It's how you deal with it that matters. Bedford didn't present himself very well in that regard.
One-night-only stadium
I have no idea if the construction of a new stadium on Yas Island in Abu Dhabi came on the back of virtual slave labor, though Bloody Elbow had an interesting article this week on the city's issues with human rights violations. However, I don't understand why the city has to build a brand new facility from scratch when the UFC comes to town only to tear it down as soon as the event is over.
I know Abu Dhabi is overflowing with money, but doesn't that seem a little wasteful? And aren't there other events that can be held there once the venue is built? It's clear that we don't really understand how business is done over there. Maybe they have their reasons. I just don't get it. It isn't like the UFC is never going back there again. This will likely be an annual thing. UFC exec Garry Cook said as much Friday.
Heavyweights in heat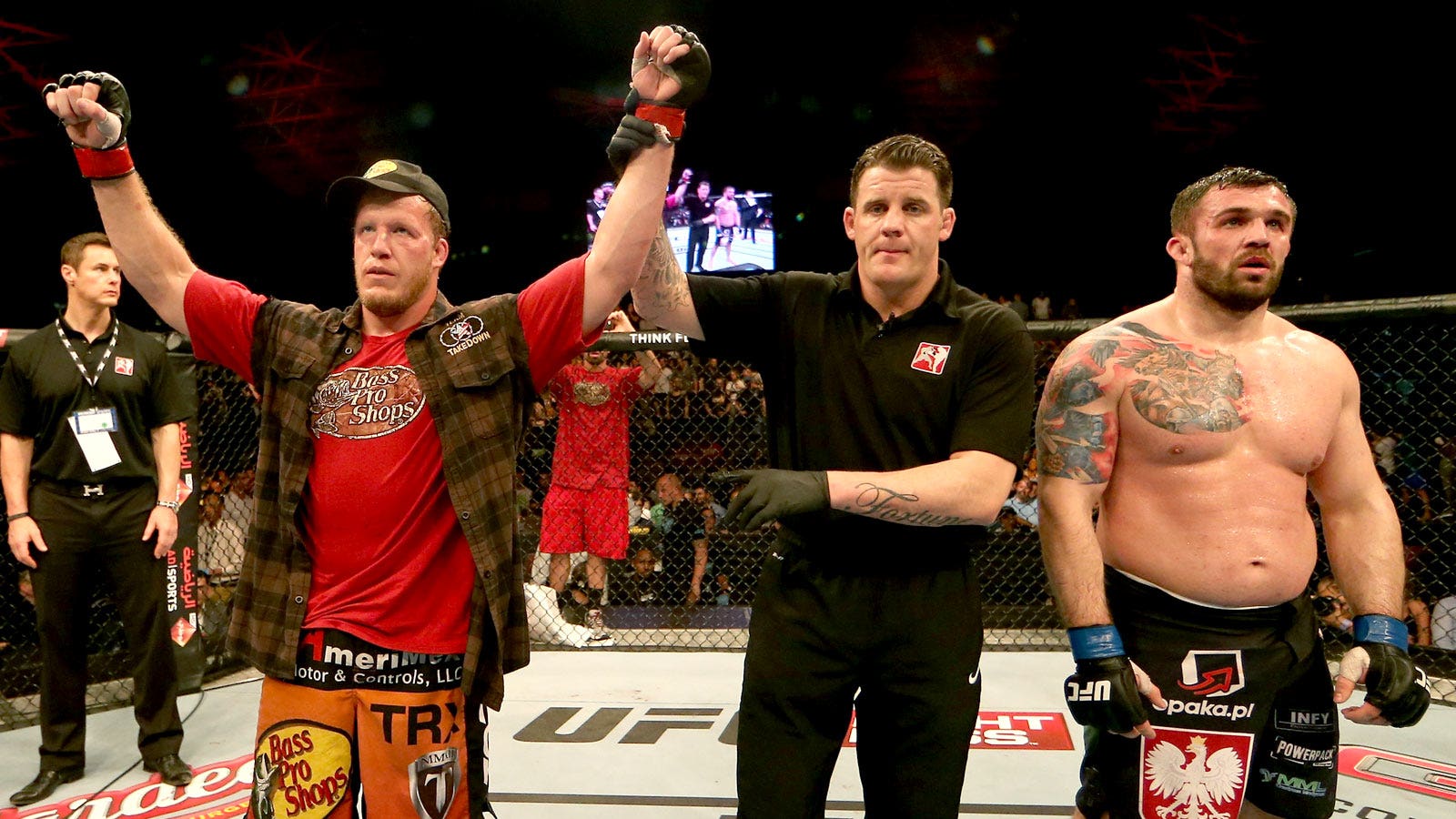 Big heavyweights and an outdoor stadium in the desert really don't mix too well. The fight between Jared Rosholt and Daniel Omielanczuk was one of the toughest to watch of the entire year so far. Rosholt was in top control for the vast majority of all three rounds and both men were exhausted before the horn sounded to end the first. Good thing it was only 83 degrees — it's hotter in some Brazil indoor arenas — or things would have gotten even uglier. If that's possible.
It's also a good thing Roy Nelson finished Antonio Rodrigo Nogueira so quickly in the main event. I don't even want to think about Nelson in the third round in that heat. He might have been able to cut to 205 on the spot.
EPIC FAILS
"Disrespectful" questions
Garry Cook, the UFC's executive vice president and managing director of Europe, the Middle East and Africa, is apparently very good at his job. The former Manchester City and Nike exec helped the UFC snare a big-time television deal in the United Kingdom and UFC president Dana White has taken to calling him "a rock star." On Friday, though, Cook called a reporter "disrespectful" for asking about a pay-per-view coming to the Middle East rather than a Fight Pass card.
Garry Cook called a reporter 'disrespectful' for asking about a pay-per-view coming to the Middle East rather than a Fight Pass card
Seriously? Yes, that actually happened. The media member asked a very valid question and Cook turned it around, saying it didn't matter because the fighters on Fight Pass shows train just as hard as the ones on pay-per-views. Wow. Cook basically used the argument JV swimming moms do when they ask for coverage from newspapers — well, our kids work just as hard as the varsity basketball players.
I'm sure they do, but no one cares about JV swimming and to say there's no difference between a PPV and a Fight Pass event is ludicrous. For one, a pay-per-view costs upwards of $55. And Roy Nelson and Antonio Rodrigo Nogueira wouldn't be in the main event (you would imagine). The last time the UFC did a pay-per-view show in Abu Dhabi, it was headlined by freakin' Anderson Silva. It was a perfectly normal question by the reporter and a highly inane response from Cook.