Making the Grade: Passes/Fails from FOX UFC Saturday: Browne vs. Werdum
Fabricio Werdum became the No. 1 contender to the UFC heavyweight title, Miesha Tate got her first UFC win and Donald Cerrone did Donald Cerrone things.
You already know who won and who lost. At Haymaker, we go beyond the results. We read between the lines.
Here's what we took away from FOX UFC Saturday: Browne vs. Werdum:
PASSES
Thumbs up for a kip up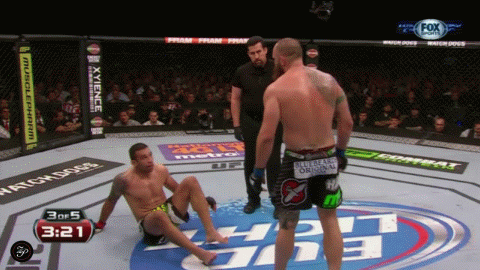 Fabricio Werdum went all Shawn Michaels against Travis Browne and it was awesome. Rarely do you see a kip up in an MMA fight and it's never been done by a man Werdum's size. It wasn't just the fact that he did it, either. Werdum had some serious swag going on Saturday night. The dude was just oozing confidence and not just because he has some of the best hair in MMA.
After getting rocked in the first round, Werdum found his rhythm standing up and put on a striking clinic against a guy who was supposed to have the advantage in that area. Werdum was just oozing confidence, egging Browne on. And then the kip up. Glorious. It was a physical taunt the likes we've never seen from Werdum. We need to see more. A cocky Fabricio Werdum is a good Fabricio Werdum.
"Cowboy" being "Cowboy"
Having some fun at @SHAQ house. pic.twitter.com/AfkohcZboy

— Cowboy Cerrone (@Cowboycerrone) April 18, 2014
If I could put Donald Cerrone in this place all three times, I would. From Thursday when he did a twisting dive into Shaquille O'Neal's pool to the first-round submission over Edson Barboza to double-fisting Budweisers at the post-fight press conference, "Cowboy" was absolutely the star of the weekend. He has built a brand for himself out of just being himself. Cerrone got a huge cheer out of the Orlando crowd Saturday night.
"Cowboy" wants to fight six times this year. I say, let him. He didn't seem to sustain any damage against Barboza. It would be a crime not to put him on the Albuquerque card June 7. That's where the man lives. That event already has two solid features — Benson Henderson vs. Rustam Khabilov and Diego Sanchez vs. Ross Pearson — but why not just load it up? It isn't like Cerrone won't be ready to go in another two months anyway.
Couple of suits
First time since 2001 no black on black!! Thanks David August!! pic.twitter.com/BqlKpX3wpu

— Mike Goldberg (@MFG16) April 19, 2014
Don't get me wrong. Mike Goldberg and Joe Rogan don't have to change anything about their wardrobe. Black t-shirts and button downs have taken them a long way with the UFC and, for the most parts, fans couldn't care less. But kudos to the guys for classing up the Amway Center a little bit Saturday night, rocking some nice suits. They both looked sharp and Goldie's purple tie-black vest combination was a winner. Yes, I'm a fashion critic now.
I wouldn't recommend doing this for every event, but when Goldberg and Rogan get dressed up like that, it gives it a big-show feel. The viewers watching at home will notice a difference in garb and think to themselves that this must be a more important card than usual. Don't change, boys. But bring out the serious threads for the important shows. It does matter.
FAILS
Shaq's unsanitary napkin
Video: Shaquille O'Neal eats his napkin at a UFC fight
Shaquille O'Neal gets some face time on the FOX broadcast Saturday night and what does he do? The NBA legend and avid UFC fan goes all George "The Animal" Steele on a napkin, then throws some faux Muay Thai elbows. That's great, Shaq. Thanks for that. Apparently, that's an appropriate thing to do when you're in the front row of a UFC fight — act like a complete moron.
I'm sure all the casual viewers got a kick out of that, thinking wow even Shaq turns into a primordial fool when he's taking in some barbaric MMA. Good look. It was awesome having the press conference at O'Neal's estate Thursday. So good on him for that. But save the histrionics for TNT.
Chin down
Edson Barboza is supposed to be an elite striker. He has the best leg kicks in MMA and knockout power in his hands. He's super fast and technical. But man, it's hard not to question his chin. Donald Cerrone wasn't wearing brass knuckles, yet he floored Barboza with a simple jab Saturday night. Barboza was hurt badly and Cerrone swooped in for a rear-naked-choke finish.
Yes, Cerrone is awesome and capable of incredible things in the Octagon. But Barboza was getting the better of the stand up, landing more strikes. He was winning the first round until that jab. And that's really all it was, a jab. It's hard to imagine the Brazilian climbing the lightweight ladder when he can be dropped like that. Hopefully, it's just an aberration.
This blog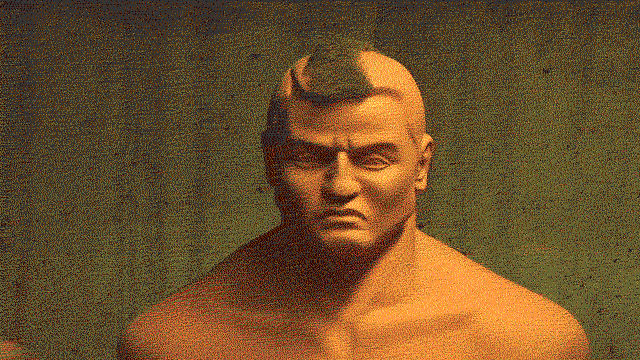 Frankly, I'm disappointed in myself. I'm never at a loss to come up with "fails" for this space. The cynical New Yorker I am, I usually have to pare down the fails to my limit of three. But it was hard to find much bad in FOX UFC Saturday in Orlando. The fights were great, the fans were excellent. The Florida State Boxing Commission could use some work, which I touch on below, but it was hard to find a ton of glaring stupidity like usual.
In a year in which the UFC will put on about 50 shows, we might be looking back at this one and saying it was the best or at least one of the best. But I'm sure I'll think of a few more "fails" as soon as this is already published. It's a gift.
EPIC FAIL
Making up rules as you go along
On the heels of that disaster in Wyoming, this looks like a scary trend more than just a negligent referee and bad commission. Chas Skelly kneed Mirsad Bektic in the head while Bektic's hand was on the ground twice up against the cage on the early Fight Pass prelims Saturday. Bektic went out. The fight should have been over and called a DQ. The knees were clearly illegal.
Instead, referee Jorge Ortiz completely flubbed the rules and no one called him on it. He said Bektic had five minutes to recover and then the fight would continue if he wanted. Of course, Bektic said he wanted it to continue. That's what fighters do. But that's not the rule, Jorge. That's the rule when someone gets kicked in the junk or poked in the eye. Not when someone gets knocked unconscious.
That was despicable and Ortiz shouldn't ref again without further training and, you know, actually knowing the laws he's supposed to be enforcing. He's going to get someone hurt badly out there if he hasn't already.