Making the Grade: Passes/Fails for UFC Fight Night: McGregor vs. Siver
Conor McGregor's rise to the top continued on Sunday night in front of a jam-packed audience in Boston's TD Garden Arena as the largest UFC audience attend a card in Bean-Town watched as the Irish featherweight took out Dennis Siver by TKO in the second round.
The results of the fights are already out there so what we like to do the day after the show is to dig a little deeper and see what else happened inside and outside the Octagon.
These are the passes and fails for FOX Sports 1: UFC Fight Night: McGregor vs. Siver
PASSES
The Conor McGregor Experience
There was no way to miss out on seeing something about Conor McGregor in this past week unless you just didn't watch television at all. McGregor's face and voice was plastered all over the tube in the past week as a lead up to his fight against Dennis Siver in Boston. McGregor promos ran during all of the NFL playoff games on FOX and even Troy Aikman made a half-attempt to promote the Irish superstar during the NFC Championship Game on Sunday.
It all came down to the night of the fight.
Would the Boston faithful show up in droves to watch McGregor perform? Would the television audience stay up late on a Sunday night to witness his battle with Siver?
From all indications it's a rousing yes on both fronts. The crowd at the TD Garden Arena was the biggest yet during the UFC's three shows in the city of Boston not to mention UFC Fight Night: McGregor vs. Siver landing at No. 10 in all sports programming in the week for Twitter ratings according to the Nielsen ratings system.
From McGregor's walkout (his standard mashup of Sinead O'Connor and the Notorious BIG) to his flash and flare in the ring to the finishing shots he landed on Siver, the Irish fighter made Sunday night's free card feel like one of the biggest pay-per-views of the year.
Where You At Jose?
The plan was set. If McGregor beat Siver, UFC featherweight champion Jose Aldo would make his way into the Octagon for the first of many stare downs he would eventually share with the main event winner as they get ready to fight later this year. As it turns out, Aldo has a superstition about not stepping into the Octagon unless it's for a fight so he refused to go in and confront McGregor and give everybody a photo opportunity in the process.
Thankfully, McGregor was around to save the day.
As soon as he won his fight, McGregor leapt over the cage wall and jumped down into the crowd. While it appeared at first as if he was going to celebrate with the Irish faithful in audience or maybe give his girlfriend a celebratory kiss, McGregor was actually making a bee line towards Aldo sitting cage side. McGregor screamed and taunted Aldo and the champion just stood there and smiled acting as if he was really amused by the Irishman's antics.
It was pure theater but something the UFC can play on highlight reels from now until May when the two featherweights finally meet in the Octagon.
Read All About It!
Facts are facts — sometimes post fight press conferences can be a little boring.
Maybe it's just a bad night of fights or the fighters on the dais just don't feel like answering questions from the media. Whatever the cause, some press conferences act more like Ambien at the end of the night than a cap off to close out an event.
Not when Conor McGregor's around.
He took the stage on Sunday night with a plastic cup full of fine Irish whiskey and a gift of gab that kept going on so long, UFC president Dana White finally had to cut him off and end the presser. McGregor talked at length about how hard it is to promote a fight like this, especially when he gets asked the same questions a million times over. But with the win in his pocket — along with some fat cash — and a little bit of whiskey in his belly, McGregor was full of quotes, quips and euphemisms that made the night even better.
FAILS
Face/Off
FYI My coach took this photo right after the doctor had opened it up to prep it for getting stitches. Looks bad 🙂 pic.twitter.com/5rtQ0WmALv

— Ron Stallings (@ChoirBoyMMA) January 19, 2015
Ron Stallings showed up in a big way to save the UFC from cancelling a fight when he stepped up on six days notice to face Uriah Hall on Sunday night's card in Boston. Through the early part of the first round, Stallings was doing a fairly good job of staving off Hall's creative attacks and firing back with some shots of his own.
Unfortunately, Stallings' luck ran out when Hall connected flush with a straight punch that send him crashing to the canvas. Hall followed up with a few more shots on the ground that opened up two nasty cuts above and below Stallings' eye.
When the fighters stood back up, the referee called for the doctor, who took one look at the gash and said 'no more'. Stallings decided to tweet out a picture of his eye before doctors sewed him back together again and this is definitely not for the faint of heart.
It's Time for a Vacation
Everybody — myself included — thought it was pretty amazing that Donald 'Cowboy' Cerrone was willing to step up and take a fight with Benson Henderson less than two weeks after he went 15-minutes with Myles Jury at UFC 182. Cerrone has a philosophy that says anyone, any time, any place and if it were up to him he'd be fighting every month. In this case he was actually fighting twice in the same month!
As it turns out, fighting so often can take a little bit out of a person as Cerrone showcased in his fight with Henderson.
While his output on paper was similar to what he did against Jury at UFC 182, Cerrone just looked a step behind all night during his bout with Henderson. His rhythm wasn't there and Cerrone just didn't seem like himself.
After the fight was over, even Cerrone said it was finally time to take a vacation and enjoy a few weeks away from the Octagon. Everyone applauds Cerrone for stepping up, but sometimes the best decision for a career needs to win out over grit, guts and determination.
EPIC FAIL
Judges Took the Night Off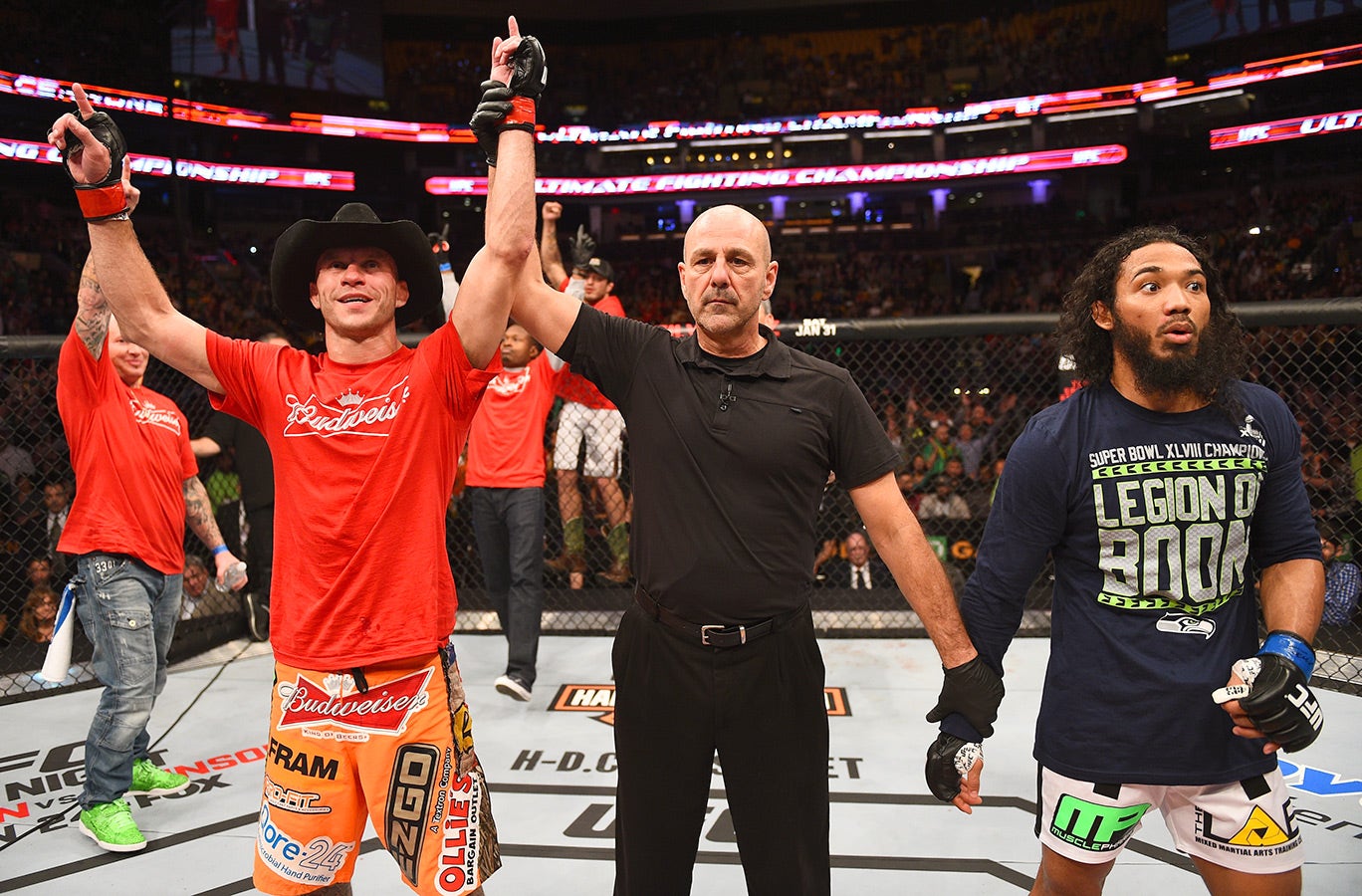 This epic fail could easily be the entire story if not for McGregor's outstanding performance to save the show when it was all said and done. There's no way to sugarcoat it so let's just call it the way it was — the judging on Sunday night was horrible. Inexcusable. Laughable.
Things got a little worrisome during the fifth fight of the night when Paddy Holohan dominated Shane Howell by unanimous decision. Holohan was in complete control throughout the entire fight, especially in the first round where he took Howell down and nearly choked him for the biggest part of five minutes. Howell was in survival mode all round and yet no one returned a single 10-8 score for Holohan.
The real atrocity started during the featured prelim on the undercard when the judges somehow scored Cathal Pendred as the winner of Sean Spencer. To make matters worse, two judges returned scores of 30-27 in favor of Pendred.
Spencer out struck Pendred 52-49 in significant strikes, but he also landed the most significant strike of all — a knockdown in the first round. Yet somehow the judges decided to give that round to Pendred! Spencer continued to pour it on all night with fast hands and quick counters, yet the judges rewarded Pendred with the victory.
The judges struck again in the lightweight fight between Gleison Tibau and Norman Parke. Tibau was in complete control through the first and second rounds and while Parke came back ever so slightly in round three, it was clear the Brazilian veteran did enough to get the win. The judges gave him the victory — but one judge scored it 29-28 for Parke! In other words some judge inexplicably thought Parke won two rounds of that fight!
The final nail in the coffin came in the co-main event as Donald 'Cowboy' Cerrone was handed a win over Benson Henderson. The look on Henderson's face as shown above tells the whole story. Henderson out struck Cerrone 86-57 in significant strikes and seemed to have an answer for everything his old WEC foe could do against him in the fight.
The judges not only gave Cerrone the win, but all of them scored it 29-28. That means no judge thought Henderson won two rounds. Even that was out of whack considering judges Douglas Crosby and Sal D'Amato scored rounds one and two for Cerrone, but gave round three to Henderson. Judge Mike Mena went in a completely different direction, giving Henderson the first round but nothing else. The only thing they all agreed on was Cerrone winning round two.
Maybe it had to do with Henderson's strikes being predominantly leg kicks. He landed 53 of those during the fight. Apparently, these judges went to the Cecil Peoples' school of officiating as he is often quoted as saying once upon a time that leg kicks 'certainly don't' finish fights. Perhaps these three should take a few leg kicks from Henderson and they might rethink their scoring from Sunday night.