Gray Maynard and five other UFC fighters in desperate need of a win
Three years ago, Gray Maynard was just a few follow-up punches away from securing the lightweight title. In the first round of his UFC 125 collision with then-champ Frankie Edgar, "The Bully" landed a crushing overhand left, then a right uppercut, that left the Jersey native literally somersaulting across the octagon, in worse shape than the likes of Ben Henderson, Jose Aldo, and BJ Penn were ever able to put him in. It was one of the most lopsided rounds in MMA history where a fighter wasn't finished, let alone in a title fight.
But we all know the story; Edgar was somehow able to rally over the following rounds, outwrestling a grappling machine in Maynard and fighting to a draw despite dropping a 10-8 in the first. Their eventual rematch at UFC 136 began in very much the same fashion, with Maynard punishing Edgar on the feet but failing to put him away. Late in the fourth round, however, Edgar would accomplish what Maynard could not, dropping "The Bully" and finishing him with punches to retain his lightweight title.
It's been a rocky road for Maynard since then. Although he followed up his disappointing pair of title shots with a controversial (yet well earned, IMO) split decision over Clay Guida at UFC on FX 4, Maynard would drop his next two fights via a pair of devastating first round TKO's to T.J. Grant and Nate Diaz. The Diaz fight was particularly tough to watch, as Maynard was turned into a virtual punching bag in the final exchange before stumbling away and collapsing after the fight had been mercifully waved off.
Yesterday, however, brought news of Maynard's return. "The Bully" will face Fabricio Camoes at UFC 176 in what one can only imagine is a must win scenario for the former title challenger, and Camoes as well. But Maynard is not the only high-profile UFC fighter in desperate need of a win. Here are five other guys who come to mind.
#5 – Diego Sanchez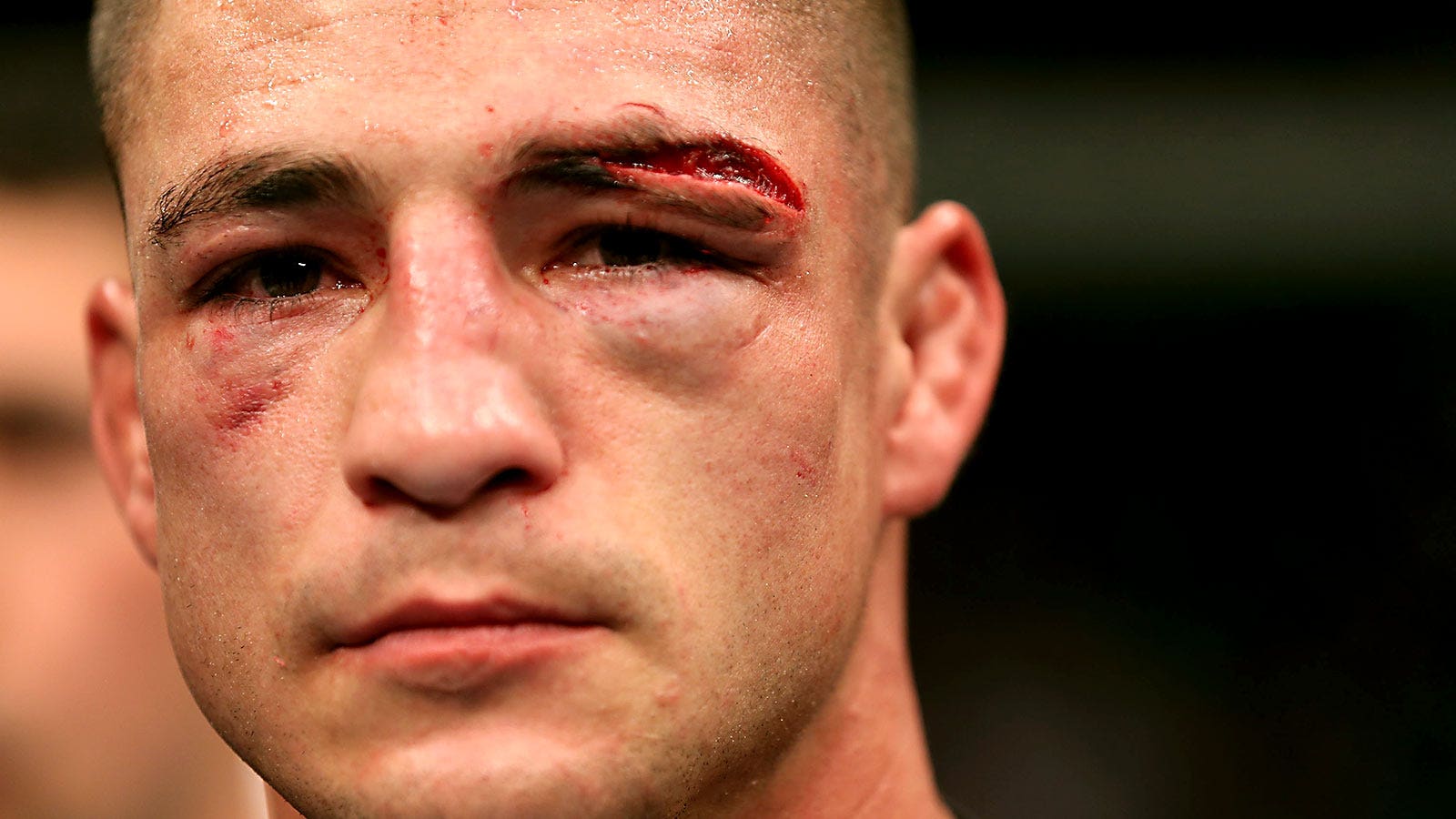 Diego Sanchez may be the living embodiment of a Monster energy drink when the cage door closes, but his actual results in the cage have been less than spectacular to say the least as of late. Sure, he consistently puts on entertaining fights (having collected 4 FOTN awards in 6 performances) and his UFC 166 battle with Gil Melendez made us all collectively soil our trousers, but let's look at some facts here:
-"The Dream" has dropped 3 out of his past 4 fights
-His only win in that span was a decision over Takanori Gomi that many felt he lost
-He hasn't finished a fight since 2008
-His biggest win in the past 5 years came over Martin Kampmann, which again, most fans/pundits felt he did not win
Coming off a lopsided decision loss to Myles Jury, Sanchez's "Come at me, bro" style of fighting is starting to serve as a detriment to his actual skillset. Perhaps a change back to "The Nightmare" is in order?
#4 – Alan Belcher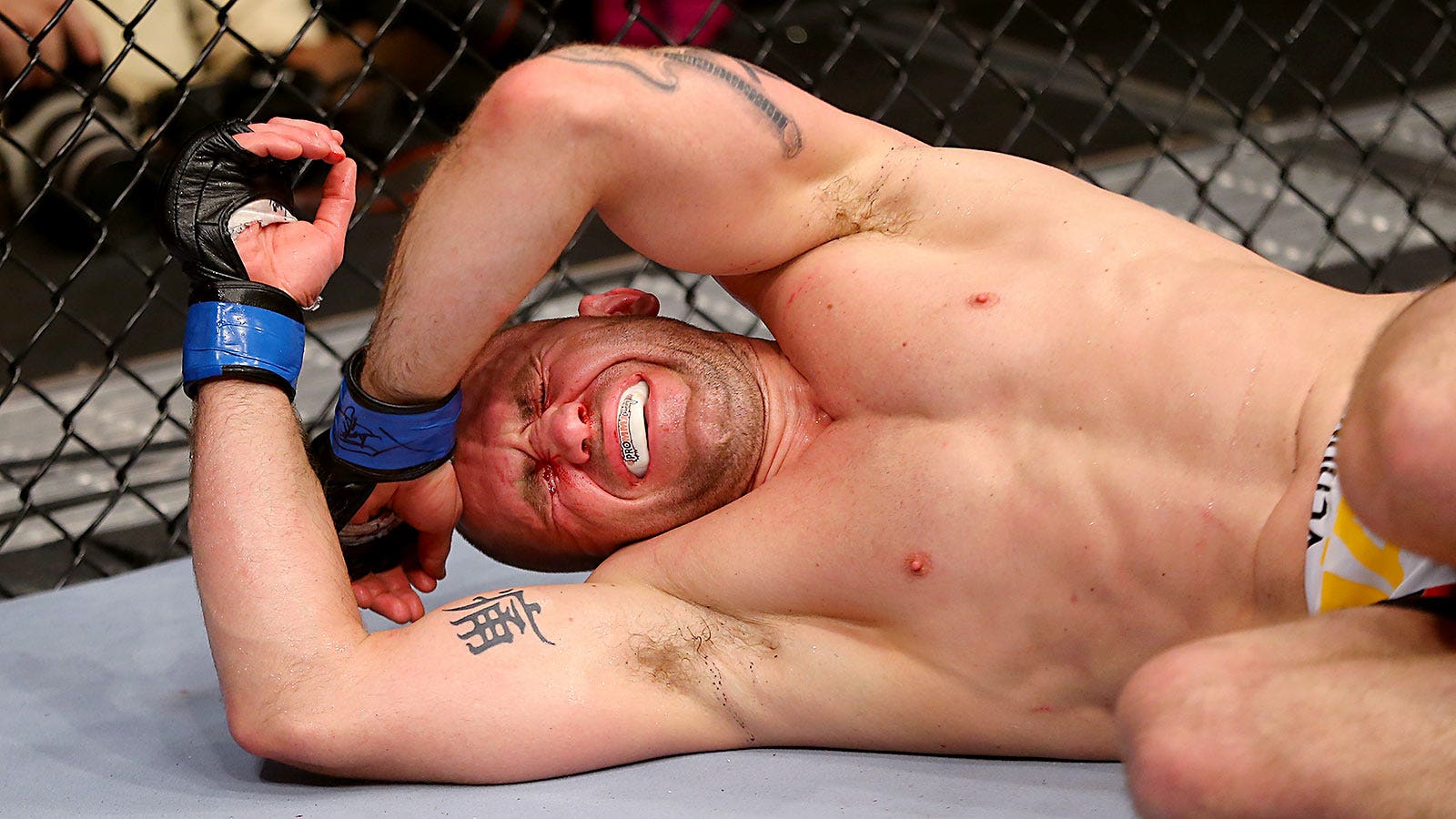 Between 2009 and 2012, Alan Belcher was on nothing short of a killing spree, picking up five stoppage victories alongside just one defeat, which came in the form of a ridiculous decision loss to Yoshihiro Akiyama at UFC 100. "The Talent" showcased an excellent ground game in his submission wins over Patrick Cote and Dennis Kang and some killer instinct in his one round rock 'em-sock 'em war with Wilson Gouveia, all culminating in the night he stepped into the bear trap known as Rousimar Palhares and lived to tell the tale at UFC on FOX 3. Flying high on confidence, Belcher told anyone with a microphone, clipboard, or within shouting distance that he would be the man to finally dethrone Anderson Silva, after he finished evening the scales with Yushin Okami (who had recently challenged Silva himself) in their rematch at UFC 155, that is.
Three rounds of patented Yushin Okami grapplehumping later, Belcher's title hopes were all but shot to pieces. But hey, everyone's entitled to an off night, right?
Looking to gain some momentum via a high-profile grudge match, Belcher did what most middleweights in his position do: He called out Michael Bisping. And wouldn't you know it, it worked! Belcher and Bisping engaged in an epic war of words before meeting at UFC 159, where Belcher would once again crack under the pressure he had placed on himself, dropping a technical unanimous decision in a snoozer. Of course, it didn't help that Bisping nearly poked Belcher's eye out in the third round, but the fact remains that "The Count" walked away with his hand raised when all was said and done.
Now over a year removed from competition, Belcher has insisted that he's not hanging up the gloves for good just yet, but is merely taking some time off. Let's hope he's able to fight his way back to the top upper middle when he returns.
#3 – Josh Koscheck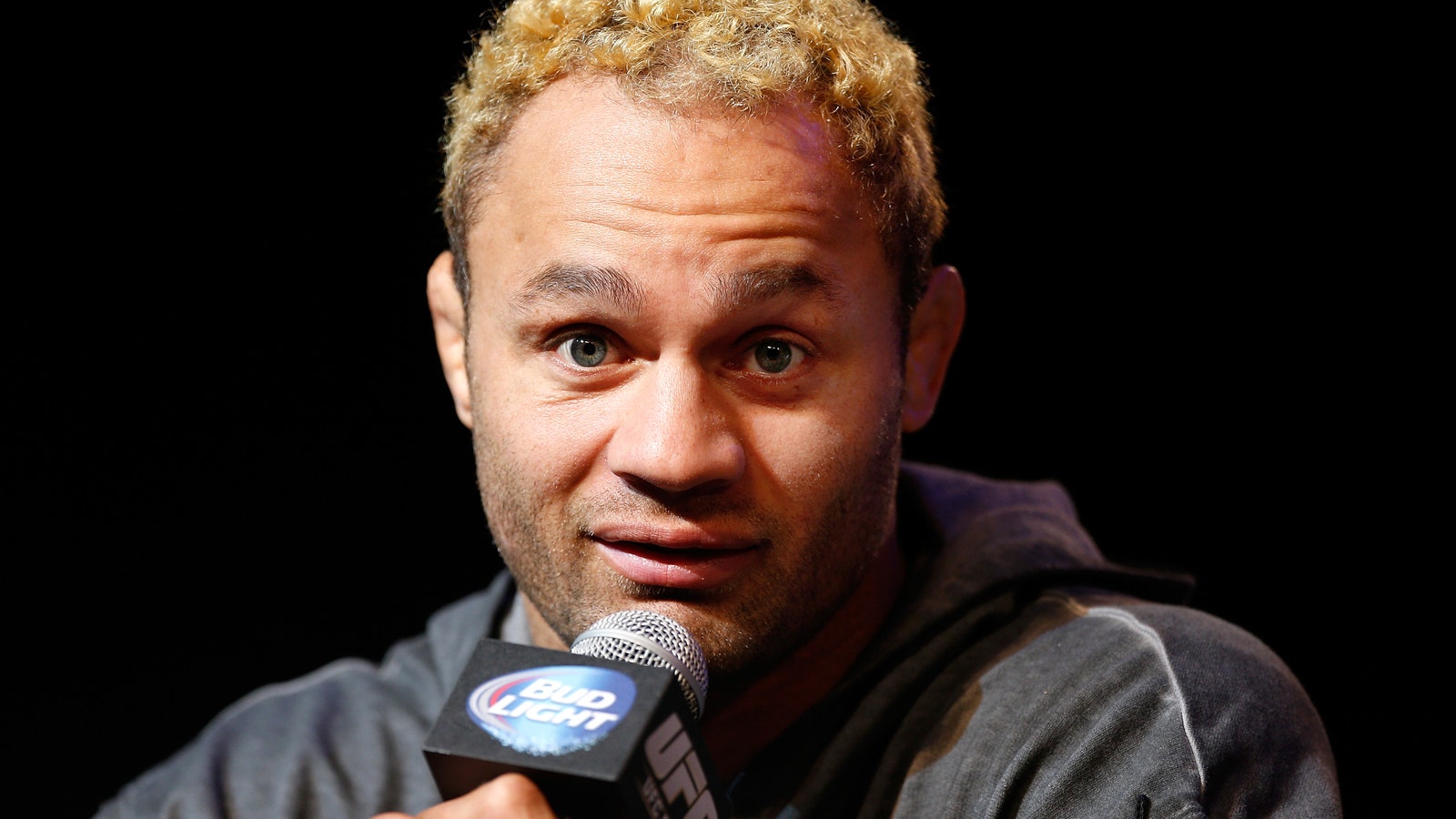 Things haven't been going so great for everyone's favorite fighter to hate since he suffered a one-sided, orbital-breaking beatdown at the hands of rival Georges St. Pierre at UFC 124. After punching Matt Hughes into retirement at UFC 135 and besting Mike Pierce at UFC 143, Josh Koscheck has dropped a close decision to current welterweight champion Johny Hendricks and been KO'd by Robbie Lawler and Tyron Woodley in consecutive appearances. He's not exactly losing to scrubs, but Koscheck's current three fight losing streak is the first multi-fight skid of his career and has left some fans calling for the 36-year-old's retirement. A little preemptive maybe, but there's no denying that the TUF 1 alum could use a big win in the welterweight division if he is to avoid that dreaded pink slip.
I say, have Koscheck face a young up-and-comer like Brandon Thatch next to see if he has any life left in him. Then again, I'm kind of a sadist.
#2 – Frank Mir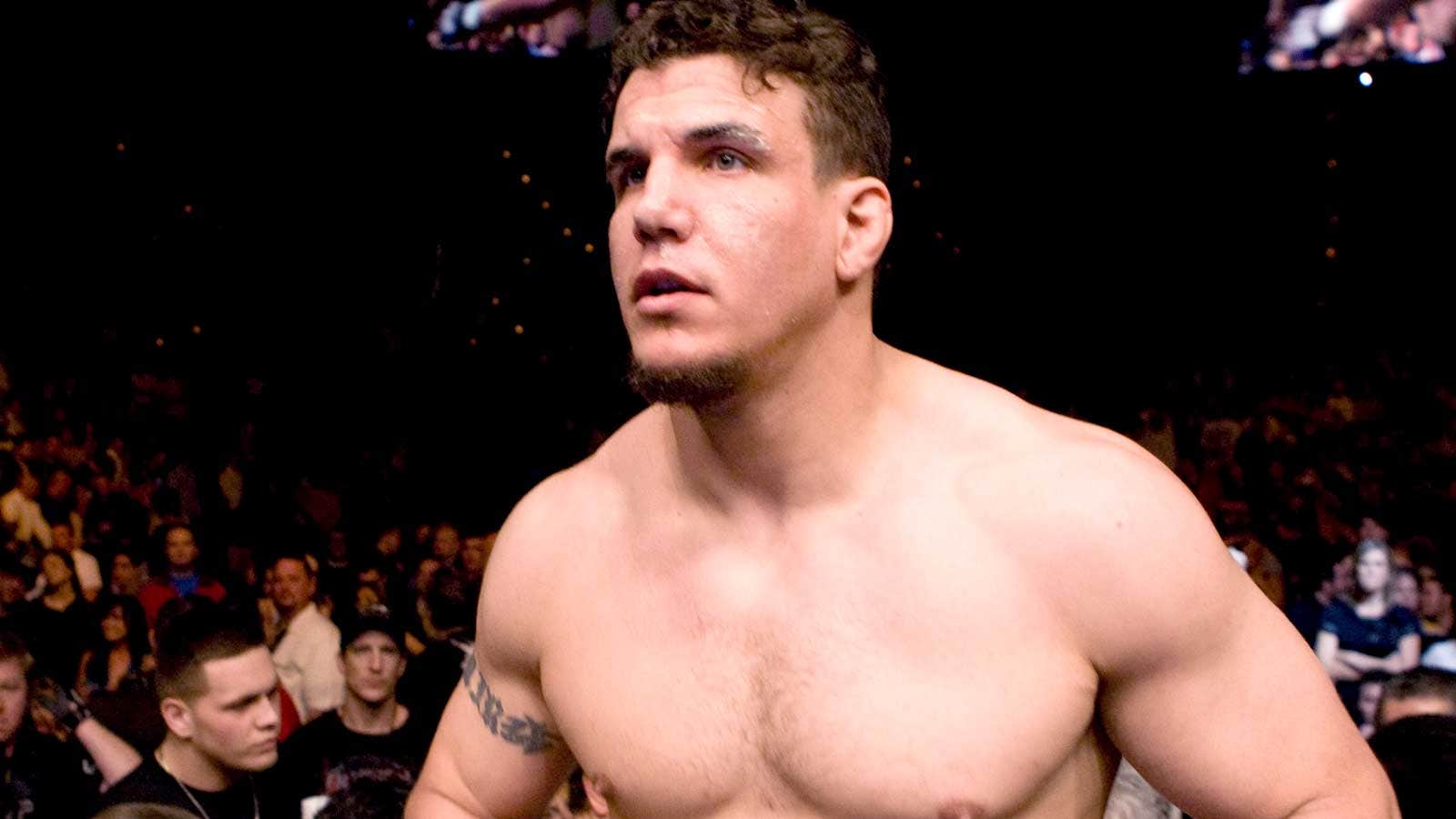 I know, I know. Frank Mir has been fighting in the UFC since 2001, is a two-time heavyweight champion, and a two-time Submission of the Year winner. He's headlined one of the biggest pay-per-views of all time, fought the who's-who of the heavyweight division, and perhaps most importantly, spilled *a lot* of blood for his longtime promotion. Frank Mir is a legend who would have to do nothing short of sleep with Dana White's wife to lose his tenure in the UFC, but the fact remains that Mir has dropped his past four fights in a row, an almost unprecedented losing streak for a UFC fighter not named Leonard Garcia.
Mir's past two fights have been particularly tough to watch, as he suffered his seventh career TKO defeat to Josh Barnett at UFC 164 before being thoroughly outclassed by Alistair Overeem in their three round clash at UFC 169. Mir is rapidly approaching the end of the line in regards to his MMA career, and while no losing streak will diminish his standing in the sport, let's not act like another title run is in the cards for him. Honestly, we'd just like to see Mir go out on a big win before hanging up his gloves once and for all and maybe accepting a commentary gig.
#1 – Dominick Cruz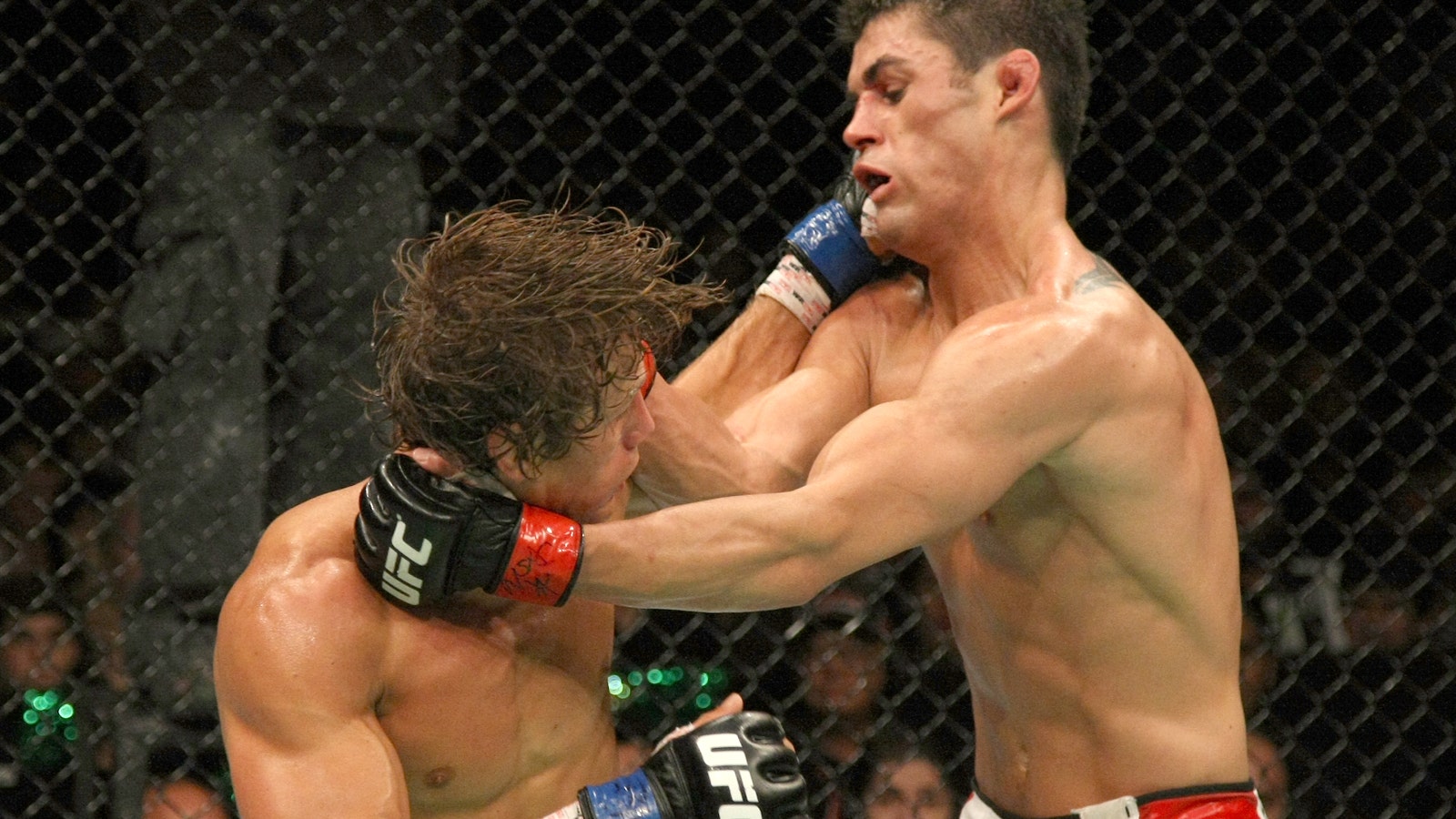 Dominick, Dominick, where art thou, Dominick?
To say that the UFC career of Dominick Cruz has taken an unfortunate turn of events would be akin to declaring Super Bowl XLVIII "an underwhelming experience from a neutral fan's perspective." It's a massive understatement, in case you didn't get the metaphor.
At one point the most dominant fighter in the WEC, Cruz seemed as if he was destined for a Anderson Silva-esque title run in the UFC following his first two performances – a pair of UD wins over Urijah Faber and current flyweight champion Demetrious Johnson. But fate is a cruel mistress (or an evil, conniving bitch in Cruz's case), and literally cut Cruz off at the knee while he was training for his trilogy-completing fight with Faber during their run as coaches on TUF 15. Then in 2012, fate chopped Cruz down at the knee again, that cold-hearted skank.
It wasn't until three years after Cruz's defense against Johnson that he was set to return to the octagon against interim champ Renan Barao, but wouldn't you know it, fate had other plans in store. And by "other plans" I mean a groin injury that forced the UFC to strip Cruz of his title and replace him with Barao. I guess Cruz should have never stepped foot on that Indian burial ground.
The last we heard, Cruz was in recovery (go figure) but still being promised an immediate title shot should he ever return. We hope he's able to someday, but at the same time, we won't be holding our breath.