Five of the greatest come-from-behind knockouts in UFC history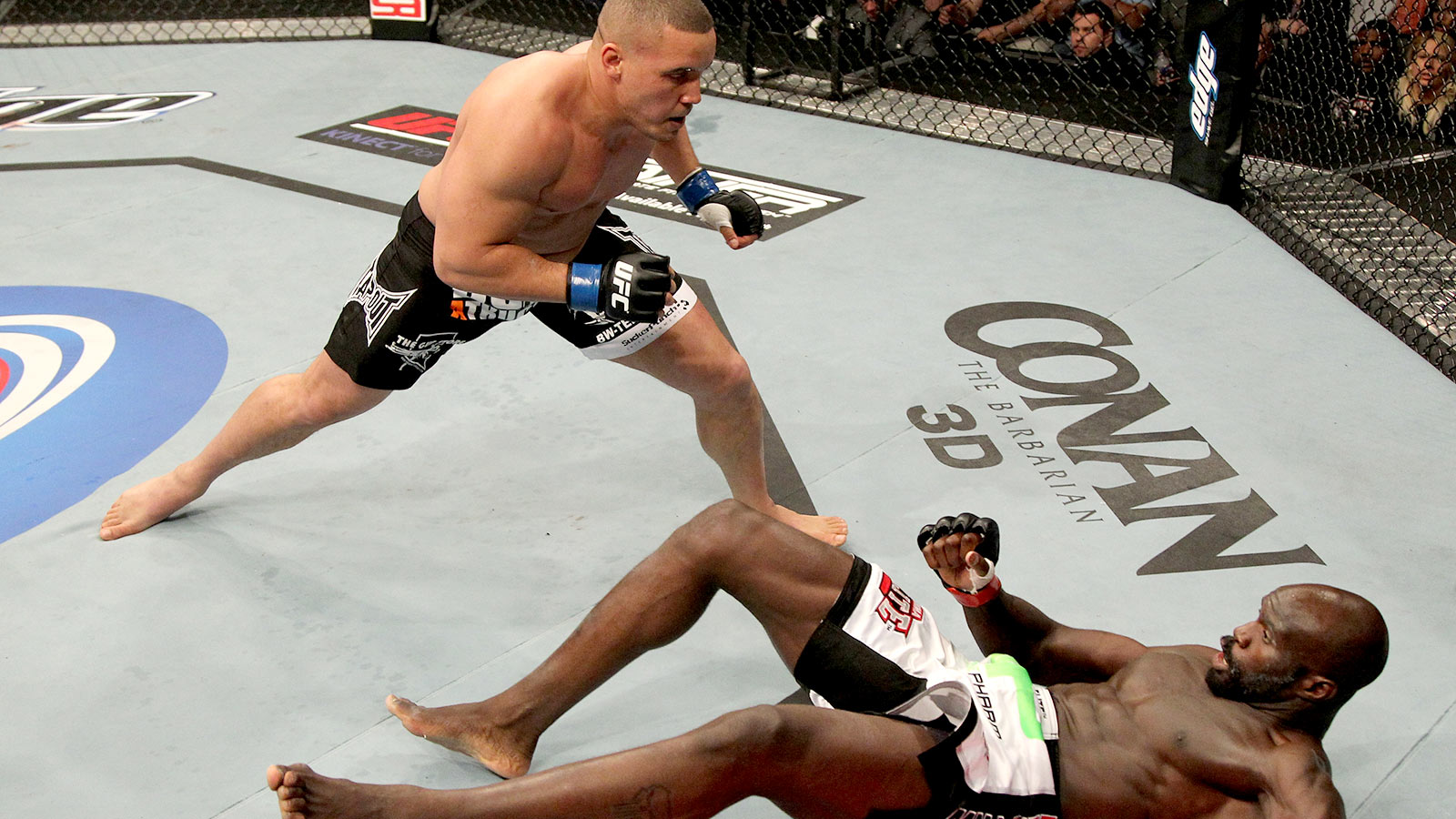 On November 19, 2011, former PRIDE stars Dan Henderson and Mauricio 'Shogun'€ Rua met in the octagon at UFC 139. The result was one of the greatest fights in UFC History, which Henderson emerged victorious from by way of unanimous decision. At Fight Night 38, Henderson and Rua met in the octagon for a second time. The result was one of the greatest come-from-behind victories in UFC History. Sensing a pattern here?
After being dropped and nearly finished in both the first and second rounds, Henderson was able to land one of his patented H-bombs midway through the third, shattering Rua'€™s nose and forcing referee Herb Dean to wave off the match. The moment was '€œabsolutely batsh*t redonkulousness'€ As was the case with their first encounter, Henderson vs. Rua II is a fight that will likely be discussed as among the greatest fights of the year when 2014 comes to a close. But beyond that, Henderson's shocking win will forever be immortalized as one of the most impressive, not to mention improbable, comeback KOs in the history of the sport.
In a sport as inherently unpredictable as MMA, there is perhaps no more dramatic and captivating a finish than the come-from-behind KO, and now, we must pay tribute to its greatness.
Tim Boetsch vs. Yushin Okami -€" UFC 144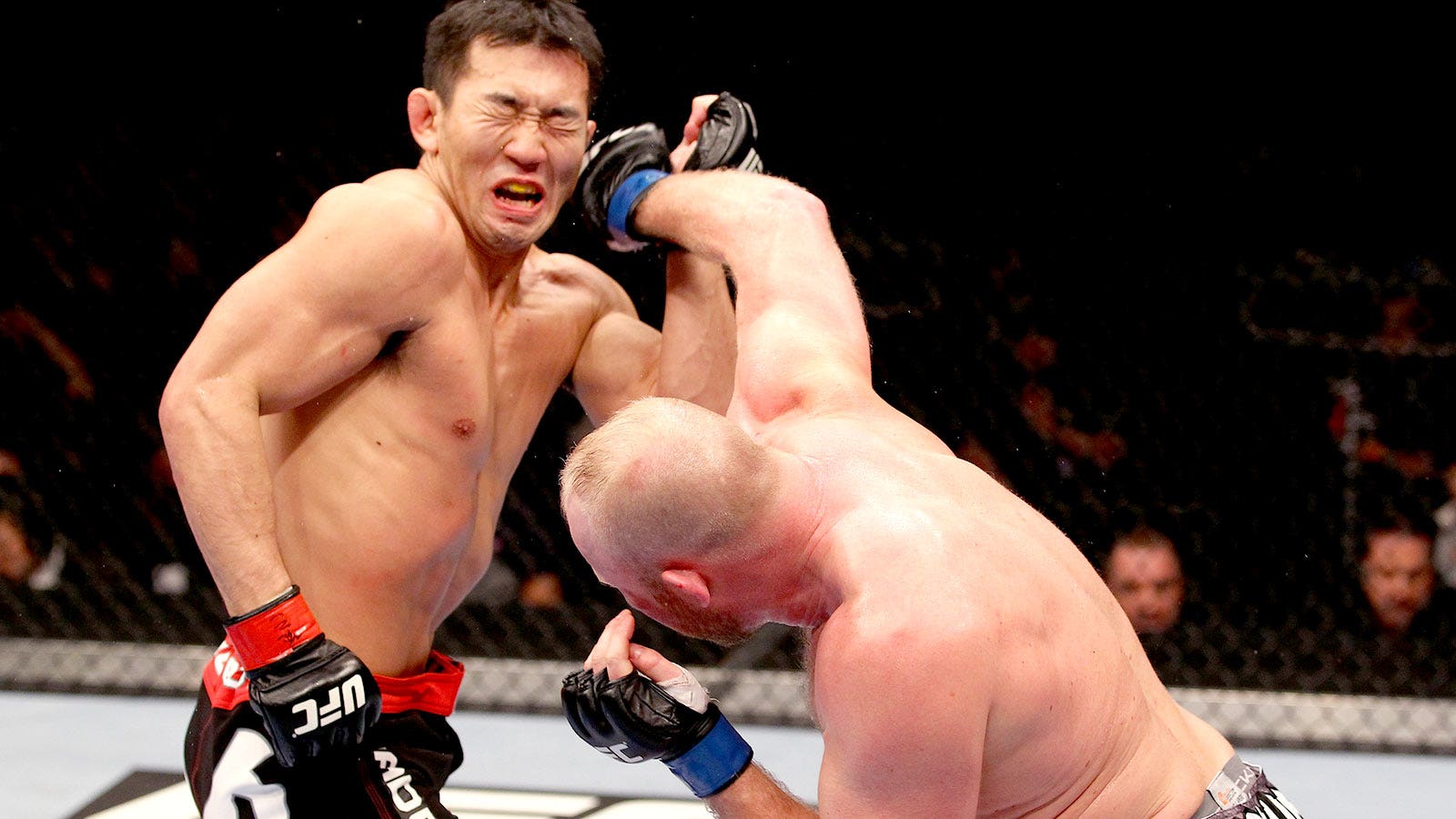 Otherwise known as the knockout that broke Joe Rogan'€™s brain, Tim Boetsch's drubbing of Yushin Okami at UFC 144 was truly a sight to behold. Down two rounds to Okami and watching a potential title shot — Okami had just challenged Anderson Silva in his previous contest — slip through his fingers, Boetsch need to 'open up'€, as Rogan put it, if he wanted any chance of walking away with a victory.
Boetsch apparently got the message, and thirty seconds into the final round, "The Barbarian"€ proceeded to unleash a barrage of uppercuts that were simply … barbaric (YEAHHHHHHH!!!). Though Okami tried valiantly to backpedal his way out of trouble (a.k.a The Kalib Starnes method of self-defense/silent protest), he eventually wilted under the onslaught, awarding Boetsch the insane victory and Rogan a doctor'€™s prescription for '€œa big glass of calm down juice.'€
Chris Leben vs. Terry Martin -€" UFC Fight Night 11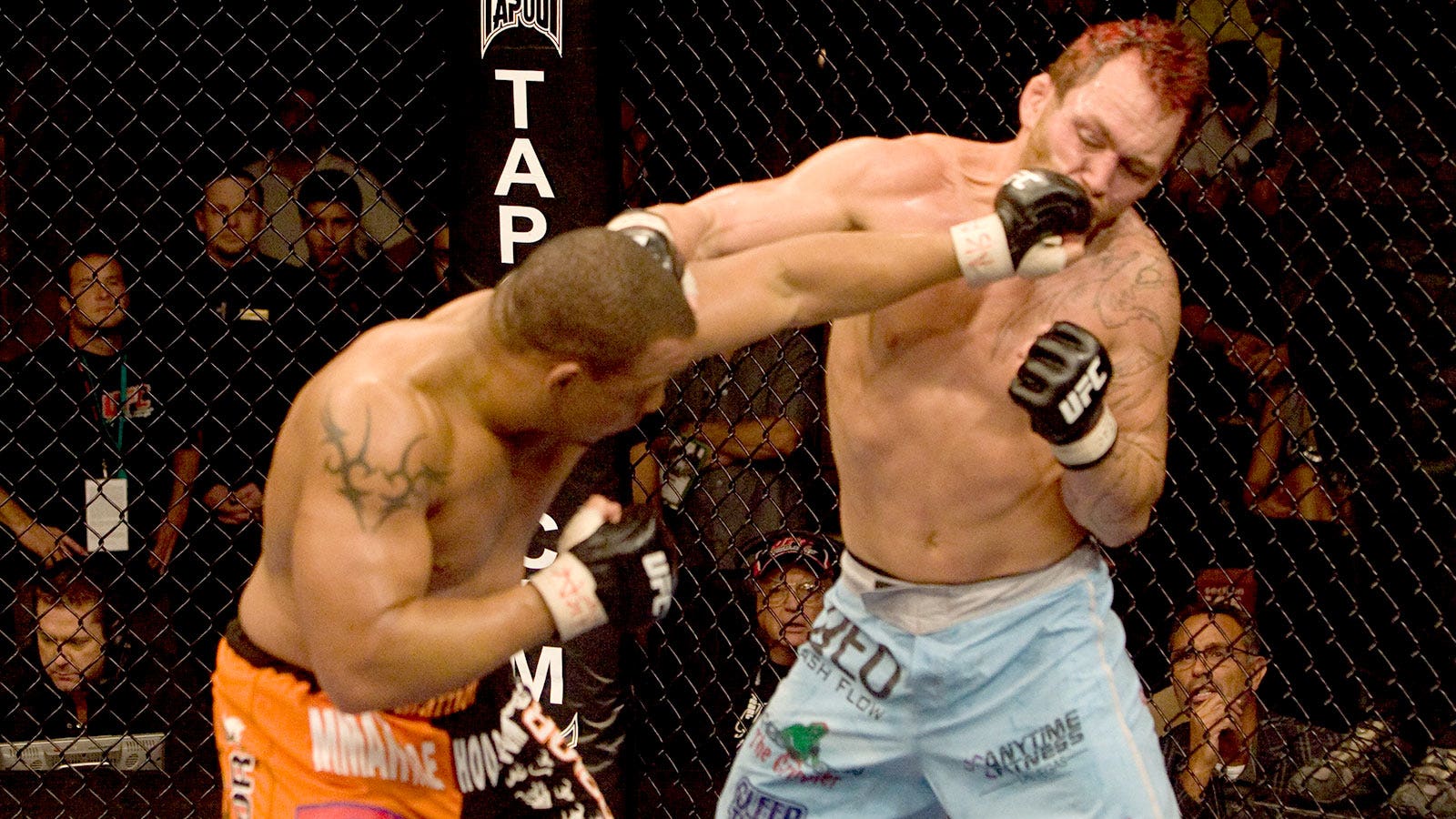 No joke, this may be my favorite finishing sequence of all time.
Aside from being the angrier doppelganger of Scott Weiland circa 1992, Chris Leben is easily one of the most exciting and memorable knockout artists in the history of the UFC. So when the oft-troubled TUF 1 alum was paired up with Terry Martin, a guy who has wound up on the wrong side of more highlight reels than I care to recall, fans expected a quick, earth-shattering KO right out of Leben's signature moves list. And to our credit, we were half right.
Leben would score quite possibly the most impressive KO of his career that night, but it would come at the high cost of a 14-minute ass-whooping (not that Leben would want it any other way). Even when a visibly exhausted Leben was able to get to his feet for what would become the aforementioned finishing sequence of the fight, Martin was still in control, punishing "The Crippler" with right hands that sent him stumbling backward into the cage.
But then, in a moment of preemptive arrogance that will likely haunt Martin forever, he made the fatal mistake of taunting Leben.
If you watch the fight close enough, you can literally see the moment in which Leben'€™s punch-drunk brain channels his adrenal glands for one final dump. Martin lowers his hands, as if to say "€œYou got anything for me, bro?€" and Leben responds by walking through half a dozen punches like a man possessed (or zombified) and plastering Martin with a left hand that shuts off his lights.
It was like watching two drunken Bostonians brawl outside of a bar on St. Patrick'€™s day, and I mean that in the best way possible.
Mike Russow vs. Todd Duffee -€" UFC 114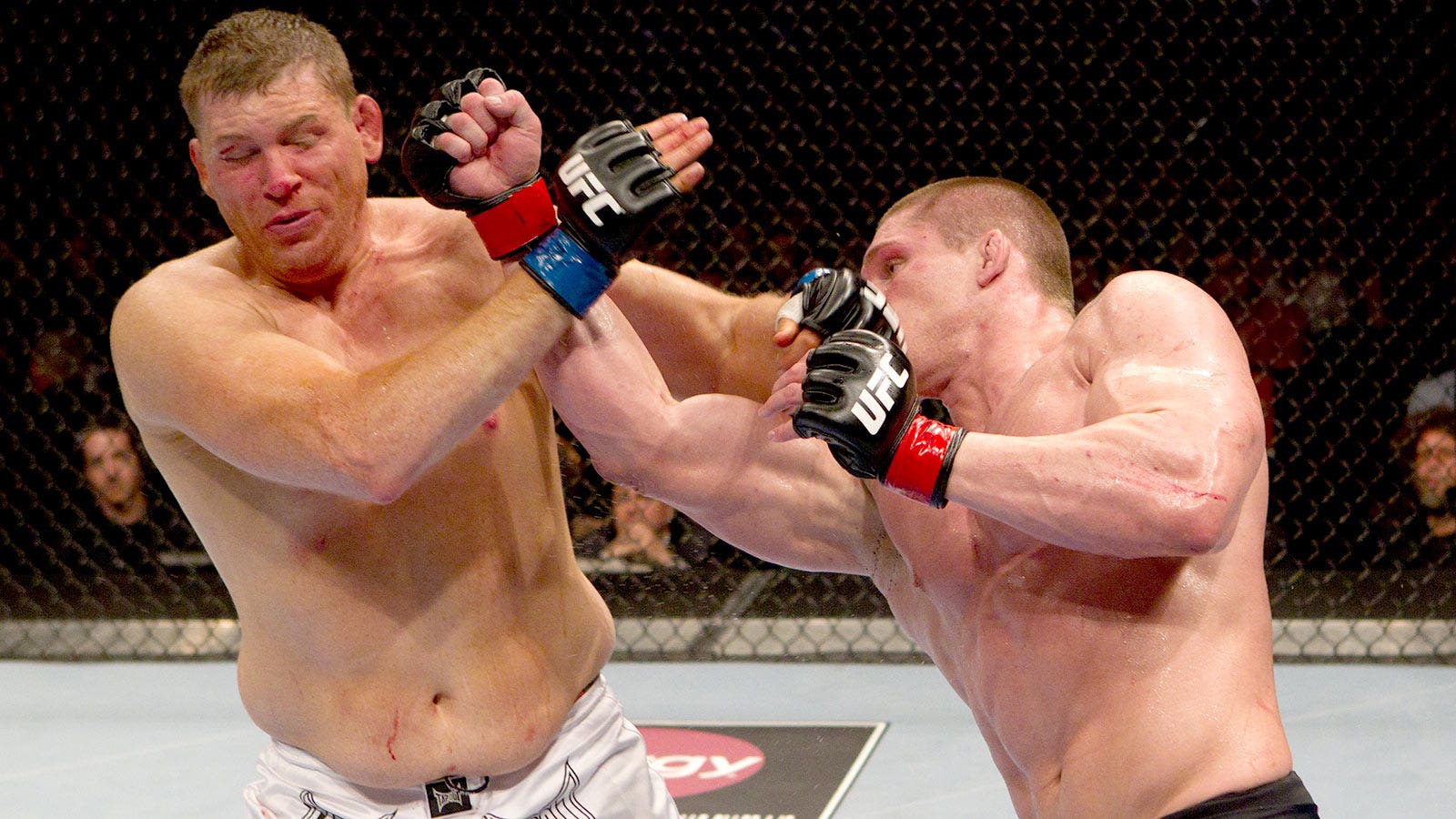 For every yin, there is a yang. For every action, there is an equal but opposite reaction. And for allowing the comically hilarious mismatch between Mark Kerr and Ranger Stott to occur at UFC 15, the universe gave Mike Russow the strength to knockout of Todd Duffee at UFC 114.
That's not to compare the skillset of Russow and Stott — because the former is a legitimately-skilled fighter and the latter a delusional shut-in responsible for the '€œR.I.P'€ style of fighting currently sweeping the MMA nation — but from a purely physical perspective, let's just say that both men were visibly outmatched by their opponents. It didn'€™t help that Duffee was treating Russow like his personal punching bag for the first two rounds, outstriking the Chicago police officer 56 to 21, stopping all eight of his takedowns, and dropping him on no less than forty seven occasions.
But as Rua learned the hard way last weekend, things like size and speed advantages don'€™t mean shit when your opponent can eat punches like Pac Man does those little white dots. So when Duffee had finally tired himself out kicking Russow'€™s ass midway through the third round, Russow used the opportunity to kick Duffee'€™s ass back (scientific jargon). The knockout punch that Russow threw -€" an unassuming, harmless-looking right hand -€" was not unlike Russow himself, in that it was quiet, unassuming, and harmless-looking at first glance. Yet it was all that was needed to put the Duffster (unofficial nickname) and his 250 pounds of chiseled muscles and brawn away. It just goes to show that you should never judge a book by its cover, unless that cover is a man in tan cargo shorts claiming to have invented a fighting style called '€œRest in Peace.'€
Scott Smith vs. Pete Sell -€" TUF 4 Finale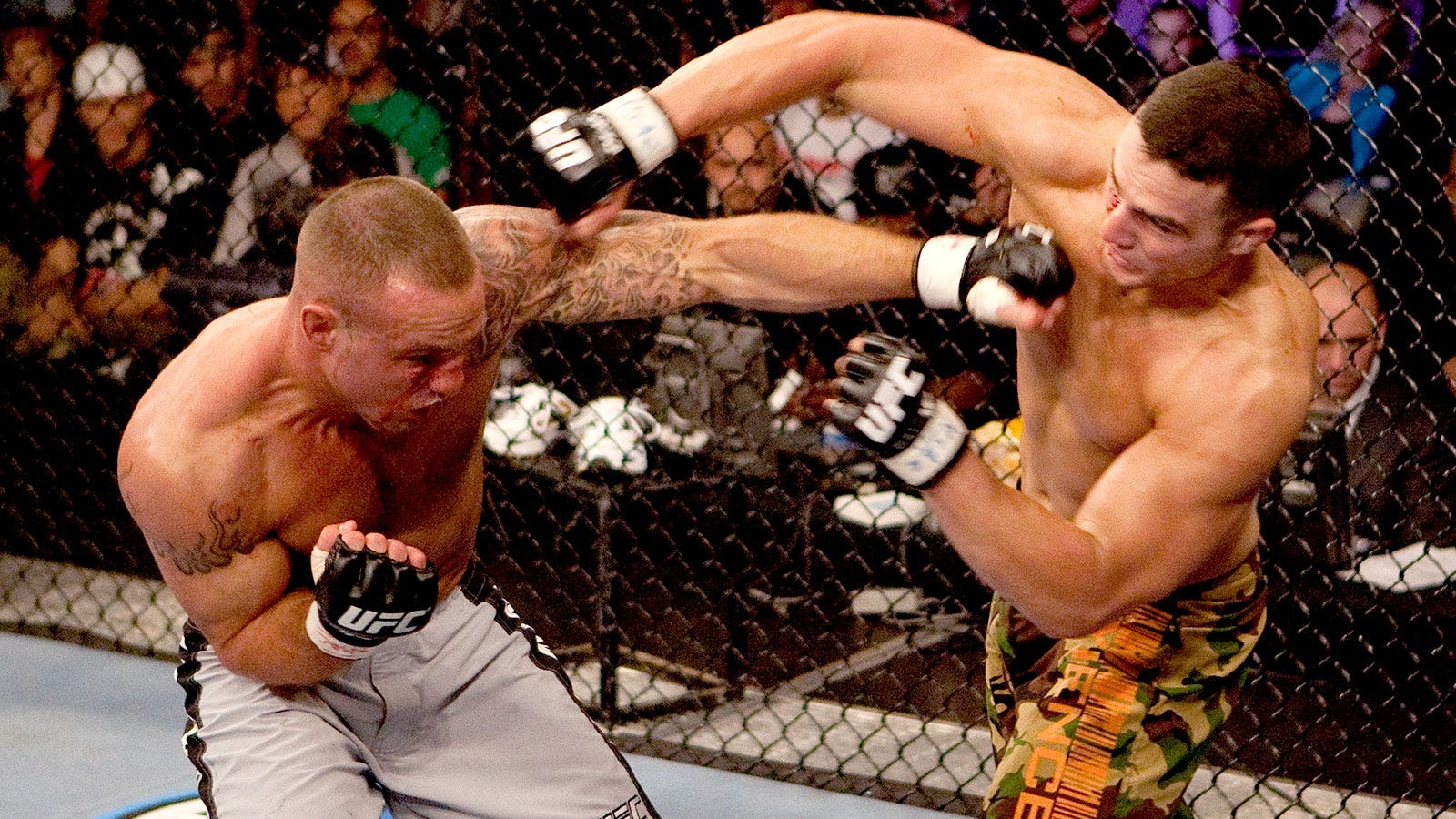 Scott Smith vs. Pete Sell is one of those fights that you have to have watched, read about, or viewed in gif form a million times by now if you consider yourself anything of an MMA fan. Smith, who practically invented the comeback KO genre of MMA with his wins over Benji Radach and Cung Le, was facing fellow TUF 4 castmate (and good friend) Pete Sell, a Serra-Longo Fight Team product with a penchant for brawling over strategizing. And Smith vs. Sell was exactly that: a slugfest.
For the majority of two rounds, the pair repeatedly engaged in wild, haymaker-ridden exchanges, exchanges made all the more exciting by the fact that they would usually end in either high-fives or hugs. A particularly brutal body shot towards the end of the second, however, would instantly wipe the smile of Smith's face, turtling him over and leaving him wide open for the knockout.
But as Sell charged in to put the stamp on Smith, '€œHands of Stone'€ dug deep and threw a punch that was as desperate as it was awesome, flooring '€œDrago' and drawing a unanimous '€œOh sh*t!'€ reaction from the attending audience.
Perhaps the only thing more harrowing than Smiths dramatic knockout was his reaction after Big John stepped in to award him the fight. Still badly injured from the body shot, Smith rolled over onto his back in agony and had to be attended to by the UFC'€™s medical team before he could have his hand raised. His knockout stands as one of the most iconic in all of MMA to this day.
Cheick Kongo vs. Pat Barry -€" UFC Live 4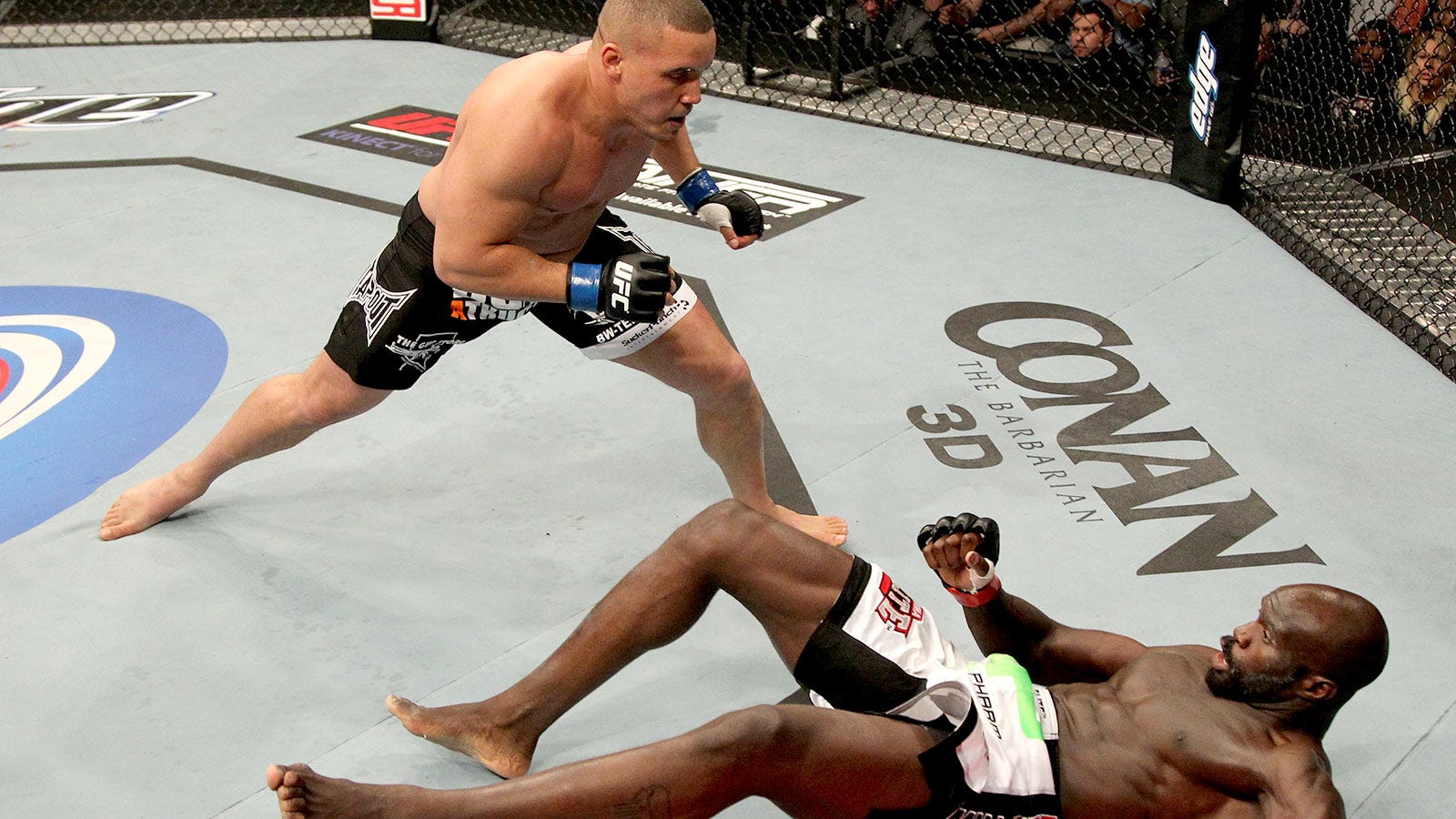 Whereas Scott Smith had the benefit of being, you know, sentient while delivering his Hail Mary shot, the gift of consciousness was not a luxury enjoyed by Cheick Kongo when he was able to knockout Pat Barry in their main event scrap at UFC Live 4 in June of 2011.
You see, despite being previously heralded as one of the UFC heavyweight division's greatest kickboxers, Kongo is not that great of a striker (at least, so sayeth MMA analyst Jack Slack). The Frenchman has some tendencies in the cage that often leave him open to a counterstrike, and his fight with Barry, a kickboxer-turned-MMA fighter-turned-back to kickboxer, was no different.
In what was arguably the greatest three minutes of MMA ever, Barry swarmed Kongo with a storm of punches that was near-Biblical in its ferocity, dropping Kongo twice and nearly earning referee Dan Miragliotta's intervention on one occasion. Somehow, Kongo managed to get back to his feet one final time, and in a moment eerily reminiscent of Smith vs. Sell, Barry walked face first into a punch (two punches, really) he never saw coming.
As if being a pants-shittingly scary individual with pectorals the size of dinner plates isn'€™t enough, Cheick Kongo was apparently also born with the ability to self-resurrect and throw knockout punches while asleep. Meanwhile, I chaffed my nipples running a 5k last weekend. Some guys get all the luck, you know?