Roger Federer is back! (And wearing some ugly Kobe Bryant shoes!)
The knee is fine. The virus is gone. The Fed is back.
Roger Federer returned to tennis Tuesday for the first time since the Australian Open, beating Spanish clay specialist Guillermo Garcia-Lopez 6-3, 6-4 in two easy sets in his opening-round match in Monte Carlo. It was Federer's first time back on the court since he had his knee scoped in January following an injury suffered at family bath time. (Don't laugh. Put one child, let alone two, in a tub and their splashing results in the bathroom floor immediately retaining two inches of standing water. It's like what Bruce Springsteen sung about in Born to Run – it'll rip the bones from your back, it's a death trap. I can't believe I've made it two years without pulling, tweaking or breaking something while walking around.) Federer looked no worse for the wear.
He was sharp on break points (going 2/3) and adept at saving his own (Garcia-Lopez was 1/4). His serve was a tad rusty but his movement looked fine. And he had a fire you rarely see in a comeback match (or an opening round match anywhere). Federer was yelling in celebration at saving break points and holding serve. It was far from the toe-in-the-water comebacks we often see from players coming off a long break.
The all-time Grand Slam champ had a false start late last month in Miami, when he was scheduled to play (he had the emoji practice shirt and everything) but came down with a virus and had to withdraw.
It seemed to be the right move. He looked like his old self Tuesday (albeit against mediocre competition) with barely the rust you'd expect from any extended layoff, let alone one that included surgery, braces and rehab. If you didn't know he hadn't played in about three months, you wouldn't have guessed.
The only issue, perhaps, was with Federer's Nike kit, which looked great from the knees up, but had an unfortunate white-sock issue to clash with the dark red shirt and the black, Kobe Bryant shoes.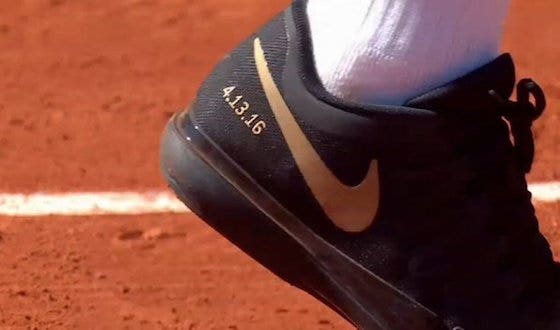 Yes, Kobe Bryant shoes, emblazoned with the date of Kobe's last game (Wednesday, thankfully). Never has a man who's played on a team with a winning percentage of under 20 percent gone out with such fanfare. And come on: "4.13.16?" He's retiring from a game that passed him by two years ago, not dying.
Anyway, Federer plays against the winner of Jeremy Chardy and Roberto Bautista Agut on Thursday, or 4.14.16: Day 1 AK (After Kobe).