Amazingly, this is only like the fifth-most ridiculous picture Roger Federer's ever taken
Roger Federer is a photographer's dream: Famous, handsome and willing to use props like a hack comedian on a cruise ship. His latest, greatest photograph has him jumping on a hidden trampoline and playing air guitar on the strings on his tennis racquet. For a guy who missed six months because he got hurt giving his kids a bath, it seems like a wise frivolity. The pic was taken in promotion for the Ryder Cup-like tournament he's spearheading – the Laver Cup – and also, presumably, an upcoming announcement that he's leaving tennis to focus on his music career.
We're starting a boyband #NOTNSYNC @GrigorDimitrov @TommyHaas13 @officialdfoster pic.twitter.com/oj5you11gH

— Roger Federer (@rogerfederer) January 21, 2017
The PR for the LaverCup also involved the tired tennis stunt of playing on a barge which, I don't know, Huck Finn kind of has that on lock. But kudos nonetheless because – voila – you've now heard of the Laver Cup. If they had dressed up Federer in a Slash wig/hat with a dangling cigarette and given him a backstory of a fractious relationship with Axl Rose, the Laver Cup folks probably could have gotten you to buy tickets too.
#Federer "I've played in some amazing places and this ranks up there because of the beauty of the city." #LaverCup pic.twitter.com/zsediNwVyR

— Laver Cup (@LaverCup) February 20, 2017
The music phase is just another step in the life of the ultimate sporting chameleon. He's had his boy-band phase, his pinup phase, his James Bond phase,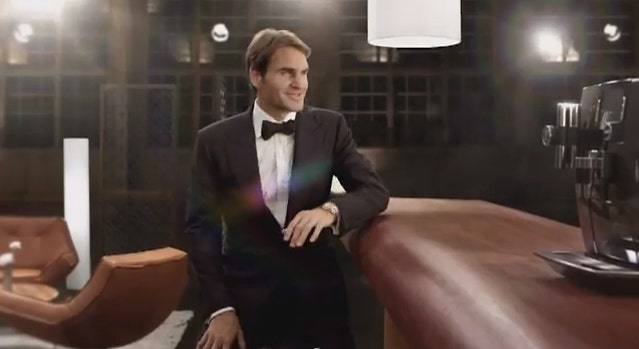 his Asian-inspired phase, his SEC-baseball player phase, his J.R. Ewing phase, his The Devil Wears Shirts That Need More Buttons phase,
his Eurotrash soccer player phase, his pretentious French director phase,
his I-don't-which-life-decisions-got-me-here-but-I'm-hanging-out-with-Lindsay-Lohan phase,
his Lawrence of Arabia phase, his bad-boy phase, his bovine phase, his Stradivarius phase,
his'80s buddy sitcom phase, his drum circle phase,
At least I have a backup career as a bongo player 💪🏻 pic.twitter.com/C8xl0pW9Pu

— Roger Federer (@rogerfederer) January 4, 2017
his Ted Williams phase, his Mr. Reredef phase (I like the way Reredef thinks!),
and his famed Honey, I Shrunk The Kids phase.
He's an enigma. Roger Federer: the most stylish man in the world, a cool cat and a guy so dorky he makes your dad look like Steve Mc-freakin-Queen.