Get to know CiCi Bellis, the 15-year-old American who just pulled off a U.S. Open stunner
We love to get excited about young Americans doing well at the U.S. Open. Isn't that right, Melanie Oudin?
It may be is definitely too early to get excited about 15-year-old Catherine "CiCi" Bellis' first-round win Tuesday in New York over No. 12 seed Dominika Cibulkova, but nevertheless, here's an introduction to a player sure to get plenty of attention for at least the next two days.
She's a home-schooled California girl
Born in San Francisco and now living in Atherton, her parents have home-schooled her since the fifth grade.
She's the youngest woman to win a U.S. Open match since 1996
The 15-year-old who won in 1996? Anna Kournikova. The last American 15-year-old to win a women's match at Flushing Meadows? Current ESPN commentator Mary Joe Fernandez. Not bad company to be in at all. Fernandez never won a Slam, but was a three-time runner-up and had several other close calls.
Her ranking going into the U.S. Open was 1,208
With only a few wins on the second-tier ITF circuit at such venerable pro tennis destinations as Orlando, Surprise, and Rancho Santa Fe, Bellis is a long way from on the radar in the WTA rankings. Though she is the No. 2-ranked junior.
She qualified for the U.S. Open by defeating a Tornado
Bellis was the 2014 USTA Girls' 18s National Champion, meaning she was given a Wild Card entry into the main draw. In the championship match, she beat a girl by the name of Tornado Ali Black. Seriously. Let it be known that we're also rooting for big things for Tornado.
She's not allowed to play tennis full-time yet
The WTA has rules saying you can't go pro until the age of 18. According to the rule book, a player is only allowed to compete in 10 professional tournaments between her 15th and 16th birthday. So don't get too used to her just yet.
She's on Twitter
So go follow her. We'll wait.
This happened three years ago
Catherine Bellis in 2011. RT @heelsrule1988: the girl that's giving domi fits right now, folks pic.twitter.com/JTkwm3ZyWx

— Lindsay Gibbs (@linzsports) August 26, 2014
She pretty much literally played in the shadow of Arthur Ashe Stadium
Cool visual below of Court 6, where Bellis and Cibulkova played, showing its proximity to the massive main stadium at the Billie Jean King National Tennis Center. A non-TV court, ESPN rushed a single camera over to capture the action as the match was winding down.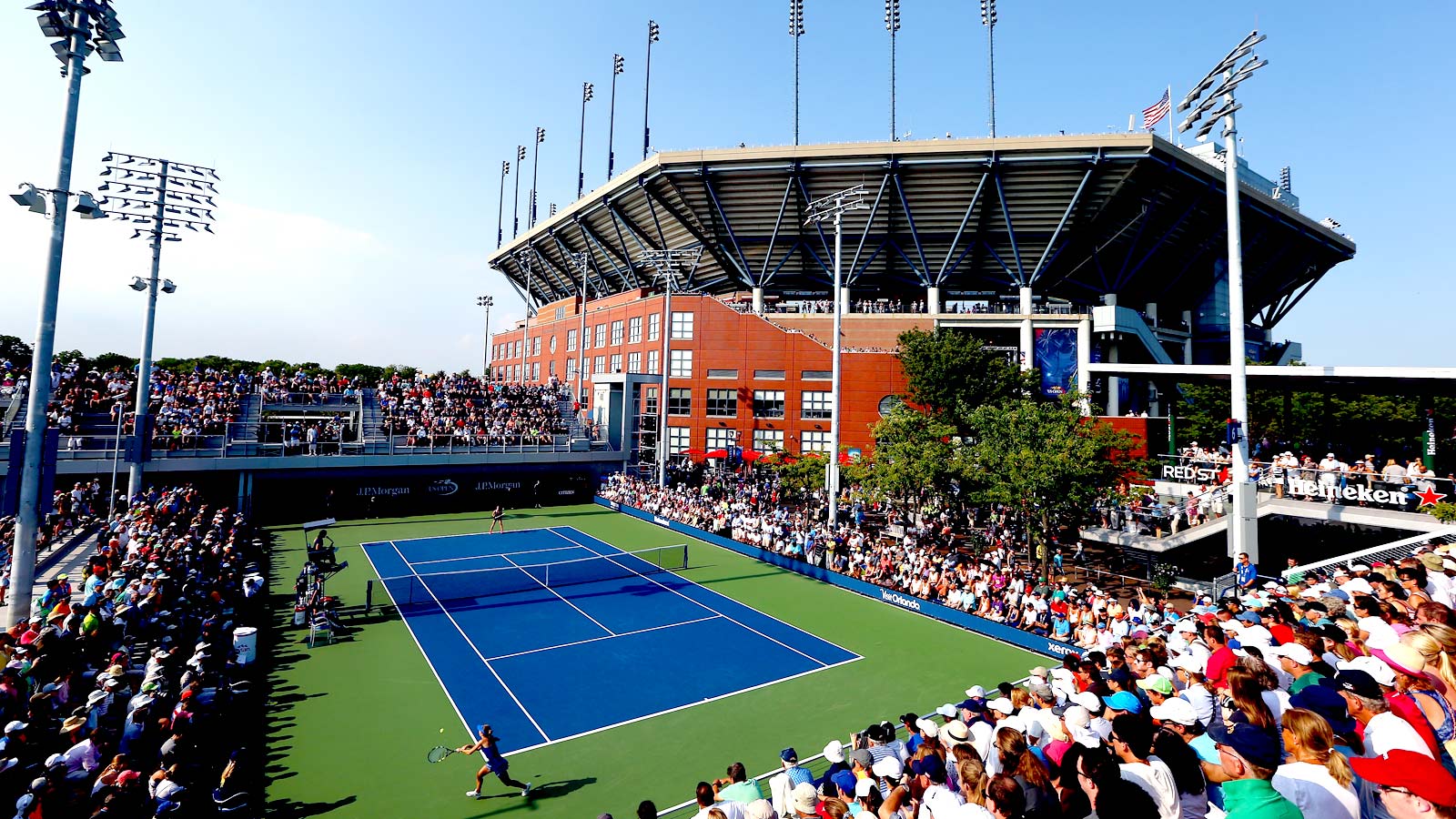 She handled herself very well after the match
There's a lot of class in this quote: "I went into the match thinking it was going to be such a great experience, but I never thought I would come out on top winning," Bellis said. "I'm still in shock about that match."