French Open takeaways: Even more ways to appreciate Federer and Nadal
We have grown accustomed to our Grand Slam tennis champions being a factor in every major tournament. At the very least, we expect them to make it past the first round.
Roger Federer: 42-0 in the first round at Grand Slams since winning Wimbledon in 2003, the first of his record 17 Grand Slam titles.
Serena Williams: 55-1 in her career in the first round, 17 Grand Slam titles.
Rafael Nadal: 37-1 all-time in the first round, 13 Grand Slam titles.
Novak Djokovic: 33-0 to start since the 2006 French Open, his first-ever run to the quarters at a Slam. He owns six Slam titles.
Maria Sharapova: 39-1 since Wimbledon 2003, her third ever Grand Slam appearance. She has four Slams.
Andy Murray: 24-0 since the 2008 French Open. Two Slam crowns for him.
Even Juan Martin del Potro, the oft-injured Argentine who is the only other man besides the Big Four and Stan Wawrinka to win a Grand Slam in the last nine years, is 23-0 in the first round at Slams since Wimbledon 2007.
So it was surprising Monday when Wawrinka lost in the first round at Roland Garros in his first match at a major since winning the Australian Open earlier this year. Doubly so when the same fate befell Li Na on Tuesday. It marks the first time ever that both the reigning men's and women's major champions lost in the first round of the ensuing major.
It's not entirely fair to hold Wawrinka and Li to the standards of Federer and Serena, but still … the occasion serves as a reminder of the remarkable consistency we've seen over the years from this generation of greats.
Wozniacki bows out amid personal turmoil
Still grappling with her split from golfer Rory McIlroy, No. 13 seed Caroline Wozniacki was sent packing in a three-set loss to Belgium's Yanina Wickmayer, 7-6 (5), 4-6, 6-2.
Wickmayer has fallen off substantially since making a surprise run to the US Open semifinals in 2009, and Wozniacki was 6-1 all-time against her headed into the match. But it wasn't to be, and Wozniacki hinted that the break-up may have affected her play.
"You're not prepared for something like this, and (it) came a bit as a shock," Wozniacki said. "I just tried to prepare the best that I could. … I felt a little bit rusty out there, and it wasn't really a pretty match. But I tried."
Wozniacki headed off any questions about her personal life at the onset of the press conference.
McIlroy, meanwhile, won his first tournament since their engagement was called off.
A pair of tricky sleepers bow out on the men's side
No. 11 Grigor Dimitrov and No. 21 Nicolas Almagro both came into the French Open with high hopes. Both are done after just one match in Paris.
Dimitrov is a rising star who gave Nadal fits in the Australian Open quarterfinals. He also had a title in a lesser clay tournament in the lead-up to the French. He lost in straight sets Tuesday to the booming serve of Croatia's Ivo Karlovic.
Almagro had a win over Nadal in Barcelona to boost his confidence, but he was forced to retire Tuesday after just five games against the young American Jack Sock.
The Almagro loss is especially good news for Nadal, who now wouldn't have to face a seeded player until at least the quarterfinals.
Photo of the day
Michael Llodra lost a tough three-setter to No. 24 Fernando Verdasco, 6-2, 7-6 (4), 7-6 (3). It was the final match of the Frenchman's long career — he has played in the French Open every year since 2000 — and Roland Garros honored him with a ceremony. The most touching moment came when he shared an emotional embrace with his son: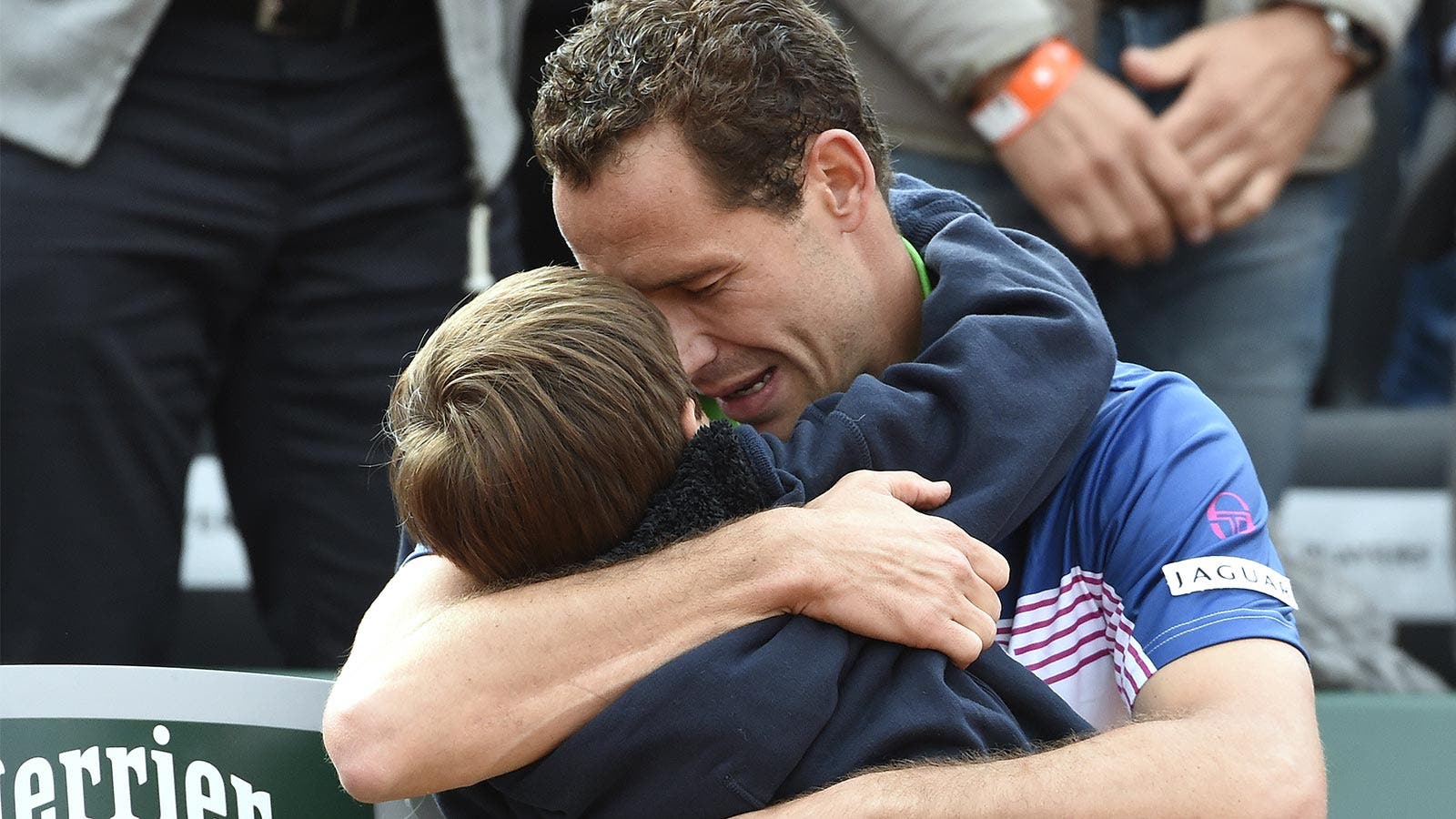 Outfit of the day
Ekaterina Makarova, bringing shades of your grandmother's sofa: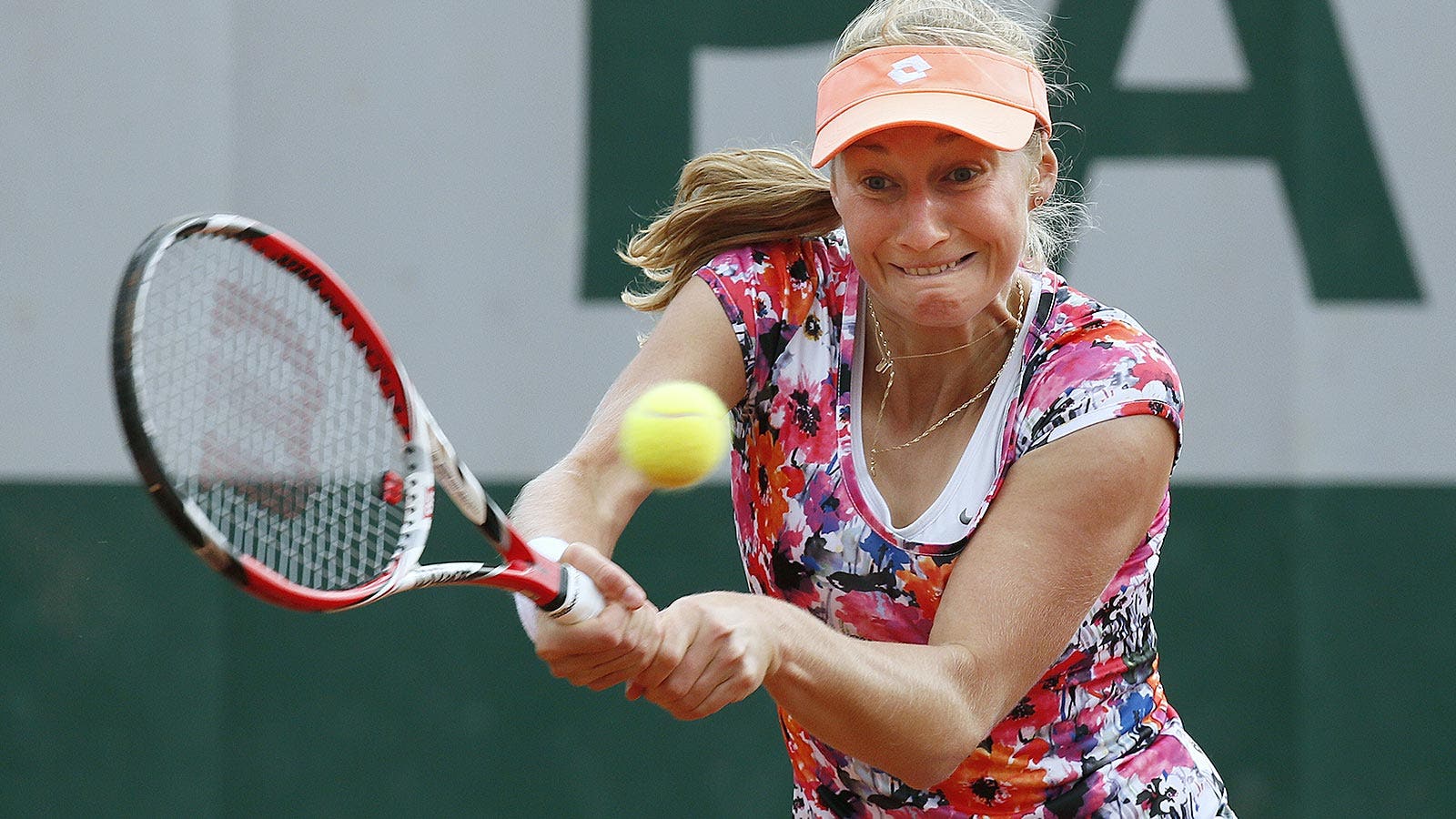 The Associated Press contributed to this report.