Andy Murray vs. Novak Djokovic: Career Head 2 Head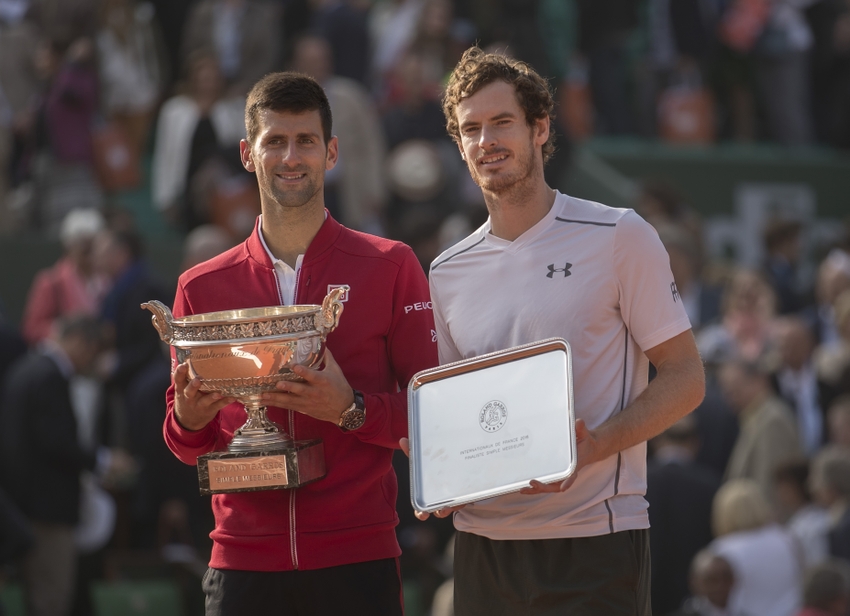 Andy Murray and Novak Djokovic are the best in men's tennis. They are both making waves at the season-ending Barclays ATP World Tour Finals in London.
Andy Murray and Novak Djokovic are the top players in men's tennis. The 02 Arena in London is shaping up to be the biggest stage in 2016 tennis.
The ATP World Tour Finals has become yet another tournament where both Murray and Djokovic must fight for the top ranking in men's tennis. Both players are at the top of their game, playing the best tennis the sport has seen in years.
Throughout their career head-to-head matchups, Djokovic has a commanding lead over Murray. Both at 29 years of age, the Serbian tennis player leads the pair with a record of 24-10 over the Scot. Most recently, Djokovic even claimed his first ever French Open title in 4 sets over Murray. The match was decided 3-6, 6-1, 6-2, 6-4.
Djokovic is carrying the momentum as of late. Despite a strong 2016 season for Murray, Djokovic has won 13 of the last 15 matches between them.
In Grand Slam matches, Djokovic also leads the career head-to-head with a record of 8-2. He appears to have the upper hand when it comes to big tournaments. As he is the current defending ATP World Tour Finals champion, Djokovic also sits at 1-0 against Murray at the season-ending tournament.
Murray is, however, closing the gap when it comes to finals matches between him and Djokovic. The Serbian tennis superstar still leads 10-7 but Murray is surging. Murray is also 1-0 in their Olympic head-to-head matches and 2-0 when the players meet on grass.
Djokovic may have scoreboard right now, but Murray is a clear threat. The tennis superstars have been battling for years and there is no sign that things will change anytime soon. The entire tennis world is awaiting their next match. London is shaping up to be a phenomenal season-ending tournament in men's tennis. Both Murray and Djokovic have plenty to prove at the 02 Arena.
Want your voice heard? Join the Lob and Smash team!
Check back for updates from Lob and Smash.
This article originally appeared on