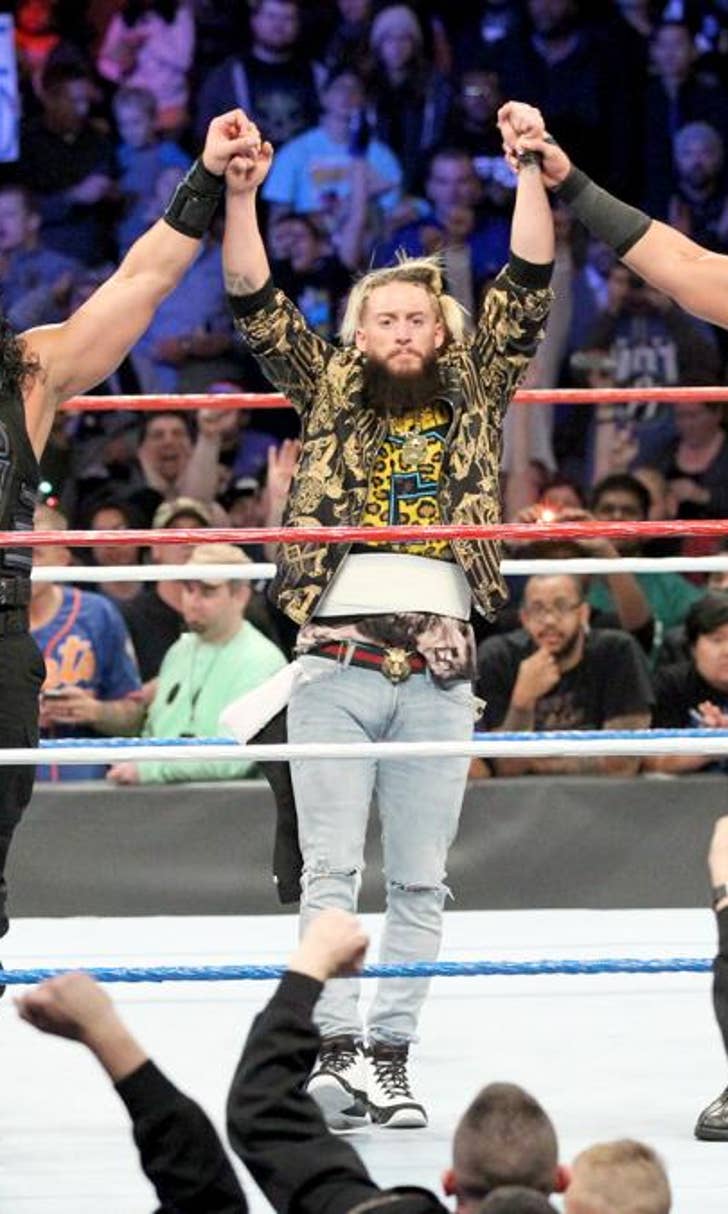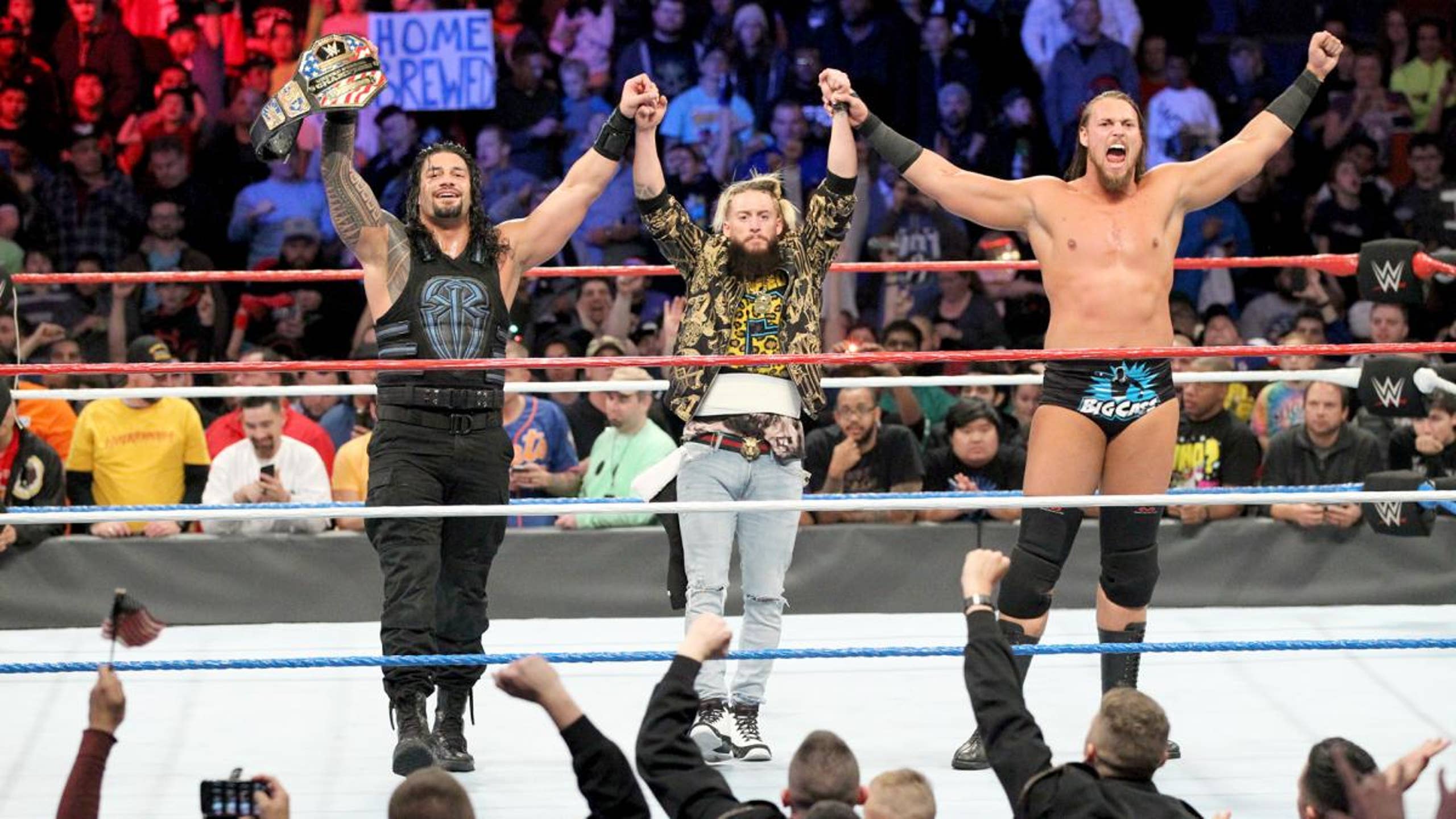 WWE Tribute to the Troops 2016: Results and Video Highlights
BY Fansided and Rob Wolkenbrod/FanSided via Daily DDT • December 14, 2016
What would go down at the 14th annual WWE Tribute to the Troops live special on Wednesday night?
On Wednesday night, WWE would have their 14th annual Tribute to the Troops special. This would honor the men and women who have or currently are serving for the United States. It doesn't usually further storylines or make a big deal out of everything as it's supposed to be a light show for everyone to take in.
This show would feature a handful of matches, including Roman Reigns and Kevin Owens in the main event. Another even had WWE Roadblock implications (the show takes place on Sunday, December 18).
With this in mind, what would happen at the 2016 Tribute to the Troops live special?
Tribute to the Troops Opener
Shane and Stephanie McMahon open the show by welcoming everyone to WWE's 14th annual Tribute to the Troops special.
National Anthem
Former WWE ring announcer Lillian Garcia sang the national anthem before the show started.
Roman Reigns Promo
Reigns opens the show by thanking everyone for their service. Kevin Owens interrupts and says Reigns needs to thank him. They go back and forth until Owens says Reigns has no chance of walking out at WWE Roadblock, then says he would easily win the United States Championship from the Big Dog.
Rusev interrupts next and says Bulgaria is better than America. Lana calls the Americans small and pathetic people. Reigns says Rusev isn't lucky to have Lana. Rusev and Owens walk to the ring and surround it, but Big Cass makes the save and chases them away. This leads to Mick Foley coming out and making Reigns and Cass vs. Rusev and Owens for later.
No. 1 Contenders Match for the Raw Tag Team ChampionshipCesaro and Sheamus vs. Karl Anderson and Luke Gallows vs. Shining Stars vs. Golden Truth
Result: Cesaro and Sheamus win to become the new No. 1 contenders to the Raw Tag Team Championship.
Cesaro and Sheamus are moving onto WWE Roadblock to face New Day for the Raw Tag Team Championship. This foreign duo has been on a roll for the past few weeks, and while this won't be their first title shot this fall, it may be their best chance to win.
Now that New Day has broken Demolition's record, WWE could choose to take the belts away from them and give it to new faces. This would mark the first Raw Tag Team Championship change since SummerSlam 2015 when the Prime Time Players dropped the belts. If this happens, then we are likely in for a somewhat lengthy feud between these teams since New Day probably wouldn't just drop out of the tag title hunt overnight.
The Miz Promo
The Miz thanks those who were part of "The Marine" film franchise. He tries to make a challenge to any Superstar until comedian Gabriel Iglesias comes out and mocks Miz for having bedazzled underwear. He brings out Apollo Crews to face Miz.
Apollo Crews vs. The Miz
Result: Apollo Crews defeated the Miz via pinfall.
Crews would win after Iglesias took a selfie with the Miz and got rolled up.
If this show is going to mean anything toward WWE programming, then Crews may get an Intercontinental Championship opportunity against the Miz. He has no one lined up to face him, so this could be a mini-feud to take us into 2017.
American Alpha and Dolph Ziggler vs. The Wyatt Family
Result: The Wyatt Family defeated American Alpha and Dolph Ziggler via pinfall.
This match was a fun one as it's difficult for these six to have a bad outing. Given the nature of the Troops show, though, this won't have an effect on SmackDown. However, given the injury to Zack Ryder, maybe American Alpha is in line for a mini-push?
Bayley with a Dog
We see Bayley petting the dog Charlie from "The Today Show." Dana Brooke and Charlotte would come up and Brooke taunted Bayley about their upcoming match.
Bayley vs. Dana Brooke
Result: Bayley defeated Dana Brooke via pinfall.
A bit of a tease (again) toward Bayley and Charlotte feuding. This seemed like it would happen after Hell in a Cell and Survivor Series, but Sasha Banks reclaiming the Raw Women's Championship puts that on hold.
WWE.com
Rich Swann, TJ Perkins, and Jack Gallagher vs. Brian Kendrick, Drew Gulak, and Tony Nese
Result: Rich Swann, TJ Perkins, and Jack Gallagher defeated Brian Kendrick, Drew Gulak, and Tony Nese via pinfall.
As always, Gallagher stole the show. He's got a unique charisma that has almost easily gotten over with the WWE fans. It's great to see after most of the cruiserweights have had a tough time over the past two-and-a-half months.
This also showed off Swann, who will defend his title on Sunday at WWE Roadblock.
Triple H and Stephanie McMahon at the Tomb of the Unknown Soldier
A video gets shown of Triple H and Stephanie McMahon putting a reef on the Tomb of the Unknown Soldier. They then spoke about the honor of being able to do this.
New Day Backstage
New Day talks about how they're surprised to see Cesaro and Sheamus on the same page. Big E says they may go out as the greatest and most elite team of all time. AJ Styles, Karl Anderson, and Luke Gallows then came up and said, they're the best trio in WWE. Dean Ambrose, Roman Reigns, and Seth Rollins then approached both trios and questioned the Club and New Day saying they're the best.
This was awesome and a must-watch.
Roman Reigns and Big Cass vs. Kevin Owens and Rusev
Result: Roman Reigns and Big Cass defeated Kevin Owens and Rusev via pinfall.
Enzo Amore returned after being attacked by Rusev over one week ago. You may remember Amore being lured into a hotel room by Lana.
Nothing noteworthy took place here, and it shouldn't impact either feud for Sunday's WWE Roadblock pay-per-view.
What did you think of this Tribute to the Troops show?
More from Daily DDT
This article originally appeared on
---