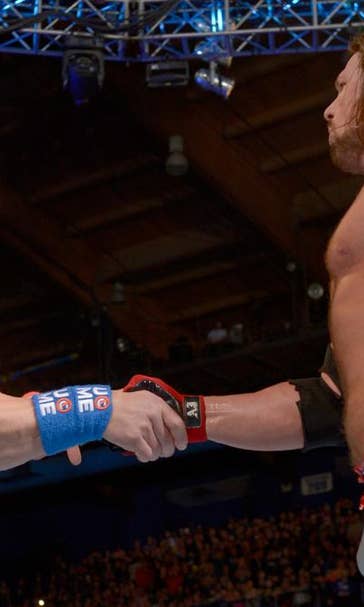 WWE Royal Rumble 2017: 3 Reasons John Cena vs. AJ Styles is Perfect for the Show
December 30, 2016

Fansided, Adam O'Brien/FanSided via Daily DDT
John Cena vs. AJ Styles at the Royal Rumble could be 2017's early front-runner for Match of the Year.
John Cena made his triumphant return to the WWE this week, after a brief period away following No Mercy to pursue opportunities outside of the company, including the chance to host Saturday Night Live. He made no qualms about letting his aspirations for the future be known to the WWE Universe, stating bluntly that whoever would emerge that night as WWE Champion, he would be challenging for the title at the Royal Rumble. Why? Because he's John Cena. Recognize.
Lo and behold, reigning titleholder AJ Styles would be the man with his hand raised over Baron Corbin and Dolph Ziggler at the close of SmackDown Live, cementing the blue brand's co-main event for the 2017 Royal Rumble as John Cena vs. AJ Styles.
There are a number of reasons why fans might be skeptical about seeing this bout once again, considering these two men squared off in a number of PPV matches this year, but we're here today to talk about why this is such a good match to represent SmackDown at the first live WWE special of the New Year.
WWE.com
3. It's a Guaranteed Showstopper
The electricity in the air when John Cena and AJ Styles first stood in the ring together back in May was unparalleled by anything else we've seen out of the WWE over the last twelve months. It was a moment many thought we would never bear witness to, two icons with similar careers across different realms of the wrestling industry.
It was suggested that had AJ Styles entered the WWE at the same time that John Cena did, the path that the bona fide future Hall of Famer embarked on over the last decade would have been much different. That electricity was recreated when the two took part in some of the most extraordinary one-on-one matches of each man's respective careers – both at Money in the Bank and at SummerSlam.
Like Cena and Kevin Owens the year prior, and Cena and CM Punk in 2011, the in-ring chemistry between 'The Phenomenal One' and 'The Champ' was indescribable – and although we've seen this match before, we haven't seen everything yet.
As perfectionists, John Cena and AJ Styles are always looking to better themselves and deliver a performance unlike any other, and this virtually guarantees that we're going to be kicking off the New Year with an early contender for Match of the Year at the Royal Rumble with the WWE Championship hanging in the balance.
WWE.com
2. Proves SmackDown is Superior on an Inter-Promotional Show
While Raw gets ready to deliver Roman Reigns vs. Kevin Owens at the Royal Rumble – a match which no shark cage is going to be able to save from being the same thing we've seen time and time again – SmackDown Live prepares a surefire Match of the Night candidate that only serves to prove the blue brand as the superior one.
It can be argued that both brands are in the same boat here, putting forward a match we've already seen, but while the flagship show is going forward knowing all the while that fans will be furious if Reigns walks out with both championships just ahead of WrestleMania season, SmackDown Live has already started to weave a story that calls for yet another John Cena title reign to actually be interesting.
Cena is one run away from Ric Flair's record, and as we'll get into shortly, he's got a new sense of attitude and a chip on his shoulder to prove that he's still the man to beat – instead of the Hollywood star that the media is trying to portray him as.
Even if you hate the thought of seeing John Cena in the title picture once again, it's undeniable that in one night, WWE has done more to justify him taking the WWE Championship away from AJ Styles than they have to justify taking the WWE Universal Championship away from Kevin Owens in favor of Roman Reigns.
Again, it adds a sense of unpredictability to the match, given that WWE took a fan poll a number of weeks ago in which it was revealed that AJ Styles is by far the majority favorite to take part in the main event of WrestleMania this year.
Is the company going to just let that go unnoticed? Or is AJ going to drop the title in order to win it back on the grandest stage of them all?
There are a number of different paths to go down, all of which will hopefully result in a fitting fallout as we edge closer and closer to Orlando in April.
Needless to say, giving Roman Reigns the title on Raw would result in uproar from the fans – something that's becoming all too familiar within WWE at this time of year and should be given serious thought before it happens again.
WWE.com
1. New Attitude Gives Cena's Potential Sixteenth Reign New Flair
John Cena is a fifteen-time WWE Champion. He has been the cornerstone of the company for over a decade now, and has done almost everything there is to do for a professional wrestler before he eventually hangs up his boots. But don't make any mistake about it – just because Cena has virtually done it all, that doesn't mean he's finished, and that's what his latest run with the company is going to be all about.
You'll have noticed an unusually attitudinal John Cena on this week's SmackDown Live – one that sparked hundreds of fans to take to the internet to discuss whether or not 'The Champ' had finally made the heel turn that people have been clamoring to see for years. It wasn't that, but it may be the closest thing you're going to see, and that's enough. Why – because it finally showcases Cena as human, and not a superhero.
He is incensed that fans and wrestlers alike have the man pegged to walk away from the place where he's hung his hat for fifteen years in favor of a stint on the big screen, because according to him, it couldn't be further from the truth.
If you watch Talking Smack – which you should, it's worth the cost of the WWE Network alone – you'll have seen Cena explain that he is not done by a long shot.
The man has a huge chip on his shoulder, and it's got nothing to do with breaking Ric Flair's record of holding the WWE Championship on sixteen separate occasions. It's because the last year in WWE has been marketed as "the new era", all but implying that Cena's time on top of the mountain is past him.
Now, you may love John Cena, you may hate him.
There are plenty of people to fit either of those categories, and even more on the fence. But it's undeniable that if John Cena is going to tie, and subsequently surpass 'The Nature Boy' in the record books, it's going to need to be done in a special way.
Just coasting off the inertia of breaking records and making history isn't going to cut it – John Cena needs to be chomping at the bit to hold that title high over his head one more time, not because he wants to, but because he needs to.
That's what makes this match so special. It's not about who wins or loses in the end, because honestly, either result would make the proverbial "Road to WrestleMania" something worth watching from the blue brand's side of things.
It's about two men going out there, each with an overwhelming skill-set and each with something to prove. In the end, the real winners are going to be the fans.
More from Daily DDT
This article originally appeared on
---