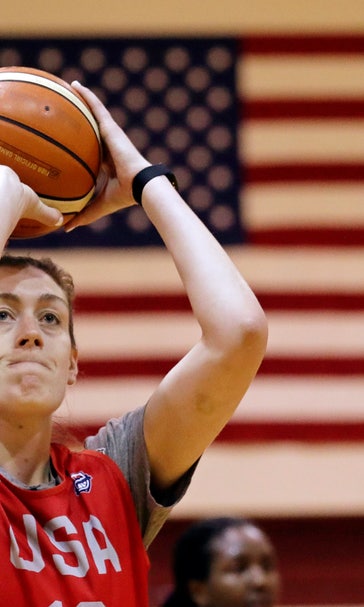 USA's Breanna Stewart shines at World Cup in Spain
September 28, 2018
SAN CRISTOBAL DE LA LAGUNA, Spain (AP) — For nearly a decade, Breanna Stewart has been making an impact with USA Basketball.
Now a mainstay on the national team, the WNBA MVP is a big reason why the U.S. has been winning at the FIBA Women's Basketball World Cup.
She scored 19 points in the quarterfinal win over Nigeria and keyed the run in the second quarter the Americans used to rally from an early deficit for the 71-40 victory Friday. Next up for Stewart and her teammates is Belgium in the semifinal on Saturday.
This is the second time the 24-year-old has played for the U.S. in the World Cup. Stewart was just a junior in college at UConn when she made the team. She was one of the last players off the bench in that tournament, but spent her time watching and learning.
"I think especially for me, the World Cup four years ago, I didn't play that much, and I tried to absorb as much as I could then," Stewart said. "I knew two years later we had the Olympics, four years later we had the next World Cup. I wanted to be able to make an impact and I wanted my game to continue to grow to help the United States win as many gold medals as possible."
U.S. coach Dawn Staley has watched Stewart grow as a player.
"I've been fortunate to be part of her progress on the USA Basketball national team," said Staley, who also served as an assistant coach for USA Basketball. "I watched her four years ago, and she was the young gun. She didn't play very much. But, you take someone like Stewie, she's looking. Although she's not playing, she's learning. She has a great idea of what the big picture looks like."
Every time Stewart has put a USA uniform on she's tended to win. She's 78-6 with the help of her teammates in her career already — the third most victories on the team behind only Sue Bird and Diana Taurasi. She has won world championships on the Under-17, U-19 squads as well as one with the national team. That doesn't count the FIBA America titles she helped the U.S. win as well.
No other American female basketball player has won as many international championships at 24. Stewart earned the 2018 WNBA MVP for both the regular season and finals. She's the 11th player to win a NCAA championship, WNBA title, World Cup, and Olympic gold medal.
"She knew two years ago in Rio that she would play an integral role in our success," Staley said. "And, you have to prep for that. You can't just think you can come in and have the type of impact that she's having. You have to mentally, and physically and spiritually prepare for that, and she didn't take that time lightly. That's my view of watching Stewie grow and be someone that it's hard to keep off the floor."
Stewart played 24 minutes in the win on Friday and made seven of her eight shots, including both her 3-pointers.
The U.S. trailed 20-13 midway through the second quarter before Stewart and her Seattle teammates — Bird and Jewell Loyd took over. The Americans closed the half by scoring the final eight points to go up 27-23 at the break. Stewart's 3-pointer with 2:04 left in the half gave the U.S. its first lead of the game.
The Americans kept up their run to start the second half and opened a double-digit lead early in the third quarter that they wouldn't relinquish.
"Stewie does so many things well," Loyd said. "You just know that she'll get going and she's so tough to stop."
---