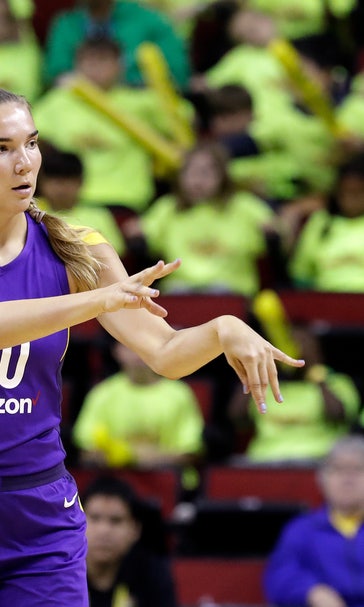 Russian star Maria Vadeeva enjoying time in WNBA with Sparks
August 11, 2018
WHITE PLAINS, N.Y. (AP) — Maria Vadeeva dreamed of playing in the WNBA after growing up watching Diana Taurasi and Lauren Jackson compete in the Russian Basketball League.
It fueled her love of the sport.
Now the 20-year-old Russian star is living out those childhood hopes with the Los Angeles Sparks, who drafted her with the No. 11 pick last April.
"It's been fun so far," Vadeeva said after the Sparks practiced in New York this week.
While she's a rookie in the WNBA, Vadeeva has been playing professionally in Russia since she was 16. The 6-foot-4 center is on the Russian league powerhouse Dynamo Kursk that features her Sparks teammate Nneka Ogwumike and won the EuroLeague title in 2017.
"There are so many good players here," Vadeeva said. "I wanted to play with the best in the world."
Coming to America was a little bit of an adventure for Vadeeva as she had visa issues and couldn't get to the U.S. until early June — a month into the season. Her transition was made a little easier as her brother has been around to help her acclimate to living in Los Angeles.
"He's definitely helped me," she said. "Also, my teammates have been very good, too."
She's shown flashes of her incredible talent despite not getting much playing time yet. She filled in well when Ogwumike was out with an illness, scoring 10 points and grabbing six rebounds in a loss to Atlanta right before the All-Star break.
"She's shown glimpses of what she can do," Ogwumike said. "She's a very versatile player, young obviously. She has a really great work ethic and has a lot of drive. ... She's a sponge and is having a great first experience in the WNBA."
Sparks coach Brian Agler has liked what he's seen so far from Vadeeva. He thinks she'll get more playing time down the road and that she's been hurt by the lack of practice time the team has had because of a condensed schedule.
"Her basketball IQ is elite, her potential is off the charts. She can hit 3-point shots. Her learning curve is great," he said. "She knows the good players having played against them in Europe. She knows them better than the college players. Glad we have her. She's a big time talent."
What's impressed both Agler and Ogwumike is Vadeeva's ability to score in the post.
"Her back to the basket game is probably the best I've seen. She has great footwork," Ogwumike said. "She's not afraid, she knows what she's capable of."
Vadeeva is the centerpiece of a core of talented young Russian basketball players. Once a major power in women's basketball, Russia has fallen off lately, not qualifying for the Olympics in 2016 or the world cup this September.
"She's our main player," Russian national team manager Svetlana Abrosimova said. "The whole system is building around her. She knows that. She has to accept the role she's the best player. By coming here she'll help Russia a lot."
Vadeeva's commitment to play for the Russia made a few teams shy away from her, knowing she may miss some time in the WNBA over the next few years during Olympic qualifying.
"I hope I can play in the Olympics," Vadeeva said.
Before then, she's enjoying her time in California, especially the food and beaches.
"It's very different than Moscow," she said with a smile.
---