Arizona State Sun Devils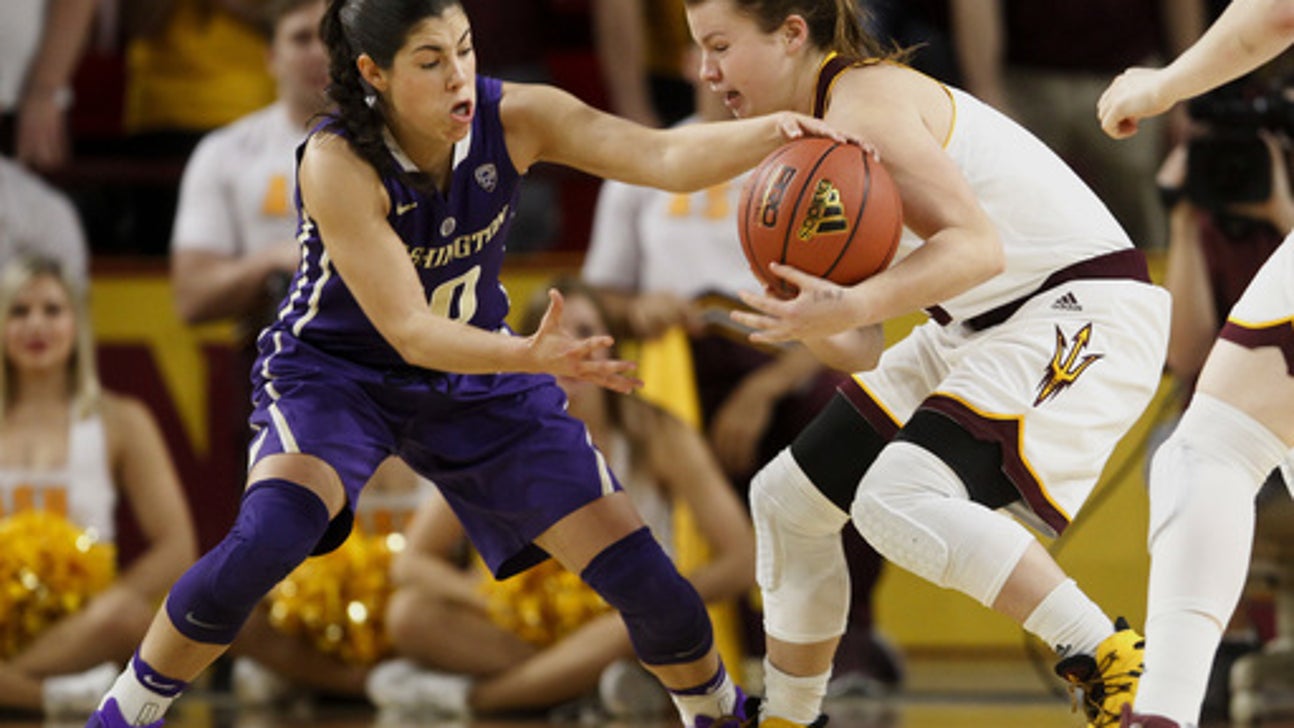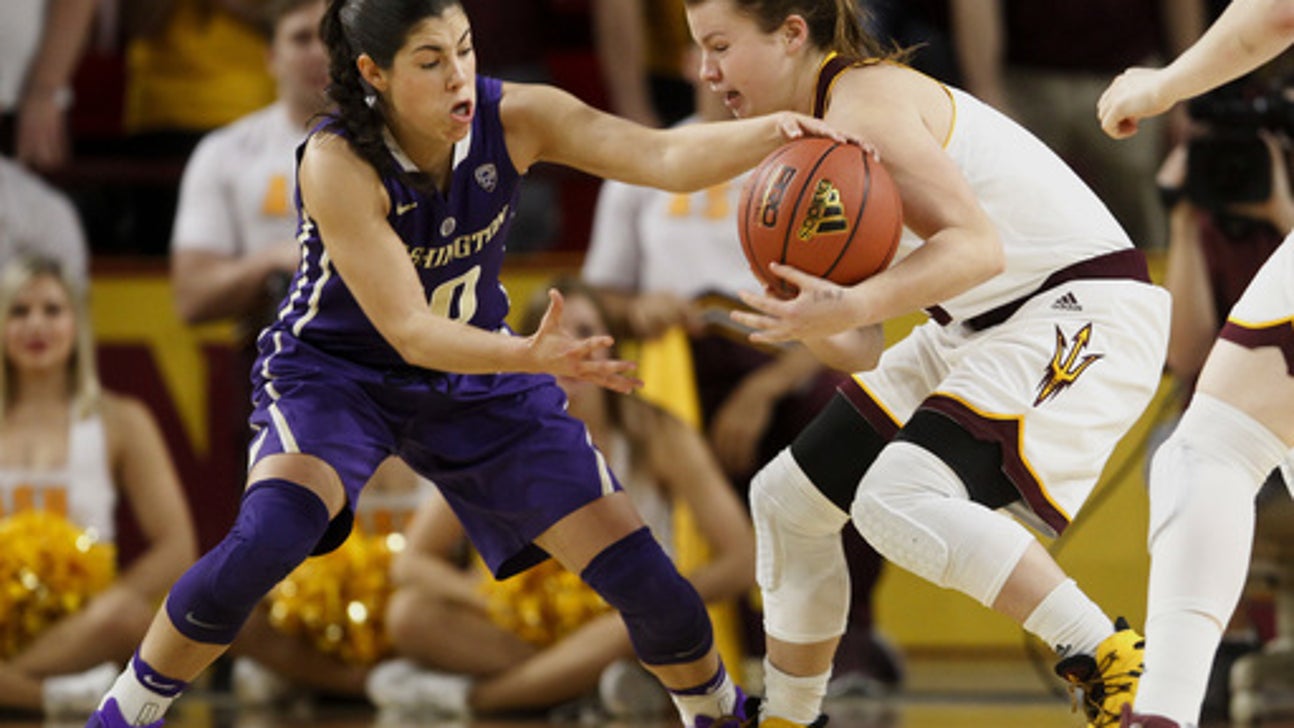 Arizona State Sun Devils
Plum scores 34, No. 8 Washington beats No. 19 Arizona State (Jan 15, 2017)
Updated
Mar. 4, 2020 3:30 p.m. ET

TEMPE, Ariz. (AP) Kelsey Plum says she's been working on something called ''mistake response.''
When things don't go right, she said, ''drop it and move on.''
She did just that Sunday night.
Plum snapped out of an off shooting night to score 15 points in the fourth quarter and No. 8 Washington pulled away to beat No. 19 Arizona State 65-54.
It was the first time she's beaten the Sun Devils in her four college seasons.
''She's just so tenacious,'' Washington coach Mike Neighbors said. ''She has that wearing effect on defenses, too, and she's so well-conditioned that she's at the advantage at the end of games.''
Plum, the nation's leading scorer at 31 points per game, finished with 34 to propel the Huskies (18-2, 6-1 Pac-12) to a road sweep of the Arizona schools and keep them alone in first place in the conference standings.
Reili Richardson scored 11 points for the Sun Devils (13-4, 4-2).
Plum made all six of her fourth-quarter shots and scored eight points in a 10 0 Washington run that made it 61-50 with 2:22 to play.
The senior guard moved from 11th into seventh on the women's basketball career scoring list with 3,041 points.
Chantel Osahor, the nation's leading rebounder at 13.5 per game, grabbed 20 boards and scored 10 points for Washington. Arizona State trailed just 51-50 when Kiara Russell scored with 6:02 to play.
But Plum scored eight points in the decisive 10-0 Huskies run.
Down by one at the half, Washington built a 42-36 lead on Katie Collier's three-point play with 3:26 left in the third quarter. But Arizona State responded with an 8-2 run and Robbi Ryan's 3-pointer tied it at 44 with 32 seconds left. Osahor's inside basket with seven seconds left put the Huskies ahead 46-44 entering the fourth quarter.
Then it was Plum time.
''I try to forget. I have amnesia,'' she said. ''When the clock struck zero and it was the fourth quarter, I was like `Hallelujah, let's go to work.'''
Arizona State managed to tie it at 48 but never led in the final quarter.
The Huskies, the No. 4 scoring team in the country at 88.5 points per game, were down 25-24 at the half.
Neither team led by more than six through the first three quarters.
Plum made just 4 of 14 shots in the first half and was 0 for 5 on 3-pointers.
''She was getting great shots in the first half so there was no panic from teammates or coaches,'' Neighbors said, ''just keep getting her the same ones.''
Arizona State coach Charli Turner Thorne said the Sun Devils were hurt when the freshman point guard Richardson left after banging her knee with 7:37 to play.
''That was tough because she was really doing such an amazing job of running our team, running the show, and that hurt us,'' Turner Thorne said. ''... I'm just glad we get to play these guys again. Obviously, they're a great team and they got the better of us today, but it was a great game. I figured it would have gone down to the wire and I'm pretty sure it would have if Reili hadn't gotten hurt.''
BIG NAMES
Plum passed some of the college game's biggest names as she climbed the scoring list on Sunday: Cheryl Miller, Chamique Holdsclaw, Maya Moore and Elena Delle Donne.
Turner Thorne said Plum deserves to be listed among the greatest.
''She can shoot the 3s, mid-range, get to the rim,'' the Arizona State coach said. ''She's developed her game. Every year she's gotten better.''
As Neighbors put it, ''Man, if there's a conversation about the best scorers and she's not in it, give me a chance to debate that person.''
THE TAKEAWAY
Washington: The Huskies are leading a conference that has six teams in the Top 25, and pulled off the first road sweep of the Arizona schools in Plum's four years with the Huskies.
Arizona State: The Sun Devils were short-handed without senior leader Kelsey Moos, who is out with a foot injury. If Moos is back, the Sun Devils might be a bigger threat to win when the teams meet in Seattle.
UP NEXT
Washington: The Huskies don't play again until next Sunday, when they are at Washington State.
Arizona State: The Sun Devils are at California on Friday night.
---
---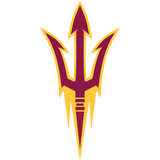 Get more from Arizona State Sun Devils
Follow your favorites to get information about games, news and more
---