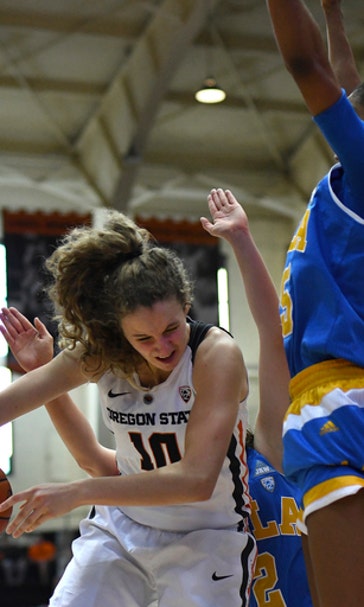 No. 9 Oregon State defeats No. 15 UCLA 68-61 (Feb 12, 2017)
February 12, 2017

CORVALLIS, Ore. (AP) Sydney Wiese took it upon herself to spread positivity among her Oregon State teammates heading into Sunday's big game against UCLA.
Wiese's approach did the trick, and the ninth-ranked Beavers rebounded from a loss to unranked USC on Friday with a 68-61 victory over the No. 15 Bruins. Kolbie Orum and Mikayla Pivec each had 12 points for Oregon State.
Wiese had 10 points, 11 rebounds and nine assists for Oregon State (23-3, 12-2 Pac-12). With her second assist of the game, Wiese set the school record for career helpers, moving past Leilani Estavan's 577 for the Beavers.
''You have to be focused and recognize that what happened the night before doesn't feel good and it's nothing fun to go though as a group. But you take the lessons from it and you learn,'' Weise said about her tactic at practice on Saturday. ''I think one of the main things I focused on was giving little bursts of confidence - not really a focused discussion of what we need to do better, but trying to find people and find windows of spreading positivity as much as I can.''
Kennedy Burke had 18 points while Monique Billings added 17 for UCLA (18-7, 9-5), which was hurt when it lost top scorer Jordin Canada to injury late in the first half.
After a close three quarters, Oregon State pushed its lead to 56-48 on Gabriella Hanson's 3-pointer. Breanna Brown's layup kept the Beavers out front at 59-50 with 3:10 left, before Pivec's long jumper made it 62-50 and UCLA couldn't catch up.
Canada was knocked to the floor on the Bruins' end and appeared to hit her head. She stayed prone on the court for several moments before being helped to the locker room by a trainer. She leads the Bruins with an average of 18.4 points and 5.7 rebounds.
Coach Cori Close did not have specifics after the game about Canada's injury or condition.
''Our offense usually starts with her and our defense starts with her. The way our team responded, and having other people step up, I was really proud of our effort and focus,'' Close said. ''There are things we have to get better on, and there are things I wish were different, and I hate losing, but sometimes that's not the true reflection of the heart a team shows, and I'm proud of our team's heart.''
The Bruins lost 84-75 on the road to unranked Oregon on Friday. UCLA has lost three of its last four games as the Pac-12 race heats up.
The Beavers fell at home Friday night to the Trojans, 70-50. It snapped a 15-game winning streak at Gill Coliseum.
Oregon State pulled ahead 15-12 at the first quarter buzzer on a layup from Pivec. Wiese made a 3-pointer that stretched the Beavers' lead to 22-14.
The Bruins made up some ground before the end of the half, pulling within 26-23 on Kari Korver's 3. Oregon State led 31-27 at the break after Canada left the game. Canada was replaced in the starting lineup with Nicole Kornet for the second half.
The Beavers, who claimed a share of the Pac-12 regular-season title last year before winning the conference tournament, host Stanford during the final weekend of the regular season. Sunday's win guarantees Oregon State with a first-round bye for the Pac-12 tournament.
BIG PICTURE
UCLA: The only other time the Bruins lost two straight this season was against the Washington schools Jan. 6-8. ... In addition to the loss at Oregon on Friday, UCLA also fell 80-77 at Cal on Feb. 3.
Oregon State: The Beavers had 12 turnovers in the first half. They average 14 per game, but they had 20 on Friday against USC. ... The Beavers, who claimed a share of the Pac-12 regular-season title last year before winning the conference tournament, host Stanford during the final weekend of the regular season.
POLL IMPLICATIONS: The week started with Stanford's loss to the Bruins, then this weekend unranked Oregon upset of UCLA. There was also the Trojans' win over the Beavers. So it's difficult to see how the poll will shake out. The Pac-12 race itself certainly became more interesting.
''I think its keep you on your toes. You can't get complacent,'' Wiese said. ''You saw that on Friday. USC came in here and we didn't respond the way we should have. But we had another opportunity today on our home court to get a very good win for us. ''
UP NEXT
UCLA: The Bruins host No. 10 Washington on Friday. The Huskies were set to face No. 23 Arizona State on Sunday night.
Oregon State: The Beavers visit Colorado on Friday.
---
---