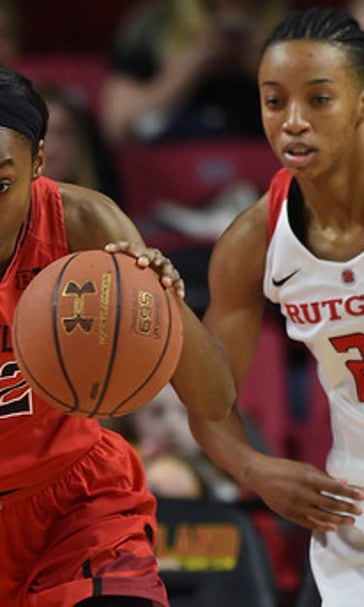 No. 3 Maryland uses 3rd-quarter surge to beat Rutgers 80-71 (Jan 22, 2017)
BY AP • January 22, 2017
COLLEGE PARK, Md. (AP) Slow-paced, deliberate Rutgers is precisely the kind of basketball team Maryland despises.
''My least favorite style of play. It's like going to the dentist and getting drilled,'' coach Brenda Frese said after the third-ranked Terrapins shook off a lackluster first half to earn an 80-71 victory Sunday.
Frustrated by Rutgers' plodding pace on offense, Maryland led only 34-30 at halftime. The Terrapins snapped out of it in the third quarter, opening with a 21-4 run in which they made eight of nine shots.
Charging to the basket instead of settling for jump shots, Maryland went 10 for 13 from the floor in the pivotal quarter and took control by outscoring the Scarlet Knights 26-13.
''We love the up-tempo, transition, let's play type of style,'' Frese said. ''Credit to them in the first half. I thought they did a phenomenal job in terms of running their style of play, but we were able to punch that open in the third quarter.''
Shatori Walker-Kimbrough scored 19 points and freshman Kaila Charles added 16 for the Terrapins (19-1, 7-0 Big Ten). Brionna Jones contributed 11 points and 13 rebounds, her 10th consecutive double-double and 14th of the season.
It was the seventh straight win for Maryland, the only unbeaten team in conference play.
''We've got to stay true to who we are, no matter who we're playing,'' Walker-Kimbrough said. ''Once we started driving, that broke it open for everything else.''
Shrita Parker had 19 points and seven assists for Rutgers (6-15, 3-5). Jazlynd Rollins scored 15 - all in the first half.
The Scarlet Knights have lost four of five and are 0-10 on the road.
''We believe we're much better than our record,'' coach C. Vivian Stringer insisted.
Things looked great at halftime for Rutgers, but Stringer had seen this type of collapse from her team before.
''It's happened just about every game,'' she said. ''Generally, we're even or we're up the first two quarters. For whatever reason, we're playing not to lose. I hope we can work that out.''
Rutgers forced 10 turnovers during a first half that featured five ties and eight lead changes. Rollins went 6 for 6 from the floor and drilled three 3-pointers in the second quarter alone, a notable accomplishment given she was previously 4 for 22 from beyond the arc this season.
''She shot the ball well,'' Stringer. ''I was happy, and kind of surprised to tell you the truth.''
It all came apart for the Scarlet Knights in the third quarter.
''Maryland got much more serious,'' Stringer said.
After Charles made a layup and Destiny Slocum nailed a 3-pointer for the Terps, Desiree Keeling answered with a layup for Rutgers. Walker-Kimbrough then sank two free throws and Charles made consecutive baskets to ignite a 14-0 run for a 50-32 advantage.
NUMBERS GAME
Rollins took only one shot in the second half and missed it, but her 15 points were a season high. ... In a matchup between the Big Ten teams with the best (Maryland) and worst rebounding margin, the Terps finished with a 41-27 advantage. ... Parker scored 20 in each of her previous games. In this one, she had 5 points at halftime on 1-for-7 shooting.
BIG PICTURE
Rutgers: The Scarlet Knights' slow style of play can frustrate opponents, but nothing Rutgers has done this season has been good enough to produce a win on the road.
Maryland: The Terrapins responded to a mild challenge by showing their depth and grit. Five different players scored during the pivotal 21-4 run in the third quarter, including Charles and Slocum, both freshman guards.
UP NEXT
Rutgers gets a week off before hosting surprising Northwestern on Jan. 29. The Wildcats (15-4) are off to their best start since 1995-96.
Maryland looks to go 8-0 on the road in a matchup at Illinois on Thursday.
---
---