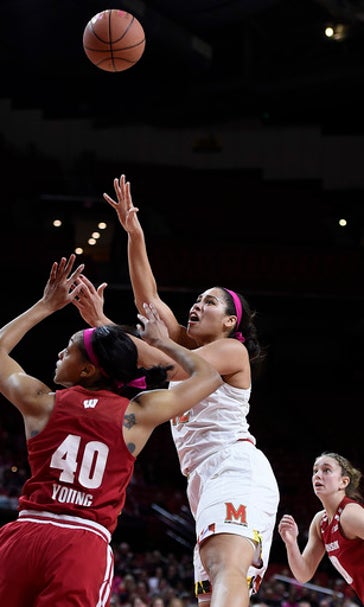 No. 2 Maryland beats Wisconsin 89-40 for 14th straight win (Feb 15, 2017)
February 15, 2017

COLLEGE PARK, Md. (AP) Maryland began the game with a 16-0 blitz, expanded the margin to 29 points at halftime and cruised through the final 20 minutes against awe-struck Wisconsin.
By the time the second-ranked Terrapins finally stopped firing away Wednesday night, they had an 89-40 victory to savor and a 14-game winning streak to bring into a pending Big Ten showdown with Ohio State.
''Just really proud of our game,'' coach Brenda Frese said. ''Everyone was really locked in, when you talk about how we came out early and punched right away.''
Seniors Shatori Walker-Kimbrough and Brionna Jones helped deliver the first-round knockout, combining for 13 of Maryland's first 16 points to erase any doubt about the direction of this game between two teams on the opposite end of the conference standings.
Walker-Kimbrough finished with 22 points, Jones had 16 points and 11 rebounds and the Terrapins totaled 17 steals, 13 assists and only 10 turnovers.
''I thought it was one of our most complete games,'' Frese said. ''We're excited to be able to build from this.''
Off to the best start in school history, Maryland (26-1, 14-0) can clinch its third straight Big Ten regular-season title by beating second-place Ohio State on Monday.
First, though, the Terrapins had to take care of business against Wisconsin (6-20, 1-12).
''They understand the value of every game,'' Frese said. ''They know what's ahead, but they also understand that game doesn't matter if you don't take care of the game in front of you.''
Maryland's winning streak began after its lone defeat this season, 87-81 against No. 1 Connecticut on Dec. 29.
In this one, Maryland played without starting point guard Destiny Slocum, who was ill. The 5-foot-7 freshman leads the Big Ten with an average of 7.7 assists in conference games.
Slocum was replaced by junior Kristen Confroy, who had three assists and three steals.
Courtney Fredrickson led Wisconsin with 14 points. The last-place Badgers shot 31.5 percent, committed 20 turnovers and were outrebounded 46-24.
''There was some awe factor,'' first-year coach Jonathan Tsipis acknowledged.
The Badgers have lost seven Big Ten games by at least 20 points and must win the last two to avoid finishing with their worst conference record since 1987-88 (2-16).
Assessing Maryland, Tsipis said, ''They continue to play better. This is a team that has an opportunity to do special things come March.''
The Terrapins' quick start made the final 35 minutes a mere formality. Walker-Kimbrough sank two free throws and added a 3 pointer before Jones made two straight layups for a 9-0 lead. Walker-Kimbrough then turned a steal into a layup, Kaila Charles converted a three-point play and Jones scored on a drive to conclude the 16-point run.
The Badgers missed their first eight shots before Malayna Johnson ended the drought with a jumper. Wisconsin went 2 for 16 in the quarter and trailed 18-5.
HOT HAND
Wisconsin: Fredrickson, a freshman, has scored in double figures in three straight games for the first time in her career.
Maryland: Walker-Kimbrough has reached the 20-point mark in four consecutive games. ''Coach has been emphasizing consistency no matter who we play,'' said the senior guard, who ranks fifth on Maryland's career scoring list.
BIG PICTURE
Wisconsin: With a roster that includes five freshmen and four sophomores, the Badgers are taking their lumps this season with hopes of eventually growing into a contender.
Maryland: The Terrapins were without their starting point guard and didn't miss a beat. No matter the strength of the opposition, Maryland always plays the same way: focused with uncompromising intensity. This was an ideal tuneup for what might be a true test Monday against the 12th-ranked Buckeyes.
UP NEXT
Wisconsin: The Badgers host Rutgers in a rematch of a Jan 4 matchup won by the Scarlet Knights 68-52.
Maryland: The Terrapins travel to Ohio State, looking to improve their 10-0 road record stay unbeaten overall in 2017.
---
---