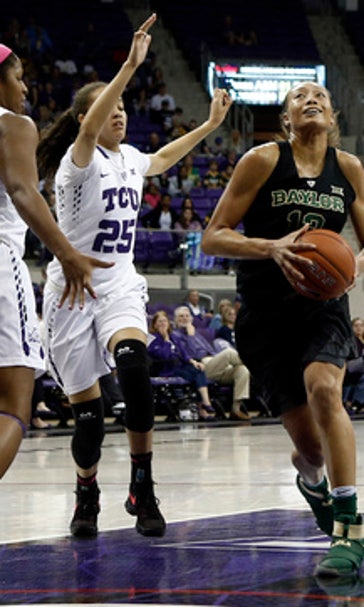 No. 2 Baylor women top TCU 91-73 following 1st Big 12 loss (Feb 12, 2017)
February 12, 2017

FORT WORTH, Texas (AP) Alexis Prince wasn't thinking so much about having six days to stew over the first loss for the Baylor women in almost three months.
The fifth-year senior considered it a chance for extra practice time with the postseason not too far away.
Prince scored 19 points to go with 10 rebounds and six assists, and the No. 2 Lady Bears bounced back from their first Big 12 defeat with a 91-73 victory against TCU on Sunday.
Playing almost a week after a loss to 11th-ranked Texas that ended a 54-game home winning streak, Baylor (24-2, 13-1 Big 12) kept a safe distance after a sluggish first quarter in front of a crowd heavy on green and gold in Fort Worth, about 100 miles north of the Waco campus.
''We needed the practice,'' said Prince, who matched her season high in assists with perhaps her most complete game of the season. ''We had played a lot of games back to back and I feel like the practice helped us get back to learning the basics and doing what we needed to do.''
Freshman Natalie Chou, in her first game near her high school in the Dallas suburb of Plano, had 14 points, including 3-pointers to start and finish a 22-5 run that covered the first and second quarters and turned a two-point deficit into a 30-15 lead.
AJ Alix scored 21 points for the Horned Frogs (12-12, 4-9), whose first conference winning streak ended at two games with their 22nd consecutive loss to Baylor . The past 10 have been since TCU joined its former Southwest Conference opponent in the Big 12.
''It wasn't necessarily the best luck that you get to play them after a loss,'' TCU coach Raegan Pebley said. ''But it is what it is. We want to beat teams at their best. We'll continue to get better and I know we got better from this game and definitely from the preparation.''
Nina Davis had nine rebounds to give her 1,004 for her career, becoming the sixth Baylor player to reach 1,000. Davis, who scored 14 points, is the fifth player in school history with at least 2,000 points and 1,000 rebounds. Davis also had four steals.
Alexis Jones scored 10 points with eight rebounds and seven assists as the Lady Bears outrebounded the Horned Frogs 55-30, including 23-6 on offensive boards.
TCU, the second-best 3-point shooting team in the Big 12 behind Baylor, missed its first 10 from long range and finished 4 of 24, matching season lows for makes and percentage (17 percent).
BIG PICTURE
Baylor: The Lady Bears were more ragged than they probably expected trying to answer the loss to the Longhorns that ended a 21-game winning streak. That was a distant second nationally to UConn's record streak. A rematch with Texas looms in a week.
TCU: The Horned Frogs will have to wait at least another year for their first winning record in Big 12 play. And Pebley is in danger of seeing a regression in her league record over her three seasons. The Horned Frogs were 9-9 in her debut and 8-10 last season.
FRESHMAN SPARK
Chou played just three minutes of the past two games while going scoreless, but coach Kim Mulkey brought her off the bench early and stuck with her. Chou ended up a point and a minute shy of her career highs while making 4 of 7 from beyond arc. She had four 3-pointers total in the first 13 conference games. ''That's what she went in there for,'' Mulkey said. ''Natalie can hit those shots.''
STEADY AND BALANCED
The Lady Bears had seven players with at least eight points and six with at least five rebounds, which helped maintain the lead after TCU got within eight in the opening minute of the fourth quarter. ''The bottom line is we've got enough depth that you fight through late-season struggles and find somebody that's hot, find somebody that can give you a lift,'' Mulkey said.
UP NEXT
Baylor: Another six days off before a home game against Oklahoma State, followed two days later by the trip to Austin.
TCU: At Oklahoma State on Wednesday, home against Kansas State on Saturday.
---