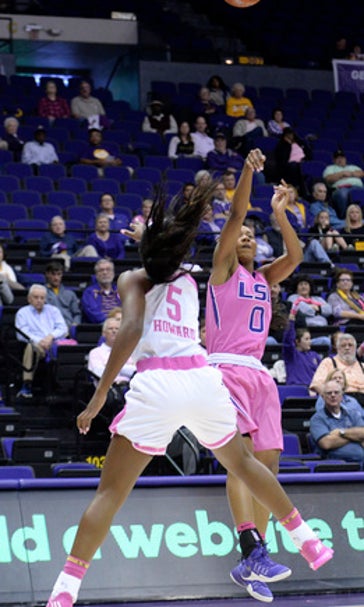 Moncrief has 23, leads LSU women past No. 23 A&M 67-63 (Feb 16, 2017)
February 16, 2017

BATON ROUGE, La. (AP) Raigyne Moncrief scored 23 points, including five free throws in the final 23 seconds, and LSU upset No. 23 Texas A&M 67-63 on Thursday night.
A layup by Jasmine Lumpkin pulled the Aggies with 62-61 with 1:07 remaining. The teams swapped turnovers before A&M had to make two fouls to get Moncrief to the line, where she made 1 of 2 with 23.4 seconds to play. The Aggies missed twice on the next possession before Moncrief corralled the rebound and made two free throws with seven seconds to go.
Khaalia Hillsman scored for the Aggies with 1.1 second left, which is when Moncrief made her last two.
Chloe Jackson added 17 points for the Tigers (18-8, 7-6 Southeastern Conference), who lost the first matchup 54-52.
Hillsman finished with 24 points on 12-of-17 shooting for the Aggies (19-7, 9-4), who had their four-game winning streak snapped. They shot 55 percent but only got to the foul line four times and had 23 turnovers.
It was the 12th consecutive meeting that at least one of the teams was ranked in the Top 25.
---
---