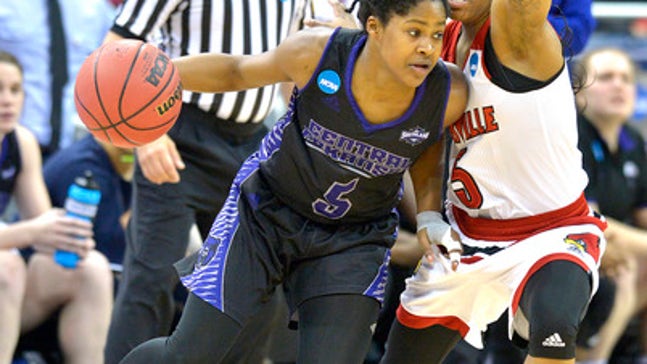 Louisville tops Central Arkansas 87-60, Hines-Allen has 25
Updated
Mar. 4, 2020 4:24 p.m. ET

LOUISVILLE, Ky. (AP) Myisha Hines-Allen scored 25 points to help third-seeded Louisville overcome a slow start and top Central Arkansas 87-60 Friday in the opening round of the women's NCAA Tournament.
Louisville trailed the 14th-seeded Sugar Bears, who were making their first NCAA appearance, 25-22 after 10 minutes. The Cardinals' 17-0 run in the second quarter put them ahead for good.
The loss ended a nine-game winning streak for Central Arkansas (28-4). Taylor Baudoin led the Sugar Bears with 13 points and 10 rebounds. Kendra Watts scored 12 points and Maggie Proffitt 11.
Hines-Allen, the Atlantic Coast Conference player of the year, scored 19 in first half on 9-of-12 shooting. She finished 12 of 17 from the field and had a team-high seven rebounds in just 23 minutes. Mariya Moore added 16 points.
Louisville (26-7) advances to host No. 6 seed DePaul in Sunday's second round.
The Sugar Bears hit four 3-pointers in the first quarter, the third giving them their largest lead at 18-12 with 2:25 remaining in the period.
Central Arkansas last led 30-29 on a 3-pointer by Proffitt with 7:20 left in the second quarter. Hines-Allen made a three-point play followed and then the Sugar Bears tied it at 32. UCA didn't score again until Baudoin's layup with 59 seconds in the half. Louisville scored 17 straight points, including eight from Hines-Allen, in the run. Louisville outscored UCA 29-9 in the quarter to lead 51-34 at halftime.
TIP-INS
Louisville: The second period was the 25th this season that Louisville held a team to less than 10 points in a quarter.
Central Arkansas: The Sugar Bears entered the game ninth in the nation in points allowed (52). They had won 18 of their last 19, including 15 straight away from home. This was Central Arkansas's first tournament appearance since being eligible in 2011 after moving up from Division II.
UP NEXT
Louisville: Plays No. 6 seed DePaul on Sunday in the second round.
Central Arkansas: Season over.
---