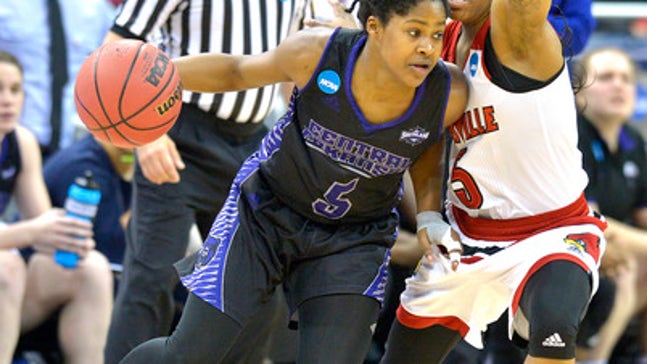 Louisville tops Central Arkansas 87-60, Hines-Allen
Published
Mar. 18, 2016 7:15 p.m. ET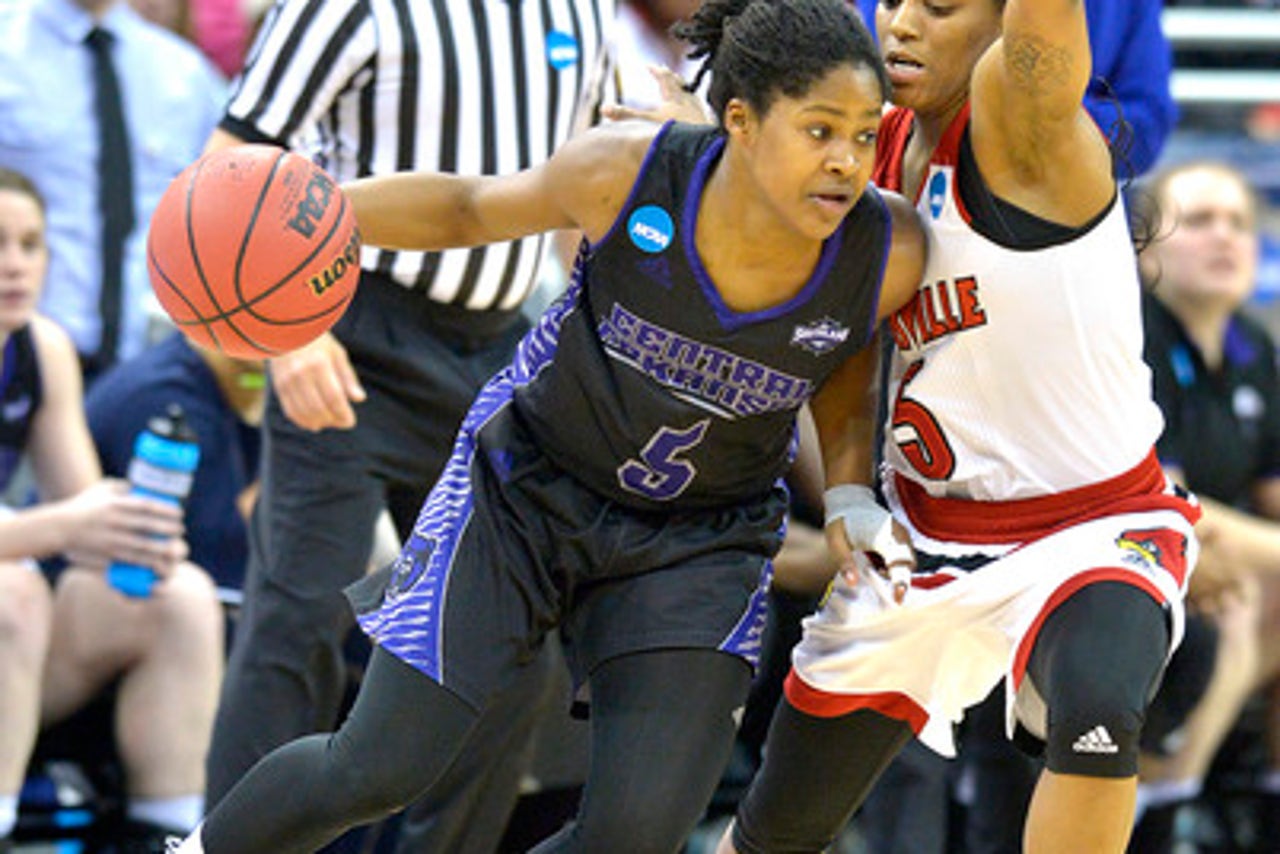 LOUISVILLE, Ky. (AP) After a slow start, Myisha Hines-Allen and Louisville got rolling and routed Central Arkansas.
Hines-Allen scored 25 points to help the third-seeded Cardinals top the Sugar Bears 87-60 Friday in the opening round of the women's NCAA Tournament.
Louisville trailed the 14th-seeded team, which was making its first NCAA appearance, 25-22 after 10 minutes. The Cardinals' 17-0 run in the second quarter put them ahead for good.
''We started taking advantage of our advantage in the post,'' Hines-Allen said. We started scoring better in the transition.''
The loss ended a nine-game winning streak for Central Arkansas (28-4). Taylor Baudoin led the Sugar Bears with 13 points and 10 rebounds. Kendra Watts scored 12 points and Maggie Proffitt 11.
Hines-Allen scored 19 in the first half on 9-of-12 shooting. She finished 12 of 17 from the field in just 23 minutes. Friday marked the 10th straight game that the ACC player of year has led the Cardinals in scoring.
Mariya Moore added 16 points.
Louisville (26-7) advances to host No. 6 seed DePaul in Sunday's second round, setting up a contest between former Big East rivals.
The Sugar Bears hit four 3-pointers in the first quarter, the third giving them their largest lead at 18-12 with 2:25 remaining in the period.
''I thought the first quarter was great basketball, one of the best we've played all year'' Central Arkansas coach Sandra Rushing said. ''Then they kind of punched us and we didn't really respond.''
Louisville coach Jeff Walz had a different perspective on the start, citing a lack of effort for the early struggles. He inserted little-used substitute Dakota Weatherford and credited her defensive hustle for sparking the comeback. Weatherford finished with seven points and three steals.
Central Arkansas last led 30-29 on a 3-pointer by Proffitt with 7:20 left in the second quarter. Hines-Allen made a three-point play followed and then the Sugar Bears tied it at 32. UCA didn't score again until Baudoin's layup with 59 seconds in the half. Louisville scored 17 straight points, including eight from Hines-Allen, in the run.
Louisville outscored UCA 29-9 in the quarter to lead 51-34 at halftime.
TIP-INS
Louisville: Louisville shot 34 of 62 (55 percent) and hit on 71 percent of its shots (12 of 17) in the second quarter. ... The second period was the 25th this season that Louisville held a team to less than 10 points in a quarter. ... The Cardinals have won 25 of their last 28 games after starting the season 1-4.
Central Arkansas: The Sugar Bears shot 33 percent (23 of 70). ... They entered the game ninth in the nation in points allowed (52). UCA had won 18 of their last 19, including 15 straight away from home. This was Central Arkansas's first tournament appearance since being eligible in 2011 after moving up from Division II.
FIRST ROUND PERFECTION
Louisville has not lost in the first round of the NCAA tournament with Walz as coach. This is the Cardinals' sixth straight tournament appearance and eighth in Walz's nine seasons. Walz entered the tournament as the third winningest active coach by percentage at .741, behind only Connecticut's Geno Auriemma (.858) and Baylor's Kim Mulkey (.750).
UP NEXT
Louisville: Plays No. 6 seed DePaul on Sunday in the second round.
Central Arkansas: Season over.
---