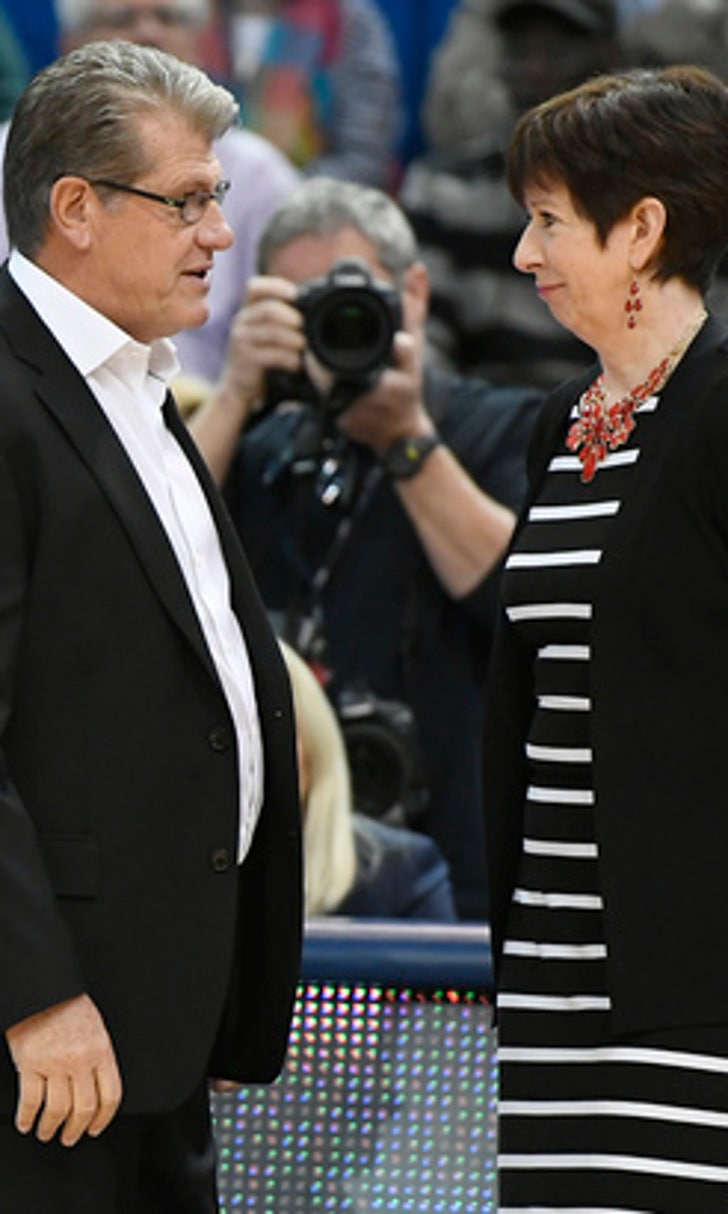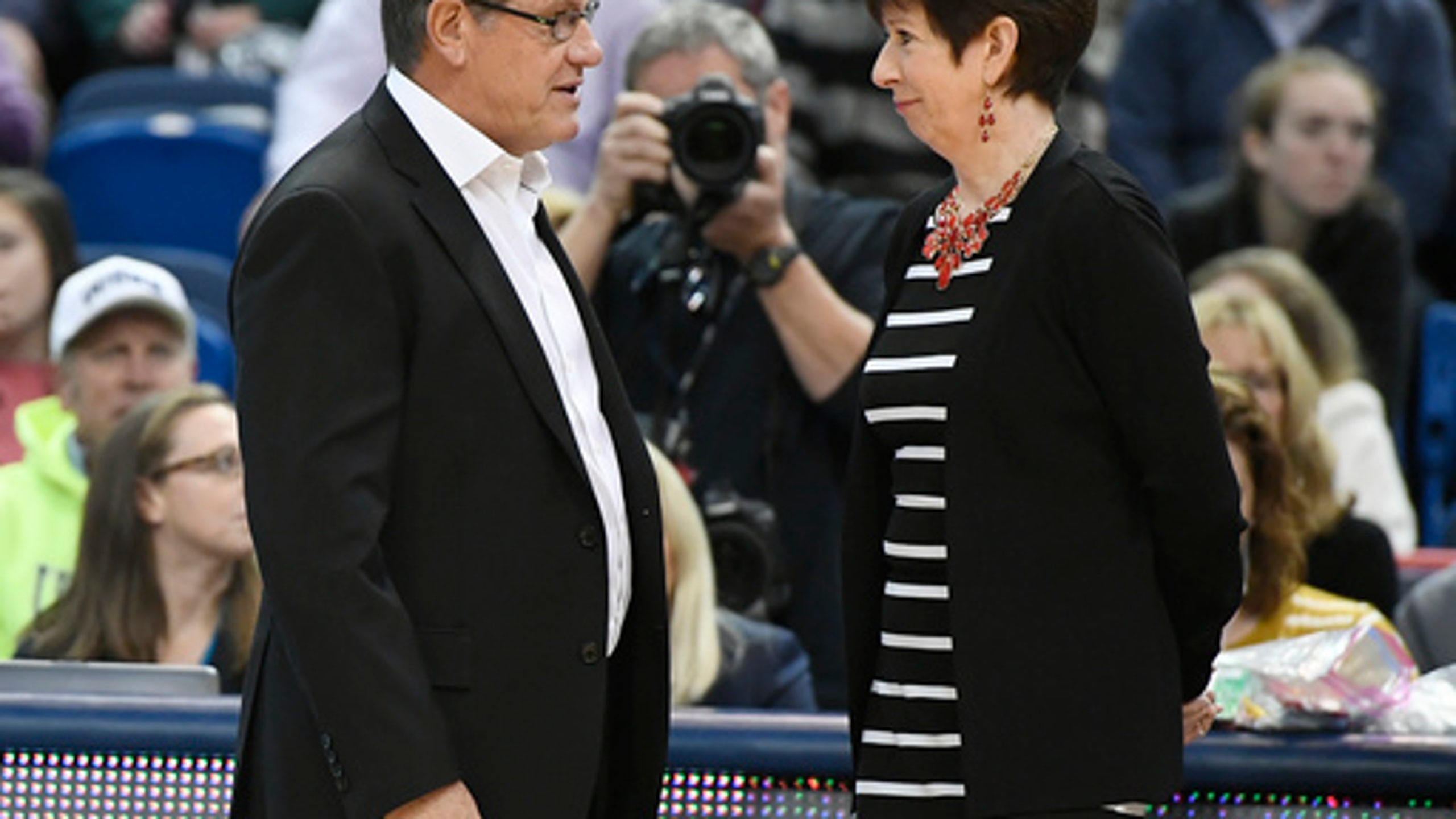 ICYMI: UConn rallies over Irish; Creighton, Drake play 4OTs
BY AP • December 4, 2017
NEW YORK (AP) The annual meeting between UConn and Notre Dame lived up to a showdown of top teams. While that game nearly came down to the end, it didn't compare to the Creighton-Drake game that went four overtimes.
The top-ranked Huskies had cruised through their first six games to easy victories. They found themselves facing a rare double-digit deficit in the fourth quarter against the No. 3 Irish before rallying for an 80-71 victory.
UConn pulled off the comeback in front of a loud sellout crowd without preseason All-Americans Gabby Williams and Katie Lou Samuelson. Williams was bothered by a migraine that's plagued her for a while and missed the entire second half. Samuelson tweaked a foot injury in the fourth quarter that had sidelined her for the previous four games.
Still, the Huskies managed to overcome the 11-point fourth quarter hole to win their 69th consecutive home game.
''That fourth quarter really came down to, collectively, you could see a change,'' coach Geno Auriemma said. ''We don't have that one person that walks around and acts like it and demands that kind of response. We don't, and you can't manufacture it. So it's got to be a team thing, and that's what happened in the fourth quarter. You could see it. The demeanor of our team changed.''
Notre Dame coach Muffet McGraw was disappointed her team couldn't finish off the Huskies.
''We played well for 35 minutes,'' she said. ''I thought we had some defensive lapses. Offensively, we executed, but I thought we could have played a little smarter. We did a great job rebounding in the first half and not in the second half. ... We just had a stretch of ugly and, unfortunately for us, it was the last five minutes.''
Creighton played its first four-OT game in 31 years, holding off Drake 108-100 on Sunday. Audrey Faber scored a career-high 34 points in a homecoming game for the junior. She surpassed the 1,000-point mark for her career in the contest.
It was the first four-overtime game in women's basketball since Columbia and Dartmouth last year.
Other happenings around college basketball:
STAT SHEET STUFFER: Elon's Shay Burnett had the program's first triple-double with 10 points, 11 rebounds and 10 assists against Coker on Nov. 27. It was the second triple-double in the CAA this season. William & Mary center Abby Rendle has the other one. She is closing in on the CAA's career blocks record (273) which is held by Elena Delle Donne. Rendle broke the William & Mary career blocks record against Davidson. Since then, Rendle has brought her total to 266. She has 44 blocks in eight games this season.
SHARP SHOOTER: UConn's Kia Nurse hit 12 consecutive 3-pointers over the last three games before missing one to set the school record for successive makes. She fell two short of the NCAA record held by a few different players.
''It's weird hearing that,'' Nurse said of holding the school record. ''The coaches have been so willing to put the time in to shoot with me.''
POLL WATCH: No. 23 Marquette is in danger of falling out of the poll this week after losing to a strong Green Bay squad on Saturday. The Golden Eagles are 3-3 this season with the previous two losses coming at New Mexico by one point and against Tennessee in overtime in Cancun, Mexico, over Thanksgiving.
WELCOME BACK: Rutgers guard Tyler Scaife is playing this season after sitting out last year with a heart defect . Scaife went for a routine physical a few years ago that turned out to be anything but normal. This was after her sophomore year, and doctors detected a heart murmur. After further testing, it was discovered Rutgers' star guard had a congenital heart defect. Scaife was shocked at the diagnosis. Scaife played her junior year and was closely monitored by the training staff. She put off surgery until after that season and redshirted last year.
--
Follow Doug on Twitter at http://www.twitter.com/dougfeinberg
---
---