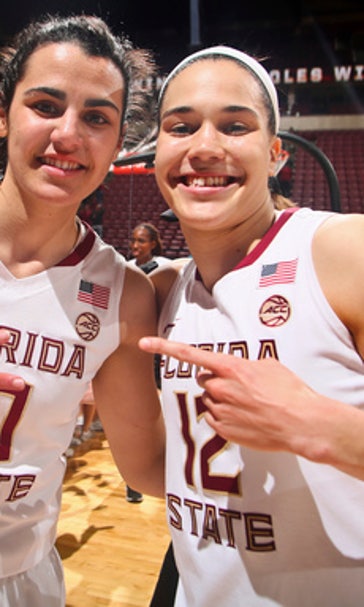 Guard duo pushes No. 5 Florida State women to new heights
February 11, 2017

TALLAHASSEE, Fla. (AP) Florida State's Leticia Romero and Brittany Brown aren't on the list of top scoring backcourts in Division I. But the Seminoles' senior duo might be the best all-around backcourt in college basketball.
Romero and Brown are a major reason why Florida State (23-2) has won 10 straight and is ranked fifth, which is the highest in program history. It is also 11-1 in tied the Atlantic Coast Conference and tied with Notre Dame.
''I wouldn't trade them. They are tremendous in every way,'' Florida State coach Sue Semrau said. ''It's not about how many points they score, but about what they do for the team. They are two great glue players for us.''
Going into Monday's game against No. 10 Texas, Romero is second on the Seminoles in scoring, averaging 12.7 points. Brown is averaging a career best 9.2 points.
Both shared point guard duties the past two seasons, but Brown talked to Semrau over the offseason about playing more at the point. To outsiders it seemed like a gamble since Romero is one of the best point guards in college basketball and internationally. As part of Spain's silver-medal team at the Rio Games, she is the first player since 1988 to win an Olympic medal and return to college competition the following season.
The move has benefited everyone. Semrau got a brief preview of that last season when Romero missed three games because of an ankle injury and Brown ran the offense.
''When Brittney took over last year it seemed like a more natural pace for us,'' Semrau said. ''She pushes us in transition and lets our athletes be athletes. We also have a tremendous scoring punch on the wing with Leticia. To have two point guards on the floor is a coach's dream.''
Romero's injury was a blessing in disguise in more ways than one. Her game was built on driving to the rim and being a playmaker. Last season though she wasn't as confident with that part of her game.
''That forced me to shoot and that's one of the best parts of my game right now,'' she said. ''I didn't mind moving to shooting guard. Brittany has played great at the point and likes being in that spot. It makes us even harder for other teams to guard.''
Romero came into the season shooting 44 percent in 3-pointers and now leads the nation at 55.6 percent. She is also the only player in the ACC to shoot over 50 percent from the floor (51.6) and 3-point range, along with over 90 percent on free throws (93.1).
Brown, who will tie a program record with 127th start on Monday, is a natural stats stuffer. She is fourth in the ACC in assists (5.1 per game) and steals (64). Despite being the second shortest player on the team at 5-foot-8, Brown is second in rebounds (6.0) and the only player in school history to have over 500 rebounds, 300 assists and 200 steals.
''If a team tries to clue in on one of us, it frees the other one,'' Brown said. ''The chemistry is also better. Last season was a disappointment because we had so much potential and fell short of the Final Four. We still have the weapons this year, but this is a strong group that is buying into everything.''
While Romero's perimeter shooting has been the biggest difference on court, many say her leadership has been the biggest improvement. Romero, who is 5-9, came off the bench for Spain during the Olympics, which gave her a different view of the game for the first time.
Semrau said she thought that level of leadership was the only thing missing from Romero's game until this season.
''She is more vocal and encouraging the younger players on and off the court,'' Brown said. ''She has poured into that selfless attitude.''
The Seminoles also have received big contributions from senior Ivey Slaughter (6.2 rebounds) and junior Shakayla Thomas, who averaged 18.8 points in the past six games and now leads the team in scoring.
After making the Elite Eight two years ago and the Sweet 16 last season, the Seminoles have what many consider a possible Final Four squad.
''This is the best Florida State team in history by far. They don't get any better than this with their senior leadership,'' Duke coach Joanne P. McCallie said after facing them last month.
The Seminoles are 7-1 against ranked teams this season, but games against Texas and the ACC regular-season finale at Notre Dame on Feb. 26 could go a long way toward determining whether they can earn a top seed in the NCAA Tournament. But that is the last thing on their mind.
''This is such a veteran group. They know there are no trophies handed out in February,'' Semrau said.
---
More AP college basketball at http://collegebasketball.ap.org and https://twitter.com/AP-Top25
---
Follow Joe Reedy on Twitter at www.twitter.com/joereedy
---
This story has been corrected to show Florida State is 23-2.
---
---