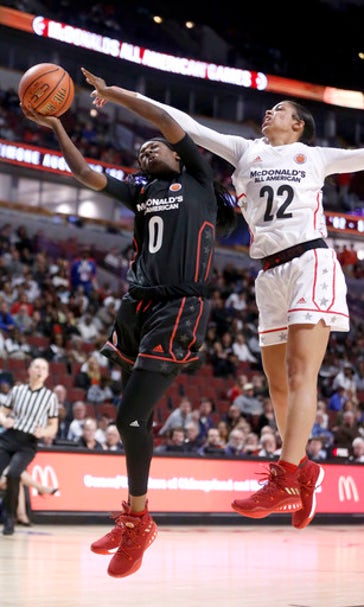 Freshmen eager to restore Lady Vols' championship tradition
October 26, 2017

KNOXVILLE, Tenn. (AP) All the members of Tennessee's highly touted freshmen class were in third grade the last time the Lady Volunteers reached a Final Four.
That didn't stop these four newcomers from choosing Tennessee anyway as they attempt to restore this program's championship tradition. Tennessee heads into the 2017-18 season relying heavily on a freshman class that was ranked No. 1 in the nation by multiple recruiting services .
''I wanted to bring Tennessee and the Lady Vol basketball name back to life,'' freshman guard Evina Westbrook said. ''I think all four of us as freshmen - all of us on the team - know what we have to do. We never talk about the past, never talk about what happened last year or the past few years. We're really, really focused on this year and making this year successful.''
Tennessee is counting on this freshman class to help reverse its recent slide.
The Lady Vols haven't reached a Final Four since winning consecutive national titles in 2007 and 2008. Tennessee has reached five regional finals in the last seven years, but the Lady Vols have taken another step back lately.
After going 86-20 in the first three seasons of Holly Warlick's coaching tenure, Tennessee went 42-26 the last two years. The Lady Vols went 20-12 last year and lost to Louisville in the second round of the NCAA Tournament , marking just the second time the Lady Vols failed to advance beyond the NCAA Tournament's round of 32.
These freshmen believe they can get Tennessee back on the right track.
''Everybody wants to be around a winning tradition,'' guard/forward Rennia Davis said. ''I know for me personally, I wouldn't want to go to a school where I don't feel like we're going to win a national championship because that's my goal in college basketball. If I didn't feel like we could do that, then I wouldn't be here.''
The freshman class features four McDonald's All-Americans: Westbrook, Davis, guard Anastasia Hayes and center Kasiyahna Kushkituah. They each decided on Tennessee separately but built a friendship after signing with the Lady Vols. They say that they've even been given their own nickname.
''Everybody calls us the `Fab Four,' so we've been like, `OK, I guess we're like the Fab Four,'" Hayes said.
Tennessee's struggles the last couple of years apparently didn't bother the freshmen. Warlick said Tennessee's brand name and its eight national championships still hold plenty of appeal.
''Our sales pitch is the University of Tennessee,'' Warlick said. ''We've got great tradition. We have unbelievable fans. We play a competitive schedule, play in the best conference in the country. And we're Tennessee. Come play for the best. Those four young ladies chose to do just that.''
The Lady Vols need these freshmen to make an immediate impact. Senior center Mercedes Russell and senior guard/forward Jaime Nared combined for 32.7 points and 15.7 rebounds per game last season, but they're the only returning players who averaged as much as five points per game a year ago.
Warlick has said she may start as three freshmen. Westbrook and Hayes are the most likely candidates to emerge as Tennessee's starting point guard for the Nov. 12 opener with East Tennessee State.
''The freshmen are competitive,'' Warlick said. ''They don't like losing. They play hard. They are talented. They have that desire and will to win. They're willing to work. They're willing to listen. They're just competitive, and that's what I love about them.''
These freshmen savor the possibility of playing right away. Tennessee's chances of improving over its last two seasons depend on whether each of these newcomers displays the poise of a veteran.
''Coaches put it in my head every day that you're not a freshman, you're not a freshman, you're not a freshman,'' Westbrook said. ''I hear it every day. We all hear it. The four of us, we all hear it. We all know we're going to have a really big role on this team.''
---
Follow Steve Megargee at www.twitter.com/stevemegargee
---
---