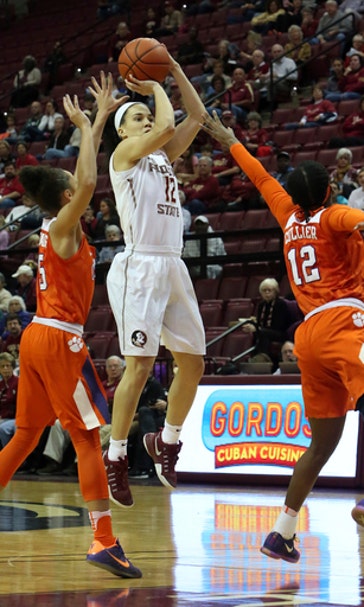 Brown, Slaughter lead No. 4 Florida State to rout of Clemson (Feb 18, 2017)
February 18, 2017

TALLAHASSEE, Fla. (AP) Even without its leading scorer, Florida State had no problems beating Clemson.
With Shakayla Thomas missing Saturday's game because of a shoulder injury, four players scored in double figures as the fourth-ranked Seminoles cruised to an 80-47 victory.
''I'm very hesitant to say this: I don't know how it comes out right, but we didn't miss Shakayla today,'' Florida State coach Sue Semrau said. ''She helped us on the bench plus we have so many weapons that stepped up. Our depth really showed up tonight.''
The Seminoles, who were playing their third game in six days, led this one throughout and were up by as many as 22 points (34-12) less than three minutes into the second quarter.
Brittany Brown and Ivey Slaughter each scored 14 points as FSU (24-4, 12-2 Atlantic Coast Conference) bounced back from losses earlier in the week to No. 8 Texas and Virginia.
Chatrice White, who took Thomas' place in the starting lineup, had 10 points and 11 rebounds for her fifth double-double of the season. Ama Degbeon also had 10 points.
''We had a rough patch during those losses where things weren't going our way,'' Slaughter said. ''The big thing that we learned is that we can't keep our heads down.''
Slaughter scored six of the Seminoles' first 10 points as they built a 20-2 lead with 2:16 remaining in the first quarter. FSU made seven of its first 11 shots while Clemson missed 11 of its first 12 and turned it over seven times.
Semrau said she wanted to see her team get back on track on the defensive end, which it did. The Seminoles held the Tigers to 16 of 56 from the field (28.6 percent) and forced 22 turnovers.
Danielle Edwards led Clemson (14-14, 3-12) with 11 points. Nelly Perry, who is the Tigers' leading scorer (12.5 points per game) and was coming off a season-high 24 in Thursday's loss to No. 7 Notre Dame, was held to seven points.
''In the first quarter, we dug ourselves such a deep hole that emotionally and physically it was draining,'' Clemson coach Audra Smith said. ''I was happy with some things we did offensively in the second half.''
BIG PICTURE
Clemson: Seven of the Tigers' 12 losses in ACC play have been to ranked teams. This will mark the fifth straight season that the Tigers have not beaten a ranked team in conference play during the regular season.
Florida State: The Seminoles have been ranked in the top 10 for 13 straight weeks, but with the losses earlier in the week, that streak could be in jeopardy when Monday's poll is released.
STREAKING ALONG
Florida State has won 16 straight over Clemson. Five of those wins have been by 30 points or more, including both games this season.
The Seminoles posted a 59-win point win in the first meeting on Jan. 15, which is their largest victory ever in ACC play.
THOMAS UPDATE
Thomas' injury is not considered to be season ending. The junior forward, who averages 15 points per game, is questionable for next week's games against Pittsburgh and Notre Dame.
''We really miss Shakayla's presence and I'll fill in for her as long as possible. We're really hoping for a fast recovery,'' said White, who made her first FSU start after 60 the past two seasons at Illinois.
UP NEXT
Clemson: The Tigers visit Georgia Tech on Thursday in what will be their last game before the ACC Tournament.
Florida State: The Seminoles close out their home schedule on Thursday against Pittsburgh.
---
Follow Joe Reedy on Twitter at www.twitter.com/joereedy
---
---