Notre Dame Fighting Irish
Notre Dame Fighting Irish
Arike Ogunbowale helps No. 6 Notre Dame women rout Pitt (Jan 12, 2017)
Published
Jan. 12, 2017 9:44 p.m. ET

SOUTH BEND, Ind. (AP) Arike Ogunbowale and No. 6 Notre Dame beat Pittsburgh from long range.
Ogunbowale matched her career high with five 3-pointers and scored 19 points to help the Fighting Irish rout Pittsburgh 86-54 on Thursday night.
Jackie Young had 15 points and eight rebounds, and Kristina Nelson added a career-high 13 points for the Irish (16-2, 4-1 Atlantic Coast Conference). They have won four straight to remain at the top of the ACC standings after opening league play with a rare loss.
Notre Dame missed its first five 3-point attempts, but the Irish took control of the game from the arc in the second quarter. Ogunbowale nailed two 3-pointers in a row and Erin Boley added another to kick off a 22-4 run that put the Irish ahead by 22 with three minutes to go before halftime.
''That's what we do best, we really know how to shoot it,'' Ogunbowale said.
Ogunbowale's fifth 3-pointer made it a 25-point lead midway through the third quarter, and the Irish advantage would eventually reach 35 in the second half.
''We were just moving the ball really well in the second half,'' Ogunbowale said. ''That just brought up our energy and intensity.''
Fifth in the country in field goal percentage coming in, Notre Dame shot 50 percent while holding Pitt to just 36 percent.
''I didn't feel like we matched up well one-on-one with them defensively,'' Pitt coach Suzie McConnell-Serio said. ''They got comfortable against our zone, and I've seen them pick apart most teams they've played.''
Brenna Wise and Alayna Gribble each scored 17 points for Pittsburgh (10-7, 1-3). The Panthers have lost four of their last five, and 11 straight to ranked opponents.
Coming off a career-high 25 points Sunday in a loss to No. 8 Louisville, Pitt center Brandi Harvey-Carr shot just 3 of 10 from the field and finished with eight points.
After committing 21 turnovers in Sunday's win at No. 14 Miami, the Irish had seven by the end of the first quarter, but also the lead thanks to a 9-0 run. The Irish finished with 15 turnovers.
''The first quarter, we were a little shaky on our execution,'' Notre Dame coach Muffet McGraw said. ''After that, I thought we settled in well.''
BIG PICTURE
Pittsburgh: The Panthers lost their second straight to a Top 10 ranked team after No. 8 Louisville won in Pittsburgh on Sunday. Pitt is 0-4 on the road.
Notre Dame: The Irish played just their second home game out 12 contests, a stretch that began Dec. 10 and runs through Jan. 22. Coming off a strong showing at No. 14 Miami on Sunday, the Irish are putting their lone ACC loss to North Carolina State behind them.NO BIG MAC
Notre Dame's rout of Pittsburgh was so impressive that the only thing McGraw was upset about afterward was missing out on a promotional gimmick for the fans - the Irish were two points off 88 total, which would have resulted in free Big Macs for everyone.
''I was really happy with almost everything that went on today except not getting the Big Mac,'' McGraw joked. ''That was very disappointing.''
POLL IMPLICATIONS
After moving up a spot this week to No. 6, the Irish have a tough one next week at Tennessee, but won't face another ranked team until Jan. 26 at home against No. 12 Duke.
UP NEXT
Pittsburgh: The Panthers have three of their next four at home, beginning with North Carolina on Sunday.
Notre Dame: The Irish travel to face Tennessee on Monday, kicking off a three-game trip.
---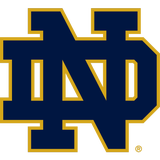 Get more from Notre Dame Fighting Irish
Follow your favorites to get information about games, news and more
---