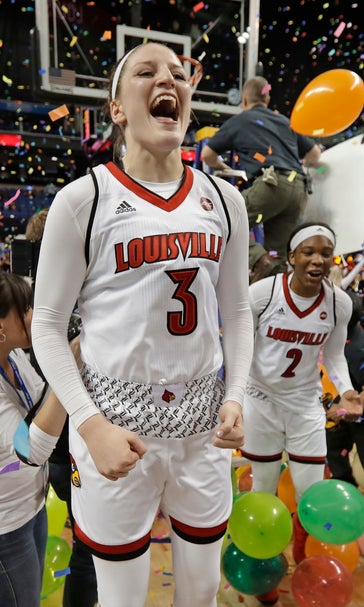 ND, Louisville enter as teams to beat in ACC women's hoops
October 2, 2018
CHARLOTTE, N.C. (AP) — Notre Dame is defending a different kind of women's basketball championship. For the first time in a long while, Louisville has to defend one, too.
The Fighting Irish and Cardinals again look like the teams to beat in the Atlantic Coast Conference this season.
Notre Dame returns four starters from the team that won the program's second NCAA Tournament and first since 2001. But for the first time since their first season in the ACC, the Fighting Irish aren't the defending league tournament champions.
That honor falls to Louisville, which won its first ACC title and its first conference tournament of any kind since 1983 by beating Notre Dame in the championship game last March en route to the Final Four.
Asked Tuesday about the plusses and minuses of having to follow up such a run, Louisville coach Jeff Walz quipped that "I don't see many minuses."
"We're a year older, a year more mature," he said.
The Irish have dominated the ACC in their first five years in the league, winning at least a share of five straight regular-season titles while rolling up a 77-3 record in conference games — including a 40-0 mark at home. They won their first 14 ACC Tournament games, a string that included four straight championships before the Cardinals snapped it.
All eyes this season will be on Notre Dame guard Arike Ogunbowale, whose last-second shots first lifted the Irish past Connecticut at the Final Four and then past Mississippi State in the title game. Those heroics earned her a spot on ABC's "Dancing with the Stars."
"I felt like I was living with a celebrity," teammate Marina Mabrey said.
Ogunbowale had 25 games with at least 20 points and led the ACC by averaging a program-record 20.8 points.
But she couldn't beat the Cardinals in two tries last year.
Louisville took care of Notre Dame by 33 points in the regular season, a result that helped it earn the top seed in last year's ACC Tournament, and then beat it again in the title game in Greensboro.
The Cardinals also reached last year's Final Four before falling to the Mississippi State team that Ogunbowale stunned two nights later.
"Having the opportunity to win your regular-season and conference titles, especially in the ACC, it's gratifying for sure," Walz said. "It's something to be very proud of, and it's difficult as we all know, and we're looking forward to the challenge again this season."
With reigning ACC player of the year Asia Durr back, along with three other starters, the Cardinals figure they have enough talent and experience to handle being a target this season.
"My role for this year hasn't changed as much," Durr said. "I'm still the same player, but I'm more vocal."
---