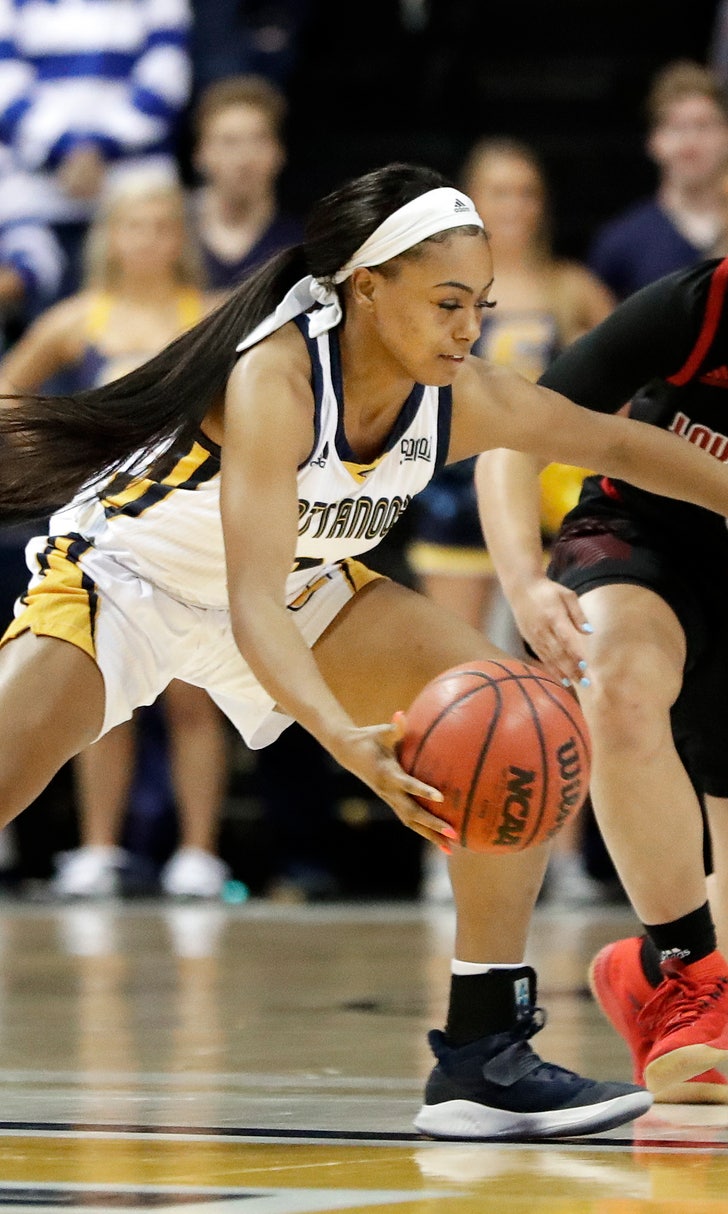 Durr scores 24, No. 5 Louisville women beat Chattanooga
November 9, 2018
CHATTANOOGA, Tenn. (AP) — Louisville coach Jeff Walz was scrambling to find games to fill his schedule after a December tournament was unexpectedly cancelled. Chattanooga had an opening, but Mocs coach Katie Burrows insisted on playing on her team's home court.
The experience benefited both.
Asia Durr scored 24 points as the fifth-ranked Cardinals, opening the season with five games away from home, used another third-quarter burst to pull away and beat Chattanooga 75-49 on Friday night.
"I think it's good. I've never been a big fan of buying a bunch of home games because I think coming to places like this is good for our game," Walz said. "And then I want to find out how my kids can handle being on the road, what their mentality is going to be. It's easy to play at home when 10,000 people are cheering for you."
After a closely played first half, Louisville (2-0) outscored Chattanooga 30-10 in the third quarter to take control. In their season-opening win at Western Kentucky, the Cardinals outscored WKU 31-8 in the third quarter.
Bionca Dunham scored 12 points for Louisville while Sam Fuehring had eight. Louisville assisted on 21 of its 28 made field goals.
Durr, who scored 33 points against Western Kentucky, shot 7 for 14 from the field — including 5 for 0 on 3-pointers — against Chattanooga. It was the senior guard's 39th game with at least 20 points.
Lakelyn Bouldin finished with 11 points for Chattanooga (1-1), which shot 31.4 percent from the field (16 of 51).
"I can't make that little round thing go through the basket. I wish I could. I wish I could telepathically make it do what I wanted it to do," Burrows said. "But these girls against a team like (Louisville) — bigger, faster, stronger — they make you speed up a little bit because they will come at you hard and close out on you hard, so you have to get that shot off a little bit quicker."
Both teams struggled shooting from the start, combining to go 3 for 23 through the first four minutes. Bouldin gave Chattanooga an offensive spark by banking in a hook shot and making a 3-pointer from the corner to give the Mocs an 11-7 lead.
Fueled by turnovers and Durr's scoring, Louisville went on a a run to end the half. The senior guard hit a 3-pointer and finished a layup on the break to give the Cardinals a 28-20 lead.
Louisville came out of the halftime break with renewed energy on defense and quickly built their lead. The Cardinals started the third quarter on an 8-0 run, and never looked back. Durr made back-to-back 3s to give Louisville a 51-27 lead, and capped the third quarter with a 40-foot shot at the buzzer.
"We just really talked about pushing the tempo and trying to create as many scoring opportunities as we could and I thought we did a really nice job of that," Walz said of the third-quarter run. "We ran the floor and got two layups from our post players right out of the gate, which kind of opened things up for everybody else."
After busing home for a short break, Louisville travels to play at Boise State on Nov. 19 before heading straight to Las Vegas for games against No. 23 Arizona State and Hartford at the Southpoint Shootout.
Durr is glad to have been pushed by the Mocs early to help prepare for the future.
"Chattanooga made some great plays. They had some great players and went on some great runs. They made us work," Durr said. "We will go back and watch this film to see what we can take from it and become better."
BIG PICTURE
Louisville: The Cardinals need to find ways to score in the half-court when Durr isn't. Louisville struggled to generate points in the first half while Durr was contained by Chattanooga's defense or sitting on the bench. Louisville's pressure defense helped alleviate the problem in the second half by getting points in transition.
Chattanooga: In their first big test under new coach Katie Burrows, the Mocs weren't afraid and hung with Louisville through the first half. But Louisville's pressure finally wore Chattanooga down. The experience will serve the Mocs well the remainder of the season against less-heralded opponents.
KEY STATS
Chattanooga outshot Louisville 52-51, but Louisville made 28 field goals, including eight 3-pointers. Chattanooga hung with Louisville on the boards, getting outrebounded only 35-29.
CLOSER TO HOME
The trip to Chattanooga was a bit of a homecoming for Louisville assistant coach Sam Purcell. He was born in Dalton, Georgia, which is 35 miles away from Chattanooga.
UP NEXT
Louisville: At Boise State on Nov. 19.
Chattanooga: At Hampton on Nov. 16.
---
---