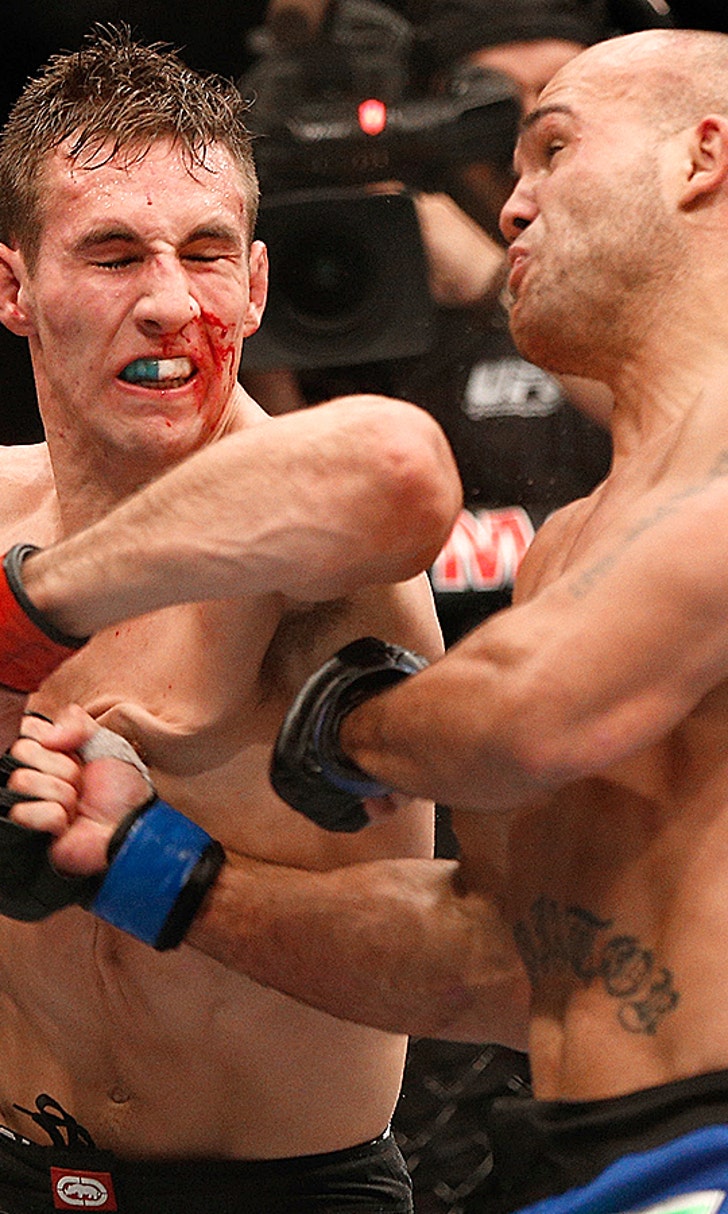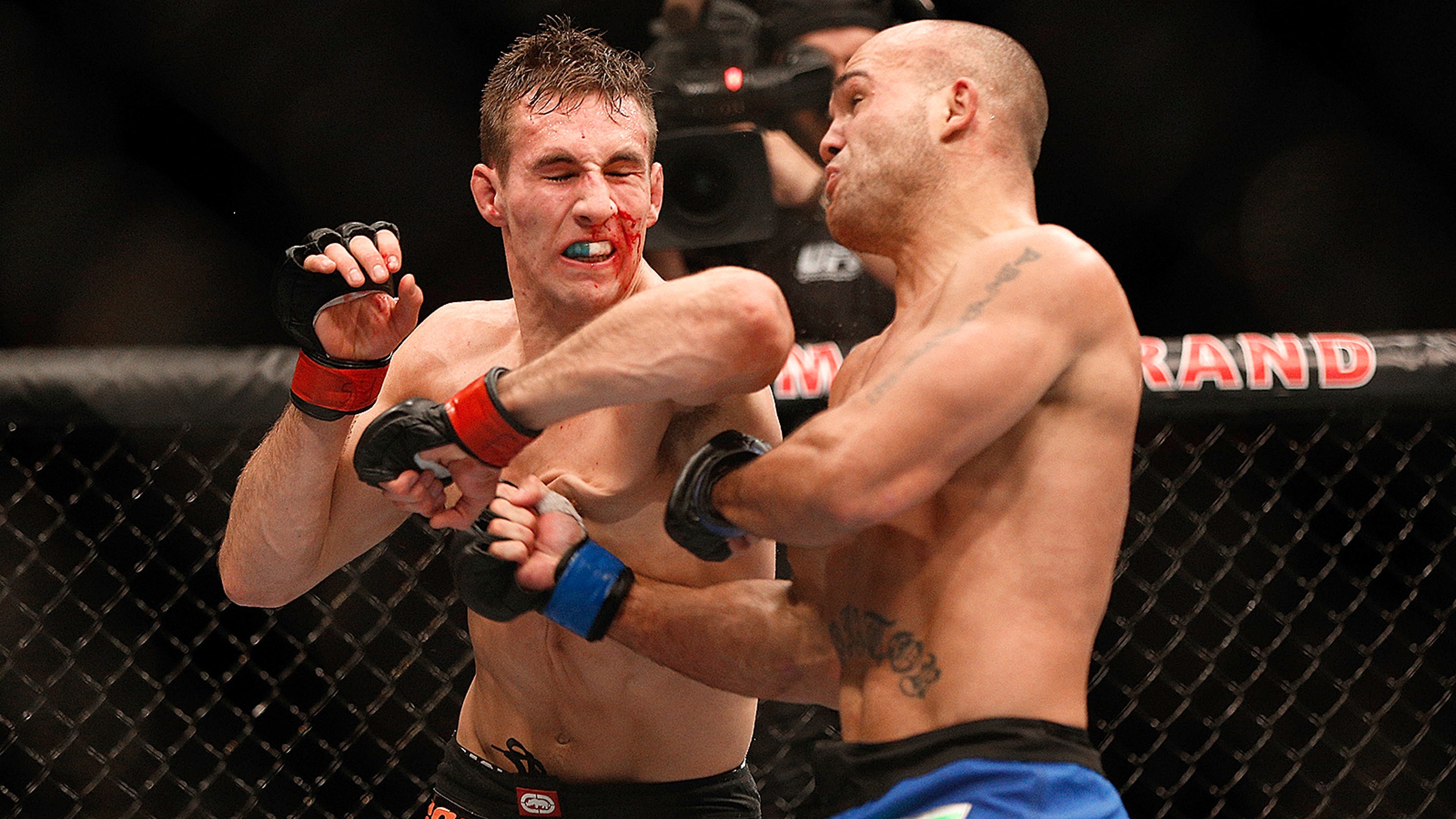 With GSP on sabbatical, Rory MacDonald ready to seize the welterweight division
BY foxsports • February 18, 2014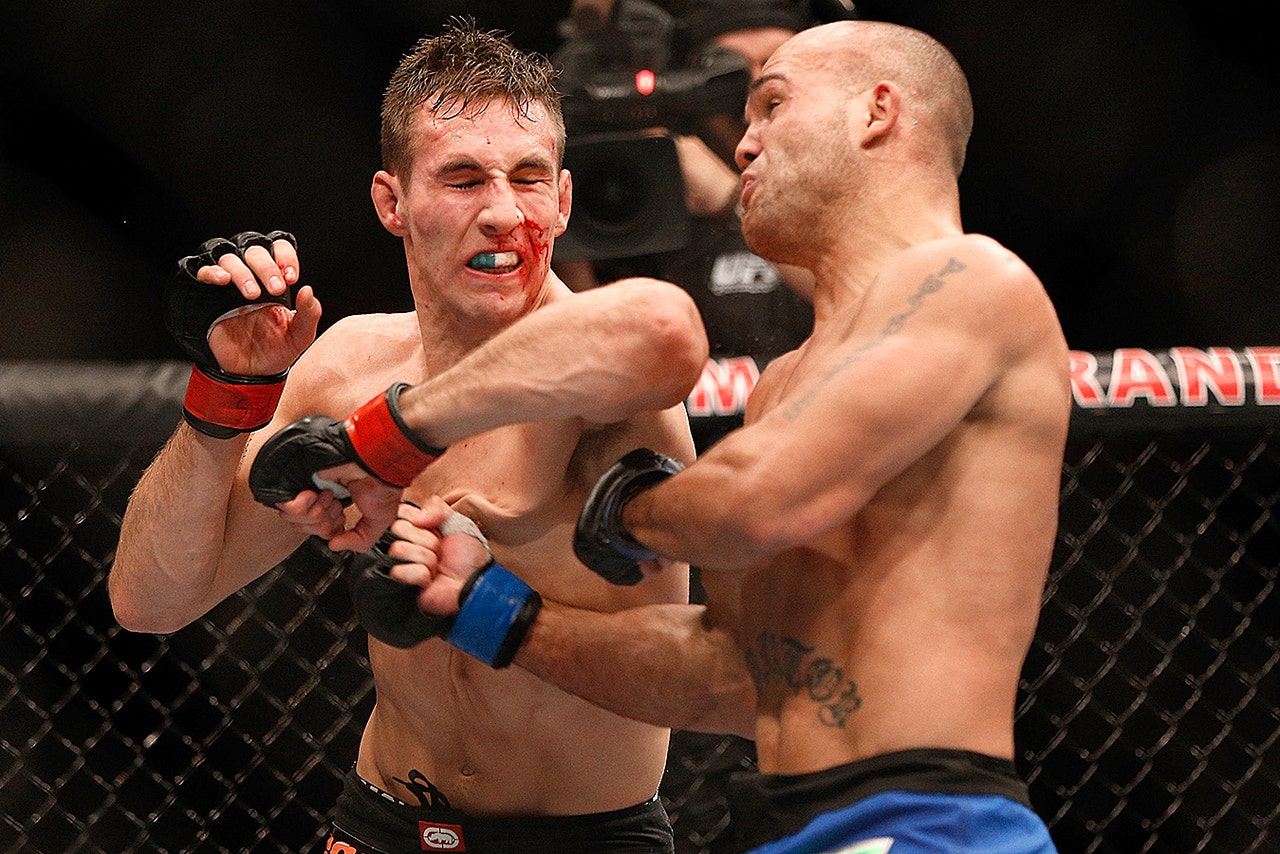 There's an old saying that goes 'almost only counts in horseshoes and hand grenades' and it's an idiom that should hold particular prevalence to the sport of mixed martial arts.
Fighters routinely spend months getting ready for a bout, the day in and day out grind that tears them down and builds them back up almost like a basic training of sorts and by the end of it, they are supposed to be a finely tuned weapon ready to strike the second the Octagon door closes.
Unfortunately, despite all the preparation in the world, a fighter can still wake up on the day they are about to go to battle and just not feel up to the task.  No amount of poking or prodding, warm ups in the back or motivational speeches from coaches will spark flint to flame, resulting in a stellar performance.
This was Rory MacDonald's world as he walked to the Octagon at UFC 167 last November in a bout against Robbie Lawler.  The winner, as it turns out, would be the next fighter in line for a UFC welterweight title shot, but following a rough training camp and a personal life that just wouldn't get out of his way, MacDonald struggled to put together a winning performance on fight night.
MacDonald didn't get overwhelmed by any means, but his struggles mounted late in the fight when Lawler swarmed and nearly got a finish while the young Canadian sat back and just couldn't see the openings necessary to launch his own counter attack.
"I think he had a good strategy going in, and I didn't expect him to fight the way he did at the very beginning and I was a bit confused.  I was thinking too much and not pulling the trigger enough, which were some big issues," MacDonald told FOX Sports recently.
"Sometimes you have those days.  It wasn't a very good training camp, I had a lot of things going on at that time.  It just wasn't my day."
MacDonald doesn't want to seem like he's making excuses for why he lost to Lawler that night outside of the acknowledgment that he just didn't feel like himself inside the cage.  It's even tougher to deal with given the fact that months worth of work all boiled down to that one night, 15 minutes inside the Octagon, and that's where he failed to produce.
In training, MacDonald can be afforded a bad day because he just wakes up the next morning and does it all over again, hoping for a better result.  Once the fight night happens, there are no second chances, no do-overs, and no mulligans.
"It's hard to always be on when you're required to when you only get one chance.  It's tough," MacDonald said.
The best way for MacDonald to get past the hurt of loss from the Lawler fight was to just go back into the training room and work harder while also booking another bout as soon as possible to wash out the bad taste of defeat from his mouth.  At UFC 170, just three months after his last fight, MacDonald will try to get back on the path towards a title shot when he faces ace grappler Demian Maia.
MacDonald promises that his training camp this time around was much better and his mind is right for the upcoming fight.  Obviously there are no guarantees until he steps foot in the Octagon and the fight actually happens, but MacDonald enjoys the fact that people expect so much out of him. 
Some fighters despise expectations, others relish them -- count MacDonald in the latter group.
"I appreciate that people hold me in a high standard when they expect a fight from me.  I want that, I want people to expect that from me.  Hopefully this fight I can deliver," MacDonald said.
The upcoming fight at UFC 170 also ushers in a new chapter in the welterweight division because for the first time in his entire career with the promotion, MacDonald's good friend and training partner Georges St-Pierre isn't the incumbent champion.  St-Pierre surrendered his belt so he could take a much needed sabbatical from fighting, and his absence will also take some of the pressure off MacDonald.
For the last few years as MacDonald climbed the ranks of the welterweight division, he couldn't go five minutes without someone asking him about potentially facing St-Pierre down the road.  No matter how many times he swore that he would never fight his friend, the scenarios and conspiracy theories still came at him during every interview or public appearance.
Now with St-Pierre safely tucked away in a self-imposed retirement, MacDonald has fresh eyes to see the welterweight division. There is no longer a brick wall standing in his way of pursuing the gold, and he no longer has to answer the question about being forced to face his teammate.  This can just be the Rory MacDonald show, and he's ready for opening night.
"The door's open.  The opportunity's right there, it's just about seizing it," MacDonald said.  "I'm going to take the first step in that and try to knock out Demian Maia."
---
---