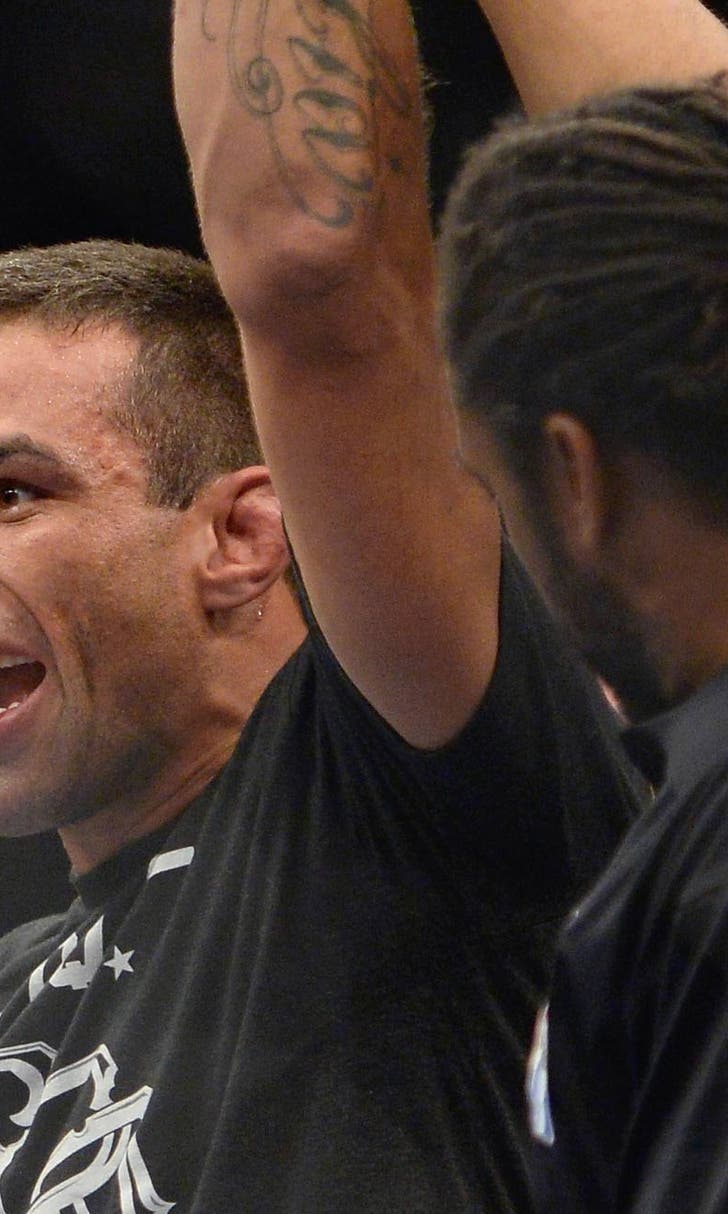 Werdum taps ex-ASU wrestler Cain Velasquez to become undisputed UFC champ
BY Damon Martin • June 13, 2015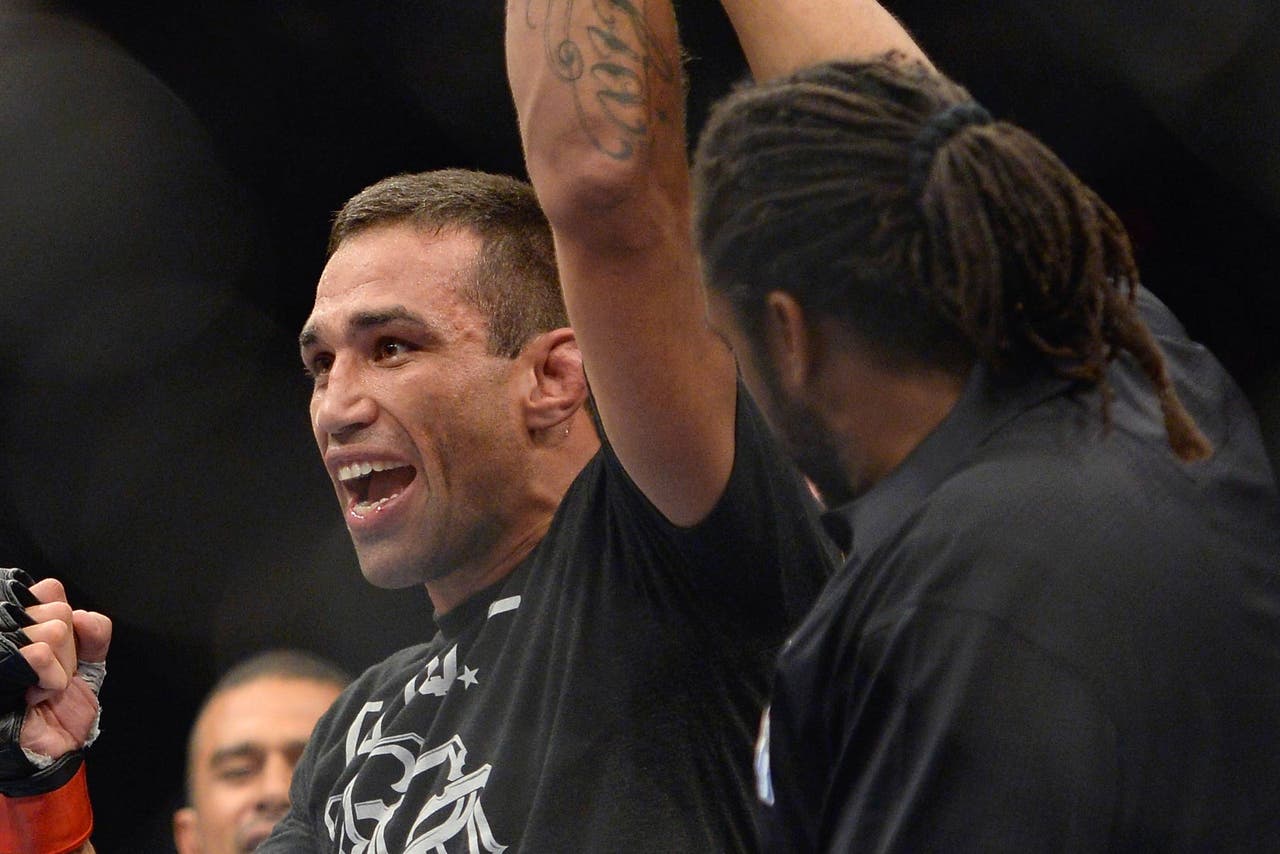 Fabricio Werdum has been told on two occasions during his career that he was facing possibly the greatest heavyweight of all time and for the second time he defied the odds and submitted his opponent, this time winning the undisputed UFC heavyweight title.
Five years ago, Werdum ended the incredible run of Fedor Emelianenko and on Saturday night at UFC 188 he put an end to Cain Velasquez's title reign with a third round guillotine choke finish in Mexico City.
Velasquez, a former Arizona State wrestler, came storming out of the gates looking to punish Werdum with his brutal style of dirty boxing against the cage, but the veteran Brazilian persevered while countering the Mexican-American with short, inside punches -- one of which opened a gash over his opponent's eye.
The second round saw Werdum take over with a punishing stand up affair where he cracked Velasquez with a series of punches and knees. As Velasquez sat down in his corner, he looked deflated and out of gas.
Werdum wasted no time when Velasquez looked for the takedown in round three as he grabbed onto his neck and locked up a guillotine choke before falling to his back on the mat. A few seconds later, Velasquez tapped out and Werdum stood tall as the new undisputed UFC heavyweight champion of the world.
In other action, Eddie Alvarez gutted through a disastrous first round where his eye was shut thanks to a hard elbow strike to battle back and win a close, split decision from Gilbert Melendez.
Full results and play-by-play from UFC 188: Velasquez vs. Werdum below:
Round 1:
These two are swinging for the fences early! Velasquez presses Werdum against the cage. Velasquez has a cut on his eye and he backs out before taking Werdum to the mat. Velasquez backs out and allows Werdum to his feet. Velasquez with a series of right hands over the top. Werdum catches a knee from Velasquez and takes him down, but only for a moment. Werdum starting to land some good straight punches so Velasquez pushes him against the cage again. Velasquez snags a quick takedown but immediately lets Werdum back up again.
10-9 Cain Velasquez
Round 2:
Velasquez opening up with some good leg kicks while Werdum trying to counter with his hands. Werdum blasts Velasquez with two right hands and the champ is wobbled! Werdum with an uppercut followed by a knee right up the middle. Velasquez is holding his own, but he's taking a lot of damage this round. Werdum just nailing Velasquez with right hands. Werdum cracks Velasquez with another huge knee! The champion is in trouble and the round ends.
10-9 Fabricio Werdum
Round 3:
Velasquez eats a couple of jabs and then quickly takes Werdum to the ground. Velasquez kicks the legs for a moment, but Werdum is back up again. Velasquez with a head kick and he rushes in and nearly gets caught in a guillotine choke. Werdum fires another big knee up the middle. Velasquez shoots in again and gets caught in a guillotine choke!  Werdum pulls guard and Velasquez taps!
Official result: Fabricio Werdum def. Cain Velasquez by submission (guillotine choke) at 2:13, R2
Analysis:
What an incredible performance from Fabricio Werdum as he withstood the early onslaught from Velasquez and then tired the champion out with a relentless pace in the second round before finishing him in the third. Werdum has made one of the most phenomenal runs in heavyweight history starting with his victory over Fedor Emelianenko five years ago and capping it off with his win over Velasquez on Saturday night. The happiest man in the audience was likely former champion Junior dos Santos, who will probably get the next shot at the title considering he knocked out Werdum in his UFC debut several years ago. 
Round 1:
Alvarez jumps in first with a good punch to the body and he's out again. Melendez fires back with a triple jab that pops Alvarez in the mush. Melendez cracks Alvarez with a hard elbow and he's hurt. Alvarez recovers but he's still eating Melendez's lead jab. Melendez with a left followed by a right hand over the top that nails Alvarez again. Alvarez kicks to the body and takes another right hand for his troubles.
10-9 Gilbert Melendez
Round 2:
Alvarez's left eye is completely closed now and it looks like he has a broken nose as well.
Alvarez presses forward to look for a takedown, but Melendez able to get his underhook to stop it against the cage. Alvarez catches Melendez low and the fight is paused for a moment. On the restart, Alvarez lands a nice leg kick, but Melendez shoots in for a takedown and hammers him with a knee as he exits. Alvarez shoots in again for the takedown and puts Melendez on the mat. Melendez works up but he's stuck against the cage.
10-9 Eddie Alvarez
Round 3:
Alvarez gets another takedown to start the final round. The fighters are back up and Melendez and Alvarez both land punches in an exchange. Alvarez is pressing for the takedown again against the cage but Melendez doing a good job to stand back up. Melendez is winging punches but not landing much late in the round. Melendez ends up with a big cut on his forehead as the round comes to a close.
10-9 Eddie Alvarez
FOX Sports scores it 29-28 for Eddie Alvarez
Official result: Eddie Alvarez def. Gilbert Melendez by split decision (29-28, 29-28, 28-29)
Analysis:
Probably not the three round war some were expecting out of these two fighters, but the early elbow that closed Alvarez's eye was a real difference maker. To his credit, Alvarez was able to persevere and work for takedowns in both rounds two and three, which earned him the victory when it was all said and done. A gutsy performance from Alvarez after the first round nearly ended in disaster. Alvarez gets his first UFC win while Melendez drops to 1-3 in his four fights inside the Octagon. 
Round 1:
Gastelum landing a barrage of left hands that are definitely hurting Marquardt. Gastelum with a hard right hand followed by a left that snaps Marquardt's head back. Marquardt able to trip Gastelum up for a takedown, they hit the mat for only a matter of seconds. Gastelum counters and takes Marquardt to the mat this time. Marquardt able to scramble out of the bad position and get back to the feet. Gastelum hurts Marquardt with an uppercut and he's going for the finish but the round comes to an end.
10-9 Kelvin Gastelum
Round 2:
Gastelum fast on his feet and he's got a quick and hard jab that's eating Marquardt alive. Gastelum is just punishing Marquardt with punches and then a knee to the body. Marquardt goes down and Gastelum is all over him. Gastelum has Marquardt on the ground and he's just teeing off with little to no resistance from his opponent. Marquardt tries to pull guard and survive but Gastelum is just relentless. Marquardt somehow survives the round but he looks completely out of this fight.
10-8 Kelvin Gastelum
Between rounds, Marquardt says 'I've got nothing left' and coach Trevor Wittman says that's enough and they call a stop to the fight.
Official result: Kelvin Gastelum def. Nate Marquardt by TKO at 5:00, R2
Analysis:
Very strong performance from Kelvin Gastelum in what will likely be a very short trip to middleweight after failing to make the welterweight limit for his last fight. Gastelum just punished Marquardt and it was clear this fight was over about two minutes into the second round. If Gastelum can get his weight under control he is absolutely a top five level welterweight, but he has to find a nutritionist to work with him to ensure he can make the cut safely to get down to 170 pounds.
As for Marquardt, he's just been off his game ever since returning to the UFC. Outside of his one win over James Te Huna, he's looked a step slower than every opponent he's faced.  Marquardt's going to have to think long and hard about coming back after this one and the UFC might very well release him following this loss. 
Round 1:
Rodriguez is going crazy as soon as the fight starts looking for head kicks and jumping kicks as well. Rosa is able to trip up Rodriguez and get the fight to the ground, but now he's trapped in a triangle choke. Rosa is finally able to slip free and now he's working from the top. Rosa looking to take the back but Rodriguez is able to stand back up again. Rosa with a big throw to take him down again. Rosa with some nasty elbows from the top. The fight is back up again before the round comes to an end. Frantic round!
10-9 Yair Rodriguez
Round 2:
Rodriguez punishes Rosa's lead leg with a kick to start the round. Rodriguez's kicks are on point tonight. Rodriguez with a good kick to the body and Rosa looks like he's slowing down. Rosa trying for the takedown, but Rodriguez gets out. Rosa gets a body lock looking for the takedown, but Rodriguez counters and toss him to the mat instead. Rosa has a gash on the side of his head that's leaking blood down the side of his face. Rodriguez with another leg kick that hurts Rosa. Rosa looks for a takedown and instead ends up with Rodriguez on top and he nails him with a good short elbow.
10-9 Yair Rodriguez
Round 3:
Rosa gets in deep for a takedown and puts Rodriguez on his back. Rosa is starting to land some hard shots to Rodriguez on the ground. Rodriguez gets his legs around the head and he wraps up another triangle choke. Rosa slips out again. A scramble ensues and they are back up again. Rodriguez cracks Rosa with another hard leg kick. Rosa slips in and gets another takedown. Rosa stays on top until the end of the round. Incredible fight.
10-9 Charles Rosa
FOX Sports scores it 29-28 Yair Rodriguez
Official result: Yair Rodriguez def. Charles Rosa by split decision (29-28, 28-29, 29-28)
Analysis:
Incredible performance from both of these fighters as Rodriguez and Rosa put on a show for the Mexican crowd. Rodriguez looks like a real prospect coming out of "The Ultimate Fighter: Latin America" and given the time to develop he has serious star power as the UFC expands further and further into Mexico. Rosa deserves a lot of credit for a gutsy performance as well. Hopefully, both fighters will get a nice, fat bonus when UFC 188 is over. 
Round 1:
Hill is aggressive but not throwing much yet and Torres quickly looks for a takedown. Torres working from the clinch, lands a nice knee to the body. The fighters separate but Torres quickly grabs a takedown and puts Hill on her back. Torres maintains good control on top while trying to pass guard up until the round comes to an end.
10-9 Tecia Torres
Round 2:
Torres with a good left-right combo to open the round and then she swoops in for a trip takedown to land on top. Torres is looking to pass guard on the mat while Hill is just playing defense from the bottom. Torres looking to take the back, but Hill slips free so it's back to half guard. A lack of action on the ground causes a stand up with less than a minute to go. Torres locks up the clinch again before the round ends.
10-9 Tecia Torres
Round 3:
Hill is pressing forward, but Torres is countering with fast hands when she steps in for an exchange. Torres and Hill are even on the feet but Torres initiates the clinch again to slow things down. The referee breaks them with just over a minute to go. Torres looks for the clinch again as Hill tries to fire back with a knee to the body. Not a lot of action and the crowd lets them hear it.
10-9 Tecia Torres
FOX Sports scores it 30-27 for Tecia Torres
Official result: Tecia Torres def. Angela Hill by unanimous decision (30-27, 30-27, 29-28)
Analysis:
Credit to Tecia Torres for a smart game plan to take Hill down to the ground where she clearly had no way to get up again with her lack of overall MMA experience. Still, Torres probably didn't earn a ton of fans with that performance. She does remain undefeated, but Torres is probably still a fight or two away from challenging for the title. Torres might look at potential rematches with Carla Esparza or Randa Markos next after they first battled on "The Ultimate Fighter" last season.
Round 1:
Cejudo presses Camus against the cage and starts looking for knees to the thighs. Camus breaks free and fires a nice right hand that clips Cejudo in the head. Cejudo looks for another takedown, but Camus is able to keep it standing. Cejudo with another takedown attempt but after Camus sprawls he connects with a good kick to the body. Cejudo gets a quick takedown before the round ends.
10-9 Henry Cejudo
Round 2:
Cejudo's boxing on point starting the round as he catches Camus with a pair of hard right hands before initiating the clinch. Camus is starting to find a home for his punches, but he can't keep Cejudo off him against the cage. Cejudo isn't landing takedowns, but he's pressuring him in the clinch. Cejudo is the busier fighter and that might win him the round, but it's not definitive.
10-9 Henry Cejudo
Round 3:
Cejudo with some quick combinations out of the gate, popping Camus with a lefts and rights. Camus complains of an eye poke, but the replay looks like a punch. Fight is restarted. Cejudo looks for another takedown, but Camus stuffs him again. Camus has stopped all of Cejudo's takedowns, but he's not doing much to counter for his own offense. Camus finally opens up with a few punches, but Cejudo grabs a leg and finally lands a takedown. Cejudo closes out the round with work from the top.
10-9 Henry Cejudo
FOX Sports scores it 30-27 for Henry Cejudo
Official result:  Henry Cejudo def. Chico Camus by unanimous decision (29-28, 30-27, 30-27)
Analysis:
Cejudo gets the win, but definitely his toughest fight since coming to the UFC last year. Cejudo showed good toughness when his takedowns weren't working, but it looks like he still needs a little more seasoning before he starts getting into title talk conversation. Cejudo mentioned after the fight that he suffered through some food poisoning a few nights back so it drained him during the weight cut, but he still came away with the victory. With three straight wins, Cejudo has earned the right to face a top five fighter like Joseph Benavidez or Jussier Formiga in his next bout. 
Round 1:
Escudero and Dober exchange kicks, but Dober slips to the ground for a moment and it takes Escudero no time to take advantage. Escudero locks on a guillotine choke and stands back up. Escudero is just wrenching up on that hold and Dober isn't getting out.  Escudero traps him against the cage and Dober has no choice but to tap out! Back to back guillotine choke finishes.
Official result: Efrain Escudero def. Drew Dober by submission (guillotine choke) at 0:54 seconds, R1
Analysis:
Huge win for Efrain Escudero after coaching the upcoming season of "The Ultimate Fighter: Latin America" while also picking up his second straight victory in the UFC. Escudero has experienced a ton of ups and downs since winning "The Ultimate Fighter" season 8, but it appears he's finally standing on solid ground again. 
Round 1:
Patrick Williams connects with a big uppercut that stuns Perez and he immediately grabs onto a guillotine choke. Perez tries to fight free, but Williams locks it up even tighter. Williams grabs onto the neck until Perez just goes limp. Wow, incredibly fast finish!
Officials result: Patrick Williams def. Alejandro Perez by submission (guillotine choke) at 0:23 seconds, R1
Analysis:
A much needed finish after a few decisions to start the card. Williams connected with a big uppercut and then locked onto the guillotine choke. He didn't let go until Perez just went unconscious. Very impressive win -- especially considering Williams was stepping into enemy territory and winning in front of the Mexican crowd the way he did.
Williams also breaks the record for the fastest submission in UFC/WEC bantamweight history with a 23 second finish over Perez. 
Round 1:
Case  is tagging Trevino early with good combinations, going to the head and the body with punches and kicks. Case cracks Trevino with a hard uppercut against the cage. His timing is on point tonight. Trevino puts his hand out as Case looks for a kick and he catches a finger in the eye. Case is screaming in pain. The doctor checks the eye out and the fight continues.
Case comes out and takes Trevino down immediately with about a minute to go.  Case fishing for a guillotine but Trevino is able to wiggle free.
10-9 Johnny Case
Round 2:
Case with a nice inside trip takedown and he lands on top. Case transitions to side control and starts to look to take the back. Case rolls and looks for a guillotine choke, but Trevino is out and now he's no top. The fighters quickly work back to the feet. Case with another takedown with about a minute to go in the round.
10-9 Johnny Case
Round 3:
Not much going on in round three although Case finally gets the takedown about halfway through the round. Trevino looking for a kimura, but Case quickly swivels free and ends up in half guard. Case looks to take the back, but the fighters end up back on the feet after a scramble.
10-9 Johnny Case
FOX Sports scores it 30-27 for Johnny Case
Official result: Johnny Case def. Francisco Trevino by unanimous decision (30-27 on all cards)
Analysis:
There's never been a clearer case of an eye poke changing the momentum of a fight than this matchup. Case was doing great early with fast, hard striking but once he caught a finger to the eye, he wasn't able to do much other than get the takedowns or risk a punch slipping through while his vision was blurry. The most important part is Case still got the win even though his eye was in bad shape after the poke. He moves to 3-0 in the UFC and should get a bump up in competition after this bout. 
Round 1:
Pendred is the aggressor early, and he rushes in for a takedown, but Montano defends well. Montano looks for a front kick to the head but misses. Pendred getting a little frustrated by Montano dancing around but not engaging much. Montano finally goes for a jumping knee but Pendred quickly counters to look for the takedown as the round ends.
10-9 Cathal Pendred
Round 2:
Before the round starts, referee Herb Dean warns Montano to start engaging or he's going to take points away.
The round starts and Pendred charges in and gets countered by Montano with a hard right hand. Pendred drops to one knee but then looks for a takedown. Pendred gets Montano down a couple of times although Montano is able to get back up. Pendred with a fourth takedown and he finally puts Montano on his back. Pendred works with ground and pound on the mat although Montano finally works his way back up.
10-9 Cathal Pendred
Round 3:
Montano trying to hit Pendred with kicks but it's clear he's winded as the third round gets underway. Pendred looks for the takedown to counter. Montano with a side kick late in the round. Next to nothing happening here although Montano is throwing more strikes but not much behind them.
10-9 Augusto Montano
FOX Sports scores it 29-28 Cathal Pendred
Official result: Cathal Pendred def. Augusto Montano by unanimous decision (29-28 on all cards)
Analysis:
Not a ton to talk about with this fight although Augusto Montano did almost nothing for three consecutive rounds. Pendred did a great job in round two to get the fight to the ground where he had his best work in the fight. It takes two guys to put on a great fight and unfortunately Pendred just didn't have a willing opponent to engage with him in any meaningful way. 
Round 1:
Benitez comes storming out of the gate and tags Collard as soon as the fight starts. Benitez lighting up the right side of Collard's body with kicks and punches. Collard finally backs Benitez up against the cage but he punches him low and the fight is paused. The fight restarts and Benitez immediately locks in a guillotine choke and he jumps to guard trying to get the finish. Collard slips out, and now he takes Benitez's back! The fighters work up again, and Collard goes for a suplex but they are up again quick. Fast and furious round
10-9 Gabriel Benitez
Round 2:
Benitez is just blasting away at Collard with his kicks, and he hurts him with a kick to the body.  Collard immediately rushes in to get a takedown, but his ribs are clearly hurting. Collard looks like he's running out of gas. Benitez still targeting the midsection although his cardio isn't flourishing right now either.
10-9 Gabriel Benitez
Round 3:
Benitez still battering Collard's lead leg with kicks. Benitez cracks Collard with another big kick and the American quickly scrambles, desperately trying to get the takedown. Benitez scrambles and ends up on top before standing back up again. Collard manages another takedown and looks to take the back but time runs out before he can do much of anything with it.
10-9 Gabriel Benitez
FOX Sports scores it 30-27 for Gabriel Benitez
Official result: Gabriel Benitez def. Clay Collard by unanimous decision (30-27 on all cards)
Analysis:
Strong showing for Gabriel Benitez, especially with a devastating kicking game that just decimated Clay Collard over all three rounds.  It seems if not for his cardio fading from the second round into the third, he probably could have gotten a finish. But the elevation in Mexico backfired on both fighters in that matchup. 
UFC 188: VELASQUEZ VS. WERDUM
MAIN CARD (pay-per-view starting at 10 p.m. ET)
MAIN EVENT: Cain Velasquez vs. Fabricio Werdum
Gilbert Melendez vs. Eddie Alvarez
Kelvin Gastelum vs. Nate Marquardt
Yair Rodriguez vs. Charles Rosa
Tecia Torres vs. Angela Hill
UFC 188 PRELIMS ON FX (starting at 8 p.m. ET)
Henry Cejudo vs. Chico Camus
Efrain Escudero vs. Drew Dober
Alejandro Perez vs. Patrick Williams
Francisco Trevino vs Johnny Case
UFC 188 EARLY PRELIMS (airing on UFC Fight Pass at 7 p.m. ET)
Augusto Montano vs. Cathal Pendred
Gabriel Benitez vs. Clay Collard
---
---