Urijah Faber explains why now was the right time to retire from fighting
Published
Dec. 14, 2016 3:56 p.m. ET



Urijah Faber is only one fight removed from competing for the UFC bantamweight title while still being ranked in the top 10 at 135 pounds but he will retire from fighting after his bout on Saturday night against Brad Pickett.

There's little doubt that the 37-year old California native could still give anybody in the bantamweight division a tough fight and given his history another run at the title isn't out of the question.

So why did Faber make the decision to call it a career now rather than later?

"It just felt kind of right," Faber told the Fight Society podcast this week. "My last fight wasn't my best performance but the guy was very tough, solid opponent. I got the loss there. I didn't really take any damage, it was kind of a lackluster fight on both sides as far as the action goes, but that's because we're both very good.

"I feel very fortunate to have my health. My mind is on point, my body feels great, I definitely enjoy what I'm doing, but it doesn't have the same kind of emotional rise that it has in the past. I feel like that's kind of a big important thing to look at. Not that it's a reason to stop all together but I know that if I don't put a timetable on it, I'll just continue to go, continue to go and continue to go."

There was also a perfect storm of timing for Faber's retirement to coincide with the UFC card airing on FOX this weekend that takes place in his hometown of Sacramento.

What Conor McGregor is to Ireland or Stipe Miocic is to Cleveland, Faber has been that for Sacramento ever since he debuted in mixed martial arts back in 2003.

Faber built one of the elite gyms in all of MMA with Team Alpha Male in Sacramento and he's fought on cards there five times between his tenure with the UFC and WEC.

Add onto that, Faber has always dabbled in multiple businesses outside of the cage and he just feels now is the time to focus on those endeavors rather than split his time between fighting and everything else he's aspiring to accomplish.

"This fight is in my hometown. It's in the new arena. It's kind of a perfect time to move onto bigger and better things and not be retired per se, I'll be working just as hard. I'll be in the gym training the next generation and doing business and doing whatever else is next," Faber said.  "Just focus on some new passions."

Faber calling it a career while he's still a top 10 fighter is also a bit of a rarity in the sport.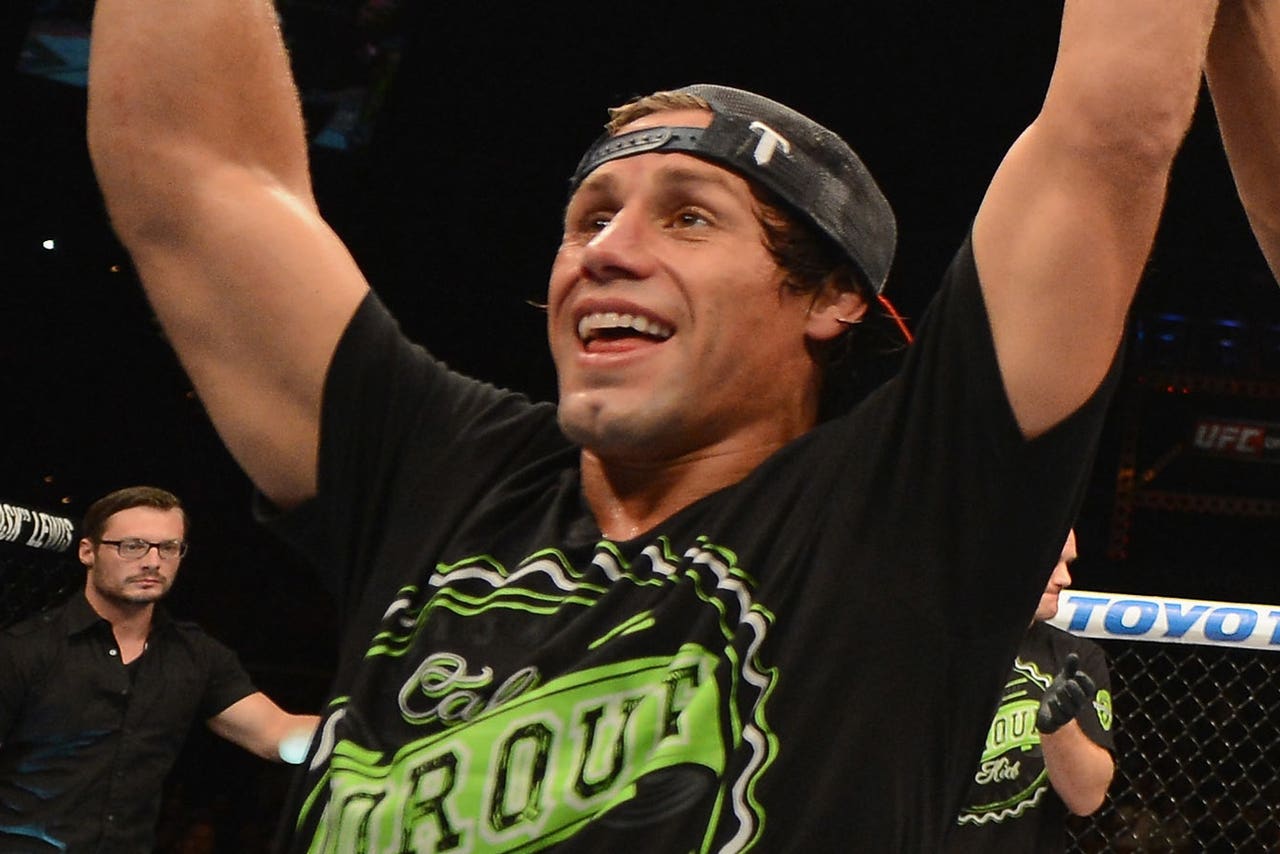 Most competitors refuse to retire or have difficulties staying away with some legends still taking fights into their late 40's and early 50's.

Faber has heard the old adage about being done with the sport before the sport is done with him and there's no denying that played a part in his decision to leave now rather than stick around for another few years.

"There's a lot to be said about that," Faber commented. "I really need my mind on the next phase of whatever I'm doing and I'm young. I'm a very young guy and I really feel like I could compete, have a title fight tomorrow and have a chance of winning it. So I like that. But I've had my opportunities and come up short in the last few tries.

"Of course, the UFC didn't even bring in our weight class until I was 32 years old and I had been a world champion. I don't want to be a guy that's doing the obvious at a certain age. When you're getting mid-40's, etc."

Faber knows deep down that he's stepping away from fighting while still leaving money on the table and opportunities inside the cage, but that's the reason why he needed to declare his retirement now so he could move onto the next phase of his life.

"I'm so comfortable competing and fighting and I could do it for another 10 years and be competitive," Faber said. "Maybe get another title shot, if it the cards play the right way, but I do have a lot of other things I'm working on and I feel like this sport is not something you do half-assed or you don't devote all your time to and I think I'm ready to devote some time to other things."

While Faber is settled on his decision to retire after Saturday night, he can't say for certainty that something or someone couldn't drag him back for one more fight although that's not his agenda.

As a competitor there's always going to be a part of Faber that wants to fight again, but hopefully he can satiate that thirst with such a satisfying win over Pickett in his hometown that he can go out on a high note.

"You never say never obviously. I know how competitive I am," Faber said. "I'm going with the future champ Cody Garbrandt in the gym, I'm going with all these young up and comers and I know I have an edge, and I'm competitive and can do it. It's not something that I would ever fully rule out. I'm just saying, I'm not getting the emotional rise out of it that I used to. I still enjoy it but it's just a different thing. For me, that's just a sign that it's time to focus on some other things and put my all into some other things.

"Does that mean if I get challenged or pissed off or decide that I need to do it one more time? Who knows, but the plan right now is that I'm done."

Listen to the latest Fight Society podcast with Faber, Paige VanZant, Mickey Gall and new interim featherweight champion Max Holloway via Soundcloud or download and subscribe to the show via iTunes. 


---