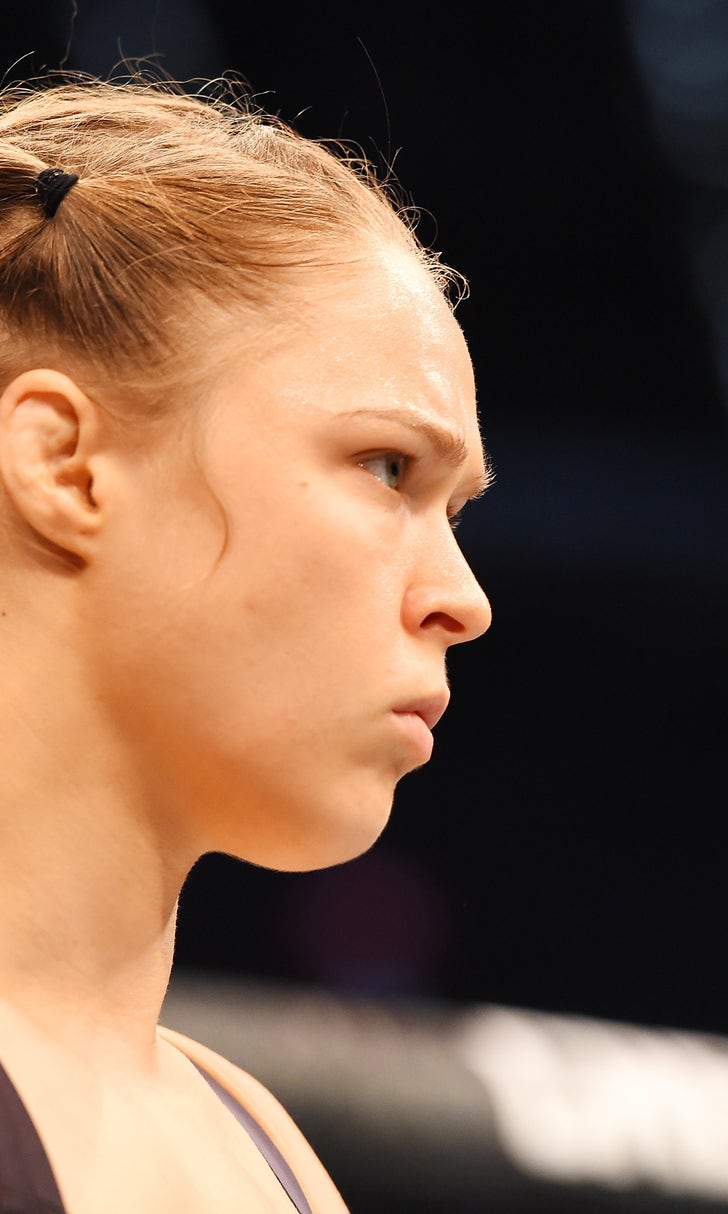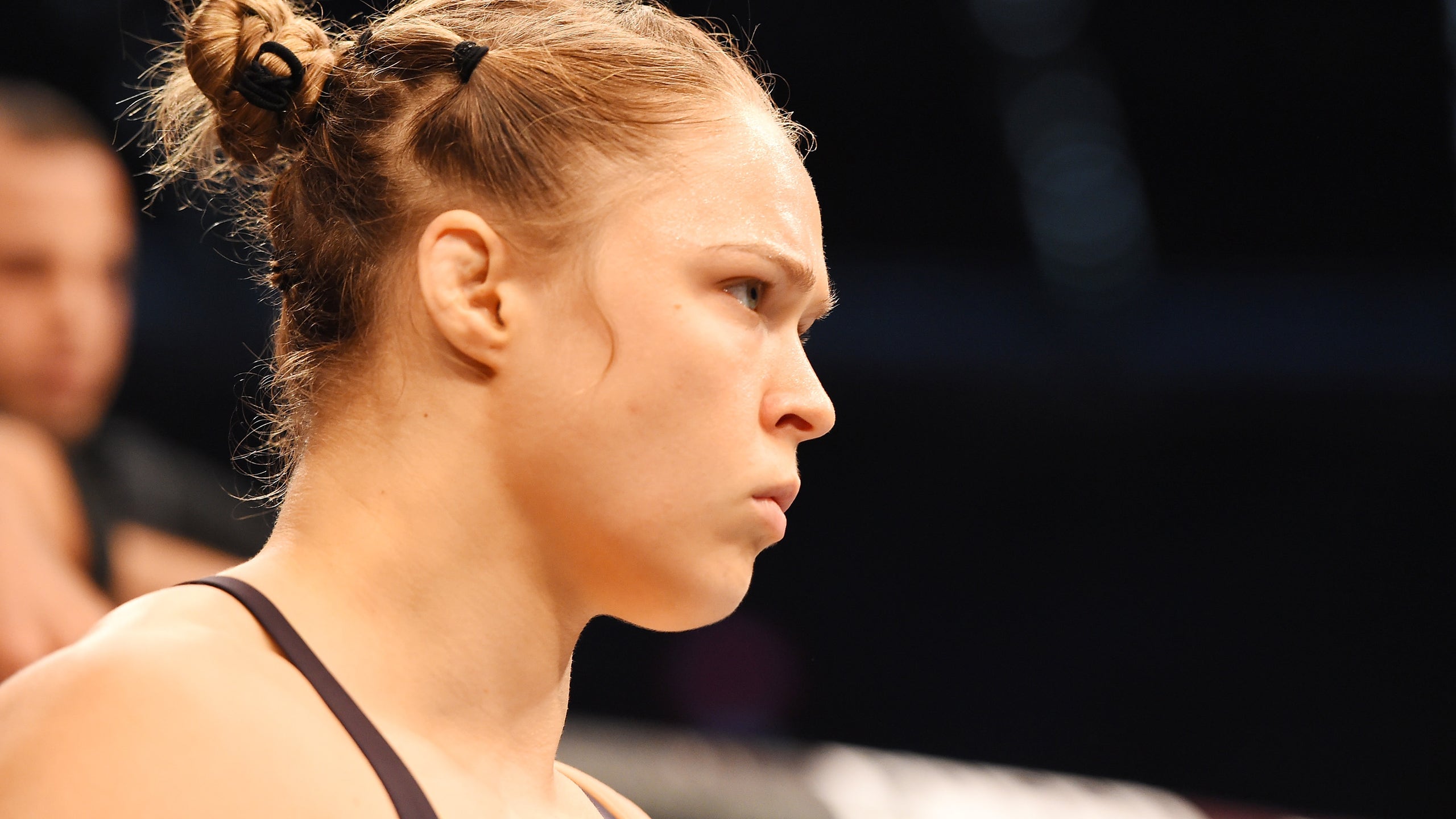 UFC 207: Nunes vs. Rousey preview and predictions
BY Fansided and Riley Kontek/Fansided • December 27, 2016
Friday night, the UFC comes to audiences live on pay-per-view with UFC 207. Headlined by returning superstar Ronda Rousey, the card has gone through some late changes that have hurt the depth, as names like Cain Velasquez, Fabricio Werdum and Jessica Andrade all fell off the event in the last stages of the lead-up.
In the main offering, UFC Bantamweight Champion Amanda Nunes is set to make her first title defense since impressively tearing the belt off of Miesha Tate. Her first assignment is Rousey, the former dominant champion who has stepped away from MMA for a bit, leaving many question marks up in the air about her abilities and psyche.
In the co-feature, the male version of the UFC Bantamweight Championship is up for grabs, as Dominick Cruz defends his belt against exotic challenger Cody Grabrandt. Garbrandt has been knocking out people left and right on his march to the title, giving Cruz what should be a fun title defense.
Also on the card are names such as TJ Dillashaw, John Lineker and Johny Hendricks, among others. Overall, despite the injury blow to the card, it should be a great night of fights. With that, let's take a look at UFC 207 and make some predictions.
Main Card
Amanda Nunes vs. Ronda Rousey
The main event sees the return of one of the biggest stars in MMA history, as former champion Ronda Rousey looks to return to her seat of glory when she takes on now-champion Amanda Nunes. There are a lot of questions about Rousey since her layoff following her knockout loss to Holly Holm. Is her head in the game or has she already checked out? Seeing how competitive she is, I think she will be ready. Don't count out Nunes, though. She's a good striker and can hang on the mat with any lady she takes to the cage with. I actually think this is a tough fight to call. If classic Ronda shows up, she should win a contentious bout. If she shows up with any doubt, Nunes will retain her title. I will still go with Rousey here.
Dominick Cruz vs. Cody Garbrandt
The co-main event will see the bantamweight strap defended, as Dominick Cruz looks to continue his welcome-back tour in impressive fashion against hot top contender Cody Garbrandt. Garbrandt is a heavy-handed striker that has knocked out four of his five opponents in the UFC. His last two knockouts were his most impressive, as he blasted through Takeya Mizugaki and Thomas Almeida in devastating fashion. Cruz is easily the best bantamweight of our time who, without extended periods of injuries, may be the best pound-for-pound fighter in the world. On the feet, if he can stick and move like he always does, he can stay out of the power range of Garbrandt. Garbrandt is a great bantamweight, but nobody holds a candle to Cruz, who retains.
TJ Dillashaw vs. John Lineker
Bantamweight contenders will go it at in the next bout with a possible title shot on the line, as former champ TJ Dillashaw takes on the ultra-dangerous John Lineker. This is a matchup of speed vs. power. Dillashaw is the speed, as he has great footwork, movement and technique on the feet. He also has a big wrestling advantage. Lineker represents the power, as every strike he throws is with the intent of knocking his opponent unconscious. This fight reminds me of the fight between the Spanish Armada (Lineker) and the Royal British Navy (Dillashaw). In that fight, the Brits were victorious, which signifies a win for Dillashaw in this bout.

Louis Smolka vs. Ray Borg
The flyweights will collide in the next bout, as Hawaiian Louis Smolka meets up with the underrated Ray Borg. Smolka is a striker who is coming off a major upset loss to Brandon Moreno. There, he was grounded and submitted, which gives the blueprint for Borg's victory here. Borg is a great grappler and probably a better submission artist than Moreno, really giving us an insight into what will happen in this bout. Borg grounds Smolka and eventually finishes him in an exciting affair.
Preliminary Card
Johny Hendricks vs. Neil Magny
Former welterweight champ Johny Hendricks is desperately trying to return to the top, but in his way at UFC 207 is Neil Magny, one of the most consistent performers in the division. Hendricks has not looked the same since losing his welterweight title, and I am not sure how many more fights he can cut down to 170 pounds. He has big power and good wrestling, something that should be a good combo against Magny — a technical striker with good quickness that could affect how Hendricks fights. After a very long winning streak, he just took a tough loss to Lorenz Larkin in his last fight. This is a tough one to call, but I think Hendricks wins a close one and moves up to middleweight.

Dong Hyun Kim vs. Tarec Saffiedine
Top welterweights are set to go at it in the next fight, as South Korea's Dong Hyun Kim looks to take out Belgian striker Tarec Saffiedine — a heavy striker, especially when it comes to his kicks. He likes to chop guys down from their legs up, affecting the movement of his opponents. That's why Kim is going to have to close the distance quickly and make this fight ugly. If he can clinch and take Saffiedine down, he can easily take this fight. That's what happens, as Kim continues to march toward a potential title shot.

Mike Pyle vs. Alex Garcia
Welterweights will go at it next on the prelims, as powerhouse Alex Garcia looks to take out the scrappy, never-say-die veteran Mike Pyle. Garcia reminds me of a young Hector Lombard, though maybe not quite as polished. He has big time power and can knock anybody out, but has not found consistency in the UFC. Pyle is 41-years old, but is still a dangerous welterweight in the UFC. Though he has lost three of his last four, he consistently fights some of the best fighters in the UFC. He will want to avoid a striking affair with Garcia, as his chin has some mileage on it, but if he can get Garcia down, he's in good shape, especially if it wears on Garcia's cardio.
Tim Means vs. Alex Oliveira
A welterweight slugfest is on deck in the next fight, as Tim Means and Alex Oliveira will look to duke things out on the feet. Both Means and Oliveira love to duke it out, as both are technical, powerful strikers. They are also very versed on the mat, which makes this a great strategical chess match. Both have a great resume in the UFC too, showing a mirrored effort from both men. This is a toss up, but I think Means will edge Oliveira in a close one.

Antonio Carlos Jr. vs. Marvin Vettori
An international affair is set to take place next, as Brazil's Antonio Carlos Jr. looks to sour the UFC tenure of Marvin Vettori. At just 23-years old, the Italian Vettori is one of the top middleweight prospects in the UFC. He choked out BJJ black belt Alberto Uda in his UFC debut, announcing his arrival to the company. While his ground game is great, he may want to strike with Carlos — a BJJ black belt in his own right who has had an interesting UFC career. He has not won two UFC bouts in a row and is just 3-2 (1 NC) under the UFC banner. He is coming off a win over Leonardo Guimaraes, though, who he choked out in the third round. This will be a tough battle, but I think Carlos has the experience edge in competition, which could help him.

Brandon Thatch vs. Niko Price
Sabah Homasi was set to fight on this card, but he was pulled in favor of teammate and UFC newcomer Niko Price, who battles Brandon Thatch in an exciting preliminary bout. Thatch is a big, poweful striker that has fallen on tough times. After two impressive victories upon entry to the UFC, he has lost three straight, meaning his job is likely on the line. All three losses were via submission. As for Price, he is undefeated at 8-0 and has won most of his bouts via TKO. He hasn't fought the level of competition that Thatch has and I feel Thatch is going to light him up on the feet en route to a stoppage.

More from FanSided
This article originally appeared on
---
---