Tony Ferguson breaks down and gives his prediction for Michael Chiesa vs. Kevin Lee
BY Damon Martin • June 25, 2017
No. 2 ranked lightweight contender Tony Ferguson is typically like a scientist in the lab making himself an even better fighter than he was the day before, but this weekend he'll put down his gloves and step behind a desk to help call the action for UFC Fight Night in Oklahoma City.

Ferguson will debut as an analyst on FS1 and while he'll give his thoughts on the entire card on Sunday, there's no doubt he'll be paying specific attention to the main event between Michael Chiesa and Kevin Lee.

Not only is the headline fight taking place in the lightweight division, but Ferguson was actually matched up with Chiesa last year before the former "Ultimate Fighter" winner suffered a back injury that knocked him out of action. Ferguson ended up facing a late notice replacement but Chiesa remains a lightweight contender on his radar for the future.

When breaking down this matchup, Ferguson likes a lot of what Chiesa brings to the table, especially if he can take advantage of some bad habits he believes Lee has developed during his UFC career.

"Kevin Lee has a tendency to drop his left hand so if I was Michael Chiesa, I'd be looking to mess up his balance points. The dude's coming at you like a juggernaut, let's work on that inside leg kick, let's establish that jab and when he wants to try and shoot, let's give him some knees and some elbows," Ferguson said when speaking to FOX Sports.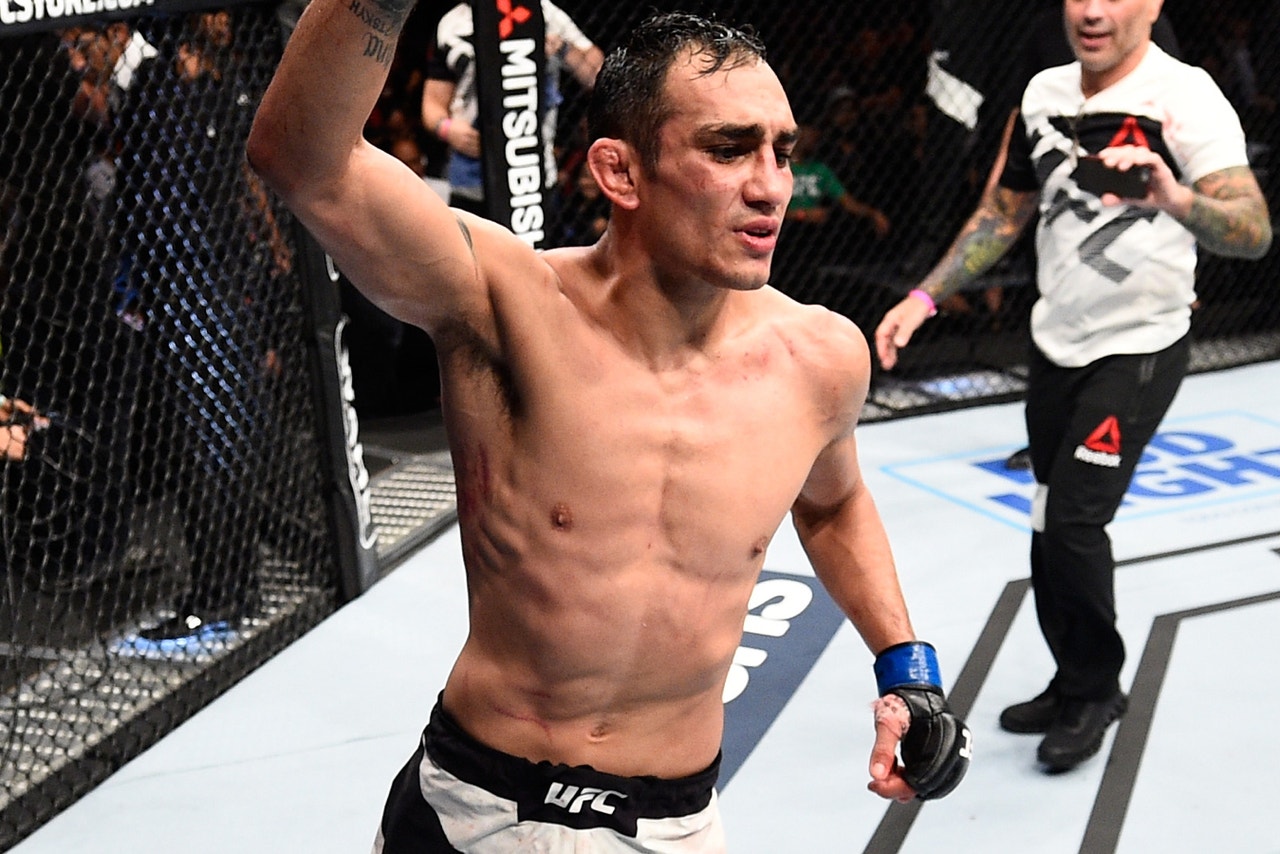 Chiesa and Lee nearly kicked off their fight a month early when they got into a brawl at the UFC Summer Kickoff press conference. It was an uncharacteristic moment for Chiesa, who got heated and then boiled over after Lee made a reference to his mother while they were exchanging words on stage.

Showing that kind of volatile emotion could be a weapon that Lee could use against him, but Ferguson actually feels like Chiesa will use that press conference melee as a tool to get better prepared for the fight on Sunday night.

"I really think Chiesa went to the drawing board, especially after he got emotional [at the press conference]. He went to the drawing board and he's thinking 'Kevin Lee's going to look at me to get emotional, to put so much forward pressure' and I think Chiesa's going to mix it up a little bit," Ferguson explained.

"I really think he did get emotional in that [press conference] but I really, really think he went to drawing board and used that emotion and put it to good use."

Of course, Lee is no slouch either after rattling off four wins in a row in the UFC but Ferguson is concerned that the No. 11 ranked lightweight might be spending a little bit too much time working on his hands rather than concentrating on what earned him most of those victories.

Lee has been a dominant finisher on the ground while showcasing a powerful wrestling game as well but Ferguson hasn't seen much of that work for this training camp and instead believes he's been focusing on his striking in an attempt to land a knockout against Chiesa.




"I see Kevin Lee has been working over at [Floyd] Mayweather's and I wonder if the entertainment industry got a little bit to his head. Sometimes when an athlete gets a little too far fetched into that, they forget about the hard part, which is this is mixed martial arts," Ferguson said. "They're all about that boxing hype right now and they are going to forget that they've got legs. I haven't seen any kind of film of Kevin Lee doing wrestling. He's been spending a lot of time at Mayweather's getting those hands up but if he keeps that left hand down, Chiesa's going to connect with that right hand. He's long and rangy, too.




"Kevin Lee says he's got a 77-inch reach but I've seen him get eaten up by short dudes. Listen to Mike Tyson, he says it doesn't matter how long your arms are. A jab is established through timing and that's how I take it. Cause I have a 76-inch reach but I'm not worried about range. I'm looking to establish that timing so I can see when that chin is available or I see that the nose is available, I can pop it."




Ferguson isn't counting Lee out by any stretch of the imagination but ultimately he believes that Chiesa will be able to seize control in the scrambles before putting another win on his resume on Sunday night.

"I expect to see some bloodshed but I think the smarter fighter's going to take it. I have to go with Chiesa, but it's hard," Ferguson said. "I was supposed to fight Chiesa and Kevin Lee is a Grand Valley State alumni and I went to Grand Valley State, too.

"I think [Kevin Lee] is going to try to go stand up, toe-to-toe, and he's taken big leaps in his striking and they're doing great pad work but he's standing straight and not going off the center line. If Chiesa figured that out, he's going to eat him up."

Hear from Ferguson on Sunday night as UFC Fight Night: Chiesa vs. Lee kicks off the main card at 9 p.m. ET on FS1 with the pre-show at 6 p.m. on FS2 followed by the live prelims at 7 p.m. ET.


---
---