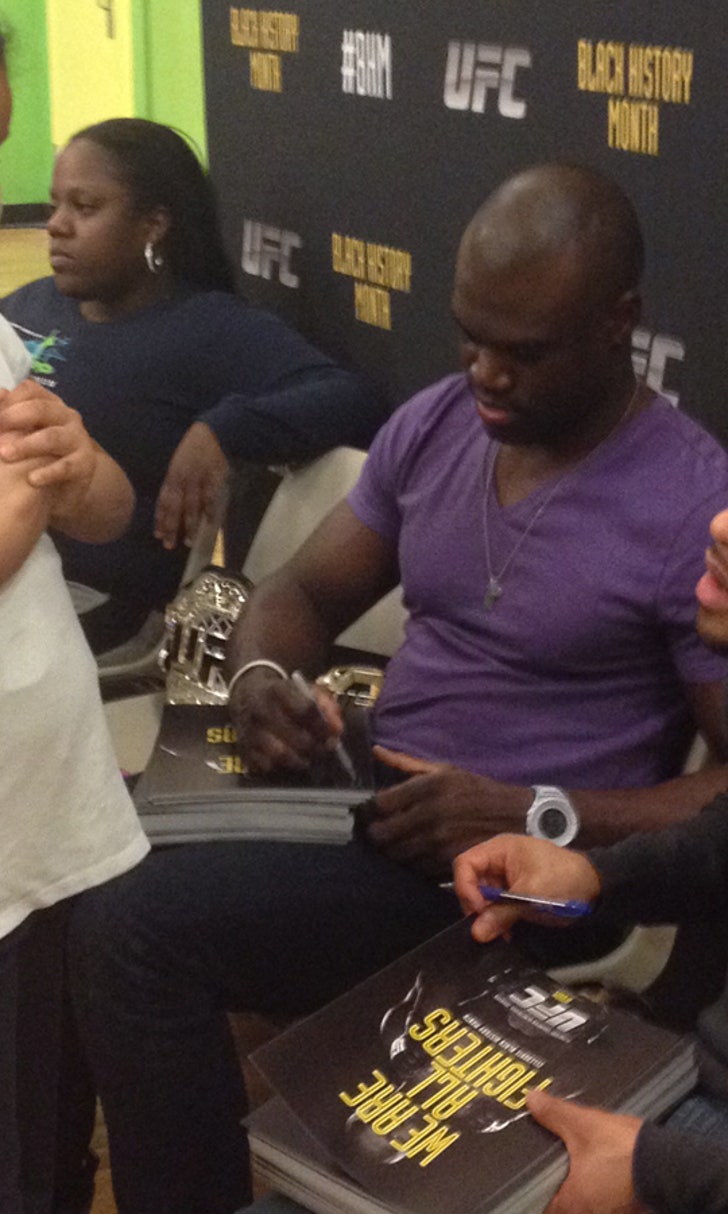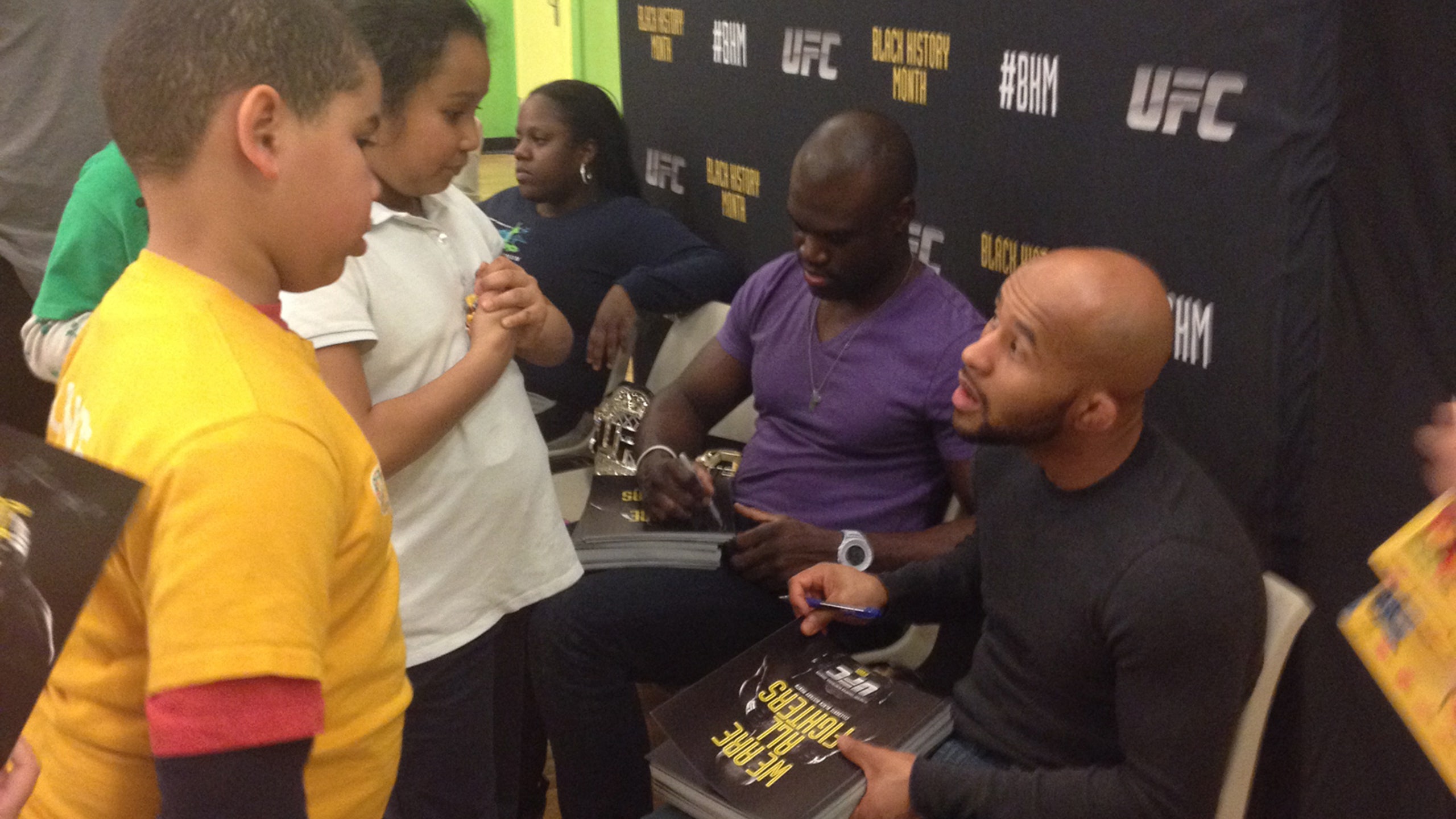 The UFC celebrates Black History Month
BY foxsports • February 26, 2014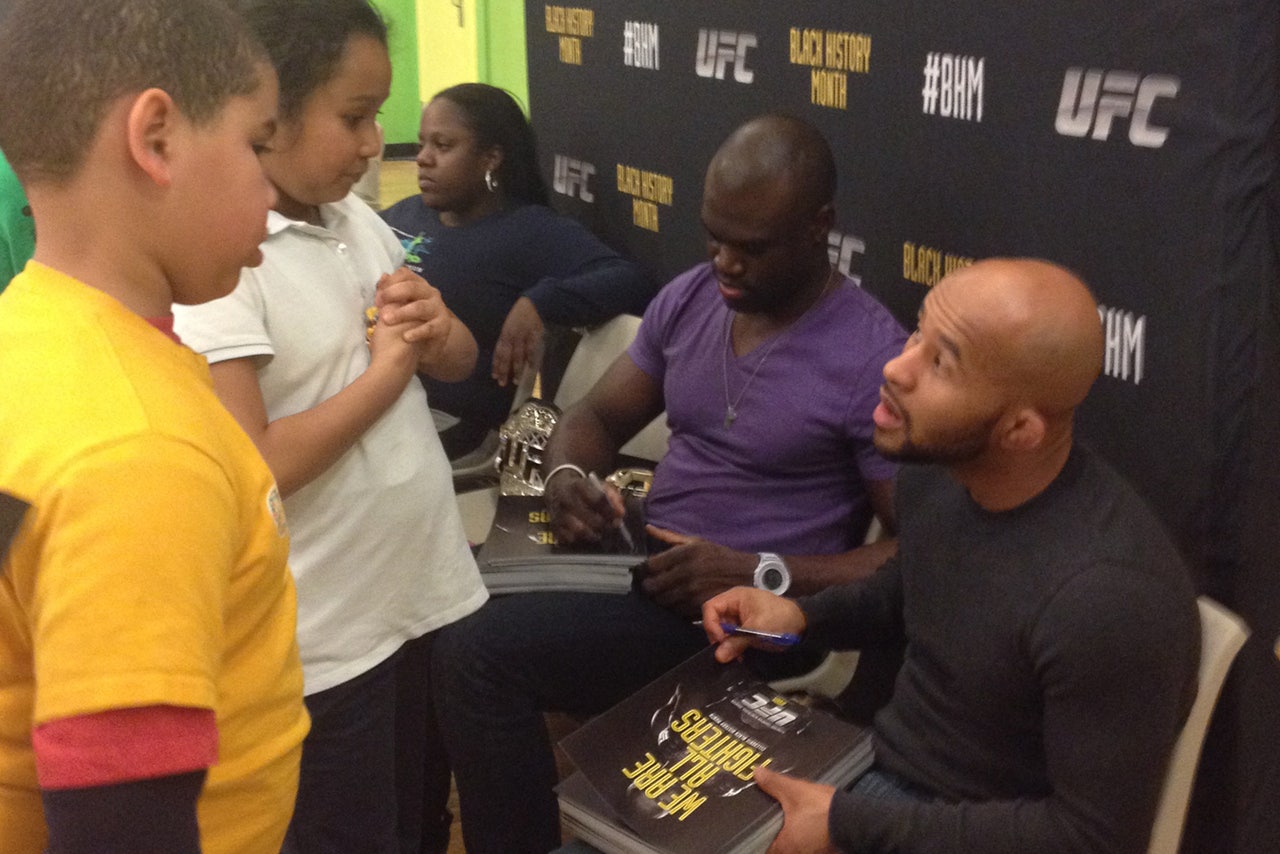 NEW YORK -- Demetrious Johnson only has qualitative analysis. He can only go by what he sees on a regular basis. The UFC flyweight champion believes MMA's popularity is just not there yet with the black community in the United States.  
Despite stars like Jon Jones, Rashad Evans, Daniel Cormier, Phil Davis and himself, Johnson says boxing is still the combat sport of choice among African Americans.
"I hear when black folks watch UFC," Johnson said, "they're like 'Y'all just laying on each other. That's all ya'll do. Rolling around. That's all ya'll doing.' I don't want to say they're naïve. They're just not educated yet about the sport."
Johnson was mostly joking, but his message is clear. The UFC has more work to do, which was one of the goals of its Black History Month Celebration.
Johnson and Uriah Hall kicked it off with FOX Sports and MMA H.E.A.T broadcaster Karyn Brant on Monday in Manhattan. While in New York, the three spoke to the media and then went to speak with children at the Boys & Girls Club of Harlem. They moved onto Philadelphia on Tuesday and Davis, Anthony Johnson, Tyron Woodley and Mike Easton will all be a part of the tour in stops like Washington, D.C., Atlanta and Los Angeles.
"I know a lot of people don't watch [MMA] in the black community," Hall said.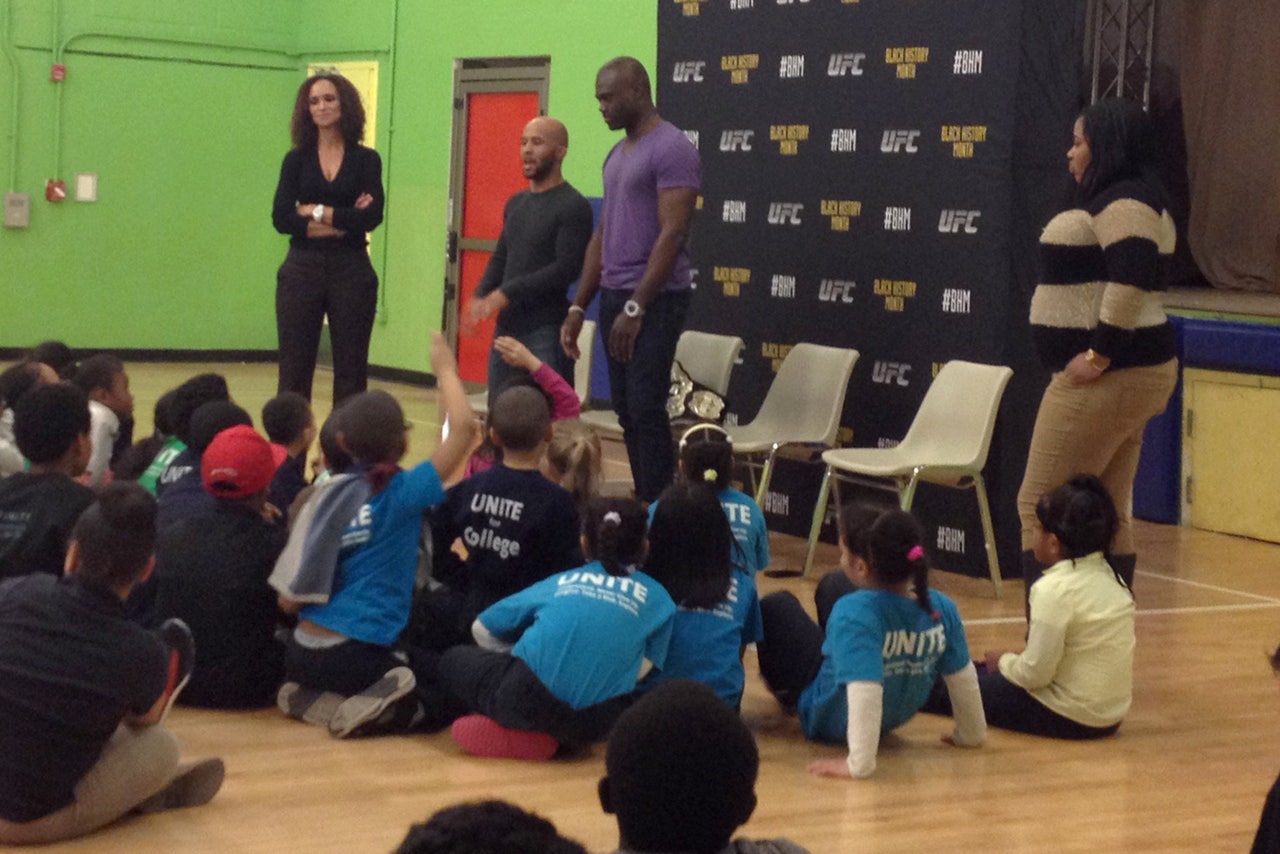 Karyn Bryant (from left), Demetrious Johnson and Uriah Hall speaking to children at the Boys & Girls Club of Harlem as part of the UFC's Black History Month initiative.
Johnson and Hall have both noticed a change, though. A UFC official told FOX Sports that statistics show the organization's African American fan base has grown rapidly across the country and that trend is expected to continue in 2014. Hall said his appearance on The Ultimate Fighter hit home for people he's encountered.
"I met a lot of those people who told me right off the bat, 'I've never watched UFC. But I liked your season because of this and this and that,'" Hall said. "I tried to think, Well, what did I do so different on the show? And I guess my story they took, well I was here and here and now I got to here."
Bryant was the one who first brought the idea of a Black History Month celebration to UFC president Dana White, who thought it would be a great initiative. She made the point that the UFC's recognition will grow among black fans the more fights continue to be broadcast on FOX and its subsidiaries. The pay-per-view model, she said, can turn off a certain segment of the population.
More than anything, Johnson and Hall are just trying to be role models. Hall said he's surprised every time he hears from someone that his story is inspirational. Johnson wants to lead by example. And not just by winning fights -- by being an upstanding citizen who has his life together.
"We're all trying to achieve greatness," Johnson said. "I just hope I can do that. I want people to say, 'I want to be like Demetrious Johnson.'"
There's still a stereotype going back to the dark era of the UFC that MMA is reserved for white guys from the country. All three who visited New York said they have encountered that kind of prejudice, even though it couldn't be further from the truth.
Bryant said that black athletes should almost look to MMA as the new boxing, as a way to provide for your family.
"I feel like this is an equivalent opportunity to help people better their lives," she said. ... " The amount of athleticism that black athletes could bring to the sport could be phenomenal. It's another outlet." 
---
---