Ultimate Fighting Championship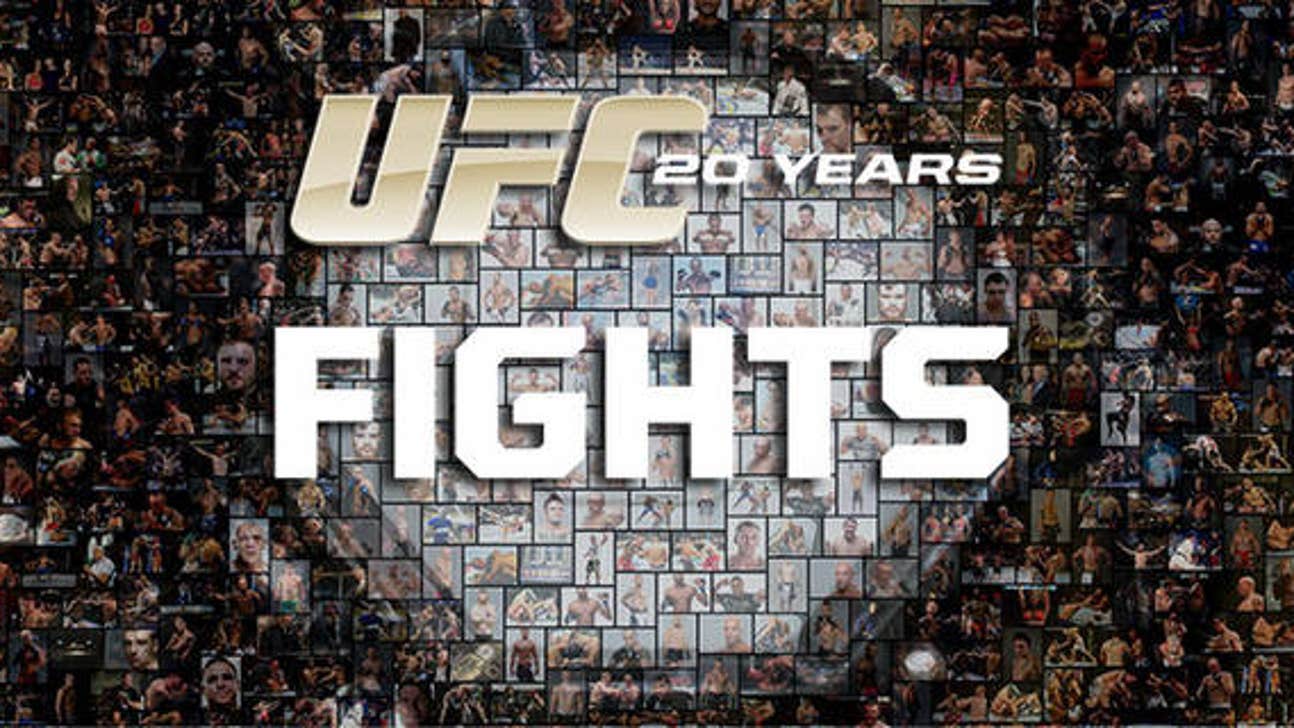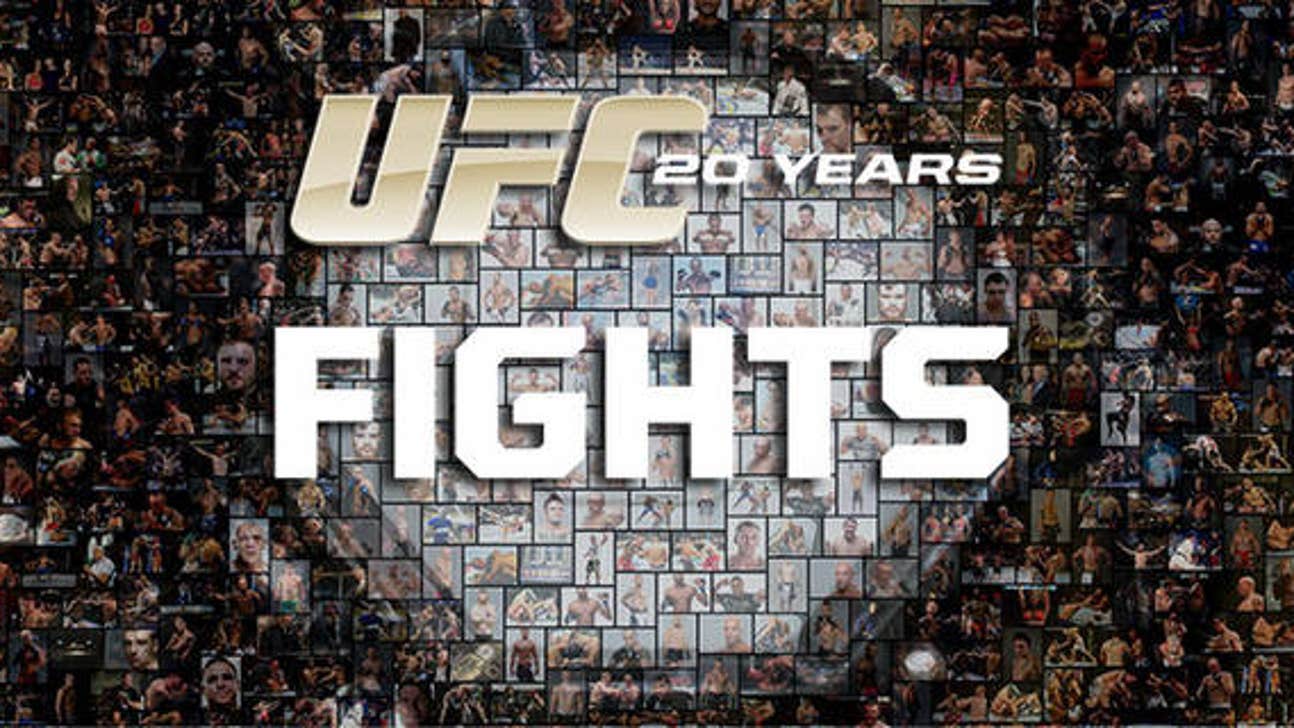 Ultimate Fighting Championship
The top 20 fights in UFC history
Published
Oct. 30, 2013 6:25 p.m. ET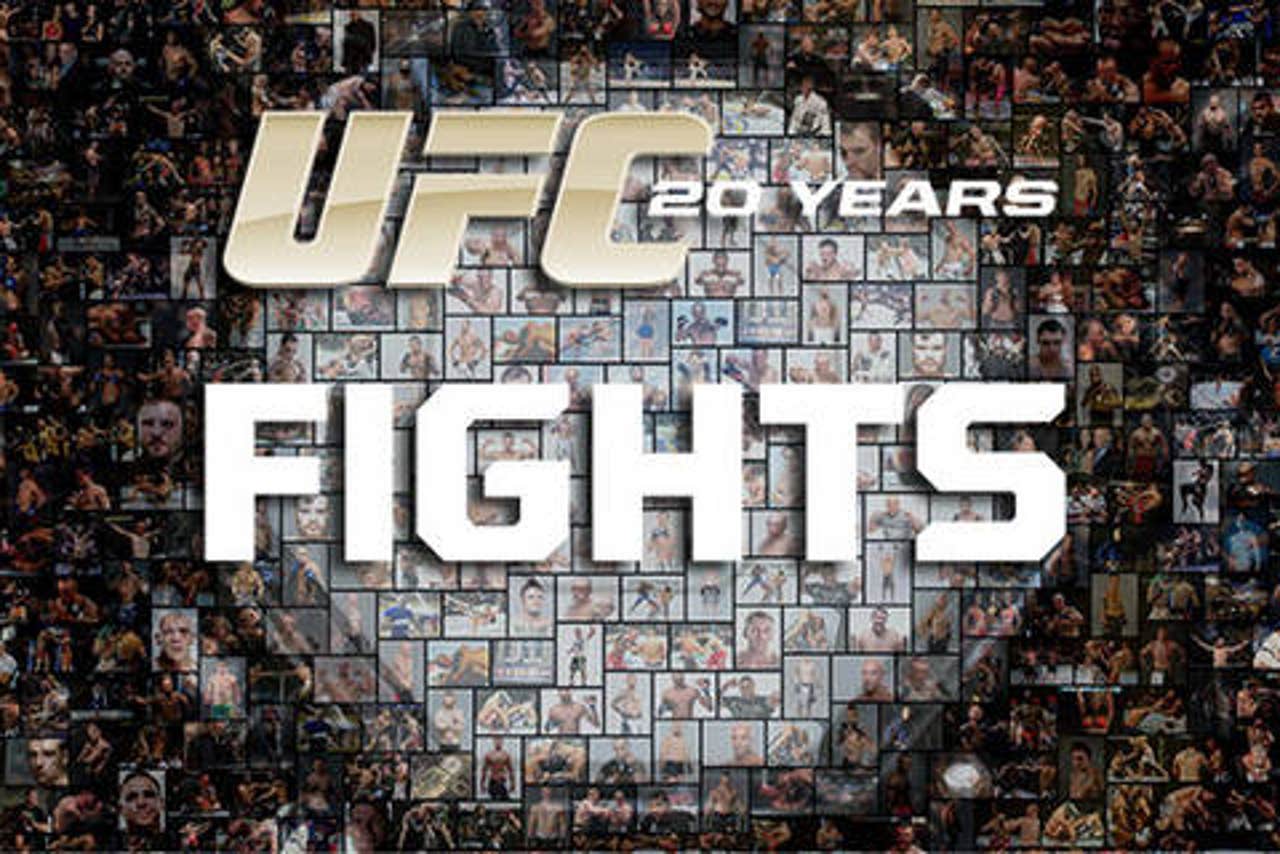 In celebration of the UFC's 20th anniversary, we're counting down the UFC's greatest moments both inside and outside the Octagon with a new Top 20 each day leading up to UFC 167. Today, we give you the 20 most memorable fights in the history of the UFC.
After 250 UFC events and thousands of fights, there was much to sort through and pick from. Yet, 20 wars in particular rose above the others as shining examples of the excitement and unpredictability of mixed martial arts.
Whether it was a battle between two larger than life behemoths, an epic clash for UFC gold or heated rivals whose animosity was only out-done by the fight itself, every bout that made it into the Top 20 has something special that sets it apart from the rest.
These are the fights that captivated us. These are the fights that made us life-long UFC fans. These are the Top 20 fights in UFC history.
No. 20: St-Pierre vs. Penn I - UFC 58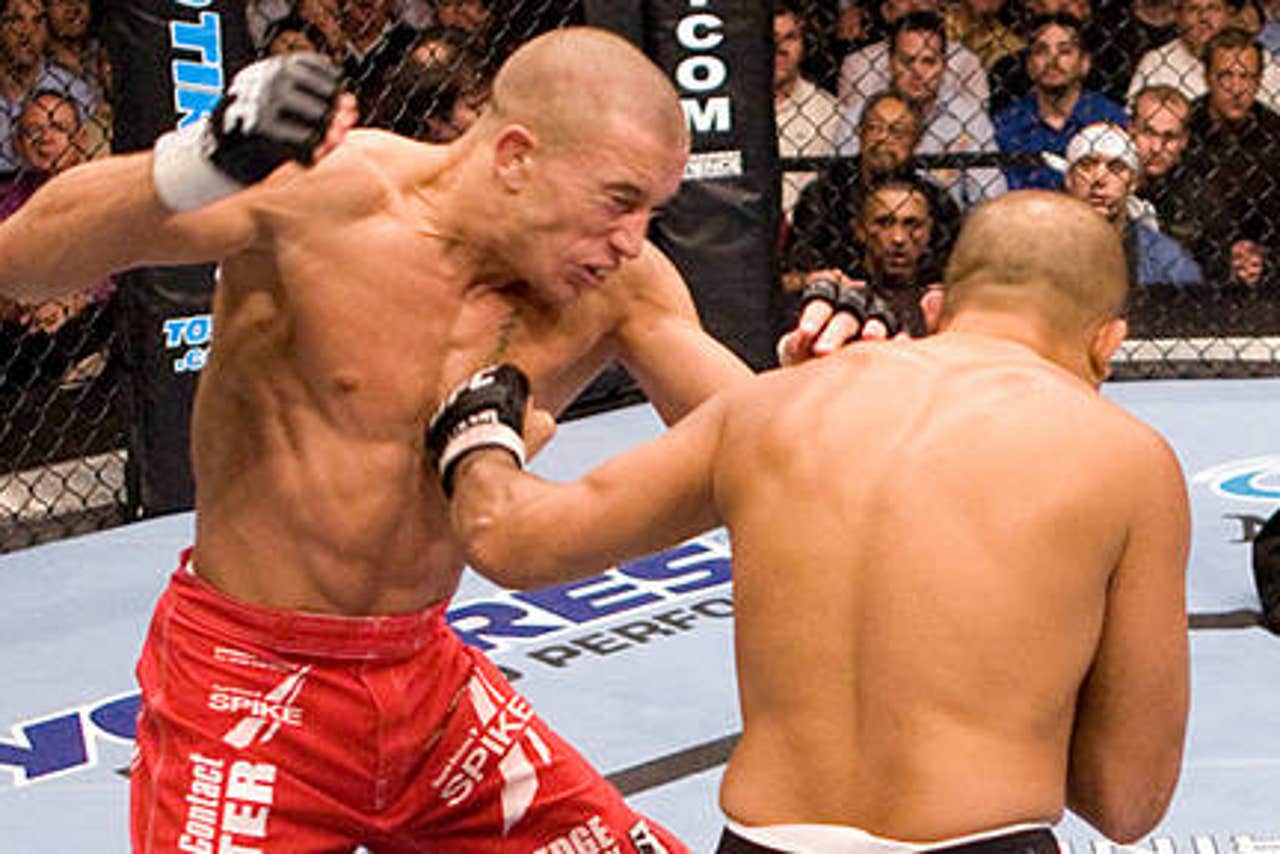 After his first career loss to Matt Hughes, Georges St-Pierre rebounded with ferocity, slicing his way through four straight opponents. It became clear that he was already a force to be reckoned with, as no one seemed likely to match his combination of speed, athleticism and technique.
As he neared the top of the division and a collision course with Hughes, a surprise roadblock was thrown into his path.
B.J. Penn had left the UFC for two years starting in 2004, citing a lack of quality competition. During his break, he competed above his natural weight class, even fighting Lyoto Machida in open weight competition. But in early 2006, as the talent ranks began to swell, he returned, and was immediately thrust into the welterweight title picture when Dana White announced he'd fight St-Pierre in a top contenders fight.
The result was one of the most hotly contested decisions in years. Penn bloodied St-Pierre's face early by finding it with long-range striking. As the fight continued on, he continually found the mark, but with less frequency, and the momentum began to shift GSP's way, as he managed takedowns and ground work. Minute by minute, you could see Penn's exhaustion set in and St-Pierre begin to take over.
By the end, St-Pierre's face was a mess, and Penn looked mostly unmarked, but on the strength of his late volume, St-Pierre was declared a split-decision winner in the three-round war. The controversy helped pave the way for an eventual rematch at UFC 94.
No. 19: Jackson vs. Henderson - UFC 75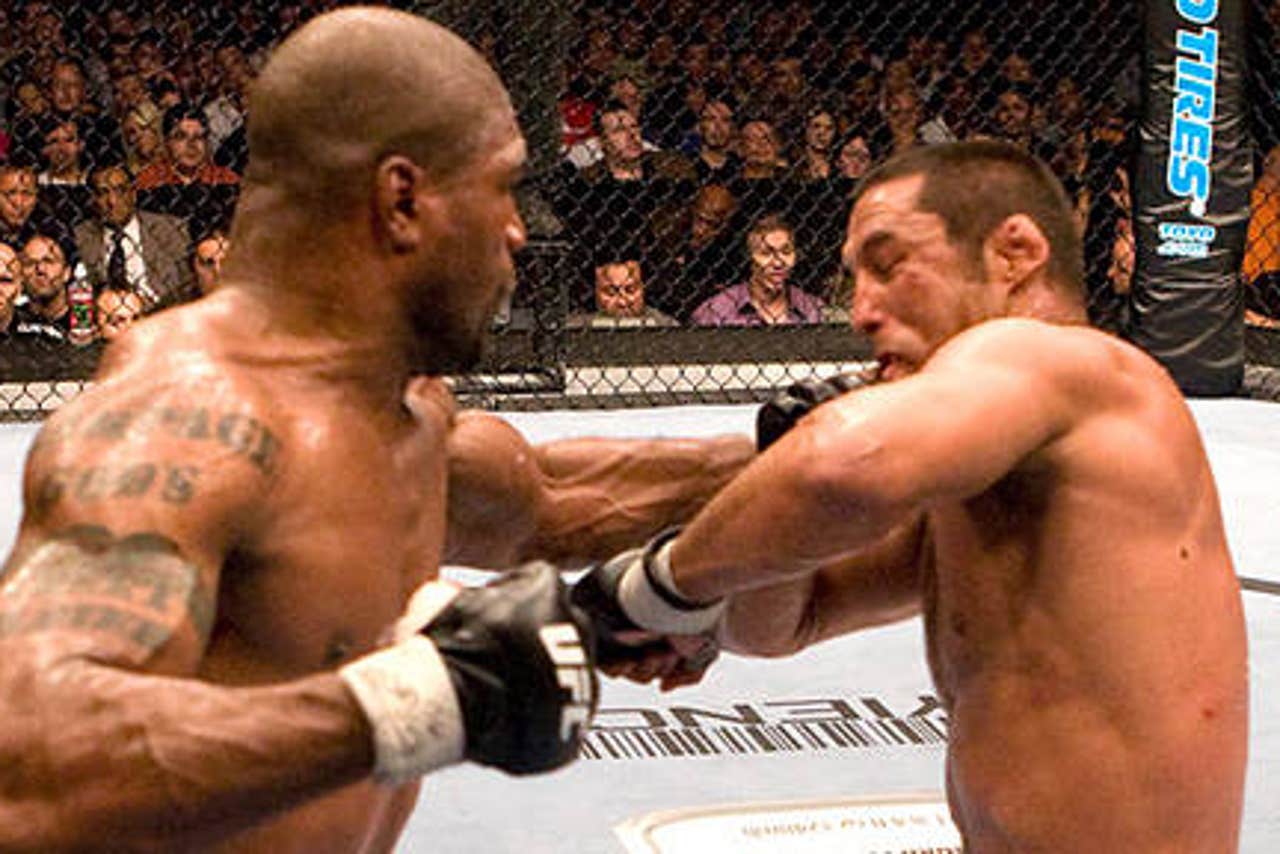 When the UFC bought PRIDE's assets in 2007, one of its major acquisitions was the contract of Dan Henderson, who wore the promotion's 183- and 205-pound belts, making him the only man ever to simultaneously hold major titles in two weight classes.
When he arrived, the possibilities were endless, but a champion vs. champion encounter was a no-brainer. He was matched with newly crowned UFC light-heavyweight champion Quinton "Rampage" Jackson, who had just earned the belt with a knockout of company posterboy Chuck Liddell.
The two squared off in London, and aired on free TV in the U.S., drawing an audience that reached nearly 6 million at its peak.
The fight itself was a classic, with both men favoring their traditional power punching styles. But given their durable chins, it was a chore to get either to give ground. Henderson pushed the pace early, scoring takedowns in each of the first two rounds, but Jackson's conditioning was on point, as the fight wore on, he continued his volume striking, stuffed most of Henderson's takedown tries, and landed the bigger power punches, even knocking Henderson down in the fourth. The fifth was a war of attrition, with the result likely hanging in the balance. With the belts on the line, Jackson out-landed Henderson 31-19 and scored a late takedown to clinch it.
The win made Rampage the first man to unify the UFC and PRIDE titles.
No. 18: Lesnar vs. Carwin - UFC 116
For those who have never experienced it, there is nothing like a heavyweight championship prizefight in Las Vegas between two fighters with the aura of near-invincibility surrounding them. That was exactly the setting in July 2010, when behemoths Brock Lesnar and Shane Carwin settled the question of the UFC's best big man.
At the time of the meeting, Carwin had been on an absolute rampage, with 12 pro fights and 12 first-round finishes. In his most recent fight, he'd destroyed Frank Mir, bludgeoning him in the corner with thunderous punches that seemed to shake the cage. Meanwhile, the champion Lesnar was returning from diverticulitis, a digestive disease that forced him to undergo emergency surgery to have a piece of his colon removed. While Lesnar's career was threatened, he returned within a year and stepped right into the match with Carwin.
With a sold-out MGM Grand Garden Arena buzzing, the two titans met, and in the opening round, it seemed that Carwin would continue his run, avoiding Lesnar's early takedown tries and then knocking him down with a barrage against the fence. For the next two minutes, Carwin would unload, looking for the finish. Somehow, Lesnar held on, defended, and returned to his feet, surviving the round.
As he waited for the start of the second round, Lesnar winked at Carwin, then quickly took him down, passed his guard and tapped Carwin out with an arm triangle.
No. 17: Shamrock vs. Ortiz - UFC 22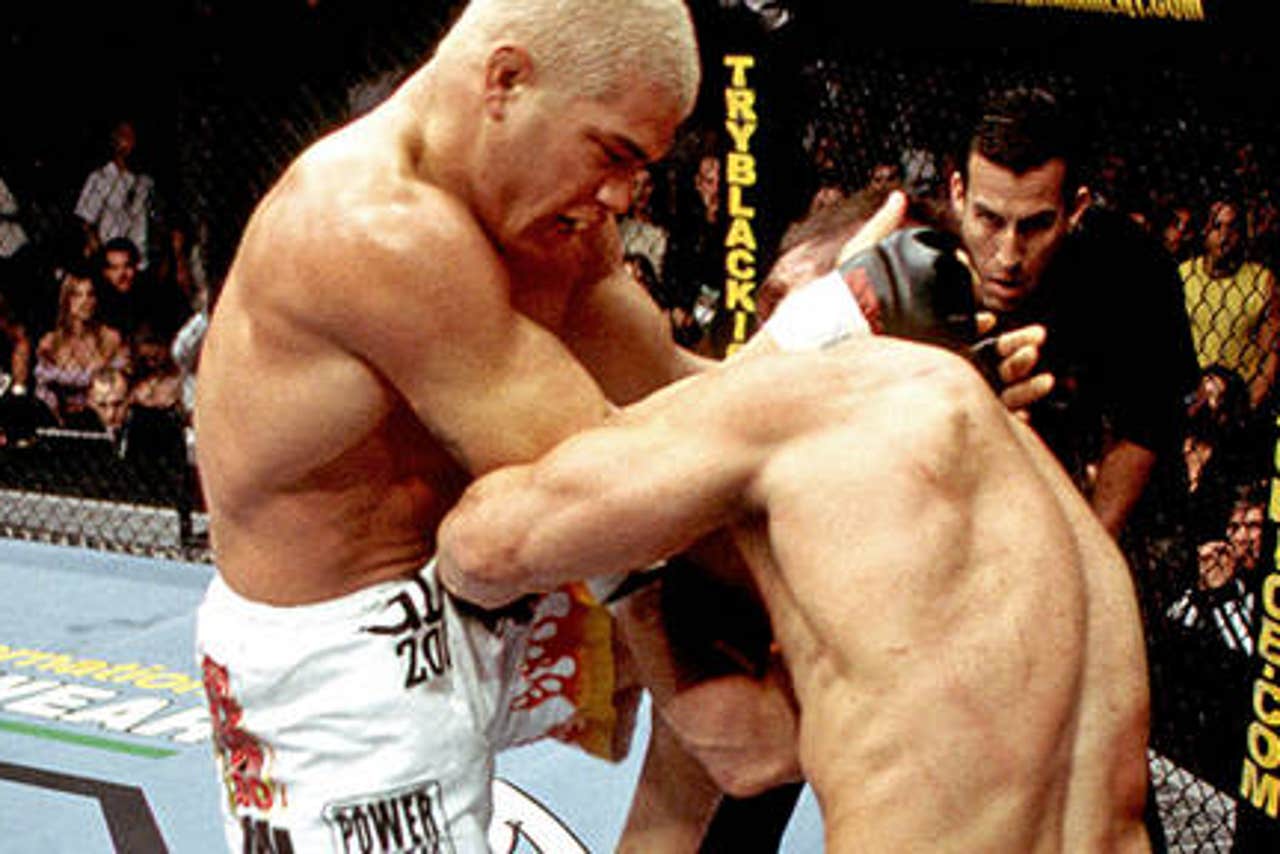 To many of the sport's observers, Frank Shamrock was among the first fully formed mixed martial artists, an athlete capable of striking, wrestling or grappling with the best of those respective disciplines.
His abilities were put to the test at UFC 22, where he took on the bigger, stronger Tito Ortiz. Shamrock had won the belt in 1997, and defended it three times when Ortiz was granted the title shot against him.
For the first three rounds, Ortiz did what he did best in his heyday, taking the fight to the ground, utilizing elbow strikes and attempting to wear down his opponent. But Shamrock's conditioning was impeccable, and he stayed just as busy whether the fight was standing or on the ground (the final striking stats, for example, favored Shamrock 193-67).
As the fight wore on, Ortiz's output began to lessen. In the fourth, Shamrock took the center of the cage and landed at will. Ortiz managed a desperation takedown midway through but towards the end of the round, Shamrock worked his way up, soon threatened with a guillotine and pounded a downed Ortiz with elbows and hammerfists until Ortiz tapped, ending one of the sport's first classics.
No. 16: Hughes vs. Penn II - UFC 63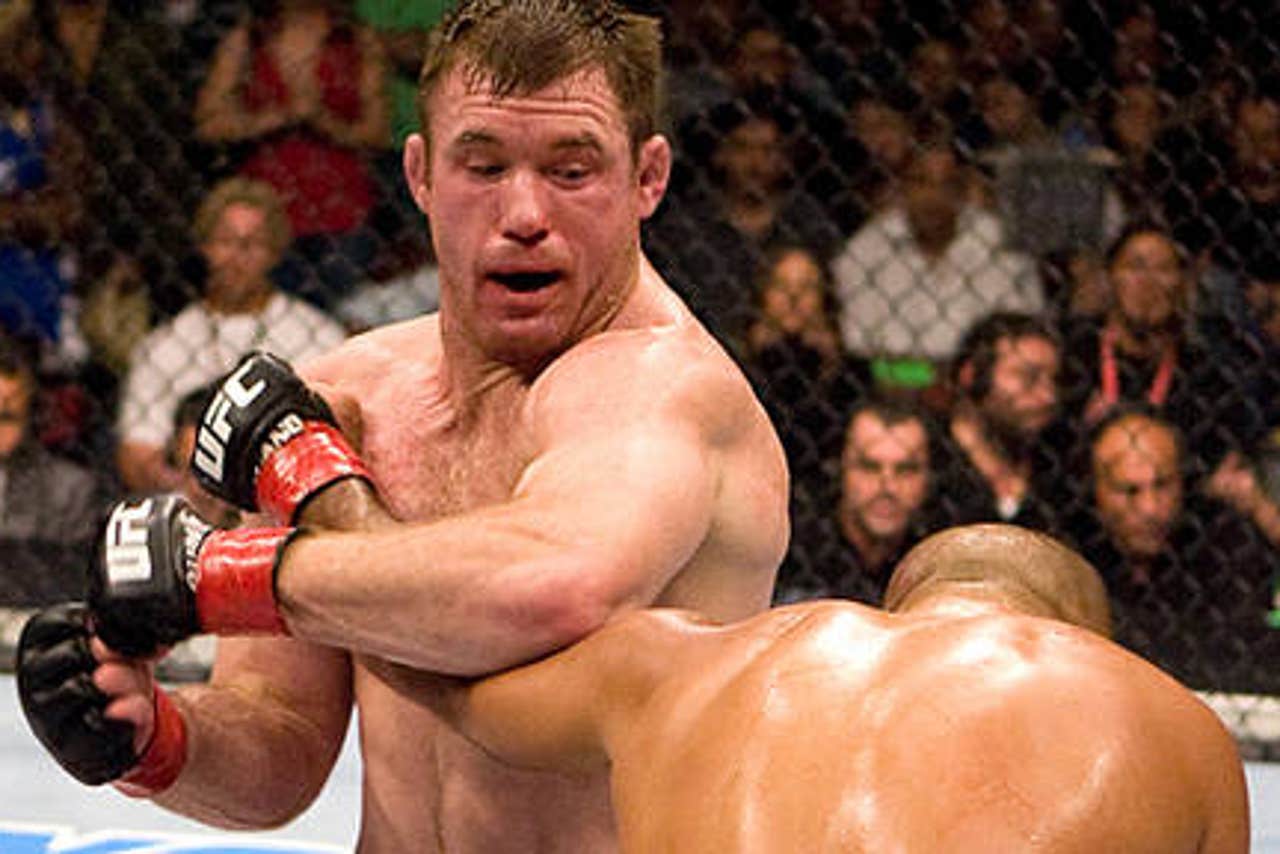 When Matt Hughes and BJ Penn fought the first time at UFC 46, Penn had won as an underdog, capturing his first title. Over two years later, Georges St-Pierre was scheduled to fight Hughes when he was injured, allowing Penn to step in as a replacement.
A rematch between the two had always been anticipated, and the championship at stake only added to the intrigue. As he did in the first fight, Penn seized control early, shutting down Hughes' vaunted wrestling game -- he stopped his first seven takedown tries -- and battering him on the feet. But Hughes was never really out of a fight, and everyone knew it.
During a second-round scramble when Penn was trying to take Hughes' back, he hurt a rib, and when he came out for the third, he wasn't the same. No one knew of his injury at the time, but he was almost completely out of gas against a fighter who seemed to have a limitless tank. Almost immediately, Hughes took over and eventually got the fight to the ground where he trapped Penn in a crucifix, raining down blows until the referee had to save Penn. The win evened the series and eventually led to a trilogy fight.
No. 15: Condit vs. MacDonald - UFC 115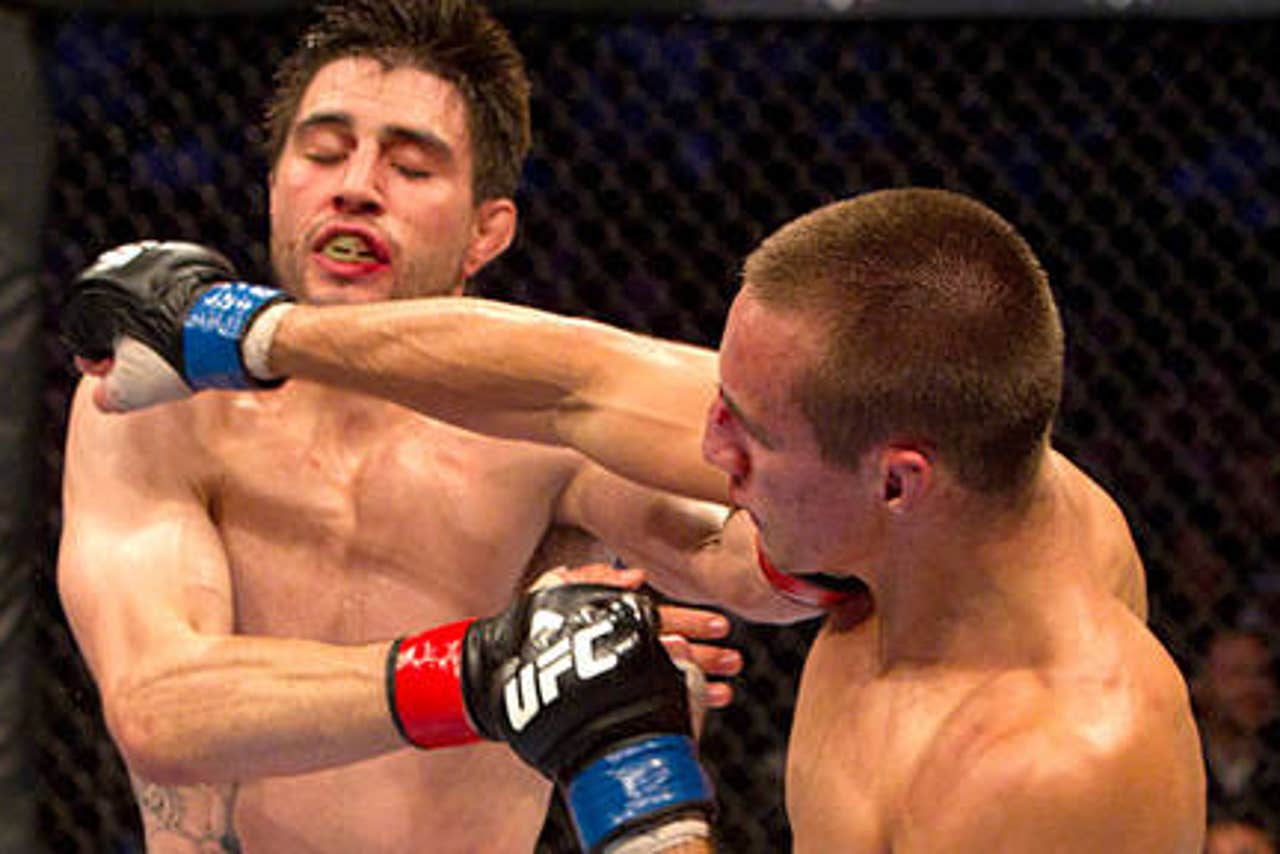 Carlos Condit needed to be on this list somewhere, didn't he? One of the UFC's all-time fiercest competitors, he's been involved in several excellent matches over the years, but with apologies to his near knockout of Georges St-Pierre at UFC 154, perhaps none was more thrilling than his June 2010 bout with wunderkind Rory MacDonald.
At the time, MacDonald was only in his second UFC bout, but he took it to Condit early with his wrestling advantage, taking him down three times in the first round alone. In the second, Condit seemed to solve the wrestling question, but MacDonald still found success in the standup with his power, but it was the third when Condit came alive.
Digging deep, he won a scramble and pounded MacDonald from top position. While the youngster worked his way up, Condit took him back down and resumed the beating, hammering him with elbows and punches. Given the first two rounds, it appeared Condit needed a finish, and time was running low as the exhausted MacDonald just tried to survive. Finally, as the 10-second warning sounded, it seemed he would, but Condit's relentless assault continued, until it was too much. Referee Kevin Dornan stopped the action with seven seconds remaining to end a dramatic comeback.
No. 14: Couture vs. Sylvia - UFC 68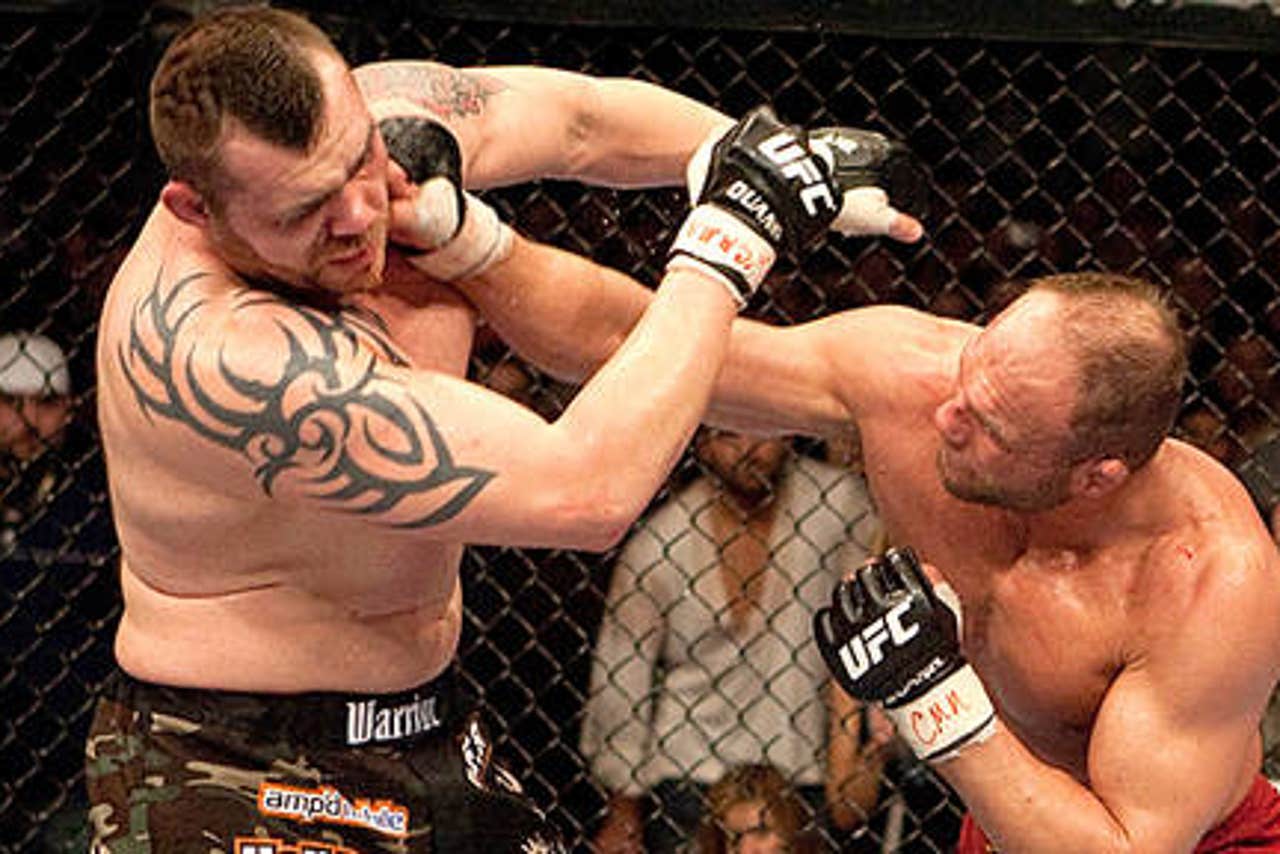 In February 2006, Randy Couture and Chuck Liddell fought for the third and final time. Liddell, in the midst of his light-heavyweight title run, knocked out Couture in the second round, and afterward, the 42-year-old Couture called it quits.
After doing some acting and fight commentating, Couture got the itch to compete, and in a surprise, announced he'd return. Just as surprisingly, he said he would move up in weight to face the heavyweight champion Tim Sylvia in March, a little over a year after he'd hung up his gloves. At the time, Sylvia had a 23-2 record and had won six straight fights, leading oddsmakers to paint him as a 3-to-1 favorite.
Instead, it was Couture from bell to bell. The fight is most remembered for its opening sequence, which saw the legend drop the giant with his very first punch of the fight, an overhand right. For a moment, it seemed as though Couture would finish him in seconds, but Sylvia was able to hang on, though just barely. The rest of the fight was a mauling. Couture took Sylvia down seven times, out-landed him by nearly 100 strikes, and swept the judges' scorecards.
At the age of 43, Couture had shockingly become the UFC's oldest champion.
No. 13: Silva vs. Stann - UFC on FUEL TV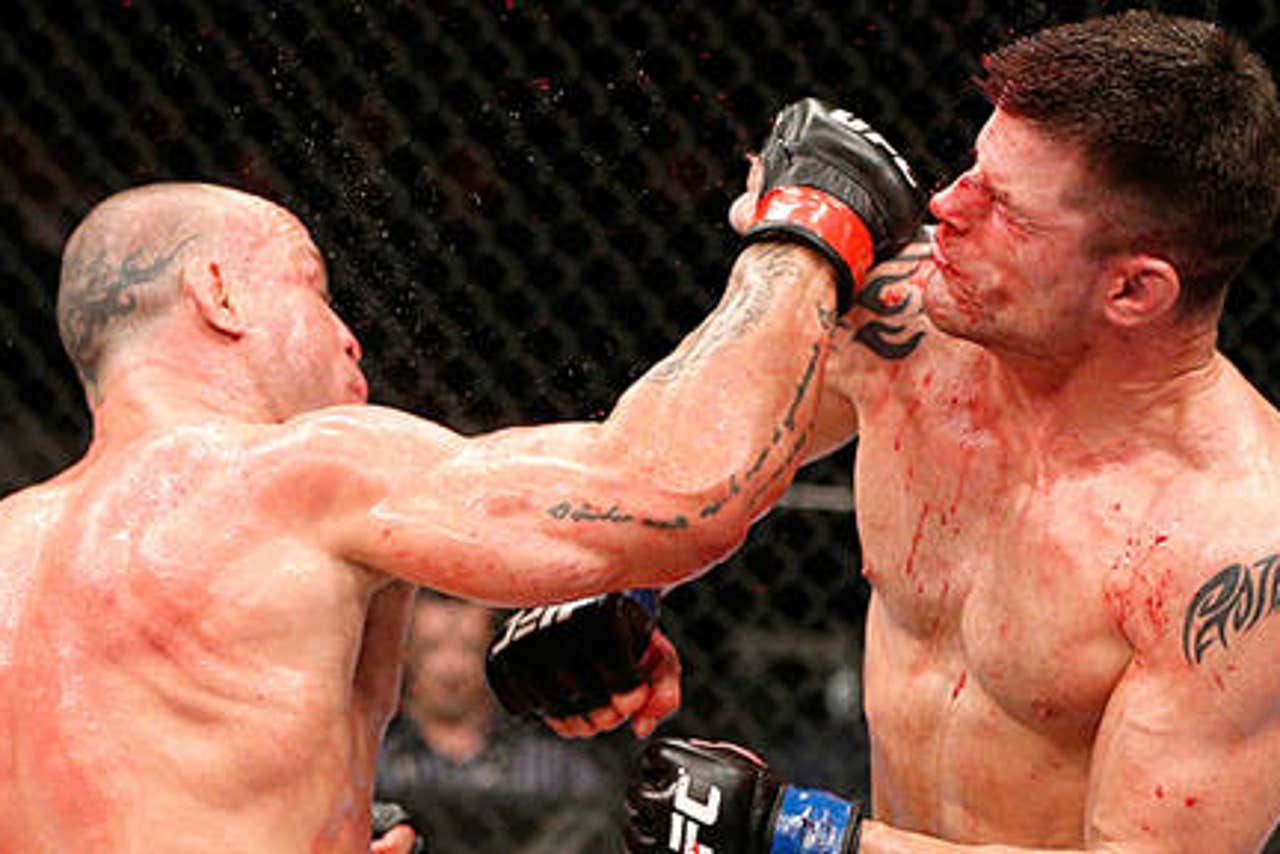 Every great warrior seems to have one last stand, a moment where he turns back time and bucks the odds to win.
For Wanderlei Silva, that moment might have come against Brian Stann at UFC on FUEL 8. Silva had come into the fight losing two of his last three, with his lone win coming against Cung Le, who was 39 years old and coming off a one-year layoff.
Against the younger, stronger, faster Stann, Silva was deemed the underdog. After all, there was some question about whether Silva could take punches the same we he used to, and Stann was best known for his heavy hands. Silva had also been injury prone.
With that as the backdrop, the first round went almost exactly as expected. Stann was willing to play SIlva's berserker game, but at a faster speed. The played out during a sequence where Silva dropped him, but Stann immediately jumped back to his feet, wobbling Silva a few strikes later, then beating him up on the mat.
The pace and style though, was making Silva feel right at home, and during a frantic second-round exchange, Silva clipped Stann with a left hook behind the ear, dropping him. In an instant, he was atop his opponent, dropping right hands to the finish.
The fight turned out to be the swan song for Stann, who retired shortly afterward.
No. 12: Leben vs. Akiyama - UFC 116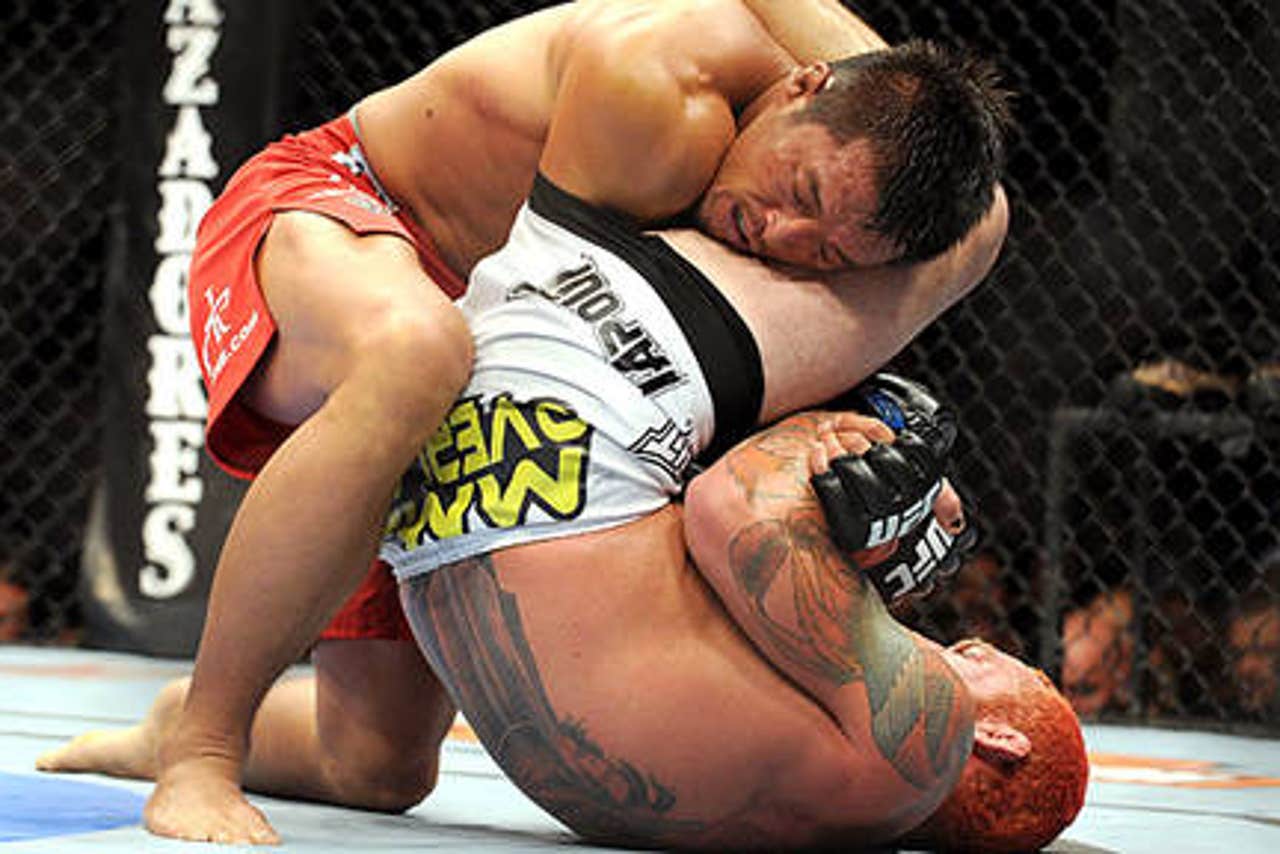 Chris Leben has always been at his most dangerous when he is hurt or he is trailing. Basically, whenever the odds seemed most stacked against him, it never seemed too wise to bet him against him. And so it was that in July 2010, just two weeks after defeating Aaron Simpson, Leben found himself back in a UFC Octagon against Yoshihiro Akiyama. Never before had any UFC fighter attempted to turn around so quickly, let alone in a high-profile matchup.
As the fight began, it seemed that Leben had bit off more than he could chew, as Akiyama scored three takedowns and won the round. But as both men began to tire, "Zombie" Leben took over, the one who won't seem to die, even when he seems to be running on nothing. As the fight went on, he began landing the sharper blows.
In the third, with the fight likely tied one round apiece and hanging in the balance, Akiyama caught a Leben kick and put him on his back. As Akiyama worked him over with strikes and minded his position, It seemed like the nail in Leben's coffin. But suddenly, he transitioned into a triangle, and with 20 seconds left, got Akiyama to tap. Against the odds, in a span of two weeks, Leben had won twice.
No. 11: Sanchez vs. Guida - TUF 9 Finale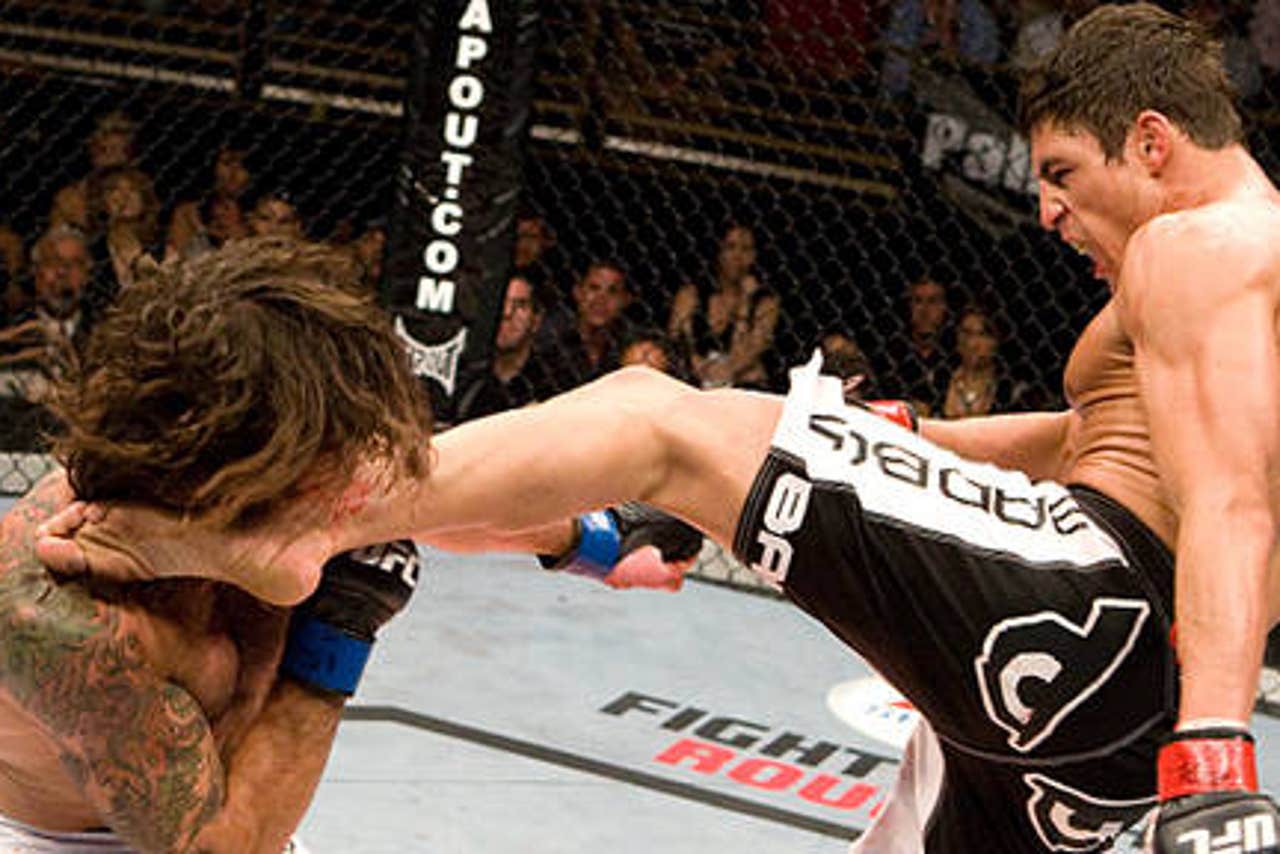 Diego Sanchez has had so many wars that they tend to blend together, but the June 2009 fight with Clay Guida sticks out among his early days. This was during a time when Guida fought more recklessly than he does now, leading to a barnburner that lit up The Pearl at the Palms venue in Las Vegas.
At first, it seemed as though the fight wouldn't last long. Sanchez came out in a rush, bloodying Sanchez in the opening seconds with a hellacious barrage. He continued pouring it on, dropping Guida with a head kick. Incredibly, Guida survived and of course, he turned the tables in the second, scoring a takedown and then ground strikes from the top. After two, they were tied, and it all hung on the third.
Neither would surrender. While Guida was more active, it was Sanchez landing the more impactful strikes, and by the time the final bell rang, it wasn't quite clear who had won. In the end, the judges gave a split decision to Sanchez.
No. 10: Jung vs. Poirier - UFC on FUEL TV 3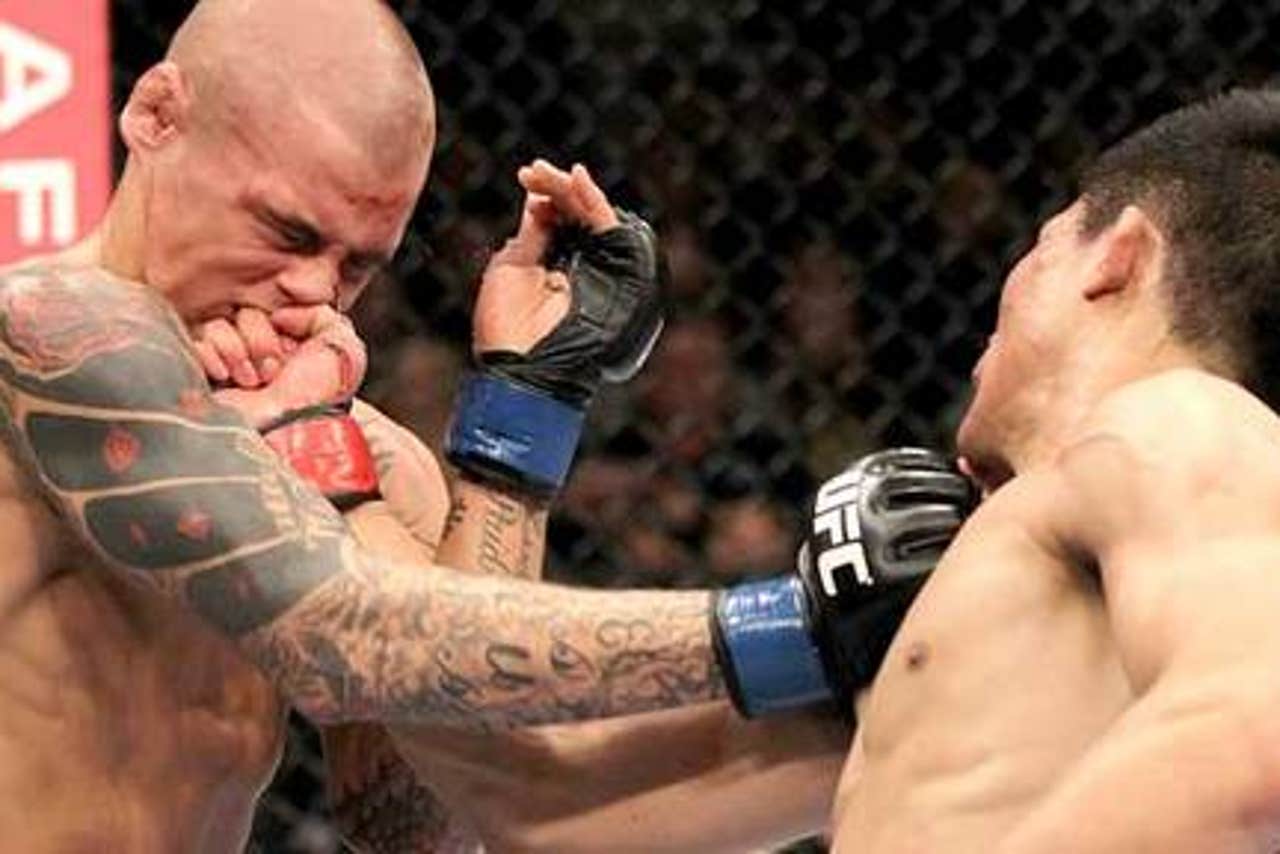 Nearly every time Chan Sung Jung marches to the Octagon, something remarkable happens. He's had two consensus Fights of the Year. He once authored a seven-second knockout. He has the only Twister submission in UFC history.
Against Dustin Poirier in May 2012, there was no single feat that stood out, just a brilliant match between two gutsy contenders. At the outset, Jung was a lopsided underdog, with the prevailing thought being that Poirier was too technical for the usually wild Jung.
It didn't turn out that way. The fights was equal parts blood-and-guts and technical brilliance, with striking and wrestling, submission attempts and escapes. While Jung always seemed on step ahead, Poirier always managed to escape. At one point, realizing what he'd gotten himself into, Poirier winked at the "Zombie," acknowledging the instant classic they were creating. 
Finally, after catching Poirier with a flying knee against the cage, Jung caught his opponent with a D'arce choke, which to that date, had been Poirier's signature submission. As befitting of such a regal match, Poirier refused to surrender, choosing to go out.
No. 9: Melendez vs. Sanchez - UFC 166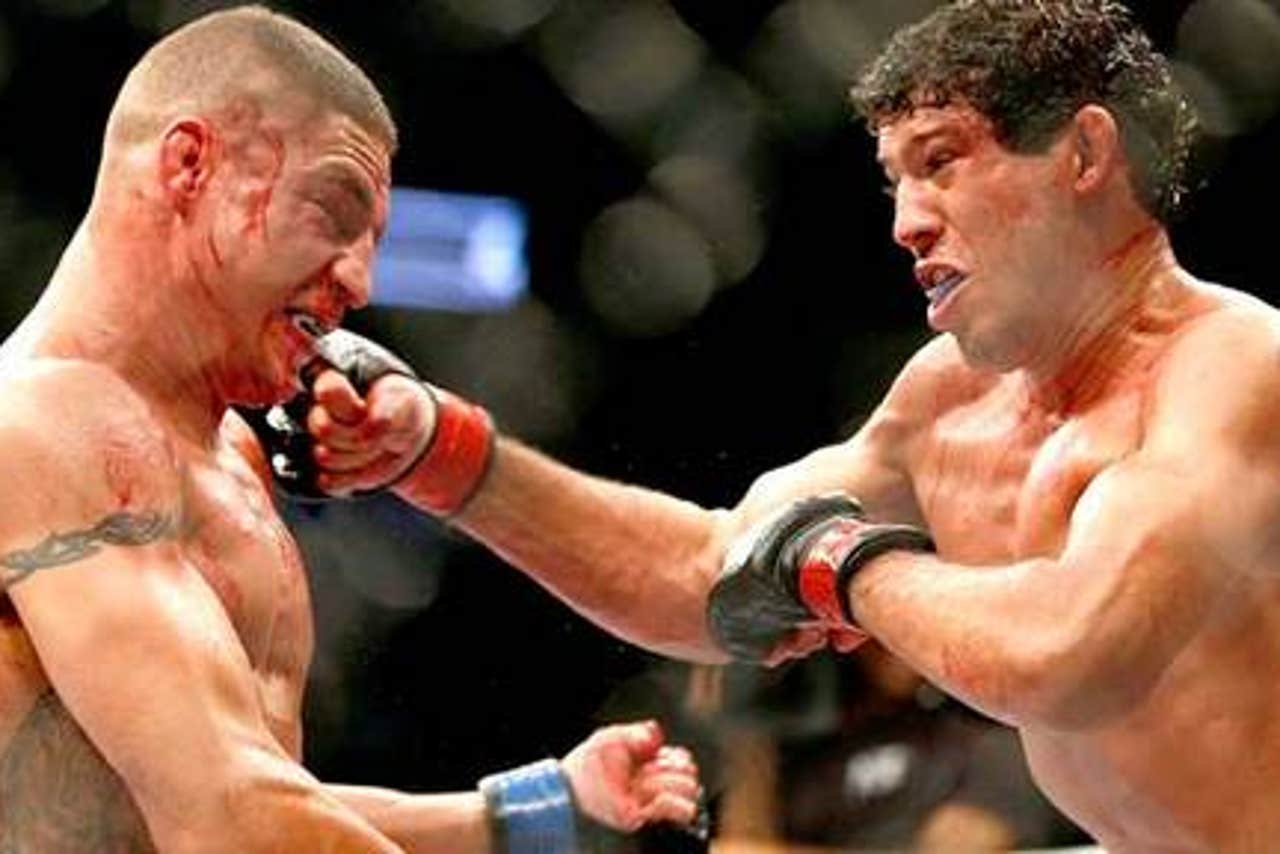 Every once in a while, a pairing is announced that just feels like a natural, whether their styles match, or their is some pre-existing rivalry, or some other reason. When Gilbert Melendez and Diego Sanchez were paired off at UFC 166, the immediate reaction was excitement. The two are both action fighters, forward-movers who as a rule, bite down on their mouthpiece and exchange in times of trouble.
Prior to the match, they promised just the same thing, and when they finally competed, no one left disappointed. The match was marked by some of the wildest exchanges in recent history, where each would stand his ground and fire off his best weapon.
After two rounds, Melendez seemed to have the lead, showing the superior accuracy and bloodying Sanchez. Given Sanchez's history, there would be no cruising to a decision.
Showing the heart that's made him a fan favorite, Sanchez gritted his teeth, kept moving forward and eventually dropped Melendez with a right uppercut. Sanchez couldn't finish, and Melendez went on to take the decision, but it was just another pulse-pounding moment in a fight that had many of them.
No. 8: Hughes vs. Trigg II - UFC 52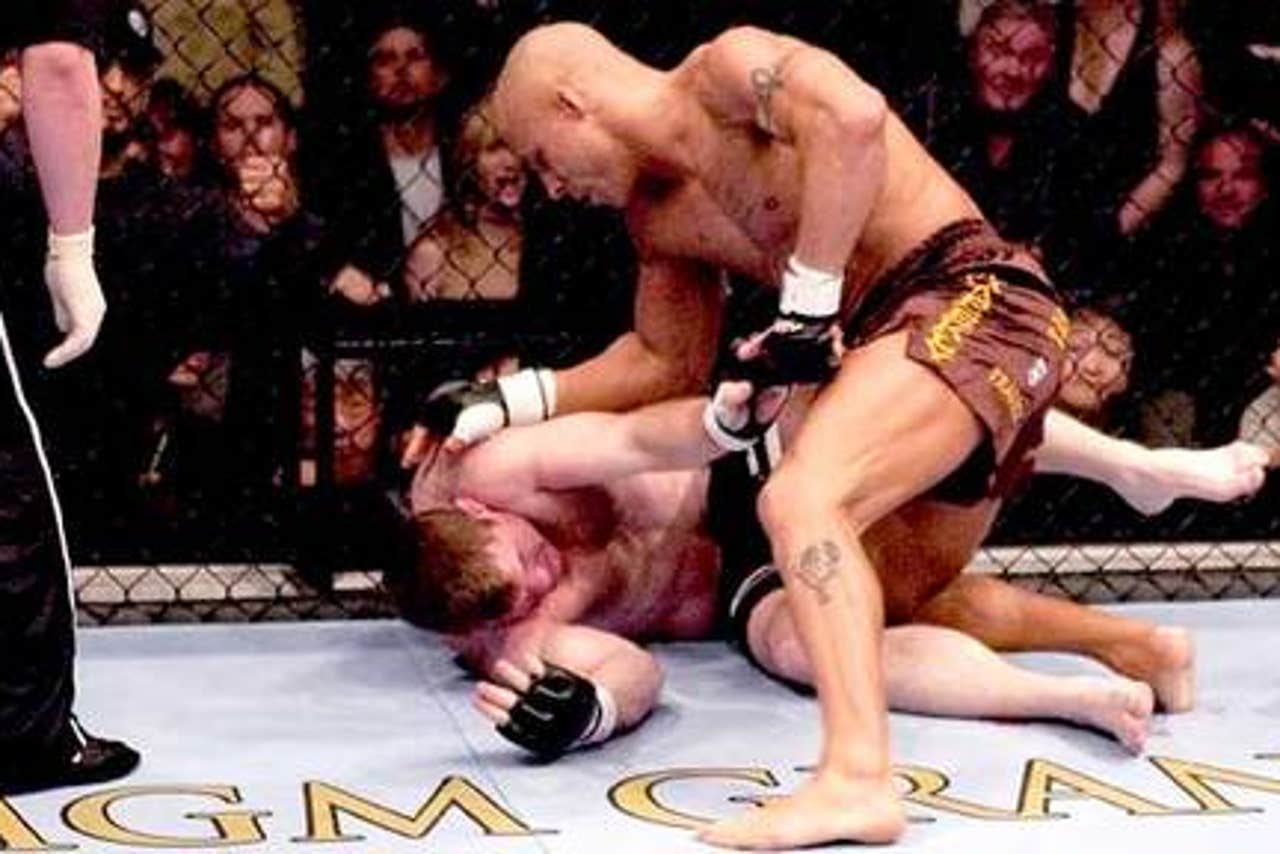 Rarely is a short story so compelling and so complete as it was on the night of April 16, 2005 when Matt Hughes and Frank Trigg met for the second time.
By that point, the two were bitter rivals, having already fought in 2003. The result of that match was a Hughes' submission, but conventional wisdom suggested that Trigg had improved greatly in the interim and that his wrestling pedigree would offer Hughes fits this time around. Trigged upped the ante by publicly insinuating that Hughes was scared to fight him a second time.
When they met inside the Octagon, the fireworks started even before the fight, as the two went nose-to-nose at the rules instructions and Trigg feigned a kiss, leading Hughes to shove him. When the action started, Hughes was hit with a low blow, but the referee didn't see it, allowing the fight to continue. Sensing opportunity, Trigg pounced, hurting Hughes with strikes and looking to lock in a rear naked choke. From there, you probably know what happened. In a highlight that has been played infinite times on UFC reels, Hughes escaped, hoisted Trigg over his shoulder, ran him halfway across the cage, slammed him to the mat before turning the tables with a rear naked choke of his own. He, however, was able to get Trigg to tap, ending it.
The whole thing lasted just 4:05, but the storyline, rivalry and comeback had observers charged for weeks afterward.
No. 7: Nogueira vs. Couture - UFC 102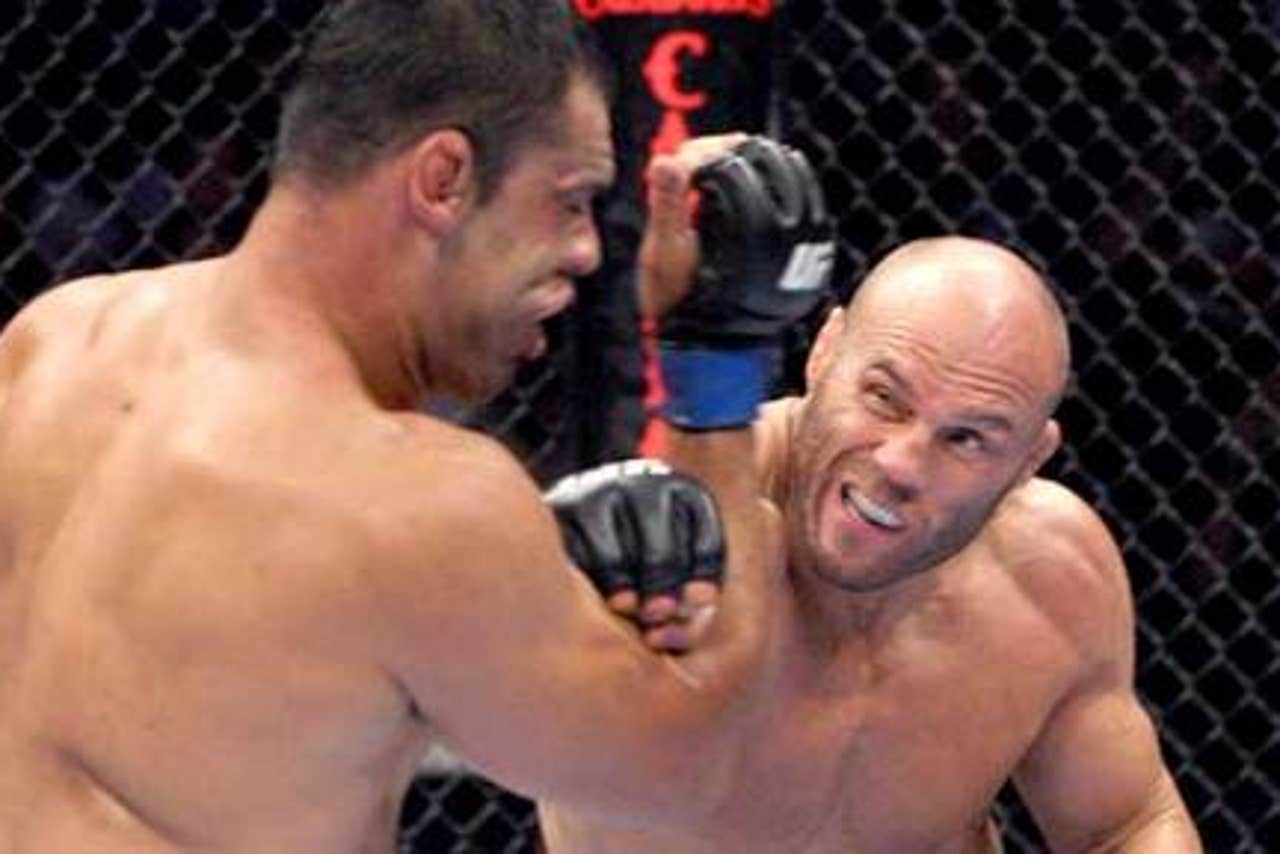 When this fight was announced in mid-2009, it just felt right. For years, Randy Couture and Antonio Rodrigo Nogueira were two of the best heavyweights in the world, and fans hoped to see them meet. At the time they finally did, Couture was coming off his title loss to Brock Lesnar, while Nogueira had lost the interim belt to Frank Mir.
Finally matched, the bout produced the technical masterpiece that most expected. The fight was filled with twists and turns. Nogueira knocked Couture down in both the first and third and locked in an arm triangle in the second, but Couture always managed to stay in the fight.
The setting was made even more remarkable by the fact that it took place in Couture's hometown of Portland, as the locals attempted to will Couture back into the match. Time and again, they did, as Couture would never quite fade away.
Some of the match's best moments took place on the ground as they jockeyed for position, worked to pass guard, set up and defended submissions, and reversed each other. In short, it was exactly what was expected all along, and was considered by many the best match of 2009.
No. 6: Griffin vs. Bonnar - TUF 1 Finale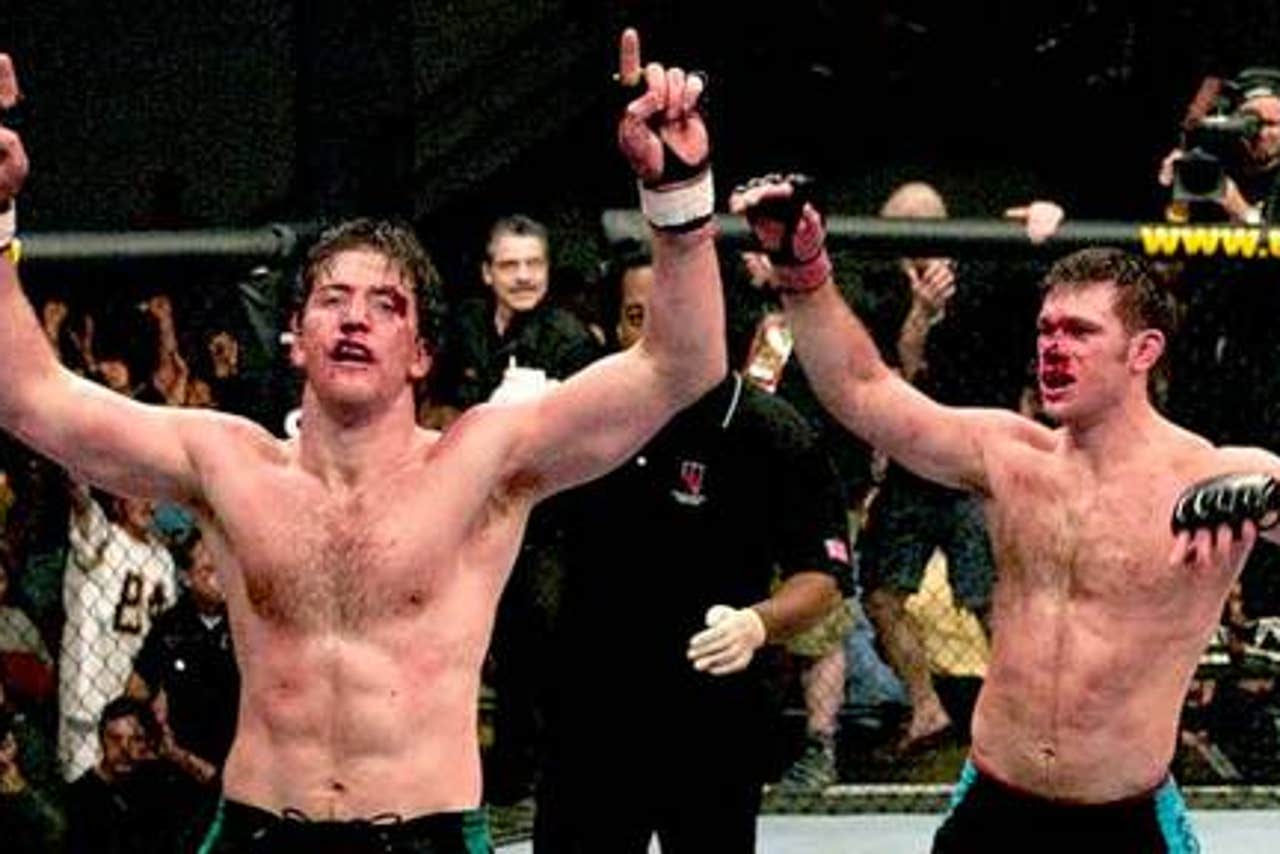 At this point, there's little new to add about the importance of the TUF Finale 1 fight between Forrest Griffin and Stephan Bonnar. The UFC's future on television was uncertain at the time, and the action and drama of the event, which was the first live broadcast Spike had done, sealed the sport's future.
The fight itself has been debated over time as to its merits as a great. On one hand, it was no technical masterpiece, but on the other, MMA was in a different time, and both of them had basically been part-time fighters until that point.
What the fight did showcase was the will of two men willing to take themselves to the extreme edges. Pushing through exhaustion and running on courage, the two went the distance, competing at a frantic pace. Every time one would score a well-placed strike, it seemed that the other would quickly answer. They could never catch their breath, but neither could the audience.
Over three million people tuned in to watch, seeing Griffin win the TUF title before UFC president Dana White made the surprise of offering Bonnar a contract as well.
No. 5: Liddell vs. Silva - UFC 79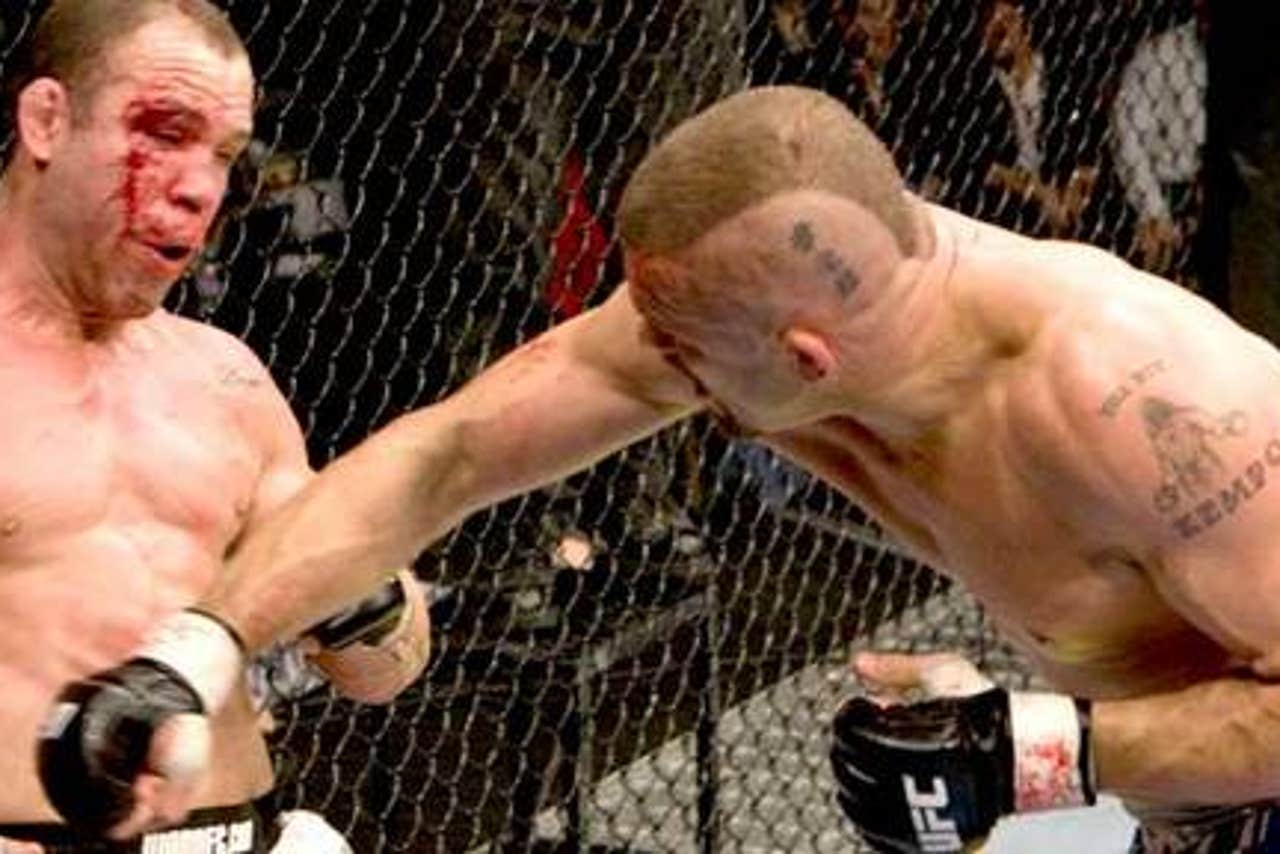 This fight just needed to happen. Chuck Liddell vs. Wanderlei Silva was something fans had been demanding it for years. After all, for a long time, Liddell was the man in the UFC and Silva was ruling PRIDE. Along with that, both were seen as throwback warriors, born fighters with no hesitation of putting themselves in harm's way. Conventional thinking was that matching them together would result in a classic.
Everyone wanted it to happen. At one point during 2006, the UFC announced that if Silva won an upcoming defense against Renato "Babalu" Sobral, he would fight Silva, who was still in PRIDE. The prospect had fans giddy with anticipation, but it never happened. Even though Liddell won, Silva lost by knockout weeks later, changing the fight's trajectory.
It was only after Zuffa purchased PRIDE that it came. By 2007, Liddell had lost the belt and dropped two straight. In a moment of synchronicity, it was the same rough stretch suffered Silva, finally making it the right time. The duo met at UFC 79 and offered three rounds of exactly what was expected: thrills, chills and excitement. The old warriors turned back the clock and engaged in several back-and-forth barrages. In the end, Liddell won a decision, but the result was almost secondary to the match itself.
No. 4: Edgar vs. Maynard II - UFC 125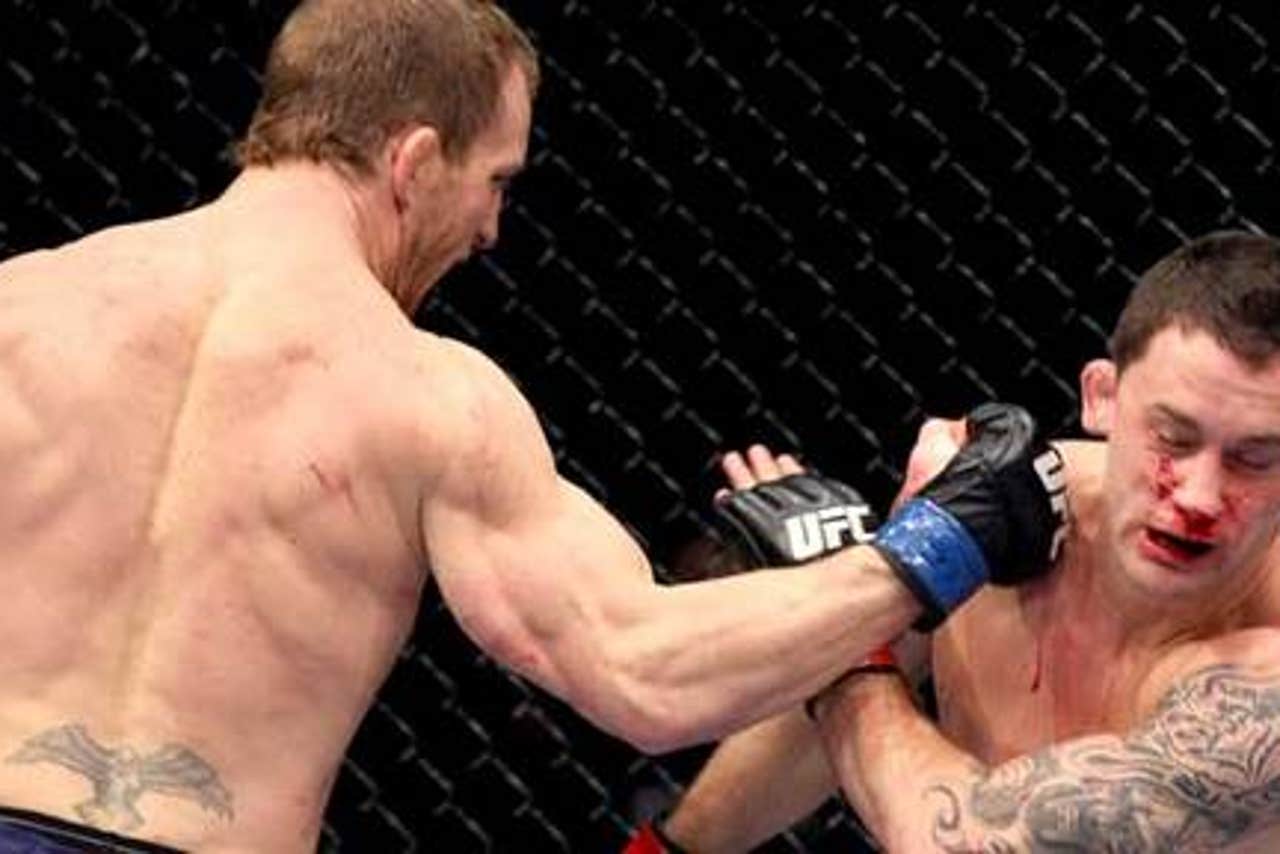 Taken as a series, Frankie Edgar vs. Gray Maynard was MMA's version of Arturo Gatti vs. Micky Ward, a matchup of two well-matched opponents long on skill and guts.
It was fight two that began the legend. Taking place at UFC 125, an event UFC subtitled "Resolution" to correspond with the Jan. 1, 2011 date, the bout was the exact opposite, only leaving the division in disarray.
The bout itself was an unbelievable testament to Edgar's heart, playing out like a movie script. For a while, it seemed like it would be a Maynard rout. He knocked Edgar down three times in the first, and on each occasion, looked to be a strike or two from ending. But Edgar wouldn't stay down.
Then, after that round, which was one of the most one-sided in UFC history, something crazy happened. Edgar recovered. Nearly immediately. It was as if Maynard punched himself out and Edgar got a shot of adrenaline, because Edgar kept coming forward while Maynard became sluggish and slower.
By the time they finished the fifth, Edgar had somehow come all the way back to take the lead in overall strikes landed 97-93, but the first-round 10-8s were too much to overcome. The fight was ruled a draw, and nine months later, the two would finish the trilogy in another heart-pounder which saw Edgar win by fourth-round TKO.
No. 3: Silva vs. Sonnen I - UFC 117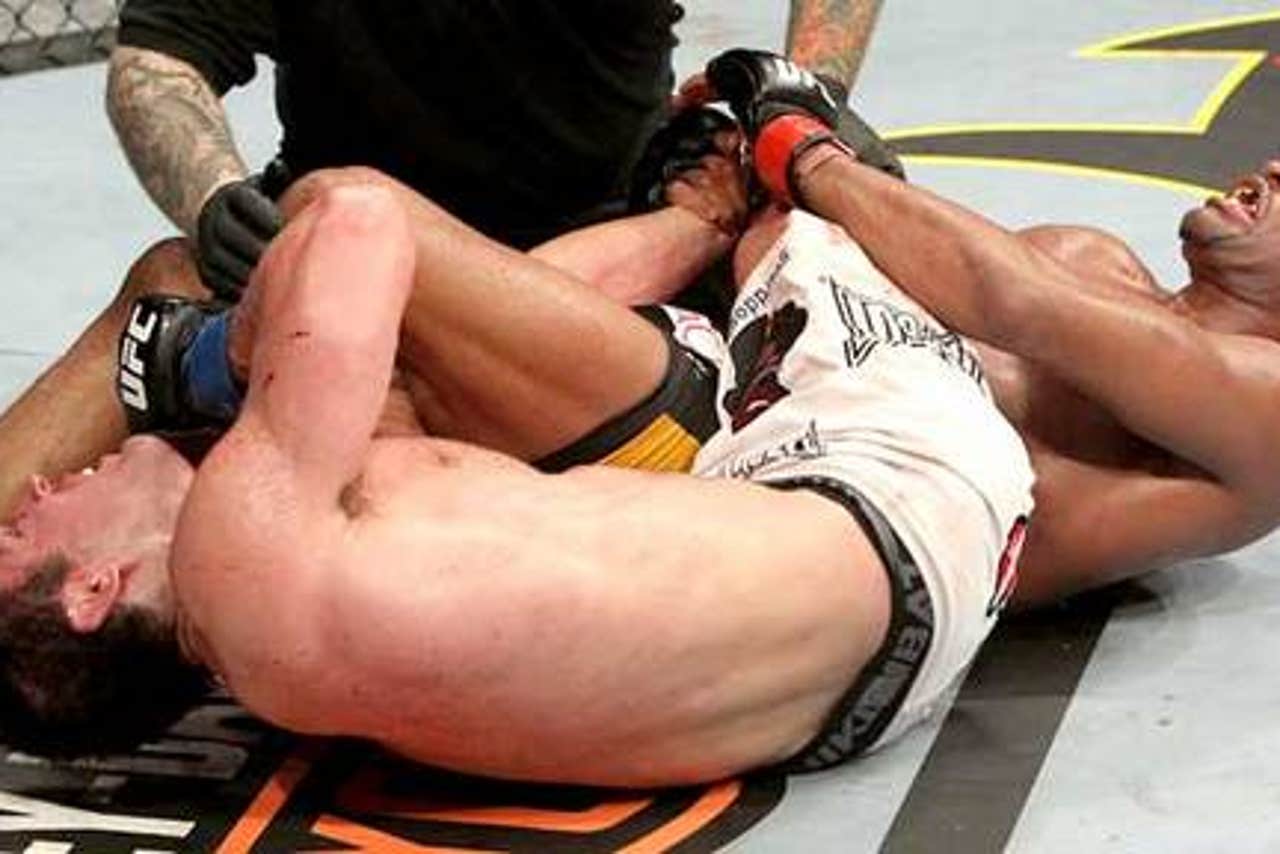 Anderson Silva mostly seemed unbeatable. That we knew from his history, which included wins over strikers, wrestlers, grapplers, every style, really. So when Chael Sonnen started picking a fight with him in 2008, no one gave him much of a chance. Sonnen had failed in title fights in other organizations, but put together a strong UFC run and ripped Silva at every turn.
After beating Yushin Okami and Nate Marquardt back-to-back, there was nothing from stopping Sonnen of the opportunity to fight the man he'd tormented for so long, and they met in Aug. 2010, with Sonnen as a huge underdog.
As is his custom, Sonnen charged out and immediately went for a takedown. He was stopped, but moments later, he surprised Silva with a big right hand, wobbling the champion. Like that, the fight turned. For nearly all of the first four rounds, Sonnen was in complete control, taking the champ down and overwhelming with strikes. By the end of the fourth, Sonnen had out-landed him 278-54 and was ahead by a lopsided margin on the judges' scorecards, 40-36, 40-35, 40-34.
The fifth round was do-or-die for the champion, but it seemed his chances were dashed when the action again went to the ground with Sonnen on top. But after a quick setup, he trapped Sonnen in a triangle armbar, earning a dramatic submission win. After the fight, the legend of his win grew even greater when it was learned that he'd fought with a broken rib.
No. 2: Henderson vs. Rua - UFC 139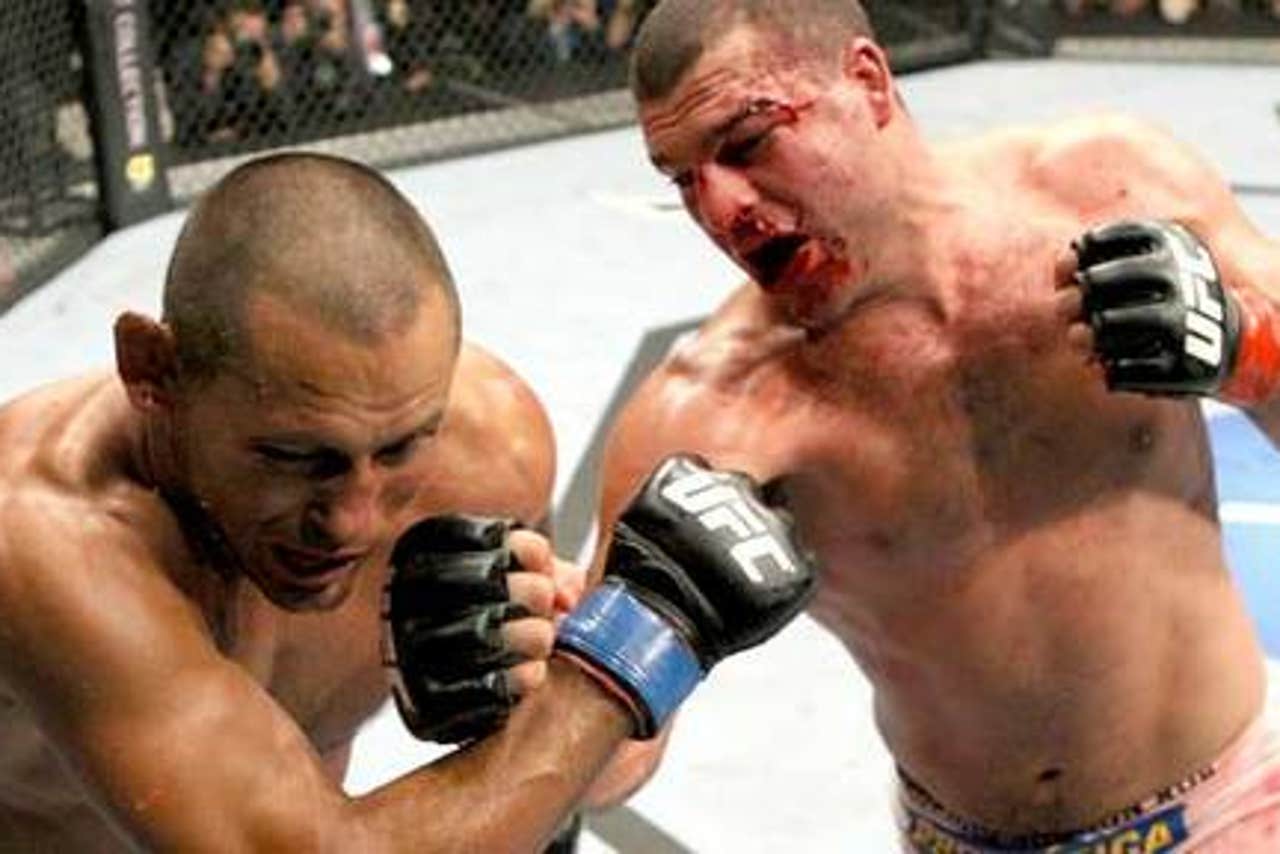 Legendary opponents? Check. High stakes? Check. War for the ages? Check. All of the ingredients for a classic came together in November 2011, in an explosion of violence and heart that thrilled the fight world and led to immediate declarations as the best fight of all time.
When Dan Henderson and Mauricio "Shogun" Rua met at UFC 139, it was Henderson's return to the UFC after a brief, successful run in Strikeforce, whe he had H-bombed three consecutive opponents, including the great Fedor Emelianenko.
Before the fight, UFC president Dana White said a win was likely to get the victor a title shot. What followed was five rounds of action that had jaws dropping in amazement of the will both combatants displayed. With both throwing steady diets of power punches, it seemed a matter of time before one would go down. As the first rounds continued, it seemed that Henderson would seize control. A massive right hand in the third nearly finished Rua, but "Shogun" withstood the onslaught and survived. Somehow, that seemed to energize him, and he took over. Despite his face being badly bloodied and his eye swelling shut, Rua continued moving forward, throwing kicks and punches, wearing down Henderson. In the fifth, Henderson was exhausted, and Rua took him down. Likely needing a finish to win after Henderson had built up a lead, Rua emptied his arsenal. He took mount twice, landed punch after punch, landing 79 strikes in a frantic attempt to finish. Henderson took everything he could dish out and survived. While most figured the dominant show would give Rua a 10-8 fifth round and force a draw, all of the judges scored it 10-9, giving Henderson a slim win. 
Still, the stunning dual display of heart is regarded as peerless in the UFC canon.
No. 1: Jones vs. Gustafsson - UFC 165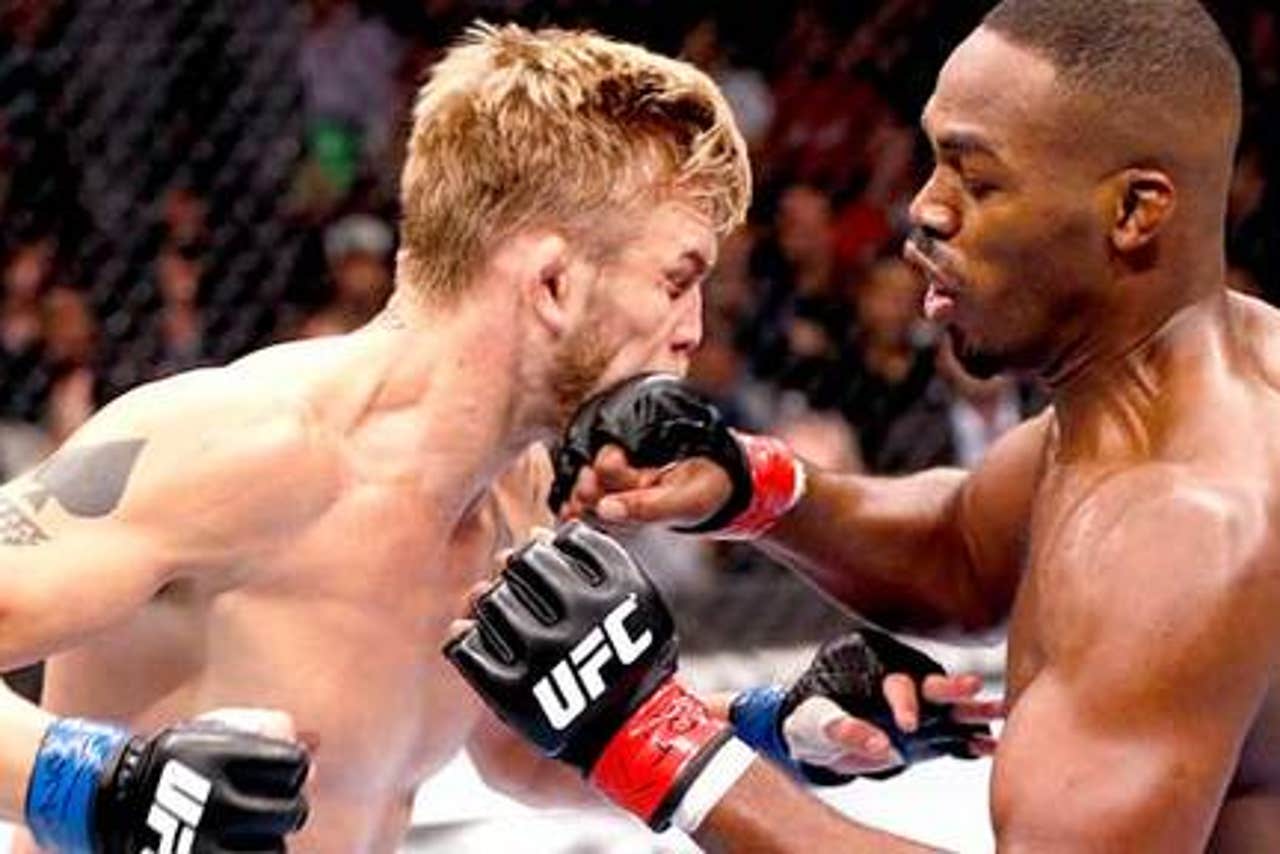 Jon Jones may be on the way to authoring the most dominant championship run in UFC history, along with one of the outstanding records the sport has seen. Maybe. In 19 pro fights, Jones had shown almost no real weaknesses or susceptibility to losing. He'd only lost a handful of rounds, he'd never been rocked, never even been taken down.
So when he was matched up against Alexander Gustafsson at UFC 165, he was expected to find the same kind of success. The only question, it seemed, was whether Gustafsson's similar height and reach would offer any real resistance in the striking department. What a surprise we all were in for, as Gustafsson established early on that he would be no pushover. The biggest shock came early on, when he became the first man to take Jones down, pulling the trick in the first.
Each round from there on was closely contested, with highly technical striking and both men showing excellent conditioning. After three rounds, Jones was down on the scorecards, and Gustafsson seemed on his way to a major upset. But in the fourth, Jones rallied behind the strength of a spinning back elbow that wobbled Gustafsson, and he carried the momentum into the final five minutes, finally scoring his first takedown and emerging with the win.
The decision has been and probably will continue to be questioned, but with both fighters still in their respective primes, an eventual rematch seems a certainty.
---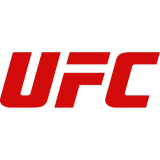 Get more from Ultimate Fighting Championship
Follow your favorites to get information about games, news and more
---