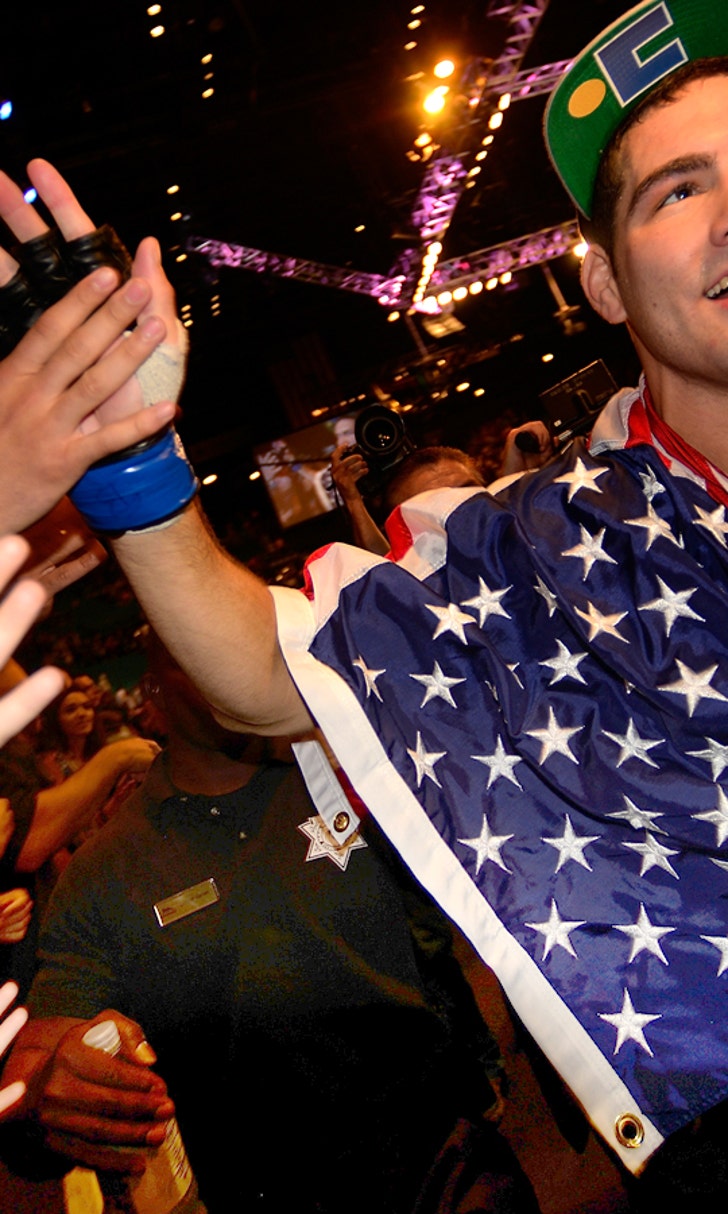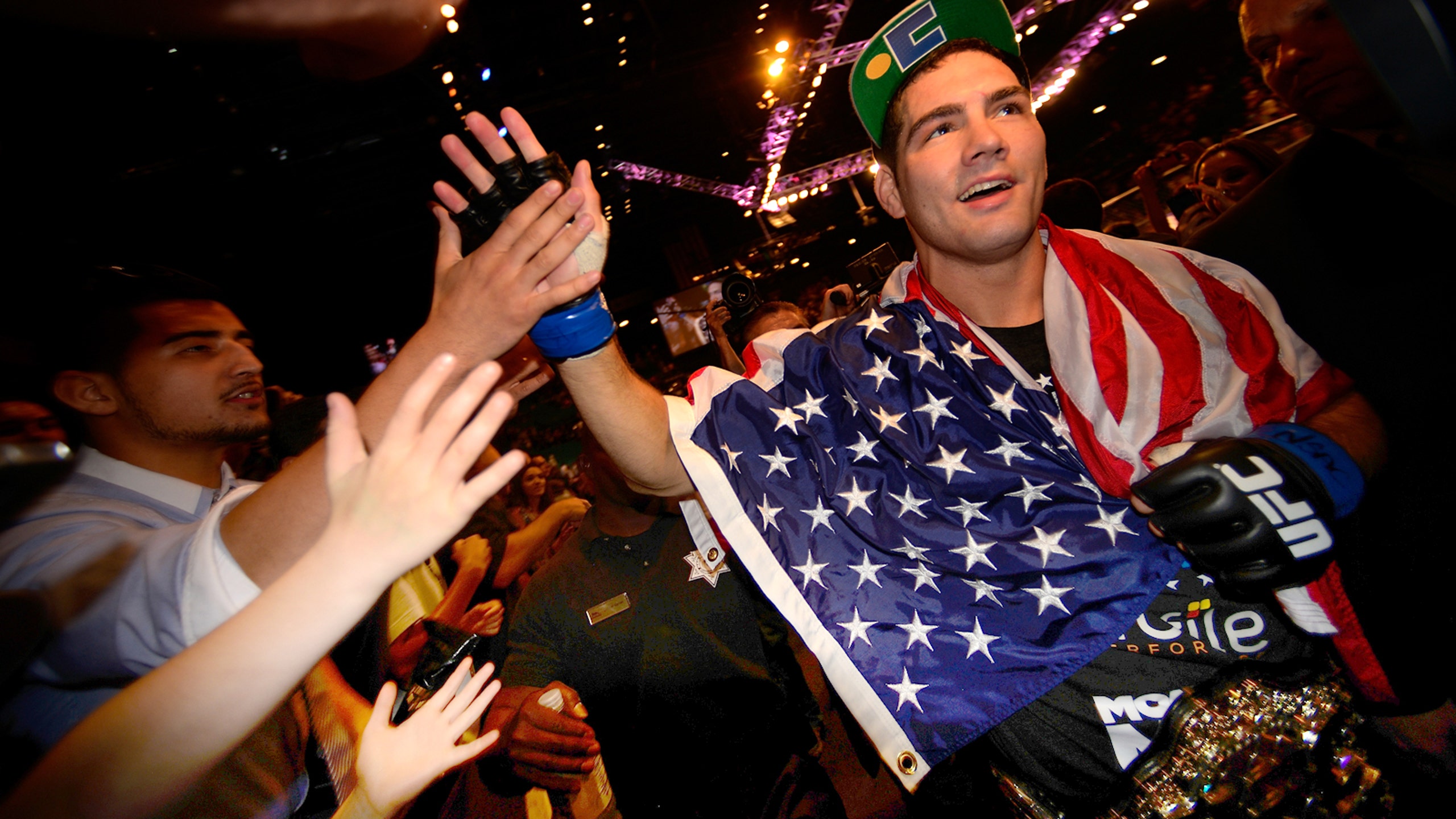 The Kingslayer: A 6-month chronicle of Chris Weidman's journey back to Anderson Silva
BY Damon Martin • December 24, 2013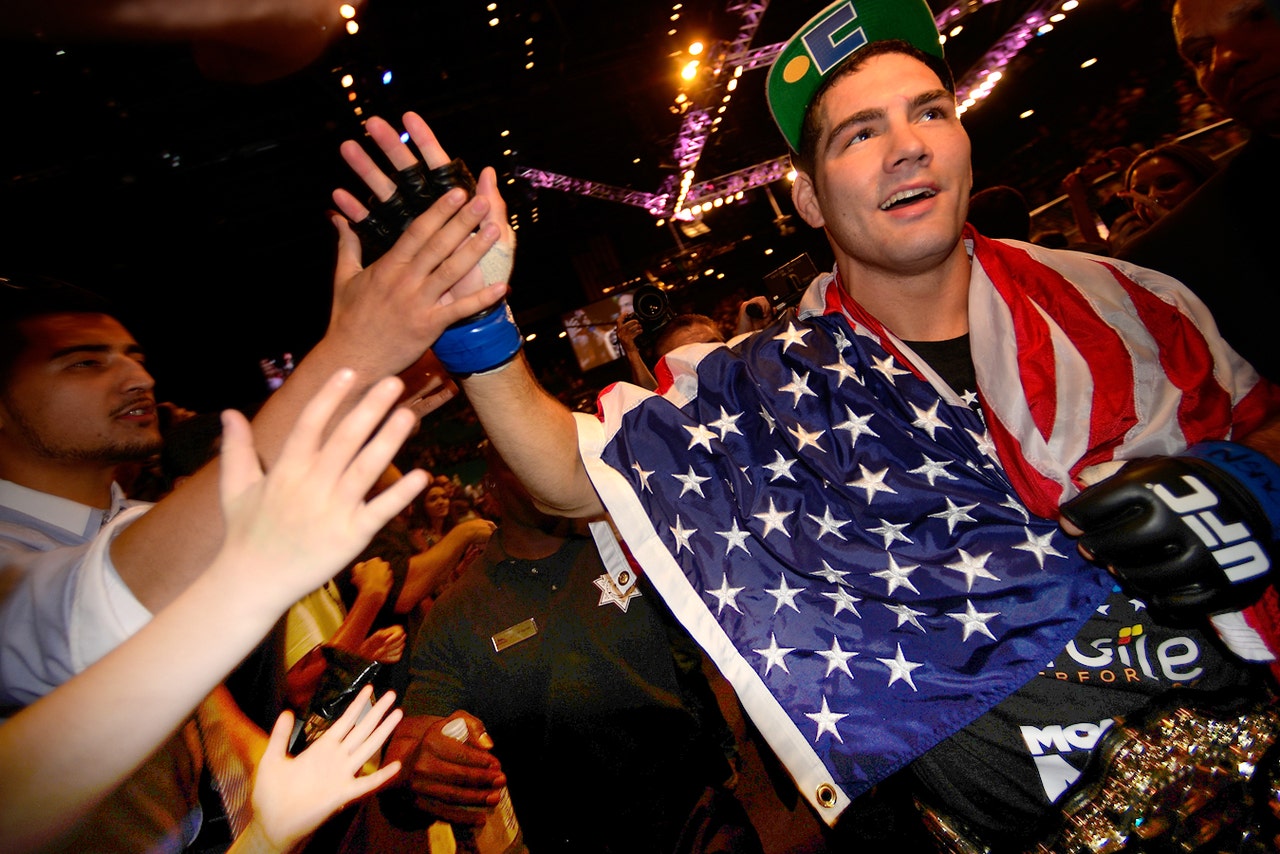 176 days.
It's the exact amount of time Chris Weidman will be middleweight champion when he steps back into the Octagon at UFC 168.  During that time he's tasted the kind of success most fighters won't achieve in an entire career.  It all started six months ago.
On July 6 of this year, the Baldwin, New York native picked up what could be described as one of the biggest victories in MMA history when he dethroned middleweight champion Anderson Silva with a second round knockout.  Despite the odds being fairly close going into the fight, it was still hard to imagine anyone besting Silva after a seven-year reign atop the UFC including 10 straight title defenses and 17 consecutive victories.  At the time the fight took place, Weidman had nine professional bouts -- that was something Silva accomplished in January 2002.
No previous opponent had exuded the kind of confidence that Weidman had going into the fight.  He wasn't Chael Sonnen trying to insult the champion with stinging verbal jabs and colorful bluster.  He didn't have to be Vitor Belfort and call Silva names or make the fight personal.  Weidman just had the kind of self-belief and assurance that he could pull off the impossible.
Six-minutes and 18 seconds into his tenth pro bout, Weidman did it.   
Silva's bobbing, weaving and putting his hands down to taunt an opponent worked in so many past fights, but against Weidman it caught up to him.  The final left hand clipped Silva's jaw sending him crashing to the mat, and as referee Herb Dean swooped in to stop the action, Weidman charged across the cage in a wave of celebration.
"He didn't respect Weidman's punching power and Weidman cleaned his clock," UFC commentator Joe Rogan shouted after the knockout landed.
Weidman was a little more boisterous and irate after winning the biggest fight of his career.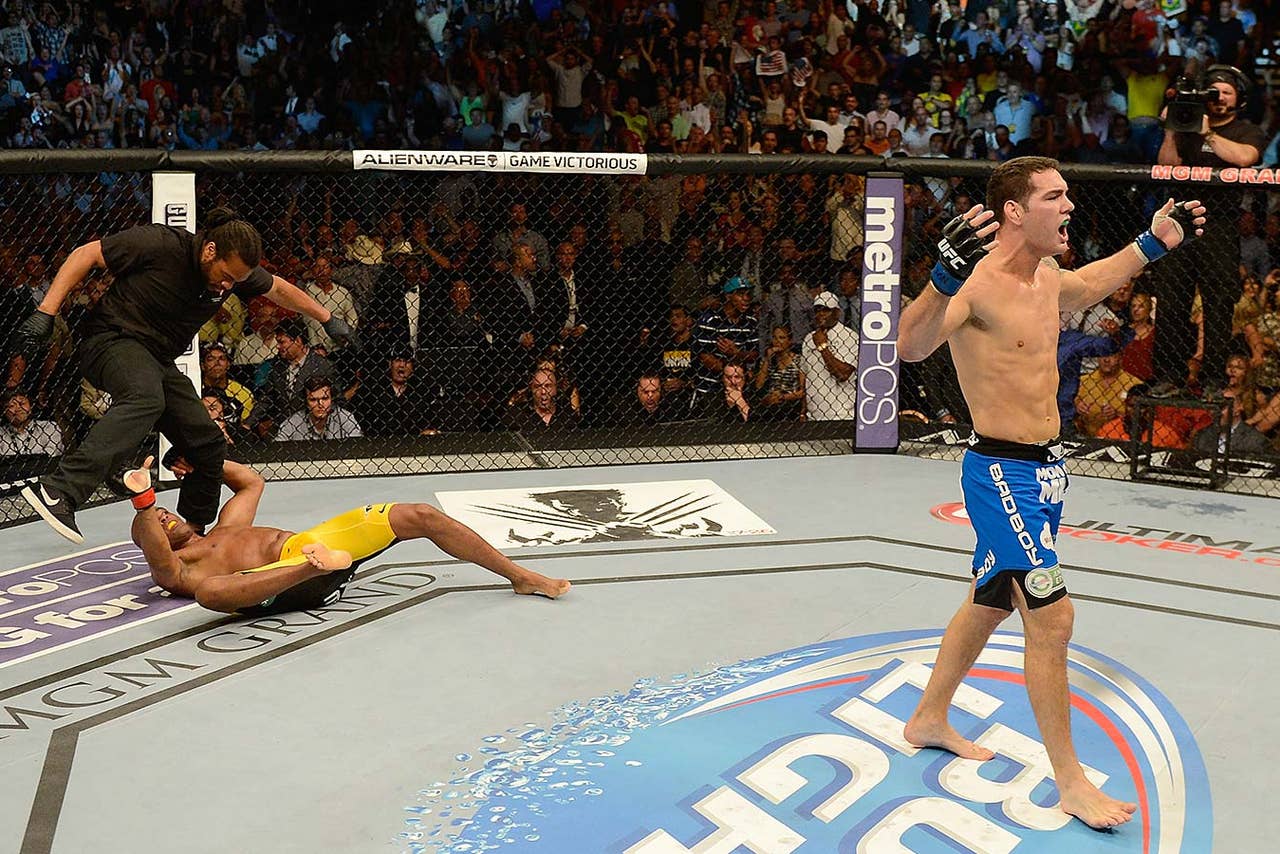 "Disrespectful piece of sh*€"t!" Weidman shouted as he tromped across the cage, tired of Silva's antics prior to the knockout.
Eventually, Weidman cooled down and after being awarded the victory he grabbed Silva in a hug and said '€˜thanks for the opportunity'.
A few weeks after the fight, Weidman was back home in New York after a whirlwind media tour that took him on just about every major television show, sports talk radio and any other kind of press that wanted to get a few minutes with the man who killed the king of the UFC.  I caught up with him for the first time about three weeks after the fight with Silva as he dropped off his managers at the airport after finishing the last round of media obligations before he finally got to settle back into home life with his wife and kids.
Some fighters -- win or lose -- refuse to go back and watch a past fight even if they are just looking to see the mistakes they might have made.  There was no way Weidman was going to escape witnessing his knockout of Anderson Silva no matter how hard he tried.  By the time the end of July rolled around, Weidman says he saw the finish at least 30 times and the only way he could describe his life in a post "I'm-the-guy-who-knocked-out-Anderson-Silva" world was to say 'It's been kind of crazy'.
Outside of the blitz of interviews Weidman conducted after the fight, life didn't change much for him.  Oh, he received a windfall of cash from the UFC for his victory so he instantly turned that around to buy a new home for his family after Hurricane Sandy ripped through his old house just a few months earlier.
"I'm buying a new house in a different town.  So I guess that's a big change.  Been really busy, being the champ and trying to do a lot of different things.  Making appearances different places," Weidman said.
What may have been most shocking about Weidman's victory at the time was his willingness even before the fight took place to commit to a rematch with Silva.  He stated on numerous occasions and in dozens of interviews how he would beat Silva and then grant him an immediate rematch so he could do it again.
Sure enough within a couple of weeks of the win over Silva, Weidman was signing a bout agreement for a second fight against the former champion. It wasn't enough that Weidman won the fight or that he knocked out the man most would say is the greatest stand up fighter to ever step foot in the Octagon.  Even if he won in the first 10 seconds of the fight, Weidman knew he was going to be challenged to do it all over again so he signed the contract with zero hesitation.
"I knew I was going to have to do it twice.  I knew after I beat him I was going to have to do it again," Weidman said.   "It was a huge fight and everyone was going to want to see it again, so I'm excited to do it.  I knew there were going to be a lot of doubters and I'm ready to show the world what I can really do.  I'm not going to have a long layoff.  I'm not going to have two surgeries in between.  I'm going to go out there and look better.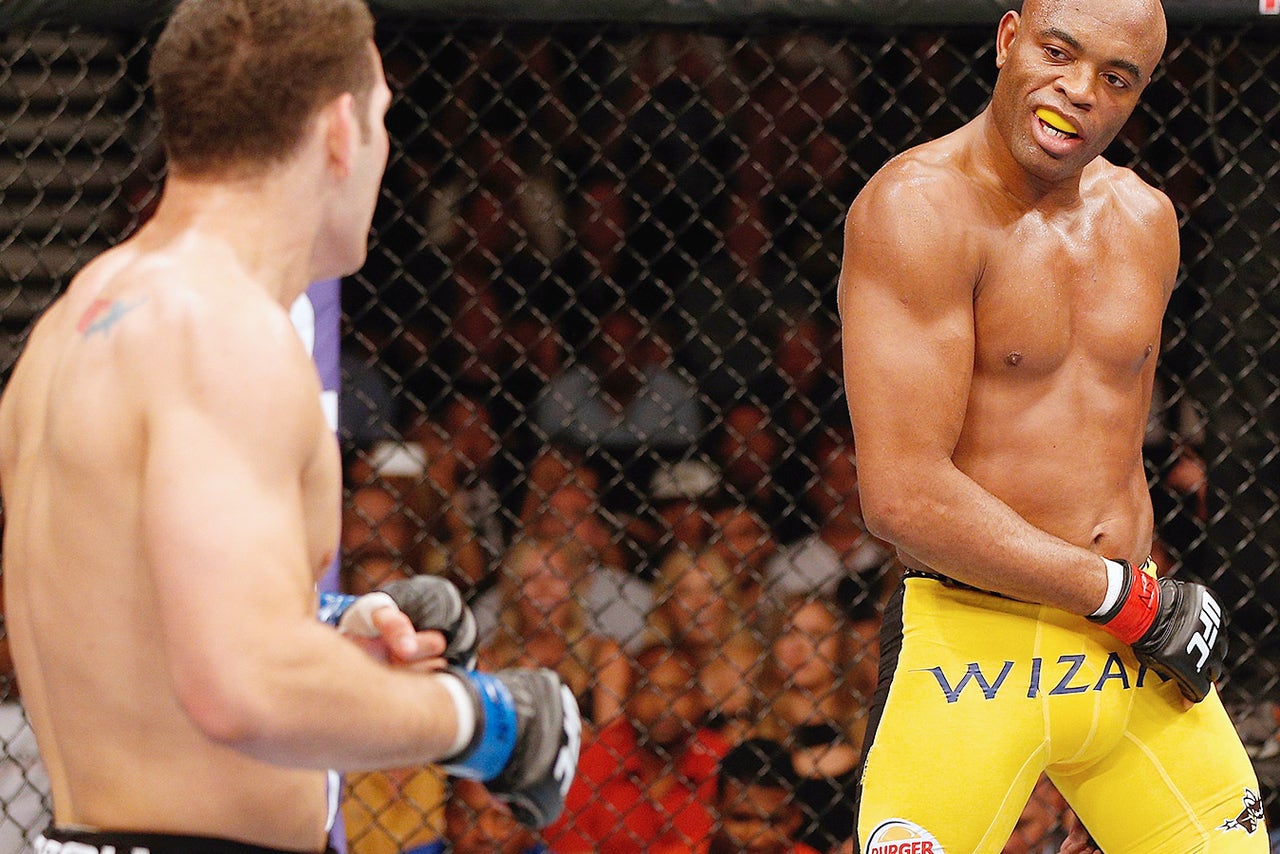 "This is awesome.  This is where I wanted to be.  It's big, it's exciting and I know how big the first fight was, it kind of blew away my own expectations.  So far everything is going according to plan."
In late September just three months removed from their first fight, the UFC announced that Weidman and Silva would do a seven day, seven city press tour to promote their second fight on December 28 in Las Vegas.  The pair toured from Los Angeles to New York and all the way to Sao Paulo, Brazil to help hype up what was being billed as the biggest rematch in UFC history.
Time after time, Weidman and Silva answered similar questions from the media and at the end of each session the two fighters squared off, nose-to-nose to give photographers a chance to snap a few pictures.
It was after the media tour was completed that I caught up with Weidman again.  He was just home from a week-long journey across the United States and then to Brazil before heading back to New York to start his training camp.  Weidman couldn't help but admit that being locked in close quarters with a fighter he just knocked out and was about to face for a second time was a strange experience.  Like anything else he'd faced in these last few months it was something new, but Weidman adjusted to it in pretty rapid fashion.
"It was a little weird at first hanging out with Anderson but as time went on we got more comfortable with each other.  It was a pretty cool experience.  It's part of the job.  I got my workouts in as much as I could and the media is cool," Weidman said in early October.
Weidman routinely wears a smile during press conferences and interviews, and even managed to joke with Silva at one point during the media tour when he answered a question by saying 'it's normal', which is the Brazilian's signature catch phrase when he speaks English.  "Anderson Silva didn't catch it, there was no reaction.  I thought I was funny but no one else did," Weidman said.
The litany of questions became tiresome at different points because really how many times can you recount the fight or talk about what's going to happen in the rematch?  The most common inquiry was actually more about Weidman's personal life to which he ended up having some fun at the media's expense by giving them a different answer every time they asked. Sadly, it was the exact same question I asked him back in July when I first spoke to him after the victory.
"Probably what's the biggest change since being UFC champion," Weidman revealed when asked what was the most common question on the tour.  "I pretty much gave a different answer every time.  When it comes down to the grand scheme of life, nothing's changed.  I'm still married; still got two kids, still have to listen to my wife when I come home.  Still have to take out the garbage and change diapers.  Nothing's changed in that aspect."
Just a few days after our interview, Weidman flew to Germany to have a procedure done on his knee similar to the treatments that Los Angeles Lakers guard Kobe Bryant and New York Yankees third baseman Alex Rodriguez have had done in the past.  The platelet-rich plasma therapy is described as "two tablespoons of a patient'€™s blood are removed and put through a centrifuge. This creates a concentrated dose of soft-tissue-healing platelets that is then reinjected into the patient [at the site of an injury].  It's the same treatment UFC president Dana White underwent to help his Meniere's disease, and he even helped Weidman get in for the procedure on his knee.
As soon as he returned home, Weidman got back into training with a singular focus in mind -€" repeating history and handing Anderson Silva another loss because without that, these last few months have been for nothing.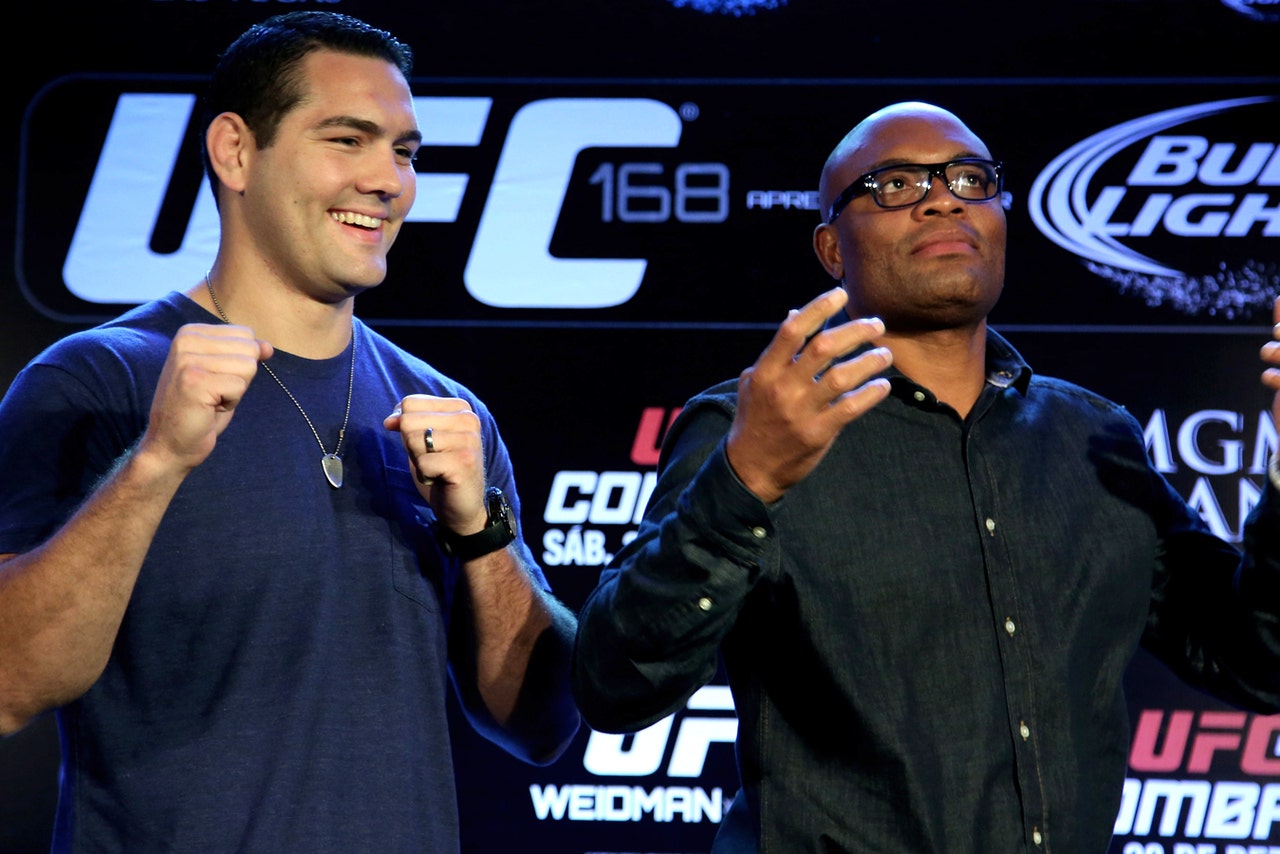 "I'm not stupid.  My goal is to win this next fight.  Everybody's on me right now asking me questions because I'm a winner so I've got to keep winning," Weidman said.  "I've got to dominate this fight on December 28 and my goal is to separate myself from the rest of the division."
By the time I spoke to Weidman again it was mid-December just two weeks out from his date with destiny.  Training camp was winding down and the mass of interviews had started to fire up again.  Just after the fight, all of the questions were about Weidman's improbable victory.  A few months later during the media tour the focus was on how much life had changed for the champion since getting the win.
Now just 14 days out from the rematch with Silva, there was a change of tone in the kinds of questions Weidman found himself being asked.  He started to notice more and more people doubting his performance the first time around.
Phrases like 'lucky punch' and words such as 'fluke' started being tossed about profoundly as if to almost take away the performance he mustered back in July.  Strangely enough, it didn't anger Weidman one bit.  He actually took the notion that he somehow slipped by a showboating Anderson Silva as motivation to come back and do the same or better in the rematch.
"I put a lot of pressure on myself to be the best.  The pressure I put on myself, there's all these arguments going back and forth -€" was it a fluke?  Am I really that good? Is he getting old?  It's exciting to me.  There's pressures, but it's more exciting to go out there and end the arguing.  Enough everybody.  Whether you're Team Weidman or Team Silva, I'm excited to go out there and make the reality of the situation come true," Weidman said.
"This is a must win for me.  I have to win this fight.  This is going to solidify me as champion, solidify me as a better fighter than Anderson Silva.  There's always going to be people talking so you just have to focus everyday and be the best fighter you can be in the Octagon on the day of the fight.  I just feel like I'm going to be a whole different kind of athlete on Dec 28 than I was in the last fight.  I really want to dominate this fight."
Five days later I chatted with Weidman for the final time before he finished out the last days of his training in New York.  He had just finished a 'car wash' at ESPN (a car wash is when an athlete spends an entire day at the ESPN campus and does a slew of shows, interviews, etc) where he found out that he was the most interviewed athlete in their Connecticut studios in 2013.  Weidman was riding back after finishing up for the day and joked 'I'm big time' as he got on the phone.
These kinds of commitments have become second nature to Weidman at this point.  In just six months time, the former All-American wrestler went from little known to everyone knows, but he adjusted without hitting any speed bumps along the way.   More than ever before, Weidman also has a million new 'friends' trying to get at him everyday and invites to take part in just about every kind of event you can imagine.  Luckily for Weidman he's not going to fall victim to some of the trappings that have cut down other high level athletes in their prime.  He won't be on the front page of TMZ any time soon and don't expect to see his name in the headlines for some kind of infraction with the law.
Remember the question 'how much has life changed for you since winning the title?' from earlier?  It's here that Weidman gives the best answer why nothing much has shifted from July 6 to now.
"I think it helps for me, I'm married, I've got kids, at the end of the day I'm at home doing the same things with my family.  If I was a single guy with the opportunities to go to clubs and spend money and do that type of lifestyle it would be a little bit hard to stay grounded and stay focused on fighting to be honest with you," Weidman said.
The most extravagant expenditure Weidman paid for after the fight besides his house? He hired a private chef to cook for him for a few weeks leading up to the second bout with Silva to make sure his diet was in line and his weight was on track.  Outside of that, he was grinding daily in the gym with his boxing coach Ray Longo and his jiu-jitsu trainer Matt Serra.
As the final questions wind down on our last interview before the fight, Weidman doesn'€™t carry an ounce of self-doubt with him as he approaches the rematch with Silva.  The confidence he wore like a suit six months ago has only been fortified with a strong training camp, no injuries and a healthy mind, body and spirit.  There's still something to prove in the second fight with Silva and Weidman knows it.
So what is Weidman's greatest hope for December 28?
He wants to put an end to the Anderson Silva era once and for all and begin building on the foundation he started back in July on the Chris Weidman legacy.  
"I feel like I have a lot of people picking me but there's also a lot of people picking against me because they're like 'there's no way Anderson Silva can lose twice'.  There are a lot of people that can't comprehend me beating him again," Weidman stated.
"I'm going to put to an end all the people who said it was a fluke.  I'm going to prove I'm the better fighter.  I think people are going end up like 'wow this Weidman is no joke'."
---
---