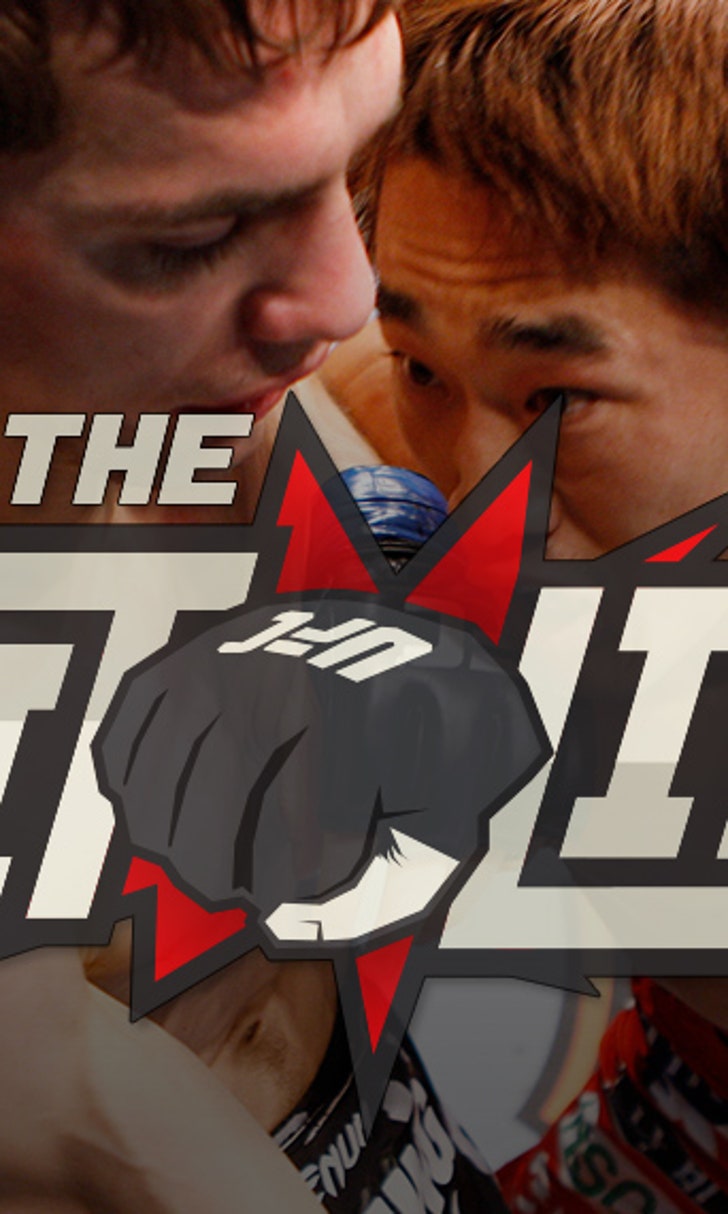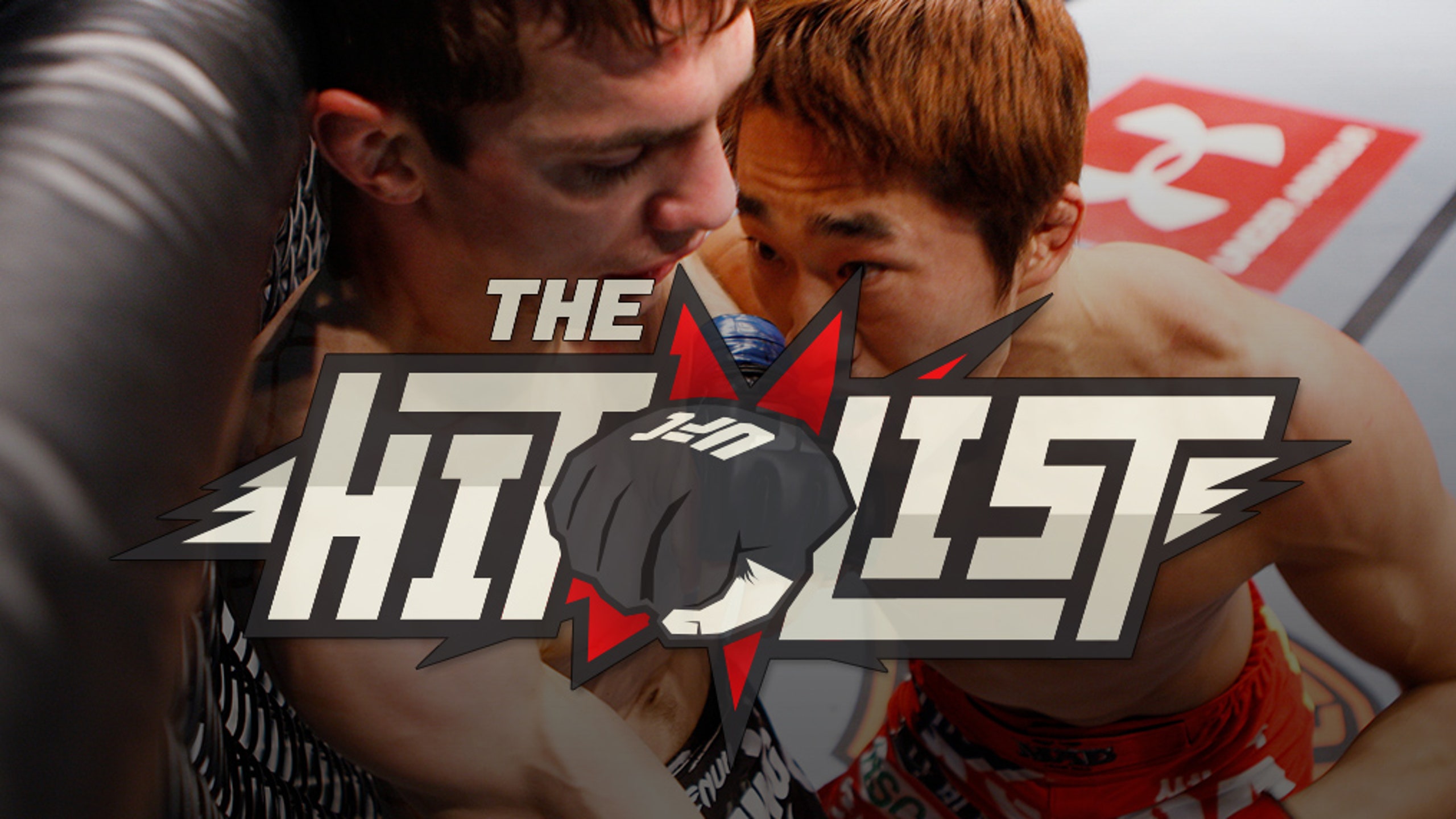 The Hit List: Top 5 Moments from UFC Fight Night: Kim vs. Hathaway
BY foxsports • March 1, 2014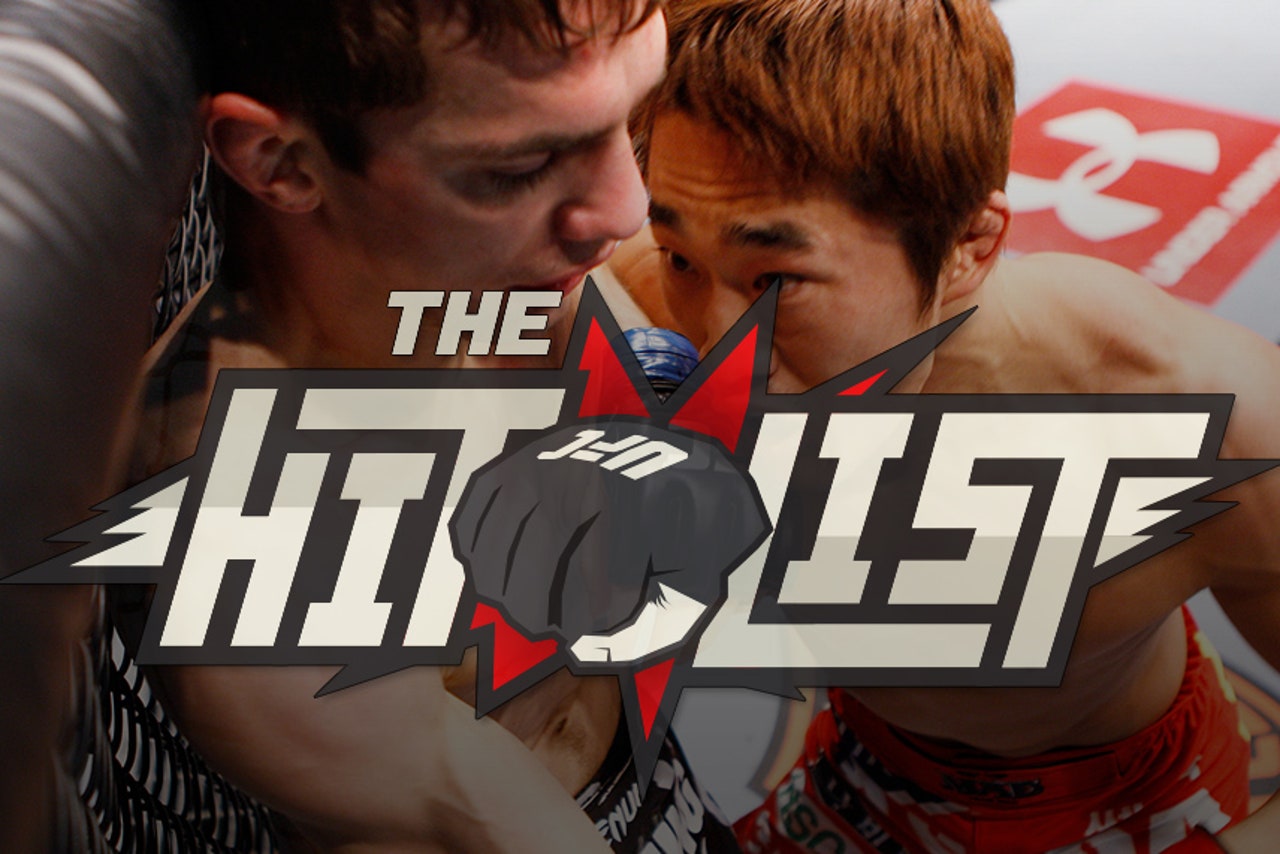 How can you not love early morning fisticuffs?
Before the sun had risen on the West Coast, UFC Fight Night: Kim vs. Hathaway sent a rush of electricity through all those watching and made anyone that chose to skip the first event exclusive to Fight Pass regret their decision.
From a dominant bantamweight performance and much-needed finish to a blistering back-and-forth scrap and one of the most violent knockouts in UFC history, this card had it all, and now it's time to run it back.
These are the Top 5 moments from UFC Fight Night: Kim vs. Hathaway.
This is The Hit List.
Beyond Stunning
Dong Hyun Kim used to be a suffocating top control grappler—a guy that used his clinch game to wear out opponents and ride out rounds on the canvas. Used to be. Past tense.
Over his last two fights, the South Korean "Stun Gun" has morphed into an aggressive striker that stalks his opponents from the outset, every strike thrown with the intention of finishing the fight. Saturday in Macau, Kim pushed his winning streak to four by collecting his second consecutive walk-off victory and set the Knockout of the Year bar exceptionally high with his spinning back elbow finish of John Hathaway.
After rocking the returning Brit on several occasions in the first, Kim's pace slowed in the second frame, and the two welterweights seemed to be settling in for the long haul early in the third. Working in tight quarters, Kim slipped an elbow strike from Hathaway and countered with one of his own, planting "The Hitman" with a left spinning elbow as he stepped forward.
Spin. Land. Drop. Done.
With back-to-back vicious finishes, a four-fight winning streak, and a 10-2 mark overall in the UFC, Kim has positioned himself on the fringes of contention in the deep and talented welterweight division. A step up in competition awaits him next time out, but with his newfound penchant for putting guys away, there might not be many Top 10 welterweight lining up to share the Octagon with the "Stun Gun" any time soon.
Having seen what he did to Hathaway on Saturday, can you blame them?
Saturday Morning Slobberknocker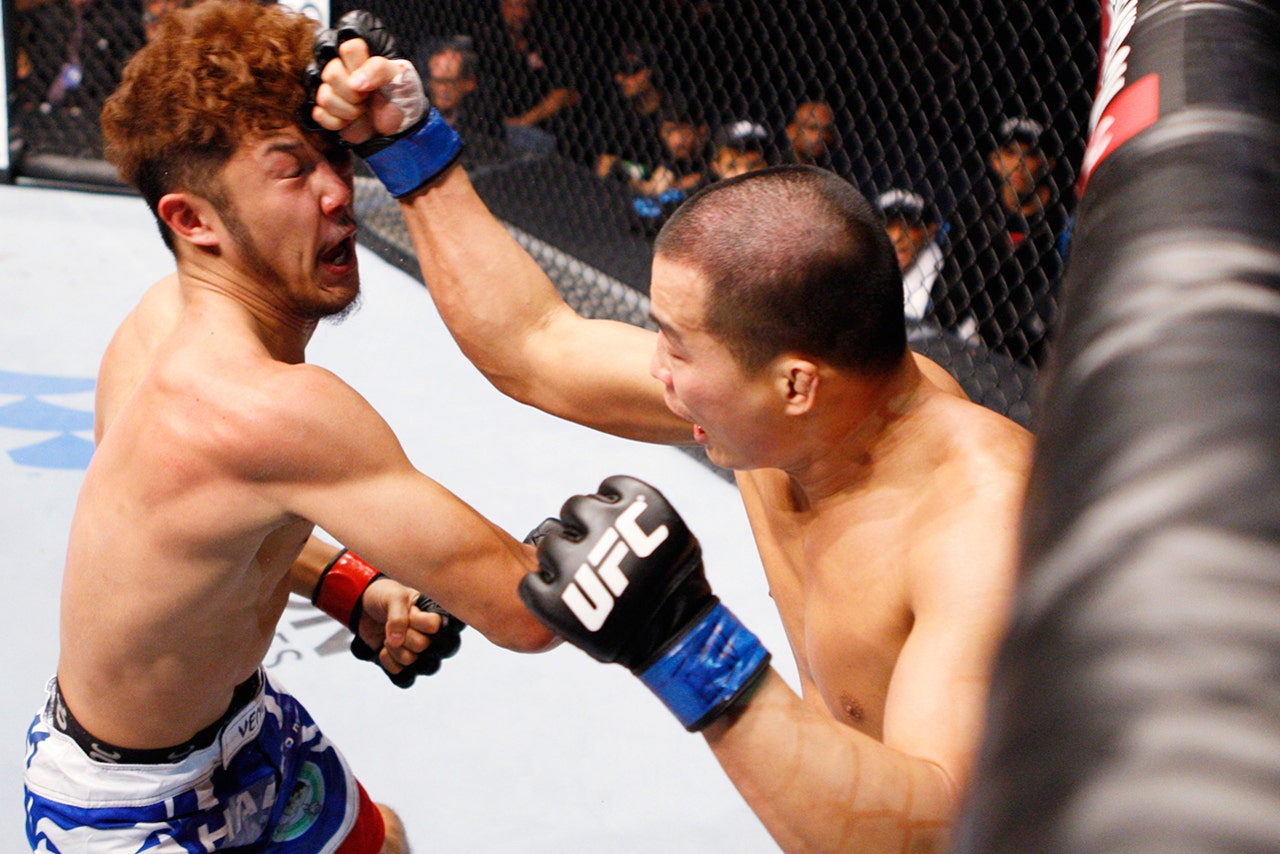 Yui Chul Nam and Kazuki Tokudome locked up Fight of the Night honors before the main card even kicked off, as the lightweight competitors covered every square inch of the Octagon in their wildly entertaining preliminary card pairing.
Nam showed why he's called "The Korean Bulldozer" early on, closing the distance and unloading on Tokudome from the very beginning. In a round reminiscent of the opening frame of Edgar-Maynard II, the UFC newcomer looked on the brink of earning a finish a handful of times.
But Tokudome survived and took the fight to Nam in the second, securing an early takedown and peppering his trapped opponent with a steady stream of rights along the cage. In the third, the back-and-forth continued, with Nam dropping Tokudome early in the frame before the two traded takedowns and ground assaults.
When the final horn sounded, both men lay in the center of the Octagon, exhausted from the wild battle they'd just been through, with Nam earning the split decision victory in a bout that embodied what is awesome about MMA.
As was stated in the 5 Reasons to Watch piece for this event, sometimes you just want to watch two guys step into the cage and slug it out. That's exactly what these two did on Saturday and it was awesome.
Buzzer Beater for Mitrione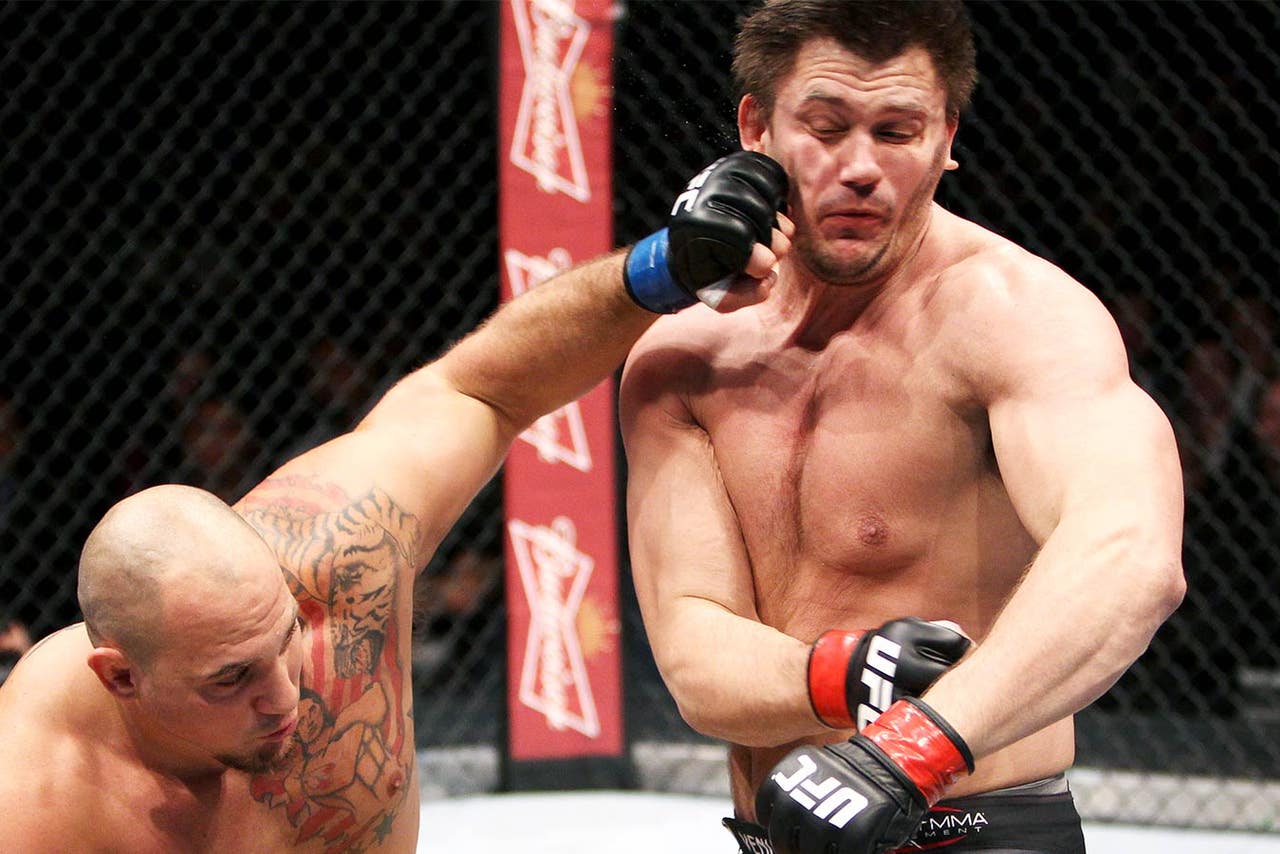 Matt Mitrione needed a win.
After coming off Season 10 of The Ultimate Fighter with five straight victories, the former New York Giants defensive lineman had dropped three of his last four, his most recent setback coming at UFC 165 in September when he was choked out by fellow TUF 10 alumnus Brendan Schaub.
Saturday in Macau, Mitrione got that much needed victory, stinging fellow gridiron-to-Octagon transfer Shawn Jordan with a series of punches along the cage late in the opening round before forcing the stoppage with a similar barrage just before the horn to end the first round.
This was the type of performance that highlights what Mitrione can bring to the cage when he's firing on all cylinders. Like all heavyweights, he has solid power, but his movement and athleticism can set him apart, provided he's sticking to the game plan and playing to his strengths.
While he may be a little long in the tooth to make a serious run up the rankings, the 35-year-old Indiana native is always entertaining and should continue to carve out a niche for himself in the middle of the heavyweight pack going forward.
Volume Striking from Vaughan Lee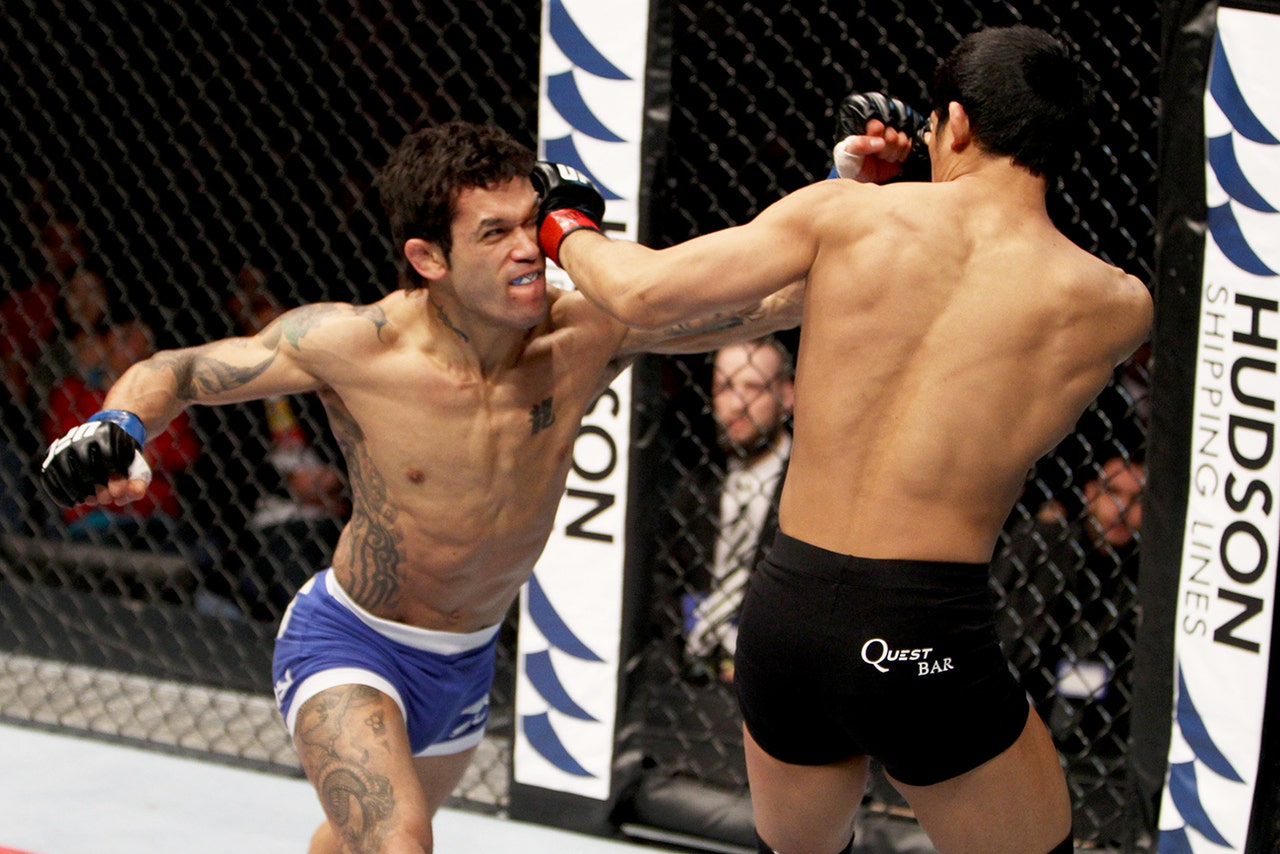 Through his first five appearances in the Octagon, Birmingham, England bantamweight Vaughan Lee has amassed a 2-3 record and a reputation as a deft grappler. Facing off against veteran Nam Phan, Lee showed off a newfound confidence and swagger with his stand-up skills, picking apart the former TUF semifinalist en route to a lopsided decision win.
Watching the bout, it looked as if Lee was moving in fast forward compared to Phan, the 31-year-old dodging punches and countering effortlessly from the outset. As Phan would step forward with a jab, Lee would stick a left hand in his face, and then rip two more shots off in quick succession before circling away.
This was the best performance Lee has turned in under the UFC banner to date—a slick striking display against a game veteran where his speed and footwork set him apart. Given his strong grappling game, adding improved striking and greater confidence in his stand-up will make the Brit a more dangerous threat in the 135-pound weight class in the future.
Passing Marks for Fight Pass
There has been a lot of complaining about Fight Pass since the UFC digital platform was announced, and while it still isn't perfect, Saturday's event should garner the new venture passing grades and give fight fans reason to be optimistic.
Save for a couple very brief pauses, the stream was fantastic and the fight card as a whole delivered. While their will always be pre-event lamentations about the lack of major names or why certain fights are "stuck on Fight Pass," there wasn't a lot to complain about coming away from this weekend's show.
Being able to immediately go back and re-watch fights or Dong Hyun Kim's nasty elbow on loop for five minutes straight is a plus for fight fans (and journalists writing post-event columns) and the platform is only going to get better once the archives are stocked.
Sure, there are going to be those that find things to complain about, but there is a segment of the fan base that will find a way to complain about everything.
High five, Fight Pass — thanks for an entertaining Saturday morning!
---
---