The Hit List: The Top 5 Moments From UFC Fight Night: Edgar vs. Swanson
BY Elias Cepeda • November 23, 2014
A number of fighters stood out Saturday night in Austin, TX at UFC Fight Night: Edgar vs. Swanson. The few finishes that occurred were surprising and nasty, and many of the fights that went to decision were grueling, impressive affairs.
Frankie Edgar forged ahead as the clear No. 1 featherweight contender with a last-second submission win over Cub Swanson, and Edson Barboza showed that we can't forget about him when discussing the best lightweights in the world.
Read on to find out what we thought were the five biggest moments of UFC Fight Night: Edgar vs. Swanson!
Edgar goes for the kill against Swanson
Is it a bit unfair, perhaps, that former lightweight champion Frankie Edgar felt he needed to not just beat Cub Swanson, but beat him spectacularly, in order to convince people he deserves another crack at featherweight champ Jose Aldo? This writer thinks so.
Was it still thrilling to watch "The Answer" do just that with, first a dominating fight against Swanson, and then a brutal rear neck crank submission with just four seconds left in the bout. Indeed it was.
The greatly improved Swanson looked almost cocky in the opening minutes as he tagged Edgar on the feet with strikes and defended the former college wrestler's takedown attempts.
Edgar stuck with it, varied his attack and eventually broke through Swanson's defense and took him down repeatedly before cutting him open all over his face. Edgar did more than grind on Swanson while on the ground, he hot-dogged all over him with slick positional transitions, submission attempts and heavy mat strikes.
Edgar showed himself to be the closest and most viable challenger to Aldo in the fight with Swanson long before he sprinted in a race to beat the final-round clock to secure a finish. The Toms River, NJ fighter so desperately tried to finish Swanson that a fan just tuning in during the fifth round might have imagined it was he who was down on the cards.
When punches wouldn't take the ungodly rough Swanson out of the fight, Edgar switched to his neck and cranked it with an alarming urgent force, making Swanson tap out. Edgar seems as good and hungry as ever, and champion Jose Aldo seems next.
Dustin Ortiz is for real
In the first round, it appeared as though former world title challenger Joseph Benavidez was going to easily out-class and finish the young Dustin Ortiz in their main card scrap. Benavidez was quicker, and landed multiple punches that looked too big for Ortiz to withstand for three rounds.
Ortiz simply refused to go away, however, and proved himself more composed, resilient and savvy than we could have imagined the 25-year-old was prior. Make no mistake about it -- Joe Benavidez clearly won the fight, and still looks to be the second-best fighter in the 125-pound division, behind champ Demetrious Johnson.
That said, Ortiz showed that he's perhaps just a notch or two below that world-title level with the likes of Benavidez, Ian McCall and Johnson. Ortiz has a chin on him, but also the mental fortitude to keep coming forward and not get flustered while getting lit up.
Eventually, he began to land more of his own shots on Benavidez, as well as hit his own takedowns. There are no consolation prizes in fighting, but Ortiz should at least know that he belongs near the elite of the flyweight division, now.
As it stands, he's mostly only lost to the very best (Benavidez, McCall, John Moraga). Perhaps he's young enough to have the time to get to their level in the coming years.
Matt Wiman's Brazilian Jiu Jitsu skills made the difference against Isaac Vallie-Flagg at UFC Fight Night: Edgar vs. Swanson.
Don't mess with vegetarians, or Matt Wiman's Brazilian Jiu Jitsu
Matt Wiman was pressed backwards and taken down for two rounds by Isaac Vallie-Flagg in their lightweight contest. Sure, Wiman fought gamely and effectively while his back was against the cage with punches, knees and short elbows.
But being pushed backwards and taken down hardly ever looks good to judges unless, of course, you manage to completely dominate your opponent and threaten to finish them as soon as you're taken down, every single time. Wiman likely earned the unanimous decision over Vallie-Flagg in their excellent and competitive fight on the strength of his repeated reversals, back-takes and choke and arm bar attempts that allowed him to steal each round.
Wiman appeared calm and well-conditioned after his near two-year absence from competition. Perhaps the rest was good for him.
Maybe it was his switch to a vegetarian diet that helped his conditioning. Who knows?
All we know for sure is that Matt "Veggie" Wiman came correct Saturday night, and that it isn't a good idea to take him to the mat.
Edson Barboza shows just how much parity exists in the lightweight division
Walk down memory lane with us for a moment. Frankie Edgar beat the best lightweight in history, BJ Penn, twice.
Later, Edgar loses two razor-thin close decisions to Benson Henderson.  Not too much later, Josh Thomson pushes Henderson to the brink of defeat, (in this writer's opinion) more than earning a decision win before getting jobbed by judges in Chicago.
In turn, Bobby Green comes along and pretty handily beats Thomson. Fast forward to Saturday night, Edson Barboza (just 1-1, in his previous two fights) completely dominates Green.
The point is this -- the UFC's lightweight division is perhaps the most competitive in the promotion. There may be as many as 10 different men that could, on any given night, fight well enough to become champion.
That's nuts, and that's exciting. Gilbert Melendez and Anthony Pettis meet Dec. 6 in Las Vegas to decide who heads into 2015 with the belt, but there will be plenty of legit challengers waiting in the wings for whichever man does.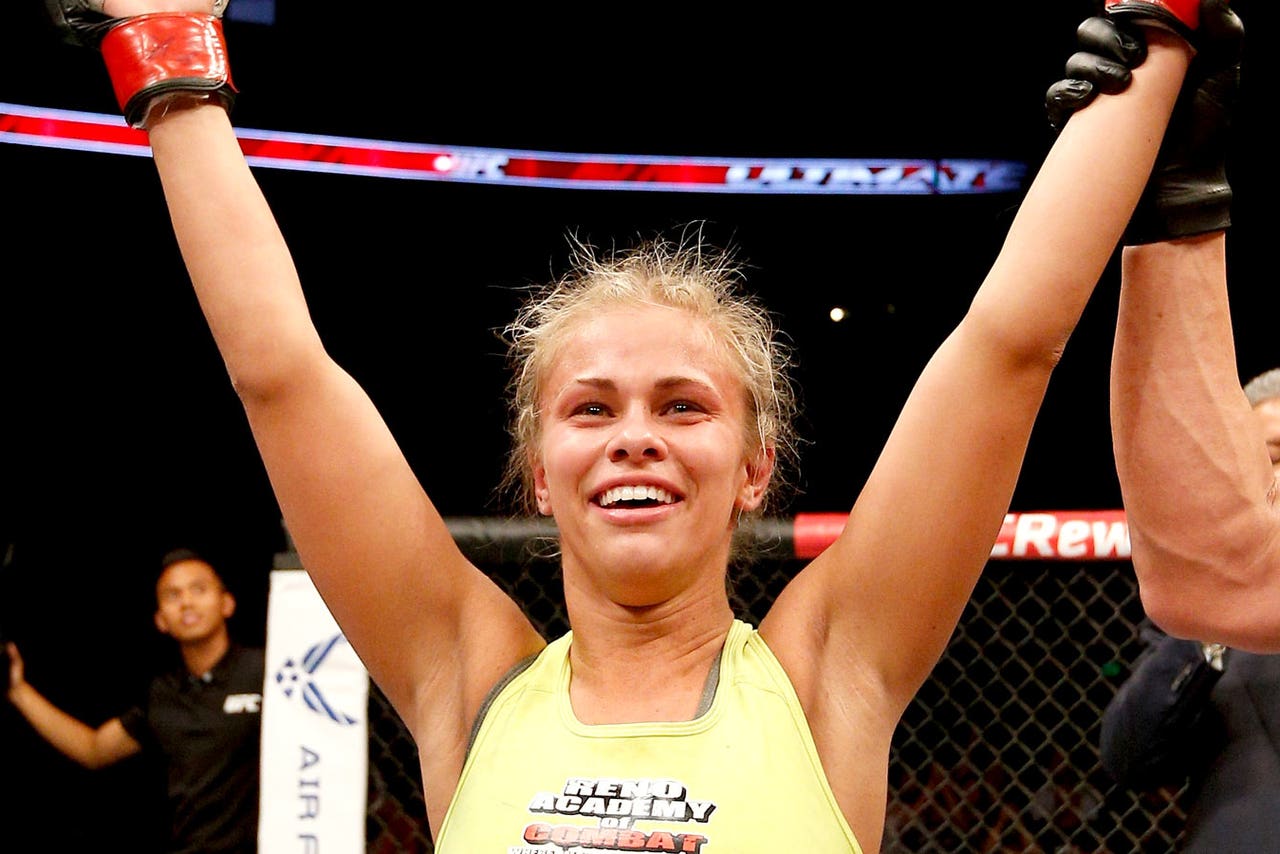 Paige VanZant smiled before and after her UFC debut. During it, she was a terrifying buzzsaw.
Paige VanZant is more than a pretty face
Paige VanZant headed into the UFC with very little pro experience, and a loss against her toughest opponent thus far (TUF 20 cast member and contender Tecia Torres). The 20 year-old's personality, backstory and good looks no doubt played a part in her fast ascent through the sport of MMA.
All of that had absolutely nothing to do with the incredible performance she put on with Kailin Curran in their Fight Pass prelim fight, Saturday night, however. VanZant looked completely at home in the UFC Octagon.
If she felt nerves, she successfully converted them into pure, aggressive violence in coming from behind against Curran and finishing her with nasty ground strikes. VanZant looked like Randy Couture on speed against the cage, working dirty strikes and forcing takedowns.
Once on the ground, she demonstrated the type of scary killer instinct only champions have. And she did all this against a quite good Curran.
If anything, Curran was mainly only behind VanZant in one or two areas, possibly including strength. The Hawaiian herself showed plenty of potential.
It was VanZant's night, however. She made sure of that with her rabid, bonus earning and break-neck style of fighting. 
---
---