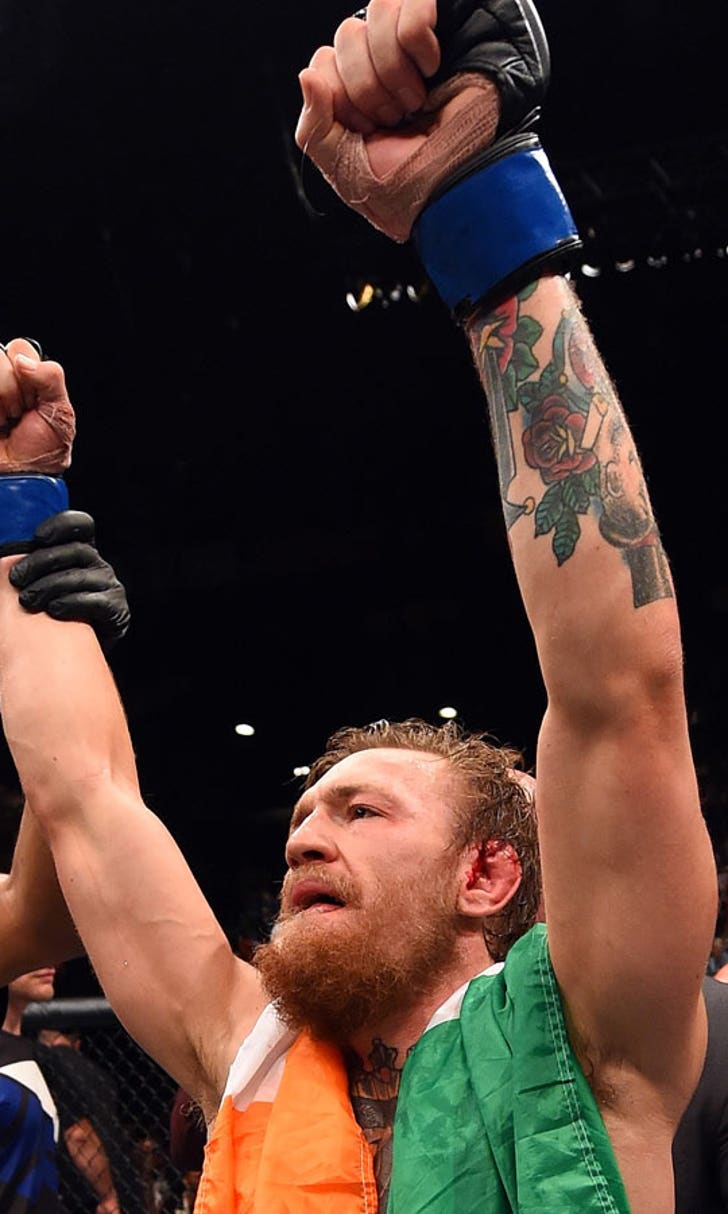 The Early Look: Predicting McGregor vs. Dos Anjos & Tate vs. Holm
BY Elias Cepeda • January 11, 2016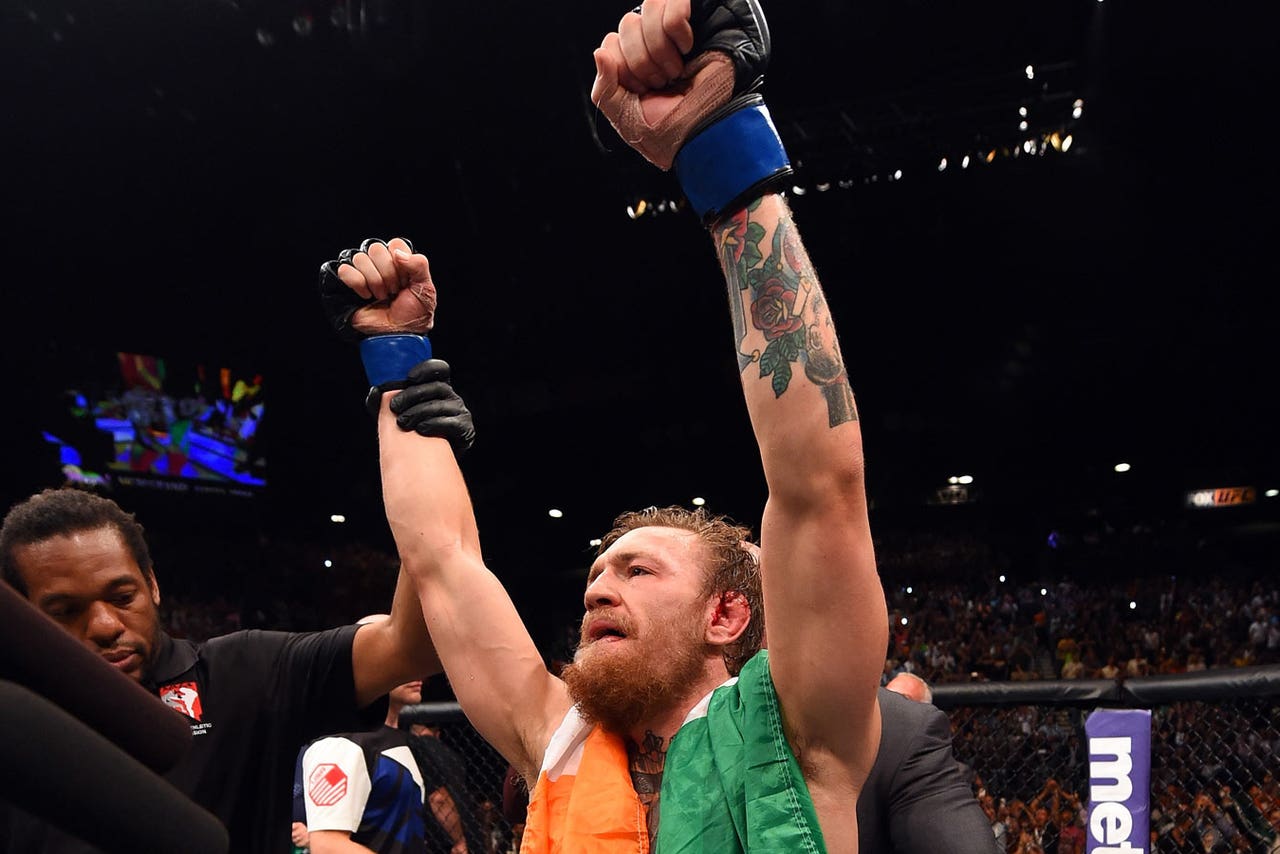 It seems as though we may be treated to two new title bouts, sooner than later, at lightweight and bantamweight, involving some huge UFC stars. So, it's about time to do some early analysis on the matchups.
How would featherweight champion Conor McGregor do up a class against lightweight king Rafael Dos Anjos? Can former world champion Miesha Tate reclaim the crown against new bantamweight queen Holly Holm -- the woman who knocked out Ronda Rousey?
Only time will tell, but here's how I'm looking at these bouts as of now.
McGregor vs. Dos Anjos
If this fight happens next, it will be Conor's gutsiest move yet. As great as he's looked at featherweight in the past half-year against Chad Mendes and Jose Aldo, RDA would seem to be another beast entirely to conquer.
Dos Anjos has some meat on his bones and could give some strength problems in close quarters to the slight McGregor. More than that, however, the Brazilian has looked downright scary in his last four fights, tearing apart and dominating the best lightweights in the world.
Dos Anjos has good power striking, both outside and inside, solid wrestling, and excellent Brazilian jiu-jitsu. Furthermore, we can only assume that his confidence is at an all-time high.
McGregor is also likely riding high, mentally, after stopping the sport's best fighter, pound-for-pound Jose Aldo. And, he isn't without his own physical tools in this prospective bout, either.
Though McGregor doesn't have the same thickness of the new and improved Dos Anjos, he certainly has the size and length to compete at lightweight. He'll either feel refreshed and stronger without having to cut that last 10 pounds to make featherweight, or he'll find out that in the UFC, one weight class can make a huge difference.
McGregor will have a small speed advantage with his strikes and foot movement, but RDA is no slow-poke, and his high-low striking combos make him unpredictable, even as he's pressuring straight-ahead.
Both men will likely get chances to land blows on the other, so one big question will be how well McGregor's big punching power travels up to lightweight. Chances are, if he can keep RDA off of him, and connect clean and blind to the chin, he'll still pack plenty of heat.
It's tough to bet against the bigger guy, looking as dangerous as he has against a wide variety of opponents, right now. So, for that reason my early pick is Rafael Dos Anjos.
However, McGregor always has a chance with his great conditioning, nice timing, long reach and striking power.
Early prediction: Dos Anjos by third-round TKO
Holm vs. Tate
The short prediction is this -- I'm not picking anyone against Holly Holm right now. I made the mistake of picking against her at UFC 193 against Rousey and was shocked with how well prepared she was for everything.
With that said, Tate is a much different fighter than Rousey. Though Tate doesn't have the size and power of Rousey (or Holm), she may be a bit more technically sound in the stand-up striking department than Rousey.
And though it would be a stretch to say that Tate has flat-out better takedowns than Rousey, she does have a more diverse takedown arsenal than the judoka.
Tate can work high in the clinch, but also go low for double-leg and single-legs. This will at least give Holm a bit more to think about and prepare for, takedown wise.
Add into that the fact that Tate is beyond well-conditioned, tough and durable, and you have a game challenger who will not give up unless you take her out. If Tate employs a better strategy than Rousey's bull-rush routine, she could definitely make for a closer fight with Holm.
All of Holm's previous UFC opponents were able to make for close and competitive bouts. Heck, I thought Raquel Pennington could have deserved the nod over Holly back in February.
That being said, Holm is the early favorite, in my mind. Her stand-up striking timing is better than anyone in the division, especially when she's countering.
She rarely takes much damage in MMA fights because of her great sense of distance and she's really big and strong. Never discount the value of that in a matchup.
I think Holm has it in her to defend most of Tate's takedowns and to get up without taking too much damage. I don't know that it will be a blow-out, as long as Miesha stays patient, but I think Holly is a good pick for a decision win.
Early prediction: Holm by decision
---
---