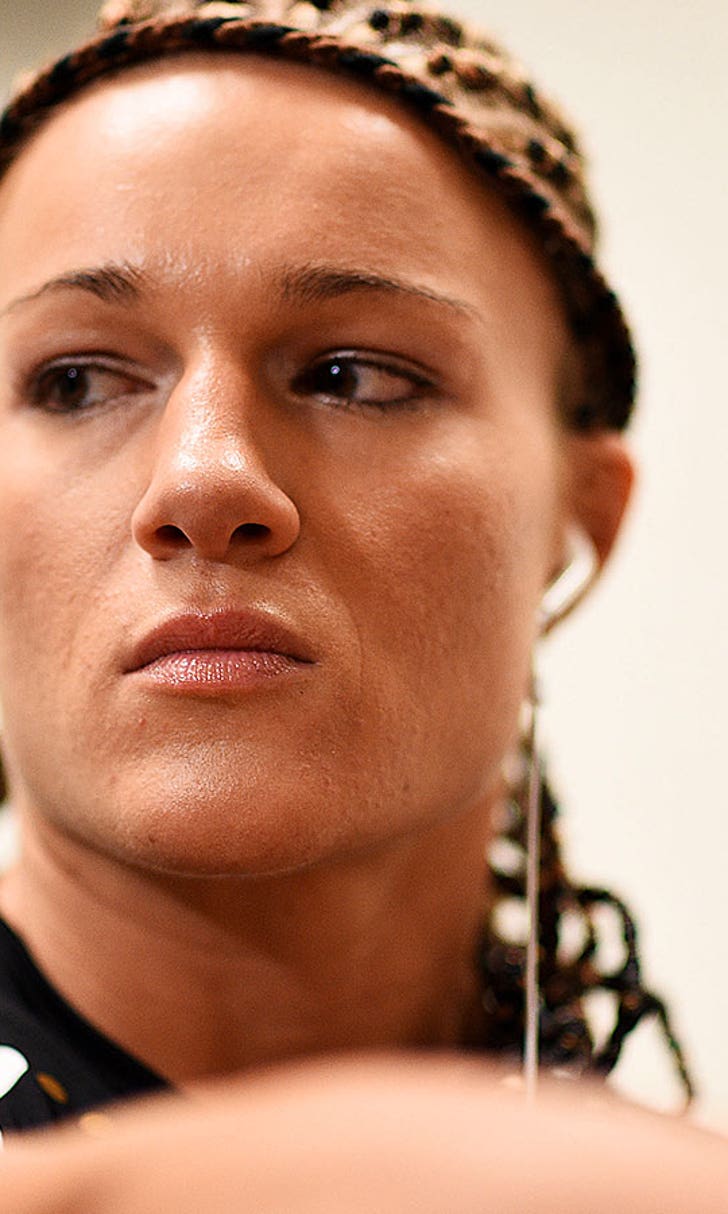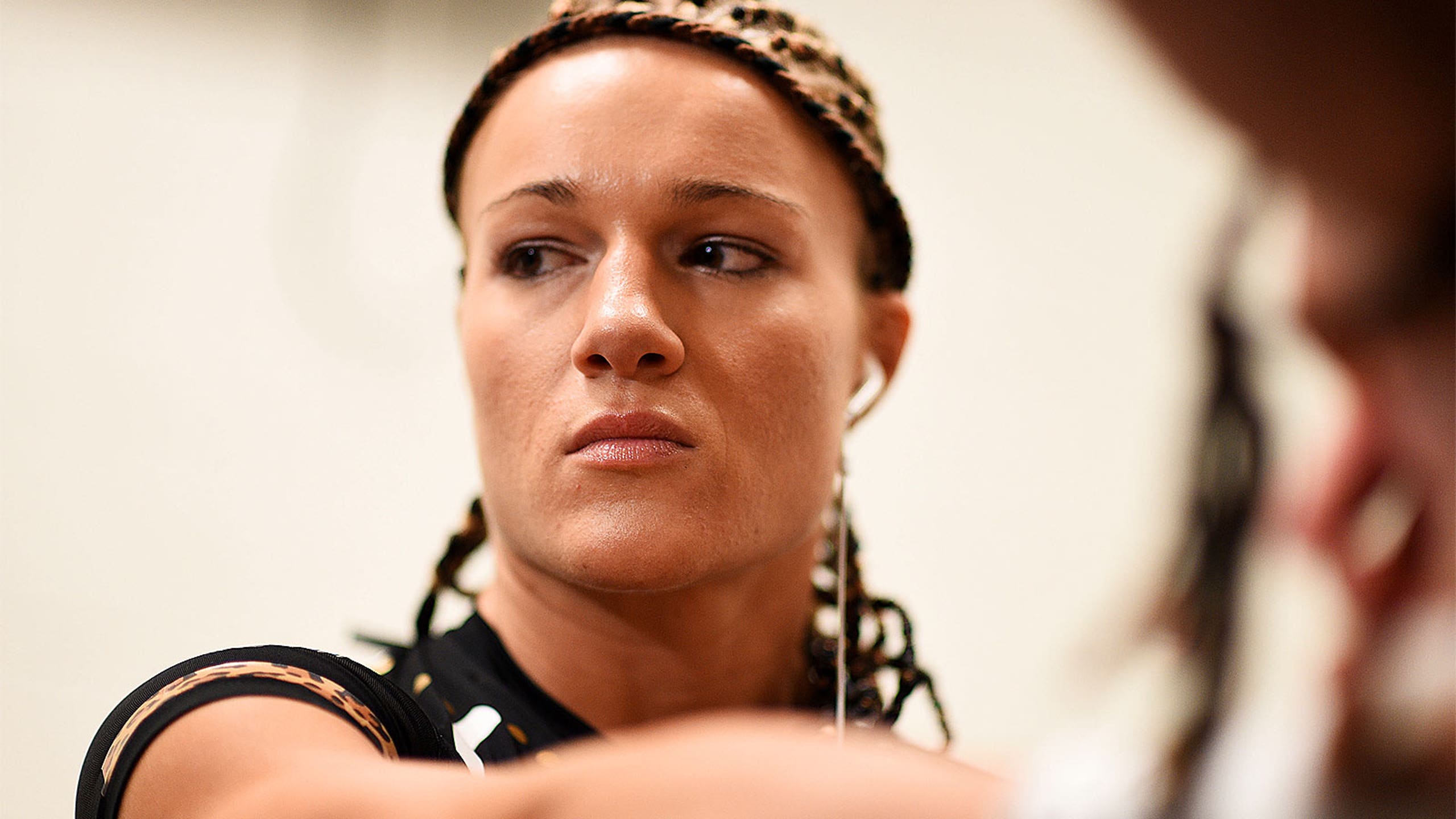 Sleepless nights: Felice Herrig reveals her toughest fight against anxiety and depression
BY Damon Martin • October 9, 2015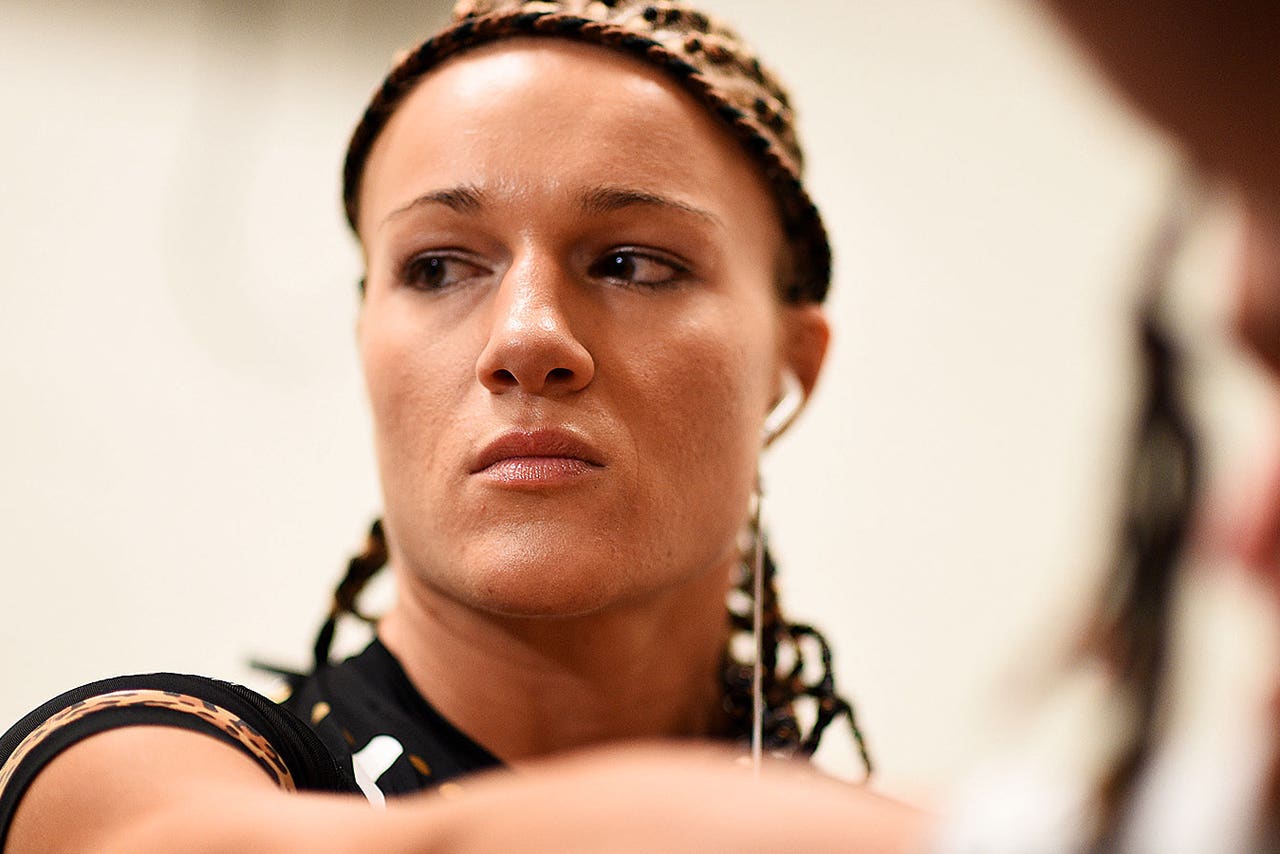 The clock struck 1 AM and Felice Herrig stared at her clock as if it was going to say something back to her if she looked at it long enough.
2 AM and she jostled in her covers, tossing and turning and glaring back at that clock again.
3 AM more of the same.
4 AM and the stares towards that damn clock got even deeper as she tried desperately to drift off to a deep enough sleep that she could finally dream.
5 AM and sleep started to become the greatest opponent she would ever face, and Herrig believed that this was one foe she would never conquer.
This sleepless night wasn't any particular evening for the UFC strawweight and former "Ultimate Fighter" competitor -- it was every night.
"I wake up 10 to 15 times a night because I can never get a good night's sleep," Herrig told FOX Sports recently.
For a high-level athlete like Herrig, who would routinely pack in multiple training sessions per day while maintaining a completely healthy diet, it seems almost crazy that she wouldn't hit her pillow at night and fall fast asleep for hours at a time. But it never happened.
It got so bad for Herrig in recent years that she started to lose her drive to get up in the morning out of anger and frustration that she was just as tired as she was when she went to bed. Yet sleep alluded her like an opponent ducking and dodging around the Octagon with faster feet than she could ever hope to attain.
"I lost motivation to go to the gym, and all I used to care about was training and fighting," Herrig said. "So I thought maybe I'm getting older and I'm just losing the hunger. I was more sore and the sleep was a big thing for me because I never felt rested. I'd stay in bed for 10 or 12 hours sometimes just because I was constantly tossing and turning,
"Throughout the day, I'd just feel low energy. I never felt motivated to do anything and I always thought it was because I was traveling and it broke my routine and I'm in different time zones and it was so much work. I just noticed that I didn't necessarily want to train as much, which is rare for me."
Herrig's sleep patterns were just one symptom of a greater overall problem that developed for the 31-year-old fighter over the last few years as she started to gain more popularity, especially with her social media presence on Twitter and through photo shoots with various sponsors, magazines and other outlets.
Herrig didn't join the UFC until 2014, but even before she was in the premier MMA promotion, she was one of the busiest fighters on the planet. She flew from one end of the world to the other and back again for sponsor engagements and appearances. It was a dream come true as Herrig finally started to put together the kind of career most fighters would kill to have, but as it turns out, it was slowly killing her from the inside out.
"Felice has a lot going on," Herrig's manager Brian Butler told FOX Sports. "There's so many variables going into fights with her and this is a pattern that we've seen developing in the last couple of years with her.
"I had to be very careful on picking my battles on where we're going to argue because she had a lot of traditions and customs that she did that she was kind of superstitious about and didn't want interfered with. We picked our battles over the years and changed certain things, but the one thing we noticed, in fights, she would tend to come out very strong and then fade. Felice is so conditioned that she can go 15 rounds in the gym and not slow down but we noticed she would fade so much faster in her fights."
The toughest part for Herrig was that she put the time into the gym like she was trained to do, but the results in her fights never seemed to match.
On top of that, Herrig's empire built on the hard work she did over the years to gain attention from Twitter and her interaction with fans started to wear on her, but not because she was losing steam in the public eye. It was because Herrig always felt obligated to do more, to go bigger and better, and the stress she started to carry around every day began eating her alive.
"I always felt I had to top everything so it was always more stress," Herrig said. "Not just about training but on top of that, it was my weigh-in outfit and my social media and my brand and my image. It got to be so much. Throughout the years, I worked so hard to get to where I'm at but when it started to take away from my training and my fights because I was putting so much work in other areas."
The amalgam of Herrig's problems finally bubbled over this past April when she was matched up with highly touted strawweight Paige VanZant for a fight that would mark the first time the 115-pound division would be showcased on FOX.
Herrig was no stranger to media obligations and appearances, so on the surface it seemed like she was going to have an advantage over her 21-year-old opponent.
The reality was a much different story. Herrig had basically been on a non-stop media tour for the past year when she signed on to do "The Ultimate Fighter" and never slowed down after the show finished filming.
To make matters worse, Herrig was the worse culprit when it came to her own schedule because she never said no, never turned down an opportunity and actually felt at times like she wasn't doing enough, which only compounded the problems even more.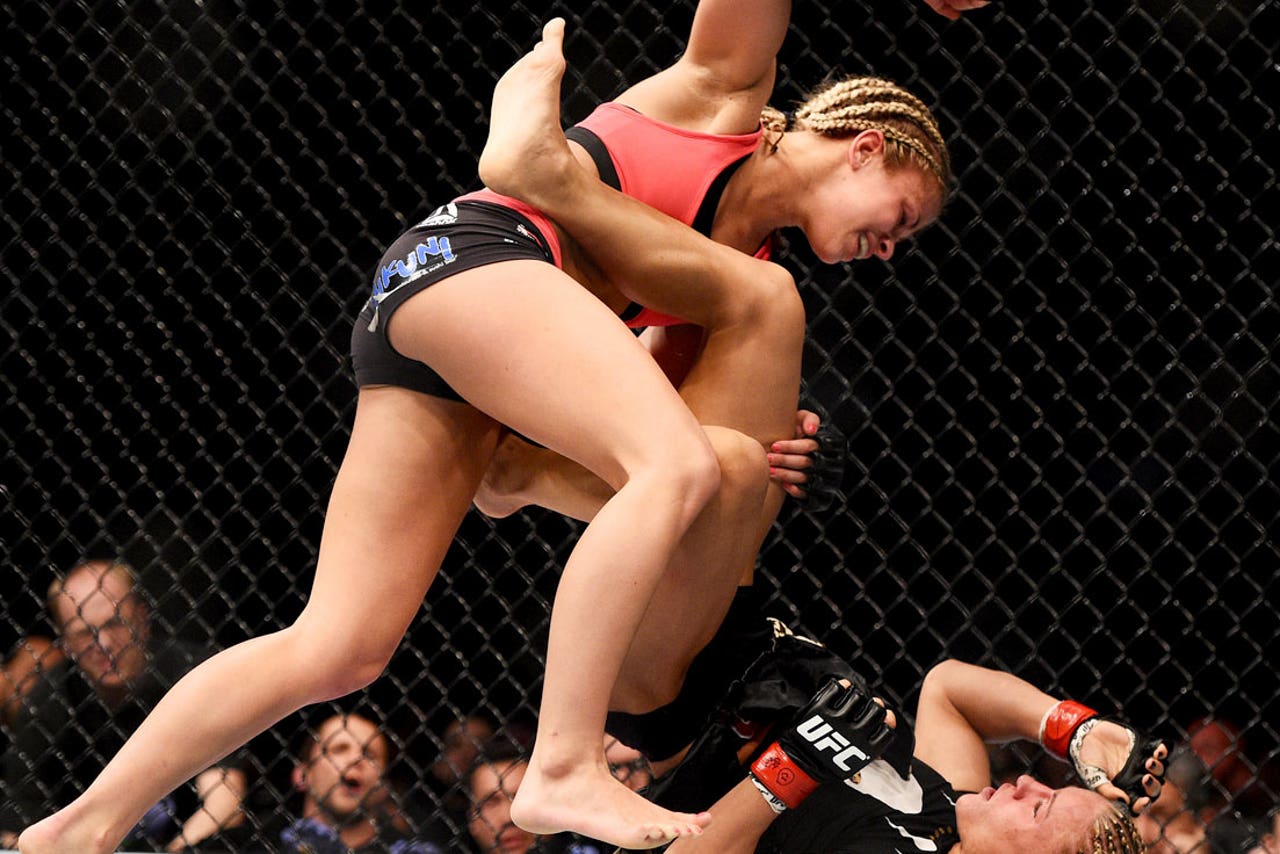 "I'm hard on myself. I feel like I always need to keep doing more and doing more," Herrig said.
Physically, Herrig felt like she was in peak condition ahead of the showdown with VanZant but her own head games started to tear her down in the days and hours leading up to the fight.
Herrig is the first to admit she over thinks things when it comes to her career, but the anxiety started to reach a critical point ahead of that fight where it went from normal pre-fight jitters to full blown affliction.
"She started playing with the demons in her head," Butler explained. "What if I don't beat her? What about these media obligations? So she gets into that fight and she basically comes out like a bat out of hell in the first minute of the fight and then after that her energy was gone. She couldn't throw a jab. She was barely able to pick herself off the ground."
Herrig remembers the fight with VanZant, but watching it on replay is almost like she felt during the three round battle. She could tell herself to throw a jab, but the result was a flailing punch that barely had any sting behind it. She said to get up off the ground, but when it came time to lift her body up off the canvas, her legs and arms were like jelly.
"My last fight I felt like I was outside myself telling me to move," Herrig said. "Like 'Felice what's wrong with you?' I was numb. I couldn't feel. I physically couldn't move. That's how it felt and I told myself that I must not have trained hard enough or dieted hard enough or busted my ass. It was scary because I was worried that it would happen again.
"It's hard to put so much effort into something you do, but really you're burning yourself out. That's what I feel like I've done over the years. I've completely depleted my body."
Herrig lost the fight by unanimous decision and after it was over she knew something had to change if she was going to continue to compete in the UFC. Her manager felt the same way and when she requested time off, Butler called the promoters and matchmakers and said it was time for Herrig to take a step back before she took a step to return to the Octagon.
He also pulled back the reigns on Herrig doing as many appearances and obligations outside of the things she felt truly passionate about like her inclusion in a recent issue of "Muscle & Fitness" magazine where she was featured in a revealing spread.
"I backed off a lot and told the UFC that she was going to take time off for herself," Butler explained. "So we pulled back and she said she wanted to go to Vegas for fun and just stay with her friend and she was just doing stuff for herself. We maintained relationships with all the sponsors and they are like family in a way.
"She's always wanted to break into the fitness industry and then a photo shoot came up that "Muscle & Fitness" wanted to use and she was excited about that. Any time she's excited and motivated to do something, there's no way I'm not going to let her do it. She's still doing a lot of stuff, but doing it more for herself."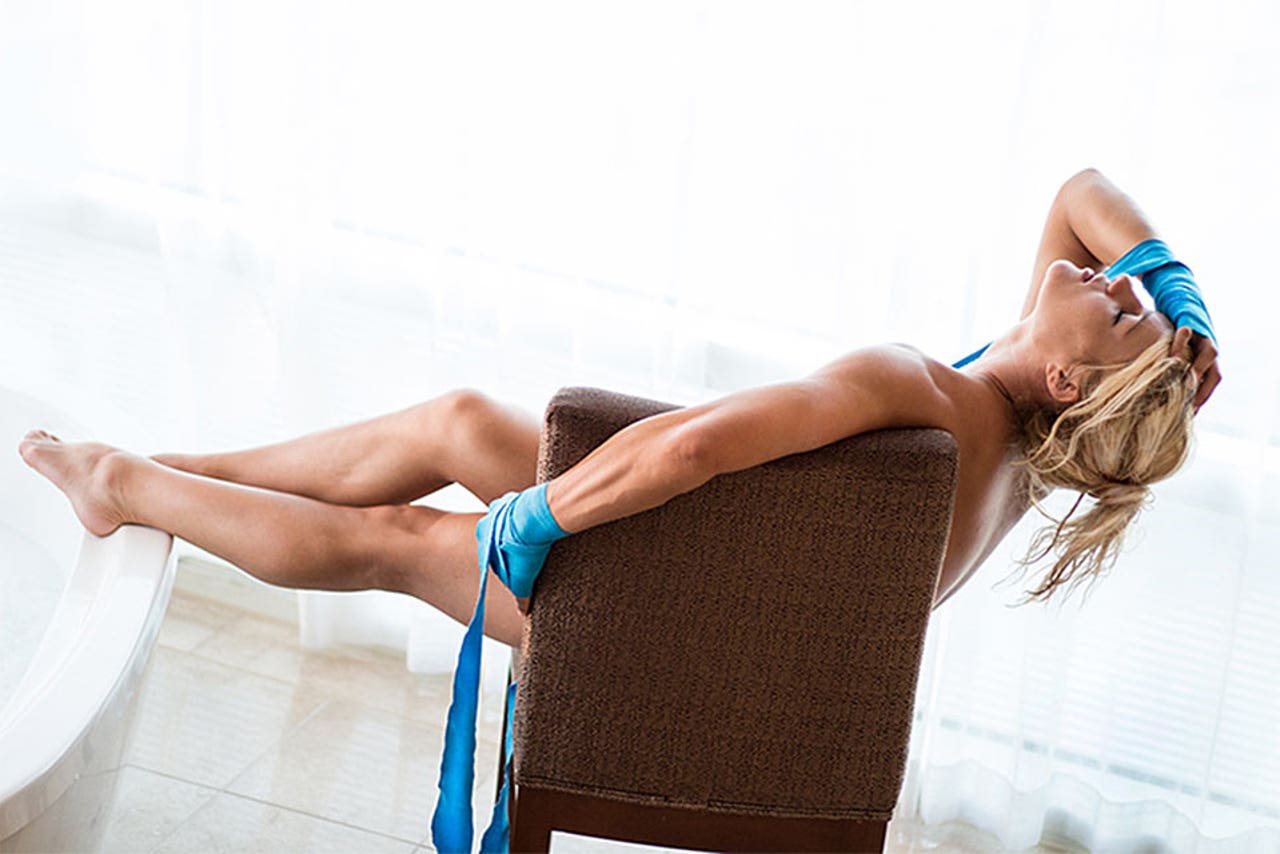 Felice Herrig in "Muscle & Fitness"
The other component to Herrig examining all the issues she's been dealing with lately was the inclusion of Dr. Callum Cowan, a board certified naturopathic doctor from Canada, who began working with her coach Jeff Curran and his cousin Pat Curran several years ago.
Dr. Cowan was consulted and asked to take a look at the issues Herrig had been dealing with from her sleep deprivation to the long bouts of anxiety and depression that left her feeling defeated both before and after her fights were finished. 
"Her big symptoms were on the mood side of things for sure," Dr. Cowan said when speaking with FOX Sports. "Anxiety, depression, feeling the stress of competing at a high level, then she also had some fatigue issues as well.
"We did some very comprehensive lab testing with her based on the things I was seeing, and I was able to see she had about four compounded things going on. She had some hormone depletion issues, some gastrointestinal imbalances, some nutritional deficiencies and even some neuro-transmitter issues, like chemicals in your brain, serotonin, dopamine, and these things are critical for daily function but especially for elite athletes."
As Dr. Cowan began working with Herrig he was shocked at the multitude of issues she was dealing with and yet still managed to fight and compete in the UFC at the same time.
The problems Herrig was suffering from would keep almost anybody from functioning at a high level, much less a professional athlete who is asked to put their body through the rigors of a two-month training camp capped off by a three-round fight.
"Those things would make it hard to get through a normal work day, never mind competing at a high level as an athlete and then taking on the media obligations that Felice has had and then performing on the biggest stages," Dr. Cowan explained.
"When she was going in to compete, based on my results with her, she was already depleted before the fight even started. That lowers your threshold so when you're competing you don't have much of a reserve or a buffer to handle those stressors. It's not a skill thing and it's not a conditioning thing. It's what's happening internally in the body biochemically that we have to optimize. She was competing at about 50 percent of her potential and probably even lower when the fight came and it's even worse for a fighter going through a weight cut."
Stress and burnout -- both physically and mentally -- had Herrig in a state of emergency as she began working with Dr. Cowan after the loss to VanZant earlier this year.
According to Herrig, the results from her tests showed extreme fluctuations in her cortisol levels as well as the glycine and melatonin that her body was producing. 
"I was depressed and had anxiety for a long time. I could barely function," Herrig said. "(Dr. Cowan) said it was a miracle that I got out of bed every morning."
Dr. Cowan came up with a treatment plan to help get Herrig's body back in sync while also prescribing the best kind of medicine that no pharmacy could ever deliver.
"I finally allowed myself to be a human being. I was able to be Felice the person when I was always Felice the fighter," Herrig said. "Every, single thing in my life had to revolve around fighting. With my job, which is traveling or whatever, it is fun and I get to do a lot of fun things but it's still work.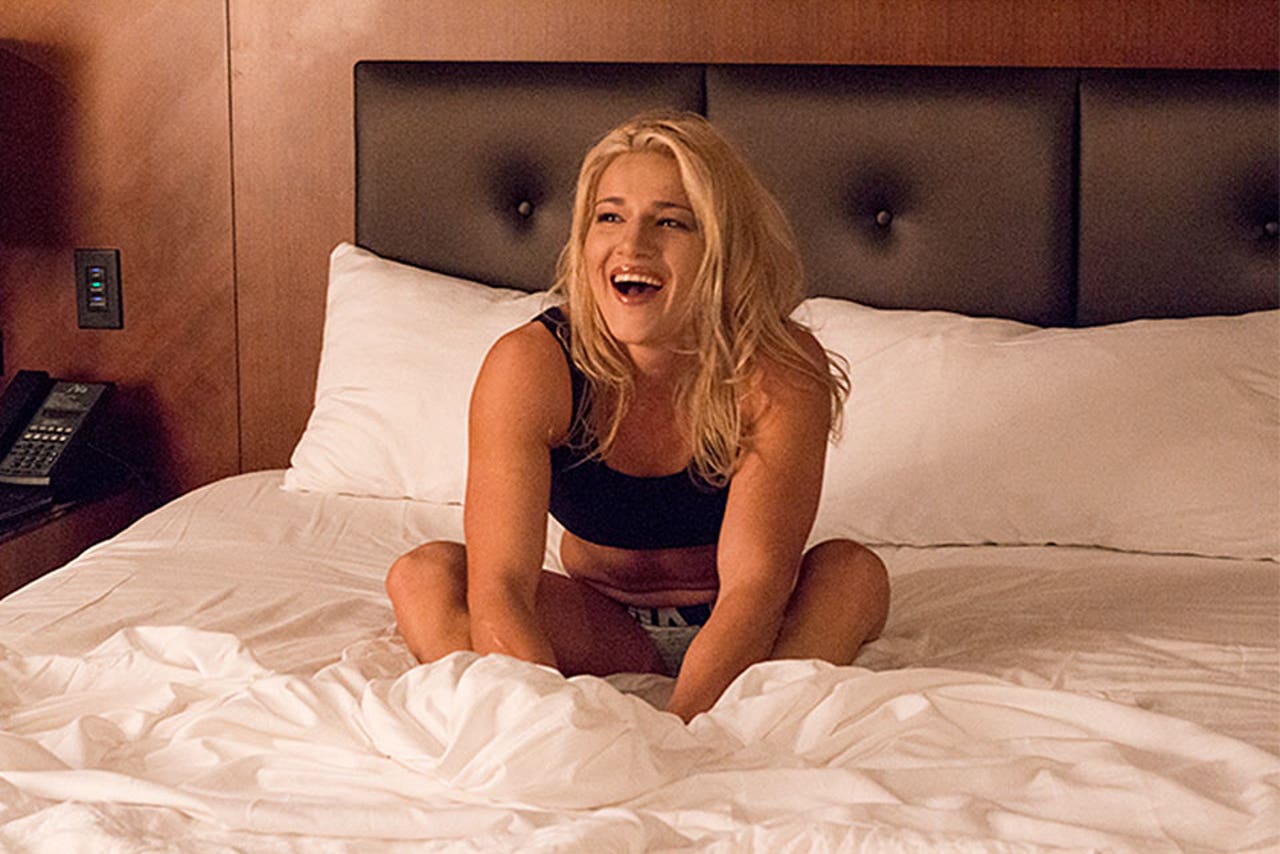 "I finally took a step back and now when I work out, I'm doing it because I love it. Instead of forcing myself to go to the gym twice a day, I might just run. If I want to do a boxing class, I'll do a boxing class. I'm not living by a schedule. I've been taking time to spend with friends and family and doing things that make me happy."
Since the fight with VanZant ended and Herrig began working with Dr. Cowan, she's seen dramatic improvements across the board from her mood to her anxiety levels to the way her body feels both in and out of training.
It's a dramatic shift from the fighter who was competing just six months ago while quietly suffering from any number of physical and mental issues that would cripple most people.
She's been in the course of treatment recommended by her doctors for the past three months or so and the changes have been stunning thus far and Herrig's physician expects her to only improve from here on out.
"She no longer has that chronic fatigue and sort of feeling tired during the day," Dr. Cowan said. "A lot of elite athletes aren't able to overcome these issues. Felice was very strong and she was able to push through so now her energy levels are stable and she's leaner and stronger because we've stabilized her hormones naturally.
"She's much more motivated, in a better mood, anxiety is way, way down. She's excited to train now. Her strength and conditioning coaches have noticed that she's both leaner and stronger than before and they are really happy with those results. She's shown tremendous improvements."
With all the progress she's made the real question then becomes how will Herrig adjust once a real training camp begins with a fight around the corner?
The biggest stresses in Herrig's life have always happened when she's about to compete, so with these changes and improvements in her mood as well as the reaction her body has felt since working with her doctors, is she ready to come back to the UFC now?
"I have been feeling ready for a bit now. I did have my manager call the UFC so we're looking at December or January," Herrig said. "I'm obviously going to up my training and be super dedicated to my camp, but this is my recovery time. My energy is just so much better. I've never allowed myself to take a break because I thought it would slow me down, but it was the exact opposite. I worked so hard that it actually slowed me down. I burnt myself out and then I couldn't perform at the only time it really mattered in the cage."
"I'm still working with Dr. Cowan and we're going to change my treatment plan based on my fight and he'll be at my fight with me. I feel like my mind and body are in sync again. I'm not going to be as hard as myself in camp. I would train six days straight, two to three times a day because I always felt like I had to do more. I'm going to take time off. I'm going to give my body the time it needs. I think I've overdone it over the years."
Herrig's manager also said changes are in order for her fight week preparation, most notably her post weigh-in meal where she would load up on protein but rarely added a lot of carbohydrates before the fight.
Add to that, Dr. Cowan will be attending Herrig's next fight as part of her team so she will be monitored at all times to make sure her body and mind stay in sync with the performance she needs to unleash to be successful in the Octagon. All in all, Herrig and her team feel like this will be a fresh start and hopefully the end of so many sleepless nights.
"The doctor is coming to her fight to make sure all the levels are right," Butler said. "And we are definitely going to an Italian restaurant after the weigh-ins"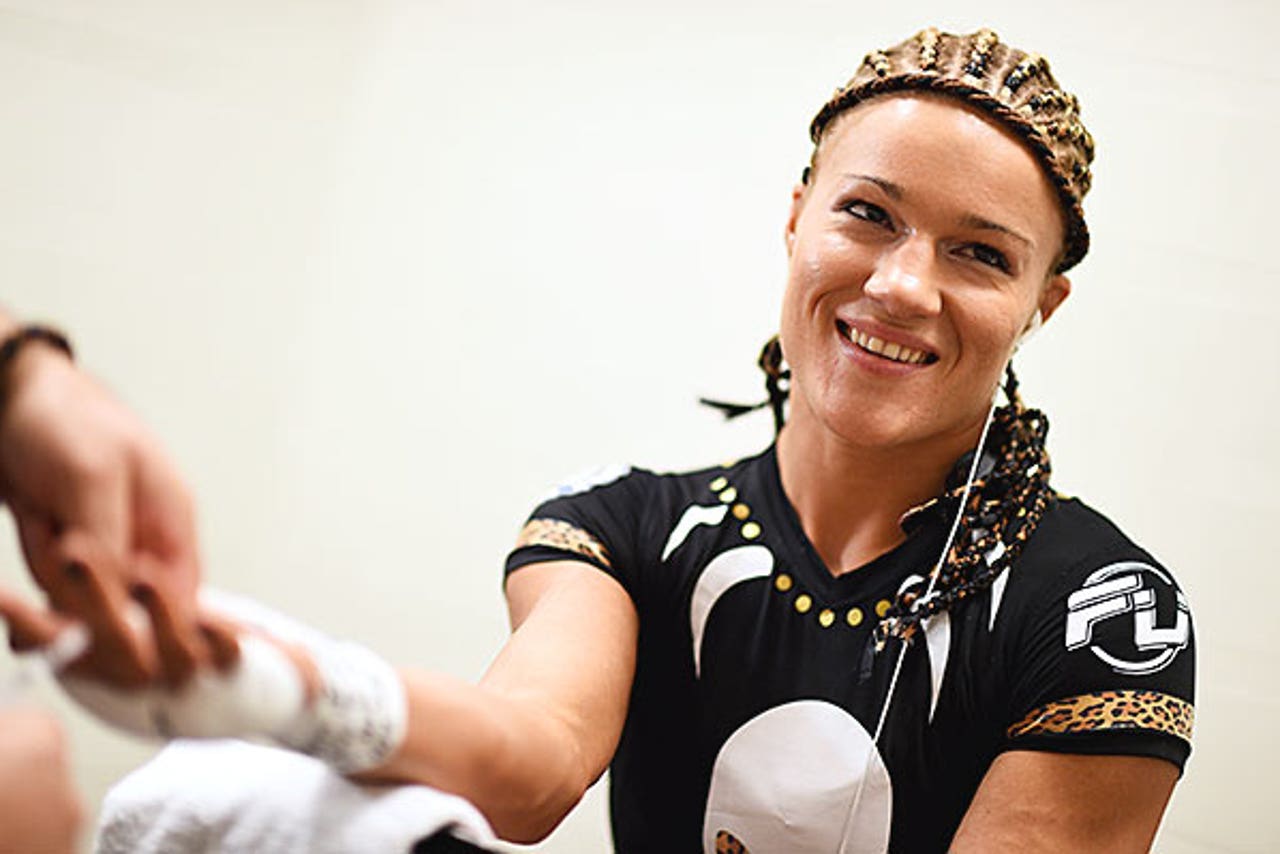 Felice Herrig smiles while getting her hands wrapped 
---
---