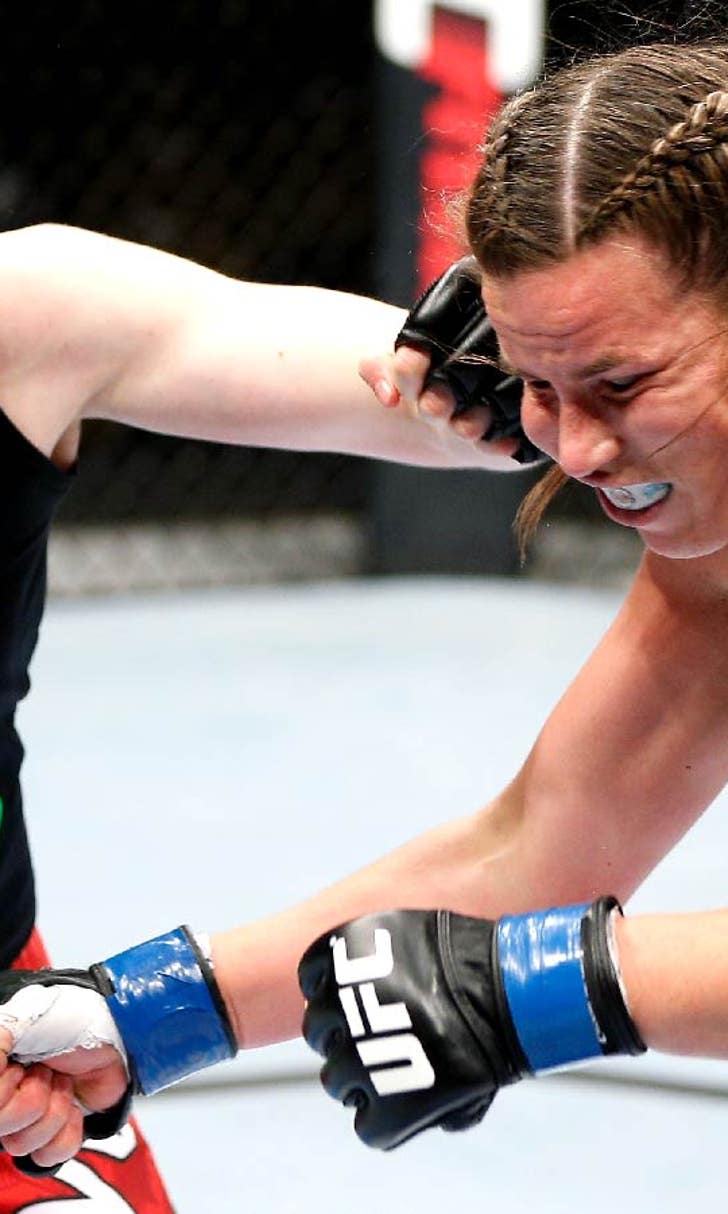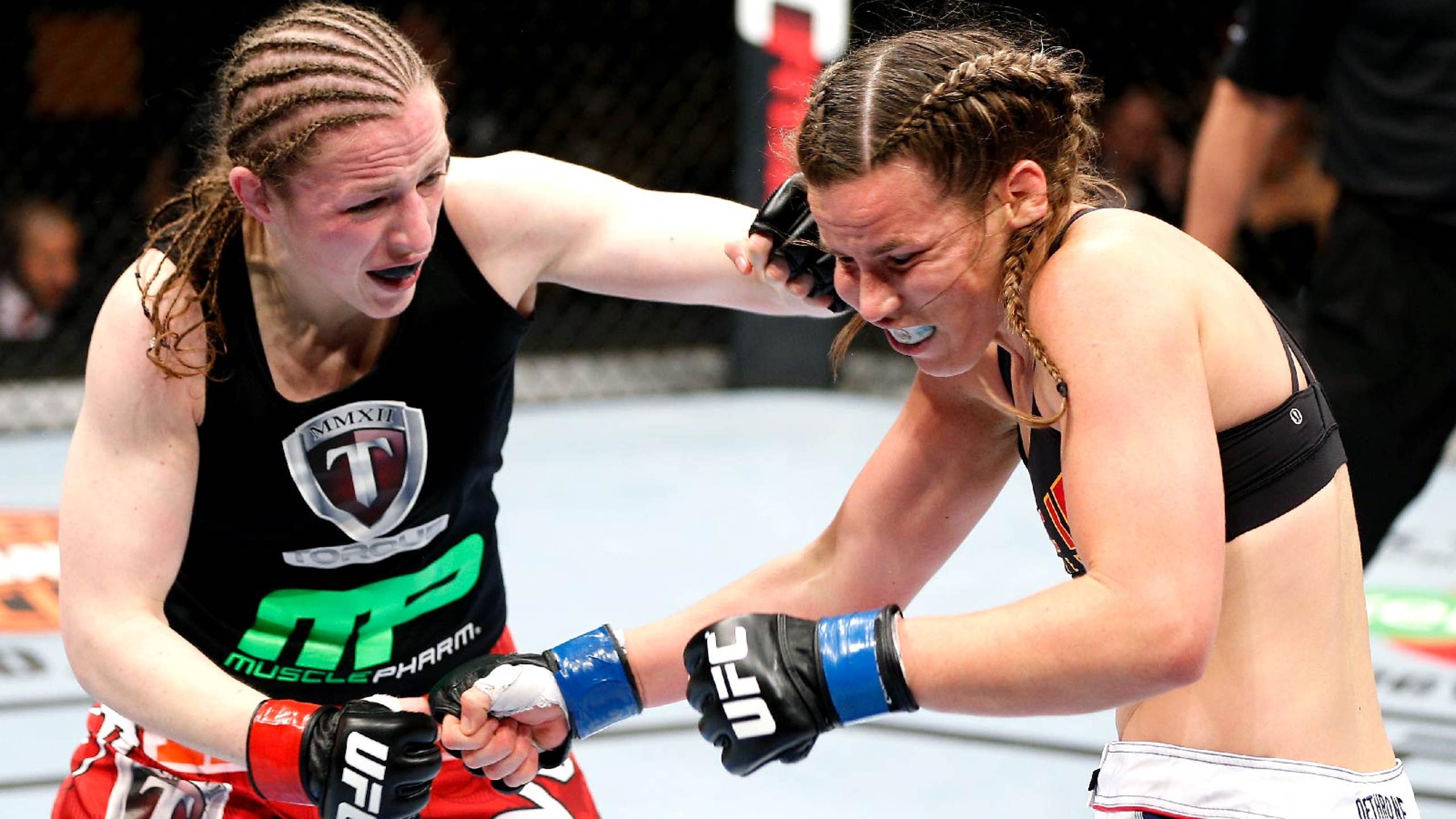 Sarah Kaufman: Miesha Tate is a coward if she'll fight everyone but me
BY Damon Martin • February 9, 2015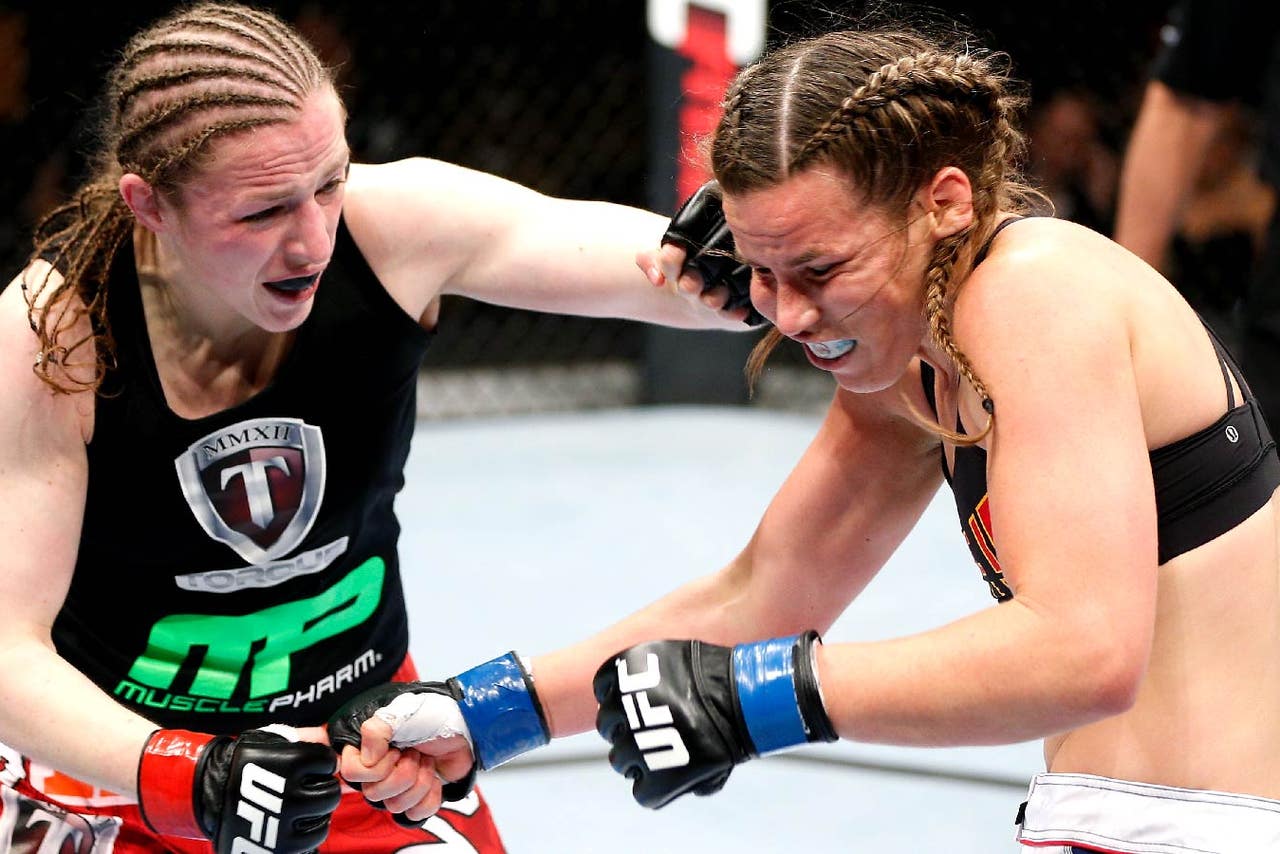 Sarah Kaufman would be the last person anyone would expect to call out opponents or resort to trash talk to land a fight, but that's exactly what the former Strikeforce champion has done lately after feeling the frustration of being on the shelf for almost a year.
Kaufman was forced to take off part of 2014 following a car accident where she suffered some minor injuries, but the 29-year-old Canadian has been cleared to compete since last October and there's still no word on her next fight.
There are a multitude of reasons why Kaufman believes she's sitting instead of fighting, but needless to say it's a little taxing on her mind as well as her bank account.
"As a fighter who makes a profession fighting, to not be able to fight I can't make a living," Kaufman told FOX Sports.  "It's just lucky that I have another job, but to be ranked No. 5 or 6 in the world in a professional career and to not have a payday in almost a year is not that promising.  It's just unfortunate."
Kaufman says she understands the pressure matchmakers Joe Silva and Sean Shelby have putting together cards and finding the right bouts to put together.  She also points the finger back at the fighters in her division, who all seem willing to step up and sign the dotted line until they see her name on the other end of the contract.
Everybody at 135 pounds in the UFC wants to earn a crack at women's champion Ronda Rousey, but Kaufman knows she's not the easiest matchup to get there and it's costing her fights.
"I think a lot of people are willing to say, 'Yeah, I'll take that fight' and then when it comes down to signing that contract there's no interest," Kaufman said.  "I get that Ronda (Rousey) is the goal and Ronda is my goal, but we can't get there without fights.  For these girls to try and take safe fights and ensure they don't have a high chance of losing and they get these records where they have 10 wins in the UFC but they are all against the bottom half of the group.
"You need to fight people who have big names and who are higher ranked than you. You don't move up by twiddling your thumbs and just calling out Ronda on Twitter. That's not how it should be, and it's a little bit cowardly for that to be the way that it's going."
One person in particular has gotten under Kaufman's skin lately is another former Strikeforce champion, who is currently riding a three-fight win streak. 
Miesha Tate has picked up some of the biggest victories in the division lately, including a recent win over Olympic silver medalist Sara McMann. Tate also defeated Liz Carmouche and Japanese fighter Rin Nakai as she tries to work her way back up the ladder for another shot at Rousey down the road.
While Tate hasn't experienced defeat very often in her career, one loss that sticks out from 2009 is a unanimous decision she dropped to Kaufman in Strikeforce.  Rarely is there a fighter who doesn't want to get a chance to avenge losses on the record, so Kaufman is truly baffled why Tate just doesn't seem interested in fighting her again.
"Miesha and I have exchanged on Twitter before and she'll seemingly answer every other person on Twitter, that's how she got the (Sara) McMann fight, that's how she was talking about getting a Bethe (Correia) fight, and supposedly she called me out in April, saying after her fight with Liz Carmouche she wanted one of three people -- Sarah Kaufman, Holly Holm or Gina Carano. Well, I said, 'Sweet, let's do it.'  This would be an awesome fight. She can take a beating, and I'm happy to give her one. As soon as I went online, she disappeared," Kaufman said. "No response whatsoever."
Last week, Kaufman decided to poke the bear once again by making a video for her Instagram page that showed the former champion calling out Tate by her nickname "Cupcake" before smashing one of the frosted treats with her fist.  It was one of the most tasteful and funny call-outs in recent memory, but though the video received hundreds of likes and comments, Tate still hasn't responded.
Kaufman said she is starting to believe Tate's lack of interest is telling the whole story.
"It's insane, and the only thing it comes down to is if she'll fight everyone in the division but me, that makes you a coward. It's as simple as that," Kaufman said. "Why wouldn't you want that fight back?"
If Tate continues to dodge her challenges, Kaufman is willing to move on to a different opponent because ultimately she just wants to fight soon. She wanted to get at least two fights in before the close of 2014, but that didn't happen. Now she's starting out 2015 the same way, and that just doesn't sit well as she hopes to get back into title contention with a few more wins inside the Octagon.
"I just want to get the division moving. We need to have contenders coming up. I'm one of those contenders," Kaufman said.  "Let me get in the cage and do what I do and work my way back up. We can't do that with all these girls sitting back and hoping because they have a win over someone else they don't have to fight other good people to get a shot at Ronda."
---
---