Paul Heyman explains why he can't close the door on Brock Lesnar returning to the UFC
BY Damon Martin • April 1, 2017
When Brock Lesnar's return to the UFC was announced last year it came with shock and awe from an audience that believed the former heavyweight champion was done with mixed martial arts for good.

A long battle with diverticulitis that robbed Lesnar of prime years during his run with the UFC coupled with a pair of losses to Cain Velasquez and Alistair Overeem seemed to close the chapter on him ever returning to the Octagon.

Lesnar somehow managed to storm back nearly five years after his last fight to put on a lopsided performance against former title challenger Mark Hunt at UFC 200 but soon after the roof caved in on him.

Lesnar was flagged for use of a banned substance and suddenly his win was overturned to a no contest and he faced a one year suspension for the infraction. Shortly thereafter, Lesnar notified the UFC that he was once again retiring from the sport while he focused on his career in professional wrestling with WWE.

While it's been less than a year since Lesnar last stepped into the Octagon, his most recent retirement once again left many believing that was the final nail in the coffin for his UFC career.

Paul Heyman, who has been one of Lesnar's closest friends for more than a decade can't say for certain if the former heavyweight champion will ever fight again but given his competitive nature, especially when staring down what seem like insurmountable odds, it's never good to close the door and say it will never happen again.

"Brock is in his heart a trained competitor. Now whether that means he's going to look at this environment and say 'you know what, I didn't make the Vikings team in 2004 but I bet in 2017 I can and just because I can I'm going to just to show people that I want to and I take it'. Because when we named him the conqueror, that's what he is. He's a legit conqueror. You put a task before him and he conquers it," Heyman told the Fight Society podcast this week.

"I really can't tell you that it's out of the realm of possibility of Brock Lesnar to say 'I'm taking a few months off from WWE, I want to see how many homeruns I can hit for the Minnesota Twins'.  People may laugh at that, but it's the same people that laughed at him in 2004 when he went for the Vikings camp and he was the last person cut and that's with a broken jaw, a fractured pelvis and diverticulitis. I think what's next for Brock Lesnar besides what's happening in WWE. Could it be UFC? Could it be another sport? I think it's something he's going to look at and say 'I bet no one thinks I can do that, all right I'm going to conquer that'."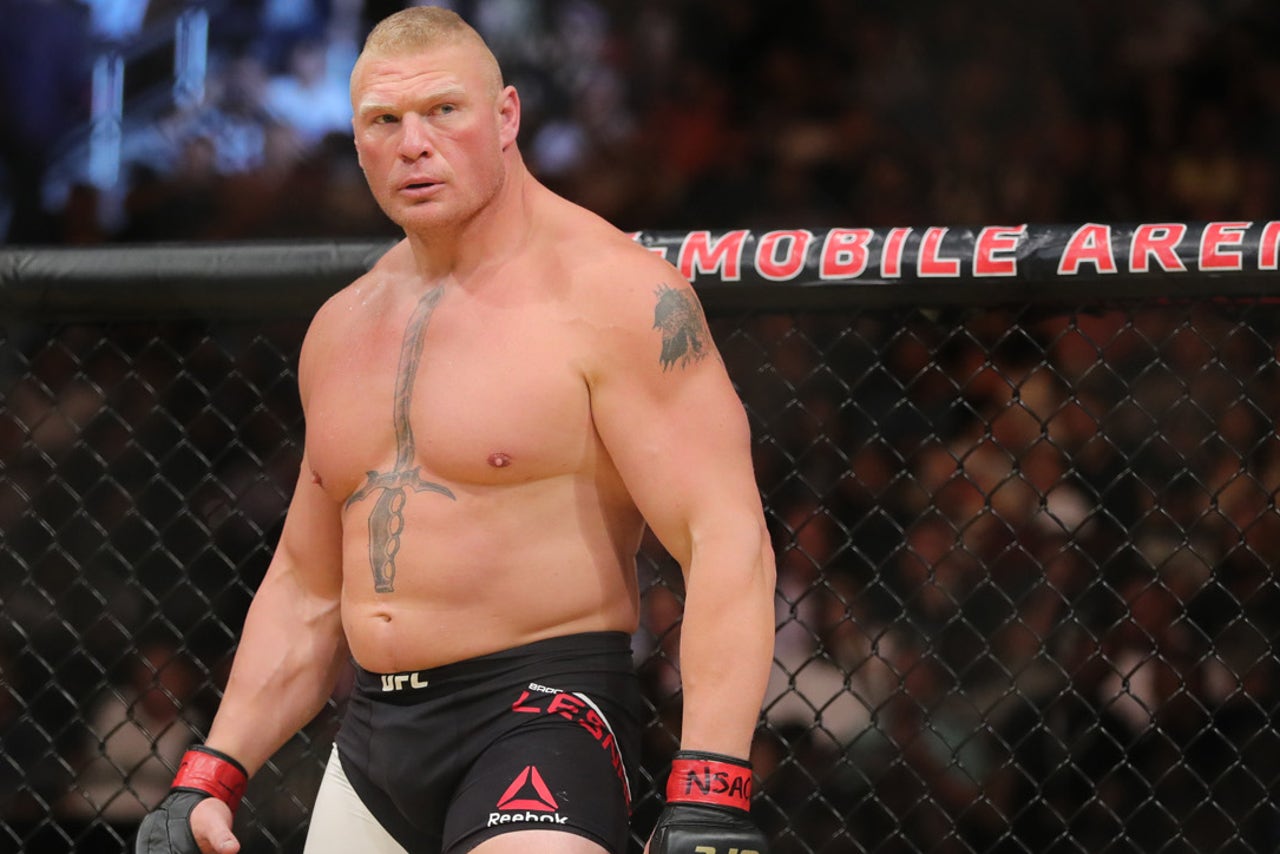 Heyman believes what motivates Lesnar to do the impossible is the same thing that's driving UFC lightweight champion Conor McGregor to go after Floyd Mayweather in a boxing match so many people are saying he can't win.

McGregor has certainly defied the odds before, but facing a 49-0 boxer who is regarded as one of the greatest of all time is a tall task for anybody much less a mixed martial artist who has never competed professionally in that sport.

"It's the same thing that's motivating [Conor] McGregor into wanting to fight [Floyd] Mayweather," Heyman explained. "Because admittedly I would say, I'd have to say that a great deal of that is obviously the allure of the enormous payday but a lot of it also has to be the lure of people think I can't take this guy and I can take this guy."

Lesnar already seemingly did the impossible when he came to the UFC with one fight under his belt and just nine months later he was the heavyweight champion of the world.

Now that he's approaching his 40th birthday it might appear that time is dwindling down for another fight in the UFC, but Heyman cautions anybody from counting Lesnar out.

Making the impossible seem possible is what Lesnar does best and proving people wrong by making another run in the UFC could still be a driving factor for him one day in the future.

That's what makes Lesnar such a compelling personality because nobody seems to know what he's going to do next.

"It's the same thing with Brock. It's not just looking at UFC and he'll say 'at my worst, beating me cost Cain Velasquez 14 months of his career. When I was not 100-percent healthy, I beat the greatest heavyweight of all time Randy Couture. When I came in for UFC 100 I was fighting a guy who had a psychological advantage because he tapped me out and is a former UFC heavyweight champion in Frank Mir and I pummeled him'. At the same time, Brock could look at that and say 'I want that again'," Heyman said. "He may do racecar driving. You never know with him. Because something is going to trigger that. He's going to be sitting there one day and someone is going to say can you imagine how hard that is to do? And he'll look over and say 'not for me'.

"That will be a task that he goes out to conquer because that's who he is. 100-percent, legitimate, genuine, authentic conqueror."

Listen to the rest of Heyman's interview on the Fight Society podcast via Soundcloud or download and subscribe to the show via iTunes


---
---