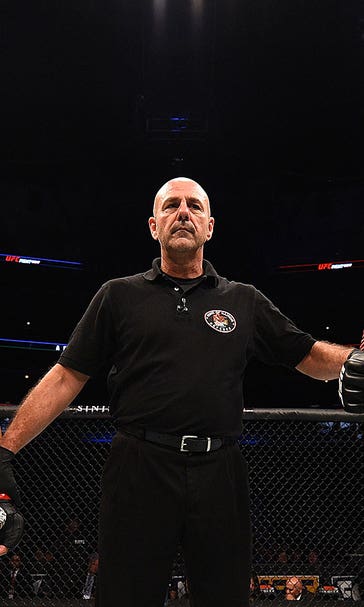 Nijem reveals how disputed decision might alter his entire career
BY Damon Martin • July 30, 2015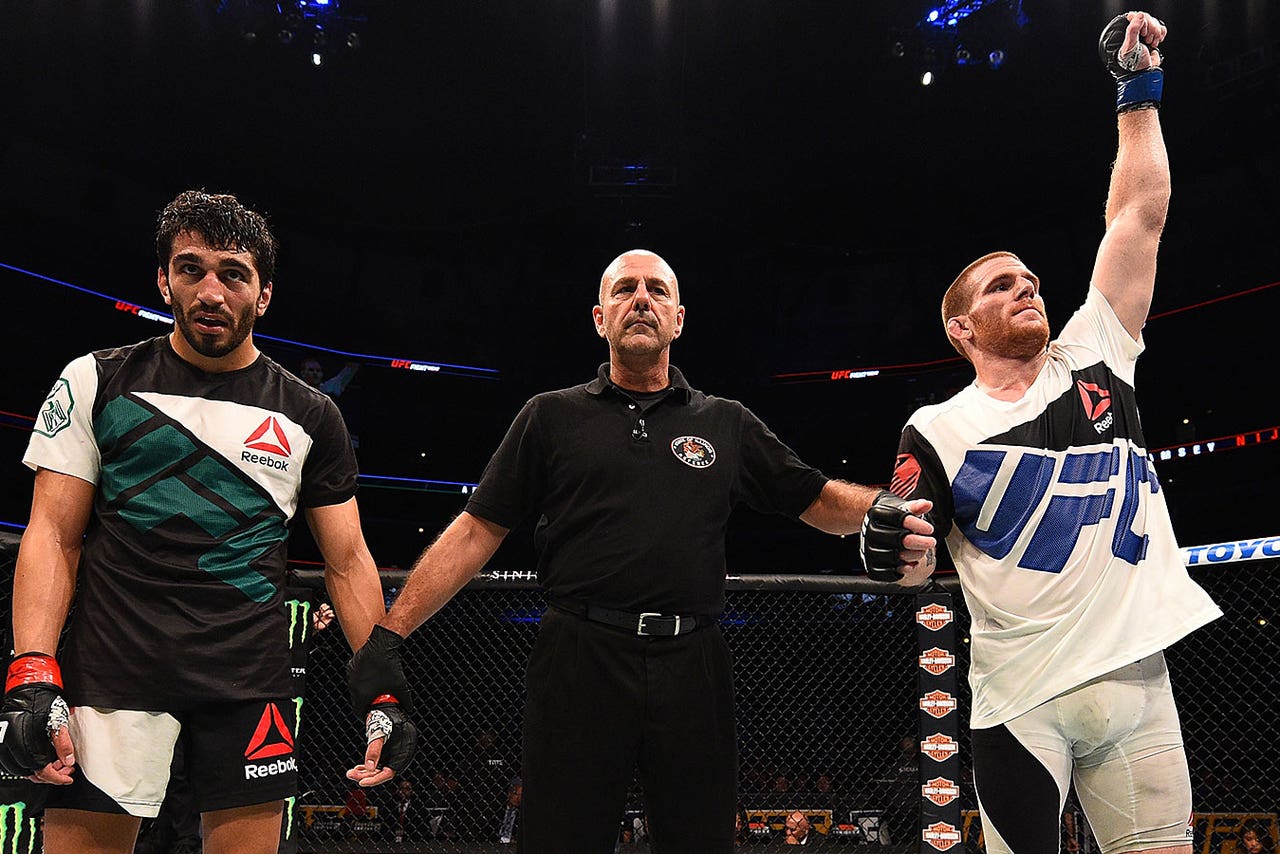 For the better part of three rounds Saturday, Ramsey Nijem out-struck, out-wrestled and out-grappled UFC newcomer Andrew Holbrook, who put on a show considering it was his first fight with the promotion on short notice.
Despite Holbrook's best efforts to lock up a couple of submission attempts, Nijem remained in control and when the three rounds came to an end it appeared to be a clear-cut decision for the former "Ultimate Fighter" runner-up. But then UFC ring announcer Bruce Buffer made the call that the fight ended in a split decision and Nijem's heart sunk to the bottom of his stomach.
When the final scorecard was read and Holbrook had his hand raised in victory, Nijem felt like he just took a bullet. As the shock washed over his face, he couldn't believe he was about to leave the Octagon with a loss when he was so sure he was victorious.
"I'm still trying to process it. It's hard," Nijem told FOX Sports. "I really haven't had one person tell me that I lost that fight. Even people who normally hate me on the Internet are like 'I hate you still, but you got f--ked.'
"When they said split decision I was like no f--king way. I've had problems with judges in the past with Justin Edwards, Joe Proctor, and so I was nervous. When they said 'Andrew' it was heartbreaking to a point, more like I got robbed financially. But for me I performed really well. I was out 11 months and it was a long, hard road back."
The statistics for the fight back up the visual evidence that Nijem should have earned the decision. He out-struck Holbrook 29-20 in significant strikes, went a perfect six for six on takedown attempts and passed his opponent's guard on five occasions. While numbers don't tell the whole story, outside of Holbrook's submission attempts, the newcomer didn't seem to mount a ton of offense against Nijem, who stayed in control for the majority of the time they spent in the cage together.
"I mean the numbers speak for themselves," Nijem said. "They had him with two submission attempts to zero, but either the judges are so incompetent or they don't know what they're watching because they missed my submission attempts. I went for two twisters and a calf slicer, and because they don't understand my style of grappling, I guess those don't count but we've all seen people get submitted with those. So even the one thing that they say I lost in the numbers, I still won."
Unfortunately, disputed decisions have become so commonplace in mixed martial arts that they barely register as more than a blip on the radar these days because judges rarely have been reprimanded for returning baffling scores.
Rick Winter, one of the judges who scored the fight for Holbrook on Saturday night, has made questionable calls before.
Back in May, Winter scored Francisco Trinaldo a winner in a fight in which every media member polled that night scored the bout for his opponent Norman Parke. Winter was also one of the judges who scored Phil Davis defeating Lyoto Machida in a bout in which the media scores were once again unanimous for the split-decision loser.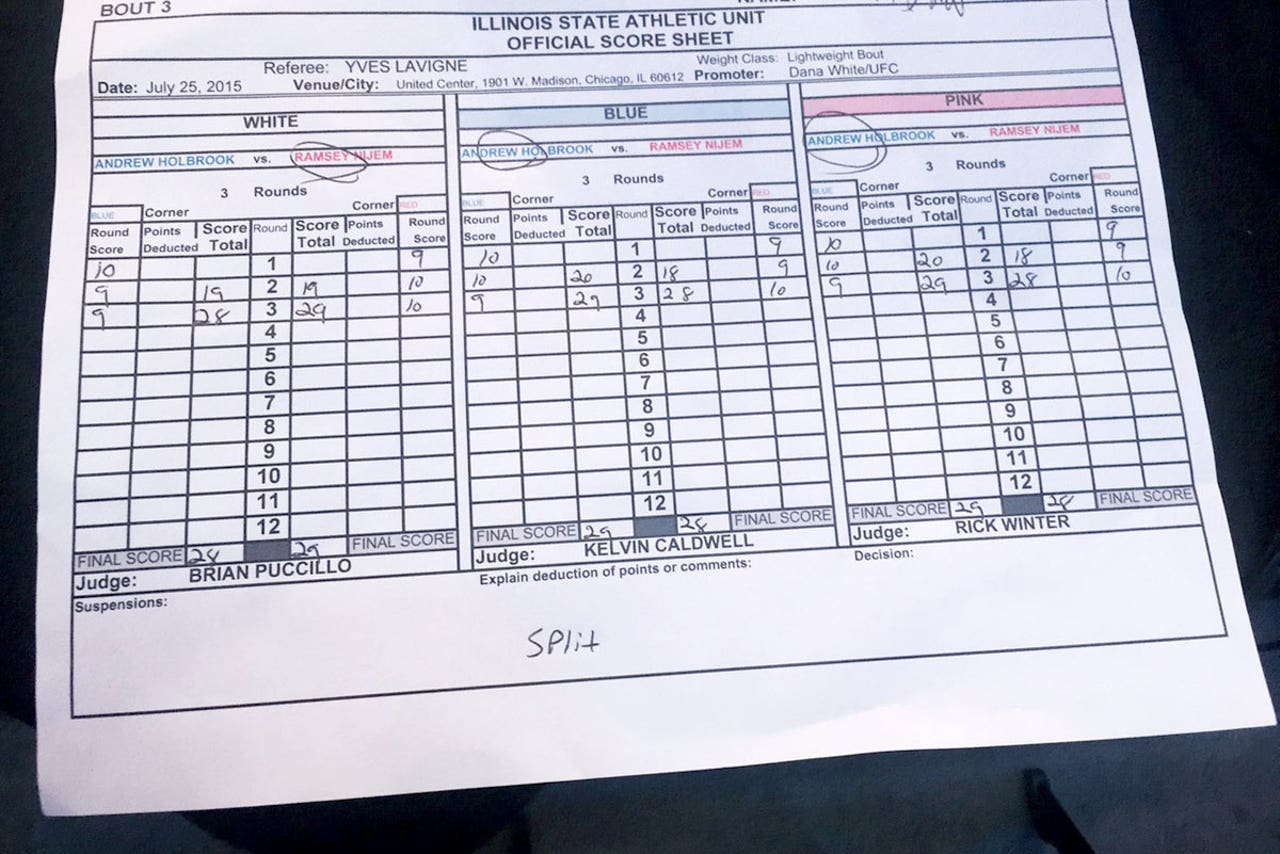 The scorecard from Nijem vs. Holbrook
Nijem isn't claiming there was anything shady going on with the scores during his fight. But even if he was convinced there was foul play afoot, he already knows there's virtually no way to get the decision overturned.
"One thing everybody keeps telling me is to appeal it, but if you look in the history of commissions, the appeal process is nearly impossible," Nijem said. "Bernard Hopkins spent millions of dollars trying to appeal one of his early losses, a bad decision, and they couldn't overturn it because it has to prove one of two things: there's collusion or they mis-added the numbers. Those are the only two ways, and believe me I looked into it.
"So I either have to be a private investigator to prove there's collusion or I have to prove they adding it wrong, which we saw that they didn't. I have to prove collusion. If Bernard Hopkins can't win an appeal with all his money, can I do it? No way. All I can do is live with it."
The hardest part about the loss isn't as much about his record, which now shows two defeats in a row, but that Nijem was out for nearly a year dealing with injuries and not making any income. He left Chicago with half his paycheck and even worse was the power he lost to negotiate an upcoming contract renewal with the UFC.
"Half the paycheck, that's the bigger issue," he said. "But for me the biggest issue is that it counts as a loss and I'm finally almost out of my 'Ultimate Fighter' contract and that ruins my renegotiation. That's really frustrating. So this loss doesn't just affect me for this one paycheck that I missed out on.
"If it was just one paycheck, I could shake it off and move on, but this potentially could affect my whole career. My renegotiation is messed up because of this bad decision, and now it's going to affect my career a lot more than a lot of people can even imagine."
The reality of this one controversial call is Nijem's life will change dramatically in the next few months. He's already putting his name out there as a potential late replacement for another fight just in case somebody gets injured or there's a slot to fill.
If that doesn't come together, Nijem may be faced with the reality of going back to a day job to help make ends meet with fighting no longer providing him the kind of financial stability he needs to survive.
"I might have to go get another job now," Nijem said. "Because I've been out for 11 months and haven't made one penny. I put my heart and soul into this and I fought as best I can and it's taken away from me because it's out of my control.
"The bottom line is I have to get paid and I didn't get paid for my last fight so I have to fight. Hopefully someone drops out and I can get the fight. I'm a fighter. That's what I do, I fight."
Nijem isn't asking for pity because of his situation, but he would like people to understand the hardships of how far reaching a disputed decision can affect a fighter at this level. He's not making six figures so losing out on half his money is devastating.
"The judges are so incompetent that you could grab a stranger off the street and they could do a better job, which is scary," Nijem said. "We need to have some very serious judging reforms."
---
---