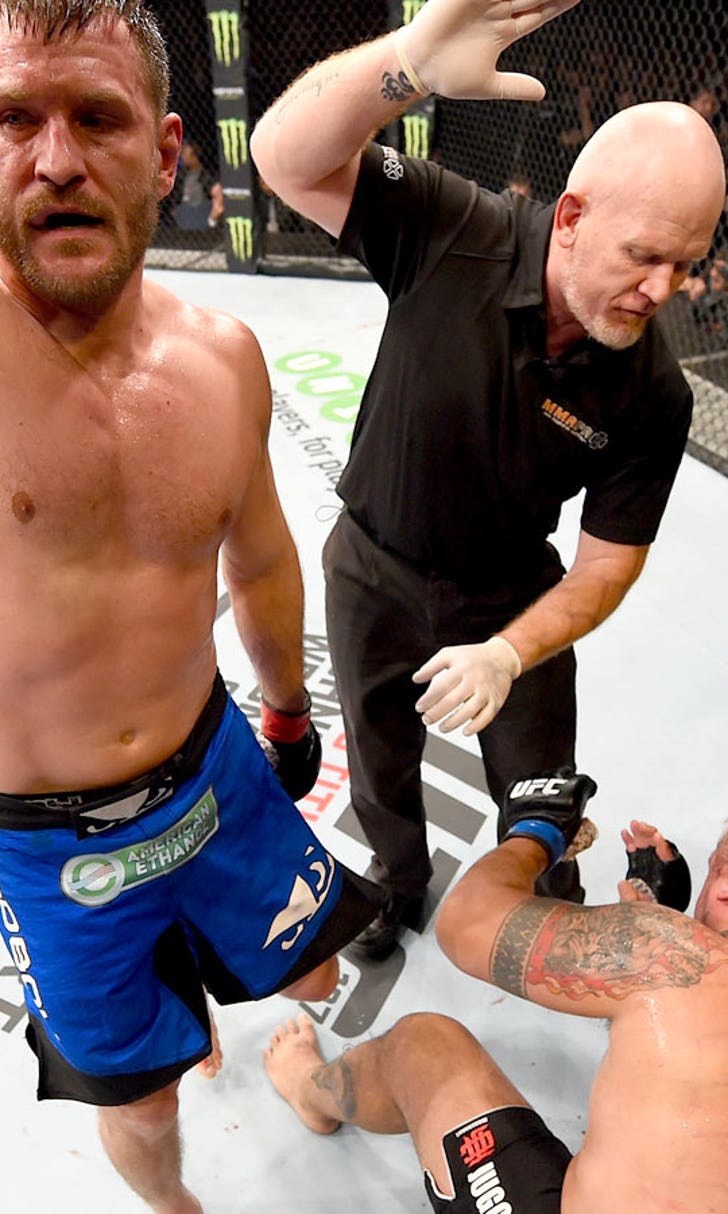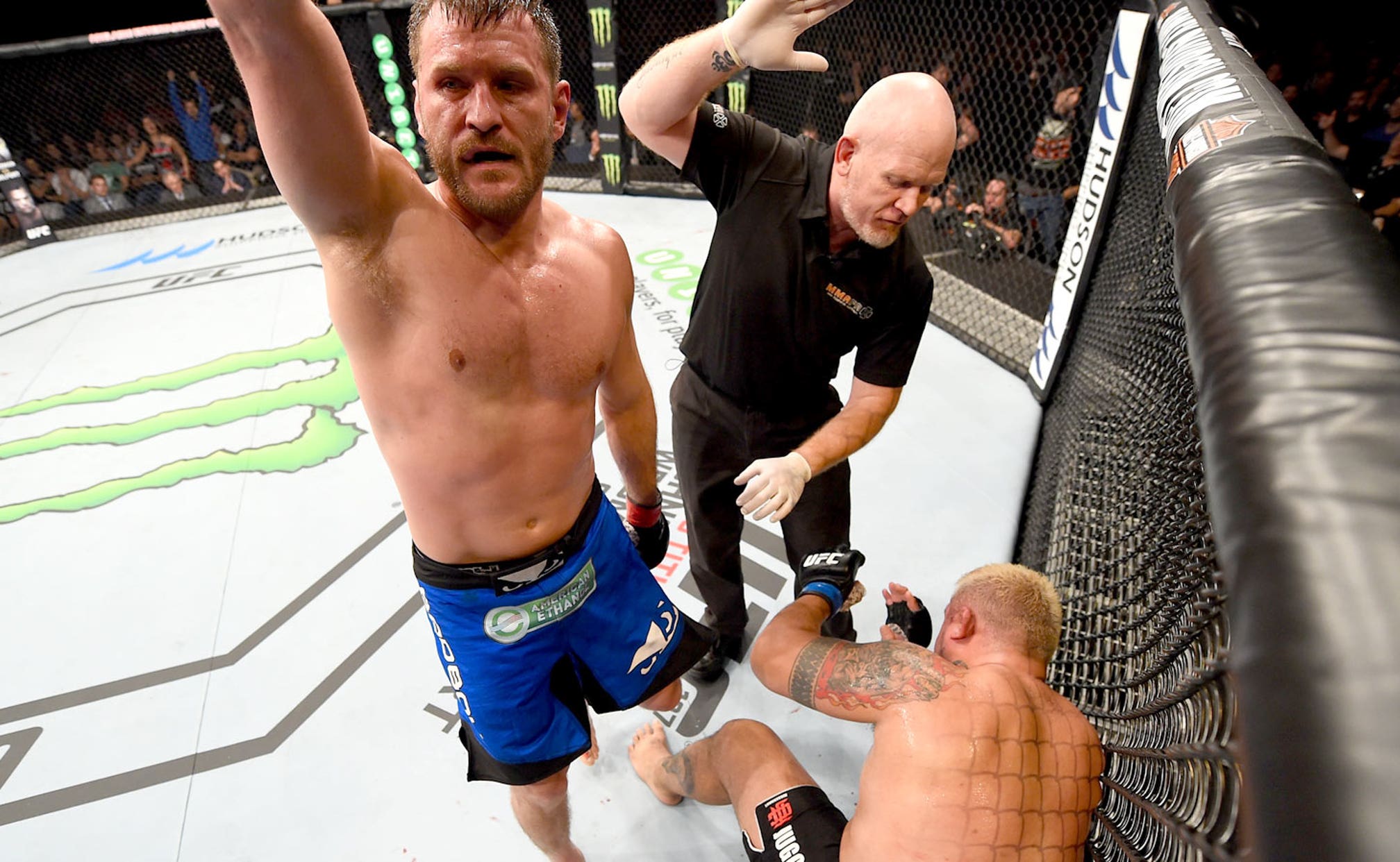 Miocic brutalizes Hunt with most strikes in UFC history in fifth-round TKO
BY Damon Martin • May 10, 2015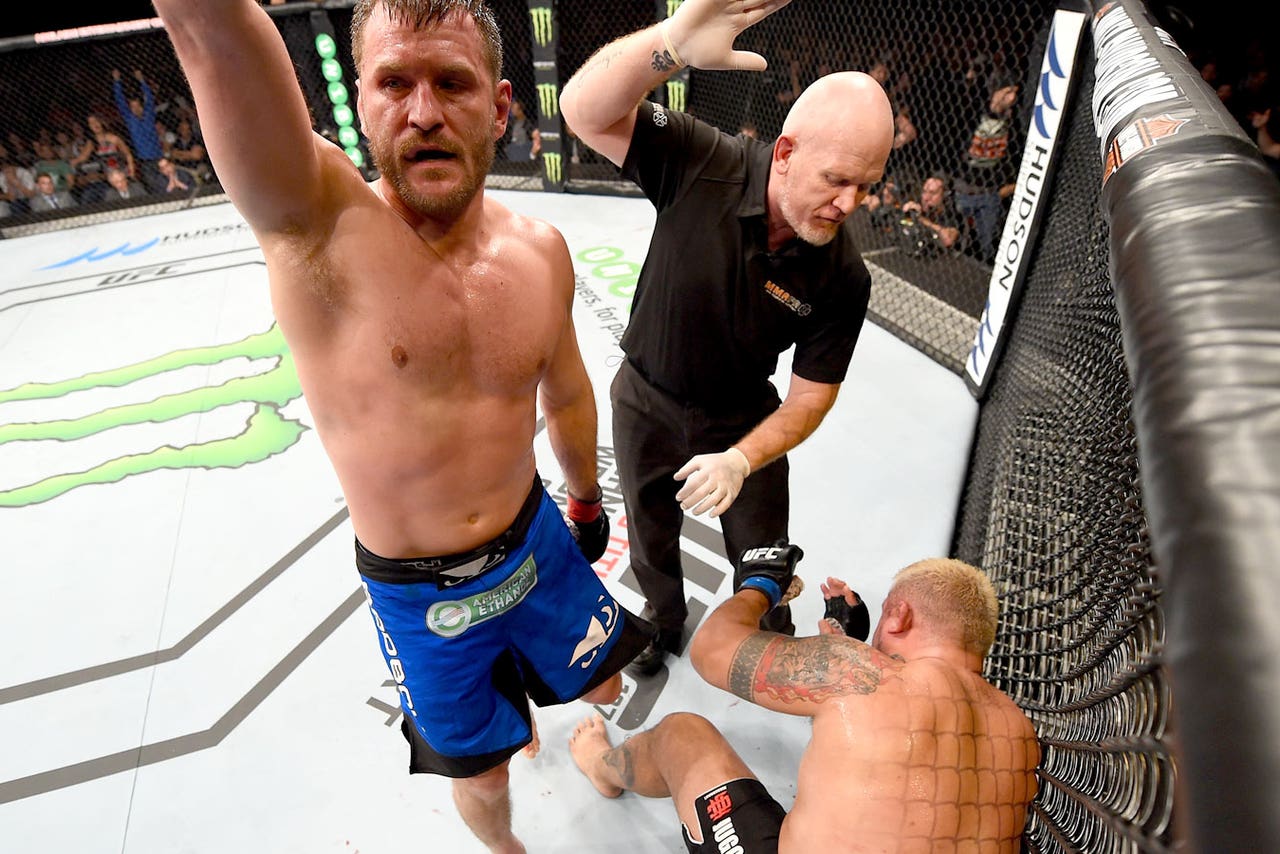 Stipe Miocic probably should have been done working much earlier Saturday night, but he still got the job done as he finished Mark Hunt in brutal fashion with a fifth-round TKO stoppage in the UFC Fight Night main event in Australia.
When the final numbers were tallied, Miocic out-landed Hunt a total of 361-46. The 361 total strikes landed by Miocic set a new UFC record as he broke Royce Gracie's total of 355 strikes that he landed at UFC 5 in 1995. He also shattered the modern era record held by Chael Sonnen for 320 strikes in his first bout against Anderson Silva.
The two heavyweights fought for more than 20 minutes, although an argument could be made that Hunt was done sometime during the second round, considering the lack of fight he put up after the opening stanza.
With a loud and raucous crowd on his side, Hunt stayed in the fight early as he tried to bait Miocic into an exchange with him, but he was always one step behind the Ohio native. Miocic cracked Hunt time after time with long punches, but the New Zealander never backed down and tried to mount a comeback as the round came to an end.
Miocic quickly figured out as the second round faded into the third that Hunt was out of gas and running on fumes. Hunt walked into the fight blocking more than 85 percent of his opponents' takedowns, but he had no such luck against Miocic, a former wrestler at Cleveland State University.
Miocic put Hunt down six times over the course of the fight and he unloaded a heavy barrage of punches and elbows every time he landed on top. There were at least three times during the fight when Miocic had Hunt on the ground and was raining down shots with very little defense from the former PRIDE Fighting veteran, but the referee refused to stop the fight.
In between the fourth and fifth rounds, the doctor even came in to check on Hunt, whose face was swollen to the point where he was almost unrecognizable. Inexplicably, the doctor allowed the fight to move forward, but mercifully the referee finally stopped it a short time later.
Miocic put Hunt down again and just punished him with punches until the referee stepped in and called a stop to the carnage.
Miocic said after the fight that takedowns were a big part of his strategy and it worked to perfection. He watched as Hunt's conditioning faded and as each minute passed and Miocic put him down with relative ease by the end of the fight.
"He was telling me he was going to knock me out, so why not? Take him out of his own game," Miocic said about his game plan.
Miocic has won four of his past five fights with his only loss coming by way of a razor-close decision to former champion Junior Dos Santos last December. Miocic is closing in on a potential title shot in 2015 and he will be paying close attention to the upcoming heavyweight main event at UFC 188 when Cain Velasquez meets Fabricio Werdum with the belt up for grabs.
UFC FIGHT NIGHT: MIOCIC vs. HUNT RESULTS
MAIN CARD
MAIN EVENT: Stipe Miocic def. Mark Hunt by TKO (punches) at 2:47, R5
Robert Whittaker def. Brad Tavares by KO (punches) at 44 seconds, R1
Sean O'Connell def. Anthony Perosh by TKO (punches) at 0:56, R1
James Vick def. Jake Matthews by submission (guillotine choke) at 4:53, R1
Daniel Hooker def. Hatsu Hioki by KO (head kick and punches) at 4:13, R2
Kyle Noke def. Jonavin Webb by split decision (27-30, 29-28, 29-28)
Sam Alvey def. Daniel Kelly by TKO (punches) at 0:49, R1
Bec Rawlings def. Lisa Ellis by submission (rear-naked choke) at 4:09, R1
Brad Scott def. Dylan Andrews by submission (guillotine choke) at 4:54, R2
Alex Chambers def. Kailin Curran by submission (armbar) at 3:15, R3
Brandan O'Reilly def. Vik Grujic by unanimous decision (29-28, 29-28, 29-28)
Ben Nguyen def. Alptekin Ozkilic by TKO (strikes) at 4:59, R1
---
---