Miesha Tate would love the chance to join the commentary team in the UFC
Published
Jun. 10, 2017 3:28 a.m. ET

Since retiring from active competition last year, former women's bantamweight champion Miesha Tate hasn't slowed down one bit with her schedule just as packed now as any time when she was still fighting.

Tate still trains on a regular basis while coaching other fighters as much as time allows not to mention working as an ambassador for the UFC by traveling to shows like her recent appearance in Brazil for UFC 212.

Perhaps one of her favorite gigs since retiring has been working as an analyst during various UFC broadcasts where she has the opportunity to break down fights, interview her fellow fighters and give her thoughts on the action taking place inside the Octagon.




"I love it. It allows me to be a part of my favorite sport in a different way but I love it just the same," Tate told FOX Sports ahead of her latest job as analyst for UFC Fight Night in Auckland, New Zealand on Saturday night.




As a fighter, Tate understood the sport as much if not better than most, but she didn't really get the chance to truly study the other fights or fighters because she was focused on her own career.

Now that she's working as an analyst, Tate has learned how much study goes into preparation for a broadcast and it's made her an even bigger fan of the fighters competing in the UFC.

"There's a lot of fighters I didn't know before that I became a fan of just by watching their fights," Tate said. "Before, I was a casual fan of the sport, you'd watch the fights and you're talking but now I really pay attention to the fights. Now I kind of stalk these fighters. I look at their Twitter page, I talk to them, I get to know them and you become a much bigger fan of individuals."

Of course one of Tate's jobs while working the television broadcasts is to break down fights and give her predictions on who she believes will walk out with a victory.

That can be a doubled edged sword sometimes because a wrong pick can lead to an awkward encounter with the fighter who ended up with the win. Tate takes it all in stride but she admits there have been a few occasions where she got her fight pick wrong and it came back to bite her.

"One was the fight with Cody Garbrandt and Dominick Cruz and Cody wasn't mad, but we became friends since I was on "The Ultimate Fighter" as a guest coach since I knew everybody from Team Alpha Male, I used to train with them, but I didn't really know Cody that well. So I came on the show and we stayed in contact and he always gives me a hard time," Tate said with a laugh.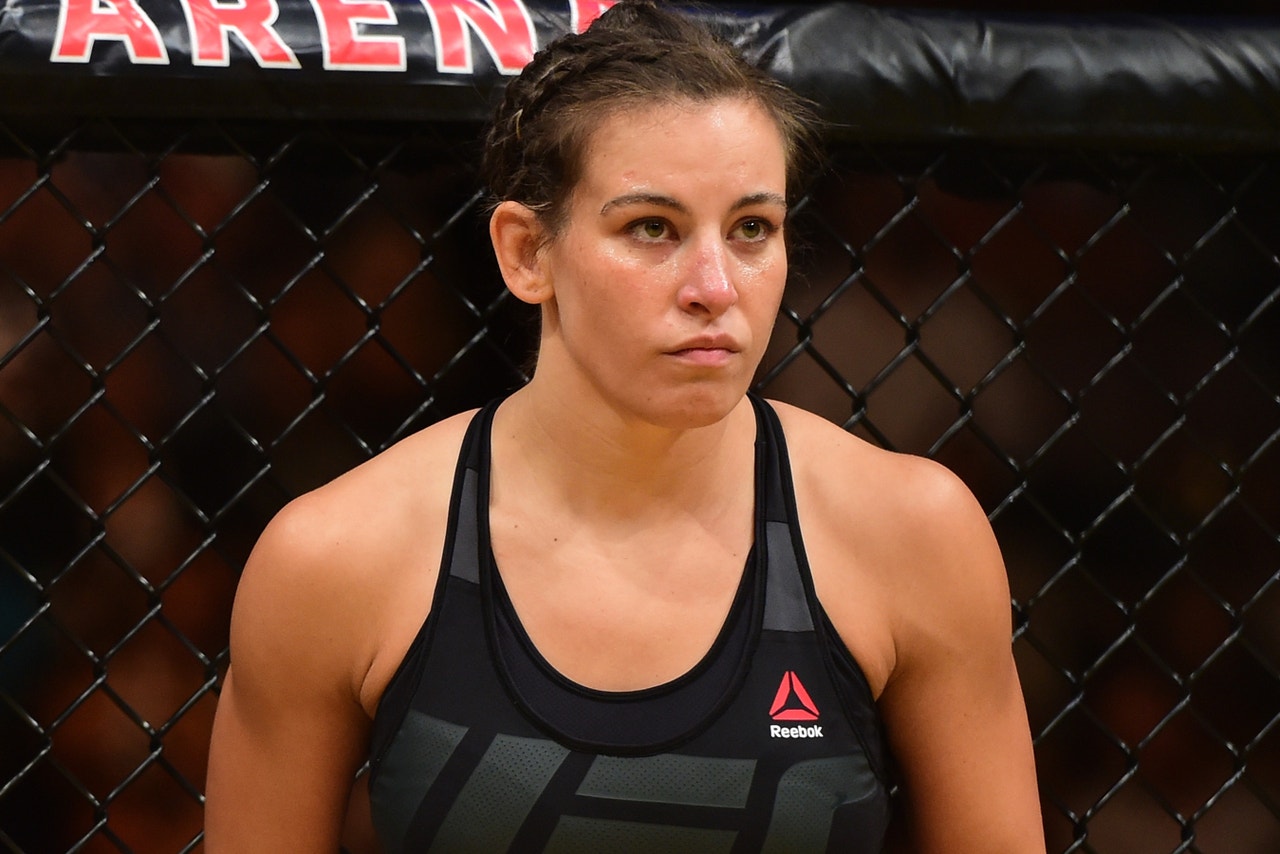 While she absolutely enjoys her role as an analyst, Tate says she would also love the chance to crossover into the commentary booth where UFC light heavyweight champion Daniel Cormier and former bantamweight champion Dominick Cruz have ventured more recently.

The UFC has been using a three-man booth for many of the recent broadcasts with either Cormier or Cruz joining play-by-play man Jon Anik and color commentators Joe Rogan and Brian Stann.

Tate has dabbled in commentary previously and she admits it would be a dream come true to do it again for the UFC.

"Absolutely I would love the opportunity to do something like that," Tate said. "I think my favorite thing is talking about what is happening or what has happened. My favorite part of being on the FOX set is the post fight show because I get to talk about what happened. Being hypothetical about situations and putting together game plans and saying who you think is going to win. Obviously you can hurt people's feelings with what you say so you're treading on ice a little bit. You don't want to offend somebody but once it's already happened you can talk about it.




"Cage side commentating is something I think I'd really excel at. I know mixed martial arts. I know all the submissions, I know all the strikes and I could talk about it forever and ever. I think it's something I'd be good at."




Tate feels like her expertise would come in very useful during a broadcast and she hopes it's something she's able to do for the UFC at some point in the future.

"I've done a couple of Invicta events and a couple of small shows in Washington and I really enjoy it. I love explaining things to people," Tate said. "I really enjoy explaining the ground work and I have such a love for the ground game. I don't think it's so much that people don't enjoy the ground game, it's that they don't know what's going on. It's easy to understand kickboxing, punching and kicking, but not everyone understands the craft that goes into grappling.

"For instance I loved the fight between Chas Skelly and Jason Knight. That was a lot of grappling and a ton of transitions going on and I would love to be able to talk about that. I feel like I can inform the fans and the people in a different way so they know what's going on. I really enjoy that aspect of it."

Look for Tate during the UFC Fight Night: Lewis vs. Hunt pre and post fight shows on FS1 this weekend with the main card fights airing at 10 p.m. ET on Saturday night.


---
---