Mark Hunt says he was 'forced' to fight Alistair Overeem at UFC 209
BY Damon Martin • March 3, 2017
LAS VEGAS — Mark Hunt will step into the Octagon on Saturday night in Las Vegas while still in the midst of a lawsuit against the UFC, president Dana White and former heavyweight champion Brock Lesnar.

The lawsuit was filed after Hunt lost to Lesnar last July at UFC 200 before it was later revealed that his opponent had failed a pre-fight drug test when his sample showed that he used a banned substance. Lesnar was later suspended for one year and issued a fine for the infraction, but Hunt was clearly not satisfied with the punishment.

While the lawsuit is still pending in court, Hunt was booked for his next fight at UFC 209 this weekend against Alistair Overeem, who has come under scrutiny in the past when he tested positive for elevated levels of testosterone ahead of his bout against Junior Dos Santos back in 2012.

According to Hunt, he was clearly apprehensive about accepting a fight with Overeem due to his past, but he says he didn't have much of a choice in the matter.

"I was forced to be here. I wasn't supposed to be here and they said if you don't take this fight it's against your contract," Hunt told FOX Sports on Thursday. "Like I said, why should my family suffer and miss out on my hard work. They should deserve to have the better things in life because I've gotten beaten up to get here. So why should they miss out?

"I haven't done nothing wrong so why should I be feeling like the outsider here? That other guy is the guy that cheated. All these guys that cheat should be the ones that should be put out on a pedestal like 'that guy's a cheat.' He shouldn't be here. Why do I feel like that?"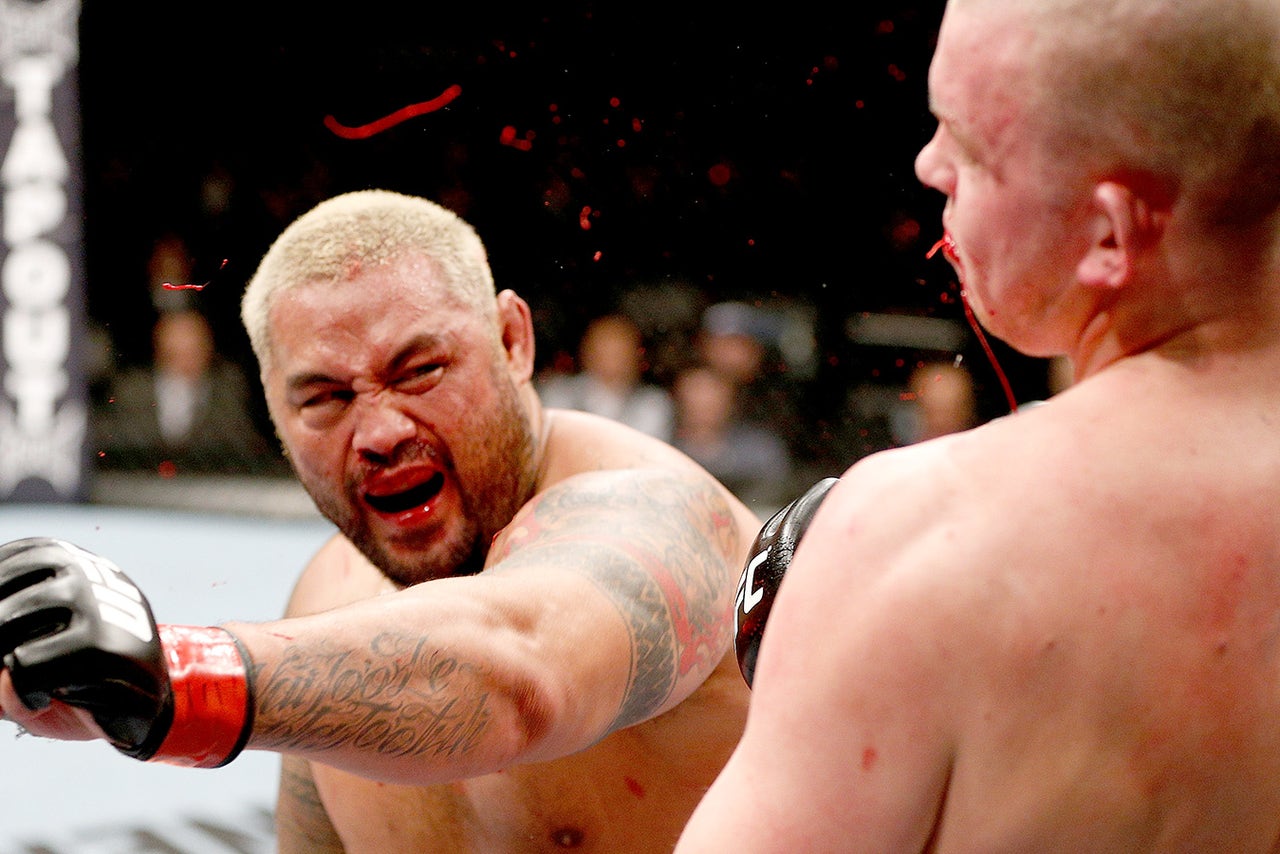 Hunt says that he's been treated well by the UFC staff all week leading up to his return to action but he hasn't spoken to Dana White at all and doesn't expect to speak to him except through his attorney regarding the lawsuit.

The 42-year-old former K-1 Grand Prix champion has been pounding the drum for the better part of the last year asking the UFC to hand out much stiffer punishments for fighters who are caught cheating due to performance-enhancing drugs. Hunt lobbied to get a clause put into his contract that stated if his opponent was caught cheating their entire purse would be handed over to him.

While Hunt is preparing for battle just two days away, the only subject anybody can talk about is the pending lawsuit and he promises that's not what he wanted, but he just couldn't sit around and take it anymore.

"I didn't want to be in this position. They gave me no choice. What am I supposed to do? Keep coming to work and fighting steroid cheaters? How would you feel going to work? If you do lose against a guy that's cheating, you lose. You don't get no benefits from it. Like I said before, this is supposed to be the best fighters in the world not the best cheaters in the world, the best guys who can hide it with doctors," Hunt said. "It's been a pattern of things that's happened and it's come to a point where I lost against Brock [Lesnar] and I did lose and he did beat me up and I just couldn't compete.

"It really irritates me on my skin that I have to share the Octagon with guys that have cheated to get here. It took me that loss against Brock Lesnar to realize that. It's not fair. It's not a fair advantage. I'm not going to put up with it. I'm sick of it."

While Hunt is committed to his battle against the UFC regarding the situation with Lesnar from last year, he won't be fighting anywhere else anytime soon either.

Hunt still has five fights remaining on his UFC contract, including the bout against Overeem on Saturday night, but even if it irritates his employers, he refuses to stay silent any longer.

"I have five fights left on my contract but who knows these days. I didn't know I'd be in this position. I didn't want to be in this position. But what am I going to do? Shut my mouth and get to the back of the bus and go to work?" Hunt stated. "That would have been the good thing to do, right? I would have got my new contract, everything is rosy, it would have been good for me, it would have been good for my family, but it's not the right thing to do.

"I feel these guys don't deserve to be here and I've said it many times, until someone loses their life, that's when people are going to look differently at it."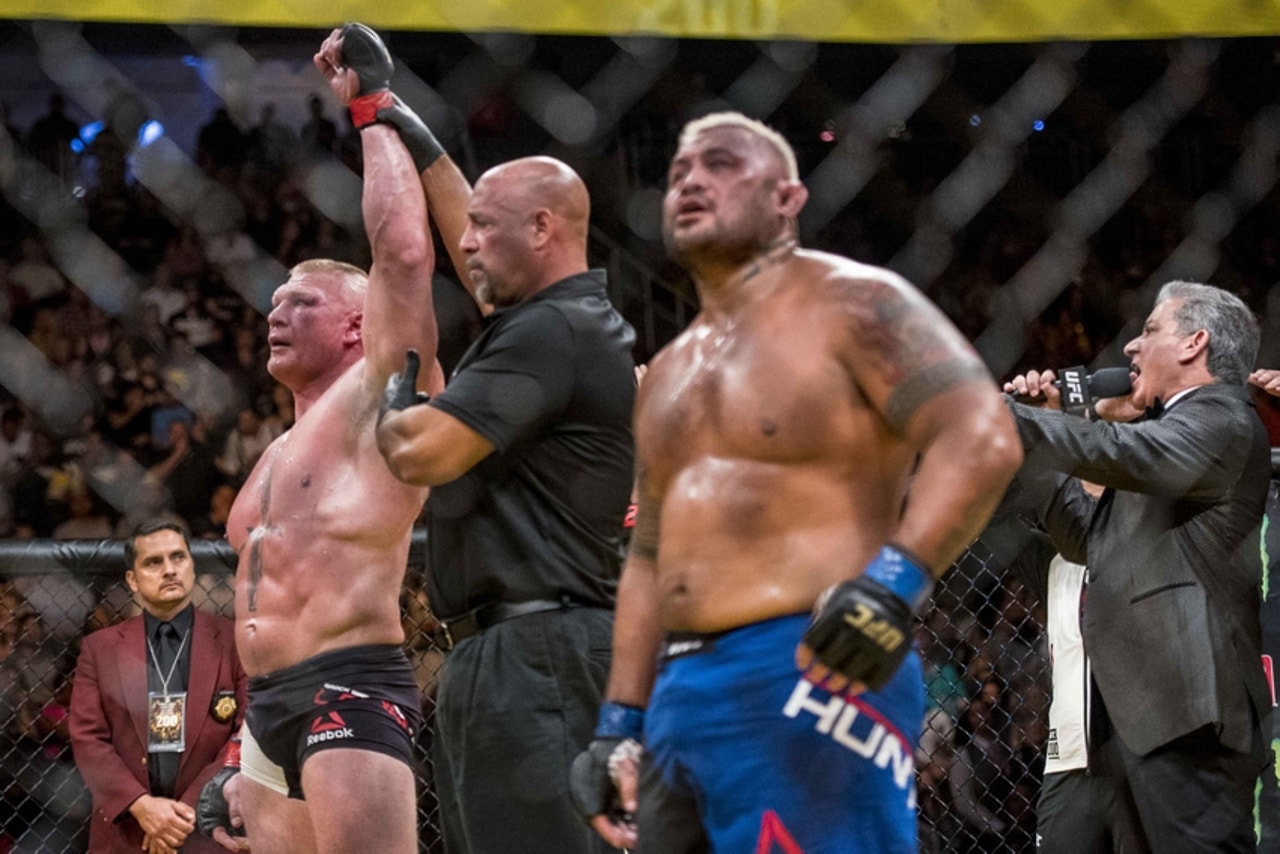 Hunt truly believes it will take a fighter's death to finally send the ultimate wake up call to the promoters and competitors in the sport to understand just how dangerous performance-enhancing drug users are to the sport.

"Someone could die," Hunt said. "If someone dies, that guy who's using steroids should be held liable for premeditated murder, I feel. I didn't sign a contract to fight no juiced-up [expletive]. I think there should be a criminal proceeding if the guy's caught doping and he really hurts the person. If he kills someone and the guy's caught doping, how would you feel? What would you think about that? He should go to jail."

As far as his feelings on Lesnar, who recently informed the UFC that he was once again retiring from the sport after his unceremonious exit from the organization after his last win was overturned to a no contest, Hunt clearly has no love lost for the former heavyweight champion and current WWE superstar.

"To be honest, I think he's a coward and he's a cheat. That's all he is," Hunt said about Lesnar. "Cowards that enhance themselves to hurt someone else, they shouldn't be at the top anyway. If that's the case, let it be black and white, tell everyone it's OK to cheat. Let's see some crazy [expletive] and let's see someone die. Let's do it that way. I feel the same for him, I've lost respect for fighters that cheat.

"I don't want to be coming to work and losing, and that's a high chance of doing, or losing my life because some guy months and months ago was preparing to kill me. Premeditated murder man, it's no joke."


---
---