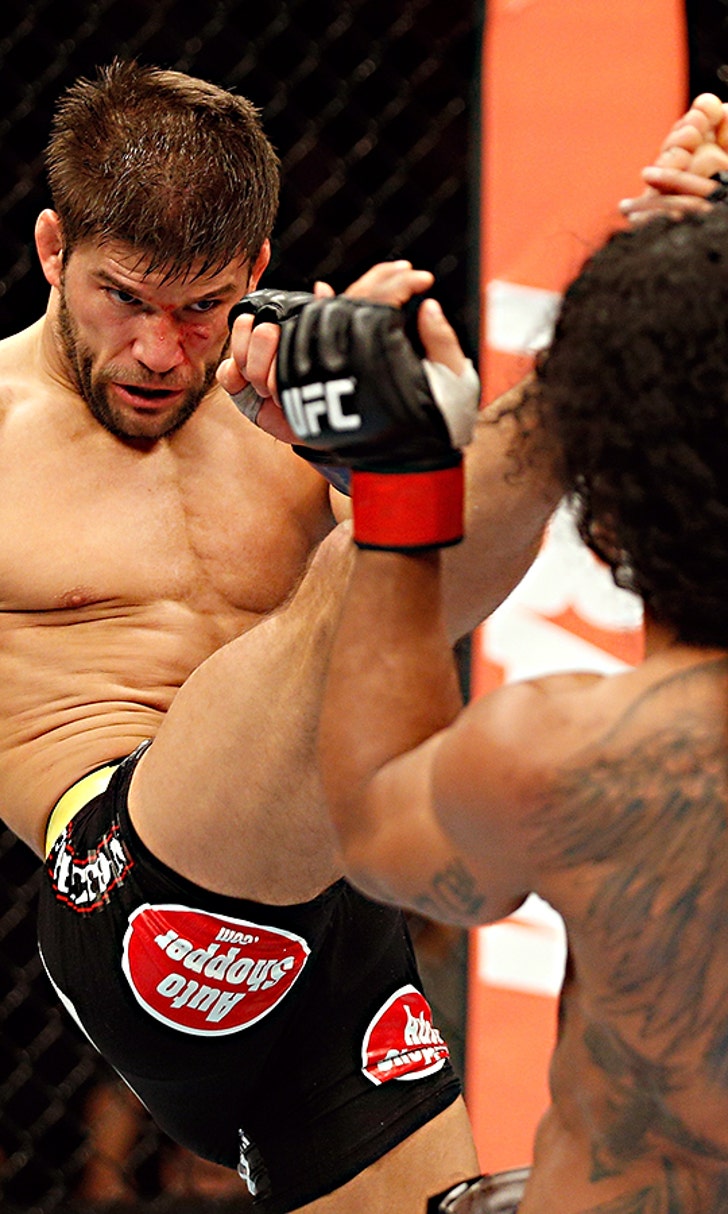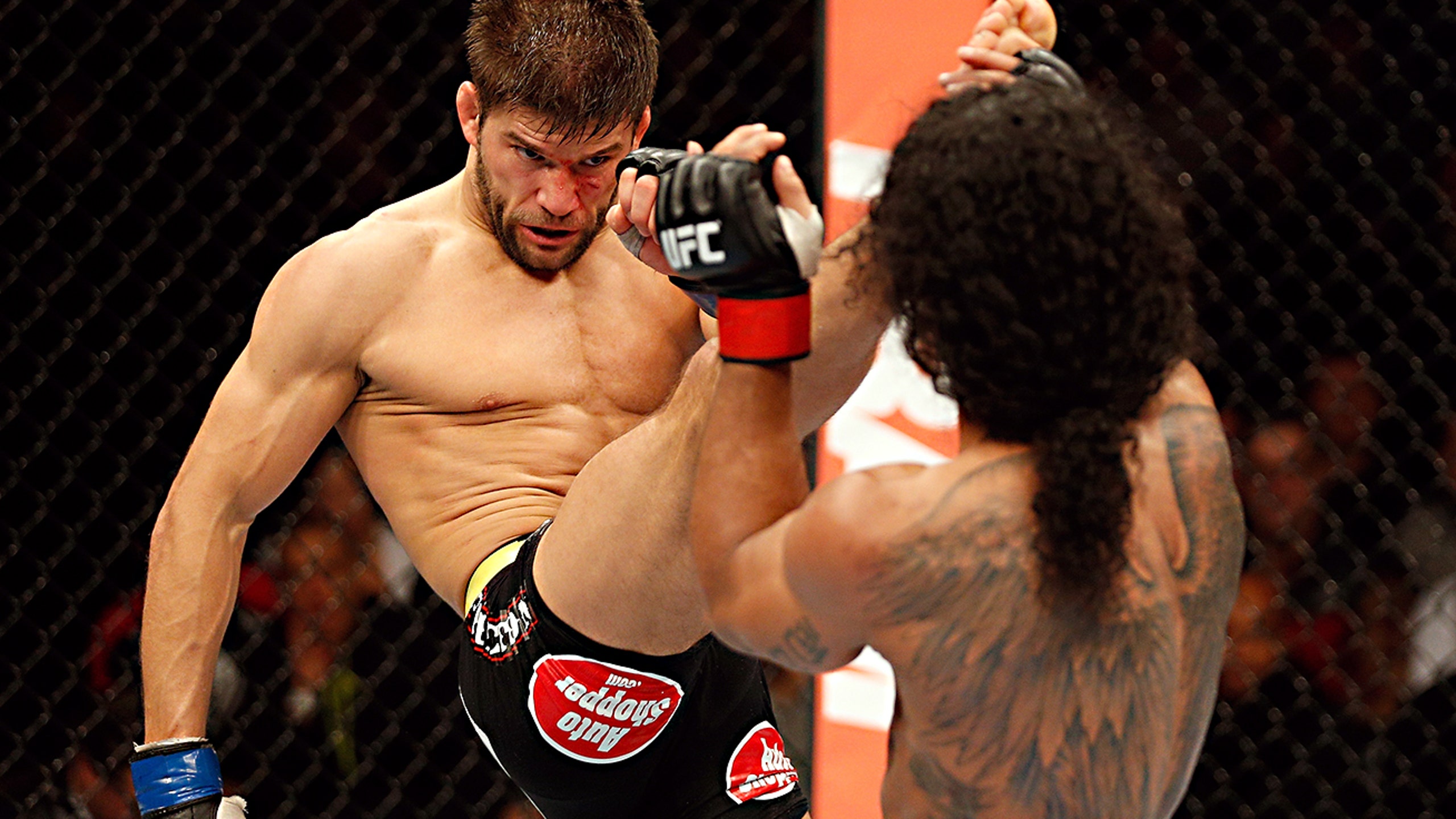 Josh Thomson believes he still deserves a title shot after being robbed on Saturday
BY Damon Martin • January 28, 2014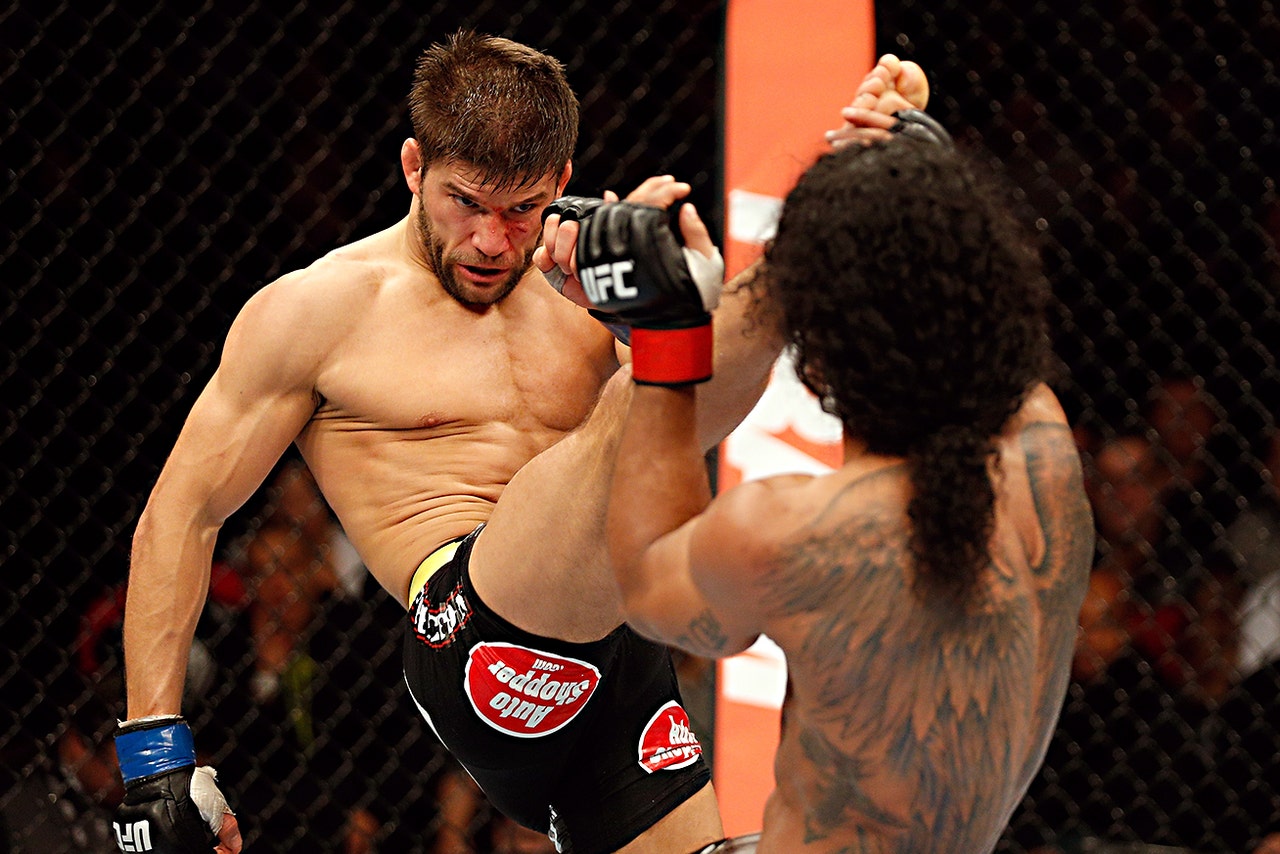 It's been less than 72 hours since Josh Thomson stood in the center of the Octagon sure that he had done more than enough to hand Benson Henderson a loss, thus punching his ticket to a lightweight title fight against Anthony Pettis later this year.
Despite competing for the biggest part of the fight minus use of his right after he broke his thumb in the first round, Thomson was still able to take Henderson down multiple times, get his back and come close to several chokes although even he admits he couldn't finish because doing all of that with one hand does come with some hindrances.
And then the judges' scores were read – 48-47 Henderson, 48-47 Thomson and 49-46 for the winner – Benson Henderson.
It was like a bomb went off in the pit of his stomach.  Thomson shook his head in disapproval and continued to say 'no' to himself all the way to the back of the arena.  While it didn't give him a win bonus or his title shot, Thomson did notice a ground swell of attention on Twitter from media and fans all saying he should have won.  So late Monday night when Thomson got home from Chicago, he sat down and watched the fight again to see how he would score it in the light of a new day.
"I really believed that I had won 3 to 2 and then I got home and I said I could have possibly won 4 to 1," Thomson told FOX Sports on Tuesday.  "For me I thought only landing one or two body shots or one knee doesn't exceed me getting takedowns at will and getting his back.  Getting in dominant positions where I could have potentially won the fight.  Had my thumb not been broken I could have probably been able to get underneath the chin, but with my thumb the way it was I was having trouble getting the chin."
While he won't see a doctor until at least later this week to get the final diagnosis on his injured hand, the cage side physician who examined Thomson after the fight said he had a broken thumb and possibly a broken hand that could require surgery.  The former Strikeforce champion said despite the fact that there was no way he was going to let an injury stop him from competing, it was also impossible to put it out of his mind because of the stinging pain and the strategy his coaches had set up from the first day of his camp.
"When you're fighting a left handed guy and everything is your right hand lead, everything is your right hand," Thomson said. "Ask anybody, when you're fighting a left handed guy you throw your right hand like you throw your jab.  So honestly my whole camp was your right hand sets up everything.  Your kicks, your punch, your everything. All I could think of when I threw it was it hurt.  Even Joe Rogan was saying 'I'm not sure if it's broken but he's still throwing it', that's just natural instinct and reaction but every time I threw it, I was in pain."
Following the decision that was rendered, Thomson felt no ill will towards Henderson for the fight because he believes it's still up to the judges to make the right call no matter what kind of style one competitor might employ in the cage.  At the post fight press conference, a sullen Thomson sat with emotion swelling up in his eyes as his dream of competing for a UFC title slipped away and the entire situation landed him 'down in the dumps'.
Three days later and Thomson isn't feeling much better now, although the outcry of support from fans and media saying that he was robbed of a victory does help lessen the agony of defeat just a little bit.  Thomson also heard UFC president Dana White say the scores in his fight were 'way off', which leads him to believe even the head of the company thinks he should have won the fight.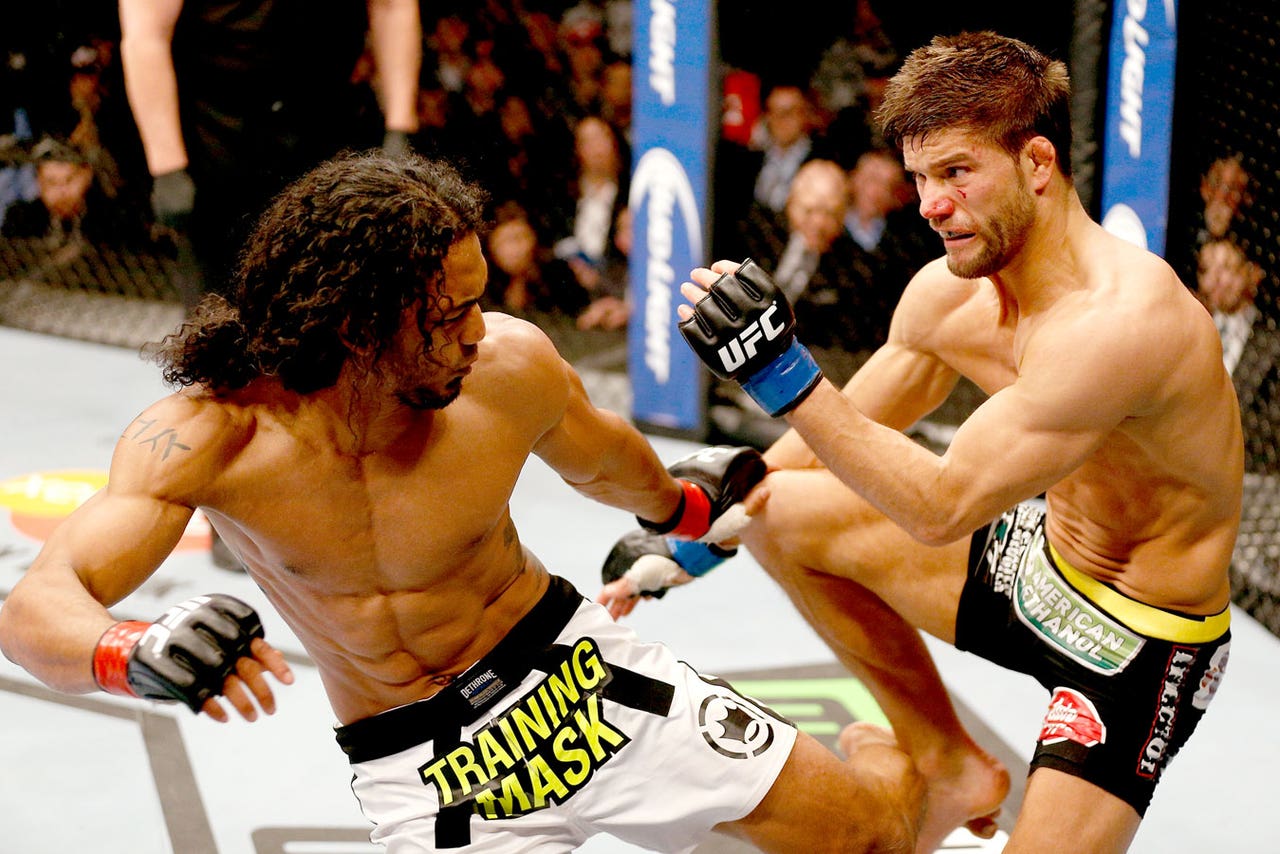 So if that's the case, if White and just about every member of the media (14 of 17 polled by MMADecisions.com) scored the fight for Thomson, why not still give him the title shot against Anthony Pettis later this year?
Certainly it's unconventional and it goes against the UFC's past way of doing business that the loser of a fight can't possibly go on to battle for the belt, but if judges are getting the call wrong what's to stop the promotion from giving a title shot to a fighter most believed should have won his last fight anyways?
Thomson says he doesn't get to make that call, but he definitely wouldn't turn down a title shot if the UFC came calling with the offer.
"Honestly, it's not my organization and I would love to have a title shot, that's all I can say," Thomson said. "If Dana called and said you're getting the title shot, I would just sit down and talk with him about it and we would hash it out.  There's a lot that's got to happen, I really don't have an answer for that.  It would be great, it would be great for me, it would be great if he saw that I really did win the fight. Right now, I'm just a kid on the sidelines. I'm going to see what's going on with my thumb and my hand and go from there.
"Do I feel like I won that fight? Yeah.  Do I feel like I deserve a title shot? Yeah.  Do I think it's going to happen? I don't know.  It would be great if it did.  I can't answer that.  Only Dana and Lorenzo, Joe (Silva) and Sean (Shelby) can answer that, not me."
Thomson's only concern right now is allowing his hand and thumb to heal so he can make the decision about returning to the cage or not.  He alluded to a possible retirement on Saturday night after the loss was handed out, but he's not shutting the door on a return to the sport either.
The fact is Thomson loves fighting and he loves competing in the UFC, but right now he just needs some time to reflect and see what offers come his way. He knows one thing for sure -- if this decision was left up to his trainers and coaches, Thomson would be fighting again as soon as his hand healed.
"There's no expiration date.  I've got time anyways because I can't fight anyways even if I decide to fight again until after this hand's healed.  So at least another two months of taking off to make sure it's healed right and properly to get back in there," Thomson said.  "As far as the decision goes, if I sit down with my coaches they're going to tell me 'hell no you're not retiring after that performance that I had the other night.  All I heard was you beat the No. 1 guy in the world with one hand.  That's all I heard from them the whole night, the next day, everything.
"My decision's solely based on the opportunities with my managers and talking with Dana, Lorenzo and those guys and see what direction they have in store. Just talk to them between us, man to man, to see what their thought processes are."
---
---