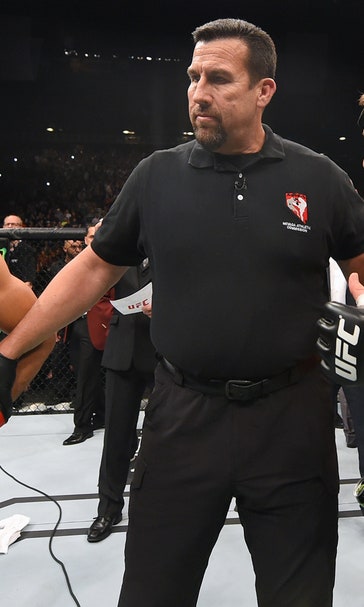 Jose Aldo: Conor McGregor quits when he's getting beaten up
March 22, 2016

When former featherweight champion Jose Aldo (eventually) watched his nemesis Conor McGregor fight Nate Diaz at UFC 196, he saw a man whose loud and brash pre-fight talk didn't match up with his giving up in the cage. "He's a lion when he's attacking but a kitten when he's getting beat up," Aldo told Esporte Espetacular, recently.
"Everybody saw in his eyes that he's a [expleitive] that quits when he's getting beat up. That's what we saw."
Of course, McGregor threw everything but the kitchen sink at Diaz in the first round of their main event and busted the Stockton fighter up a bit. In the second round, however, Diaz was still there and soon hurt McGregor bad with thudding and accurate punches.
From there, McGregor admits that he got flustered and then shot in for a takedown. He scored the takedown but got dominated on the ground and submitted to a rear-naked choke.
The rumor is that McGregor and Diaz will meet again this summer at UFC 200, but Aldo predicts that "Notorious" will come back down to the featherweight division. "You will come back [to 145 pounds] with your tail between your legs after what happened -- after that embarrassment," he continued.
"You will come back. My hand almost caught you, but when it does for good, you will sleep."
Aldo -- who was the longest-reigning and most dominant world champion in the UFC for years, before McGregor knocked him out in just 13 seconds last December, believes his resume is deserving of a rematch with the Irishman. "I'm waiting for the rematch," he claimed.
"It's the right thing to do, in my opinion, because there was no fight, and everybody wants to see a fight. Everybody wants to see me beating him up, and that's what I'm going to do. 
"I will run through him, that's a fact. I don't see other scenarios in my head besides going there and winning and getting my belt back."
---
---