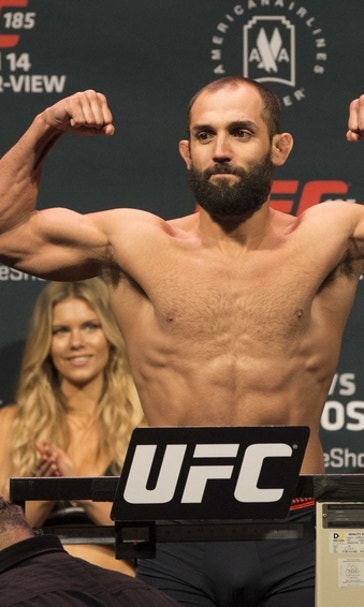 Johny Hendricks says he is done fighting at welterweight
December 30, 2016

Fansided, Heath Stamps/Fansided
Former UFC welterweight champion Johny Hendricks is done fighting as a welterweight.
After another weight cutting mishap, Johny "Bigg Rigg" Hendricks has decided to move up a weight class to the middleweight division. Hendricks has become notorious for having weight issues with this being the second time this year he has missed weight.
He missed the 171 mark by 2.5 pounds on Thursday before his scheduled matchup at UFC 207 with Neil Magny. Hendricks was forced to forfeit 20 percent of his purse to Magny. After his weight in, a visibly frustrated Hendricks stormed off stage.
Earlier this year at UFC 200, Hendricks missed the 171-pound limit by just a 1/4 of a pound and was forced to forfeit 20% of his purse to opponent Kelvin Gastelum.
Hendricks was set to face Tyron Woodley at UFC 192 in October 2015. The fight was scrapped due to Hendricks being hospitalized because of complications midway through his weight cut. He suffered intestinal blockage and kidney stones due to a brutal weight cut.
Hendricks won the vacant UFC welterweight championship at UFC 171 but not without a close call. He missed weight on his first attempt but after an additional hour, he made the 170-pound limit.
Just hours before his fight with Magny, Hendricks told MMAFighting.com he's done at welterweight. "I'm done fighting at welterweight unless they open up a 175-pound division, I'm moving up to middleweight."
At just 5'9, Hendricks will have a disadvantage at middleweight. The top 5 fighters at middleweight are all 6 feet tall or over and the champ is 6'2. This is his main concern about moving up but believes his strength will make up for his height disadvantage.
He is riding a two-fight losing streak and hasn't won a fight since March 2015 at UFC 185. Hendricks looks to jump back in the win column at UFC 207.
More from FanSided
This article originally appeared on
---
---